Socrates, "Apology"
399 B.C.; Athens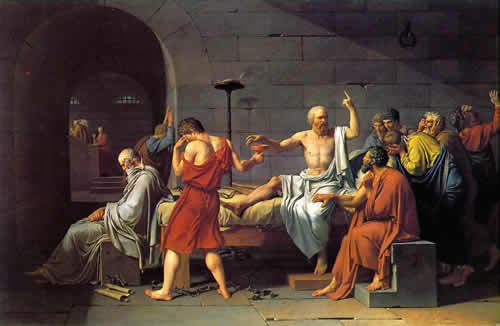 Socrates is perhaps the greatest teacher in the history of the Western world. He wandered around Athens engaging in dialogues with his fellow citizens that focused on discovering the truth of all things. He taught his pupils that the "unexamined life is not worth living."
The Athenians saw Socrates as a threat, especially to the Athenian youth. Socrates acquired quite a following among the young men of Athens. He taught these impressionable minds to question everything, even Athenian authority. Eventually, Socrates was arrested and put on trial for corrupting the youth, not believing the gods, and creating new deities.
The "Apology" is Socrates' defense to these charges. Instead of crying and pleading for mercy, Socrates accepts his charges and attempts to persuade the jury with reason. He argued that it was his calling from the gods to seek knowledge and that it was through his questions he uncovered truth. To not fulfill his calling would be blasphemy. In the end, Socrates lost and was sentenced to death by hemlock. Socrates accepted this fate willingly and without grudge against his condemners, thus dying as a martyr for free thinking.
Worthy Excerpt:
Some one will say: Yes, Socrates, but cannot you hold your tongue, and then you may go into a foreign city, and no one will interfere with you? Now I have great difficulty in making you understand my answer to this. For if I tell you that to do as you say would be a disobedience to the God, and therefore that I cannot hold my tongue, you will not believe that I am serious; and if I say again that daily to discourse about virtue, and of those other things about which you hear me examining myself and others, is the greatest good of man, and that the unexamined life is not worth living, you are still less likely to believe me.
December 23, 1784; Annapolis, Maryland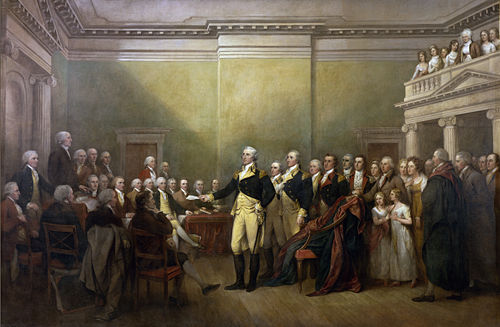 As the Revolutionary War drew to a close, there was much speculation that George Washington, then Major General and Commander-in-Chief, would follow in the footsteps of former world leaders by making a grab for supreme power. Some even wished he would do so, hoping he would become the king of a new nation. Yet Washington knew that such a move would wither the fragile beginnings of the new republic. Looking to the Roman general Cincinnatus an exemplar, Washington rejected the temptations of power and resigned his position as Commander-in-Chief. Choosing the right is almost never easy, and as Washington read his speech in front of the Continental Congress, the great statesman trembled so much that he had to hold the parchment with two hands to keep it steady. "The spectators all wept, and there was hardly a member of Congress who did not drop tears. His voice faltered and sunk, and the whole house felt his agitations." When finished, Washington bolted from the door of the Annapolis State House, mounted his horse, and galloped away into the sunset.
Worthy Excerpt:
While I repeat my obligations

to the Army in general, I should do injustice to my own feelings not to acknowledge in this place the peculiar Services and distinguished merits of the Gentlemen who have been attached to my person during the War. It was impossible the choice of confidential Officers to compose my family should have been more fortunate. Permit me Sir, to recommend in particular those, who have continued in Service to the present moment, as worthy of the favorable notice and patronage of Congress.

I consider it an indispensable duty to close this last solemn act of my Official life, by commending the Interests of our dearest Country to the protection of Almighty God, and those who have the superintendence of them, to his holy keeping.

Having now finished the work assigned me, I retire from the great theater of Action; and bidding an Affectionate farewell to this August body under whose orders I have so long acted, I here offer my Commission, and take my leave of all the employments of public life.
Read the full text here.
August 8, 1942; India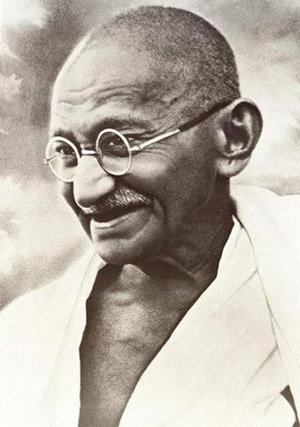 While the battle for freedom and democracy raged across the world, the people of India were engaged in their own fight for liberty. For almost a century, India had been under the direct rule of the British crown, and many Indians had had enough. Mahatma Gandhi and the National Indian Congress pushed for a completely non-violent movement aimed at forcing Britain to "Quit India." Gandhi, pioneer of the tactics of non-violent civil disobedience, called for their use on August 8, 1942 with the passing of the Quit India Resolution demanding complete independence from British rule.
Worthy Excerpt:
I believe that in the history of the world, there has not been a more genuinely democratic struggle for freedom than ours. I read Carlyle's French Resolution while I was in prison, and Pandit Jawaharlal has told me something about the Russian revolution. But it is my conviction that inasmuch as these struggles were fought with the weapon of violence they failed to realize the democratic ideal. In the democracy which I have envisaged, a democracy established by non-violence, there will be equal freedom for all. Everybody will be his own master. It is to join a struggle for such democracy that I invite you today. Once you realize this you will forget the differences between the Hindus and Muslims, and think of yourselves as Indians only, engaged in the common struggle for independence.
Read full text of speech here.
June 18, 1940; House of Commons, London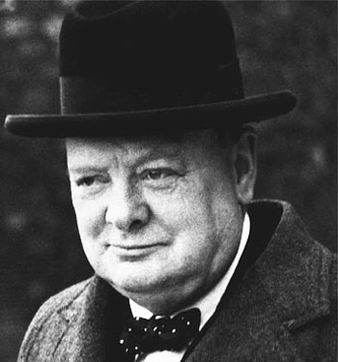 On May 10, 1940, the Germans began their invasion of France. On June 14 Paris fell. In a matter of days, France would surrender and England would stand as Europe's lone bulwark against the twin evils of Fascism and Nazism. At this critical moment, Churchill gave his third and final speech during the Battle of France, once again imparting words meant to bring hope in this dark hour.
Worthy Excerpt:
What General Weygand called the Battle of France is over. I expect that the Battle of Britain is about to begin. Upon this battle depends the survival of Christian civilization. Upon it depends our own British life, and the long continuity of our institutions and our Empire. The whole fury and might of the enemy must very soon be turned on us.

Hitler knows that he will have to break us in this Island or lose the war. If we can stand up to him, all Europe may be free and the life of the world may move forward into broad, sunlit uplands. But if we fail, then the whole world, including the United States, including all that we have known and cared for, will sink into the abyss of a new Dark Age made more sinister, and perhaps more protracted, by the lights of perverted science.

Let us therefore brace ourselves to our duties, and so bear ourselves that if the British Empire and its Commonwealth last for a thousand years, men will still say, 'This was their finest hour.'
Read full text of speech here.
William Faulkner, "Nobel Prize Acceptance Speech"
December 10, 1950; Stockholm, Sweden

A true master of the written word, William Faulkner did not often make public his gift for the spoken variety. So there was some interest as to what he would say when accepting the Nobel Peace Prize for his "powerful and artistically unique contribution to the modern American novel." The year was 1950, the Soviet Union had tapped the potential of the atomic bomb, and the atmosphere in the the United States crackled with the fear of them using it. Faulkner challenged poets, authors, and all mankind to think beyond the questions of "When will I be blown up?" and instead continue to "create out of the materials of the human spirit something which did not exist before."
Worthy Excerpt:
I decline to accept the end of man. It is easy enough to say that man is immortal because he will endure: that when the last ding-dong of doom has clanged and faded from the last worthless rock hanging tideless in the last red and dying evening, that even then there will still be one more sound: that of his puny inexhaustible voice, still talking. I refuse to accept this. I believe that man will not merely endure: he will prevail. He is immortal, not because he alone among creatures has an inexhaustible voice, but because he has a soul, a spirit capable of compassion and sacrifice and endurance. The poet's, the writer's, duty is to write about these things. It is his privilege to help man endure by lifting his heart, by reminding him of the courage and honor and hope and pride and compassion and pity and sacrifice which have been the glory of his past. The poet's voice need not merely be the record of man, it can be one of the props, the pillars to help him endure and prevail.
Read full text of speech here.
January 17, 1961; Washington, D.C.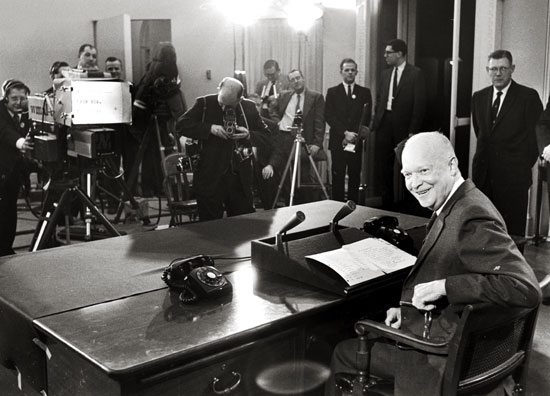 The 1950′s were a time of ever increasing military spending, as the United States sought to fight communism abroad and prevent it at home. As President Dwight D. Eisenhower left office, more than half of the federal budget was allocated for defense purposes. Eisenhower, former General of the Army, was certainly not opposed to the use of military power to keep the peace. Still, he saw fit to use his "Farewell Address" to warn the nation of the dangers posed by the "military-industrial complex," referring to the relationship between the armed forces, the government, and the suppliers of war materials. Eisenhower was wary of the large role defense spending played in the economy, and understood the political and corporate corruption that could result if the public was not vigilant in checking it.
Worthy Excerpt:
In the councils of government, we must guard against the acquisition of unwarranted influence, whether sought or unsought, by the military-industrial complex. The potential for the disastrous rise of misplaced power exists and will persist. We must never let the weight of this combination endanger our liberties or democratic processes. We should take nothing for granted. Only an alert and knowledgeable citizenry can compel the proper meshing of the huge industrial and military machinery of defense with our peaceful methods and goals, so that security and liberty may prosper together.
Read full text of speech here.
63 BC; Rome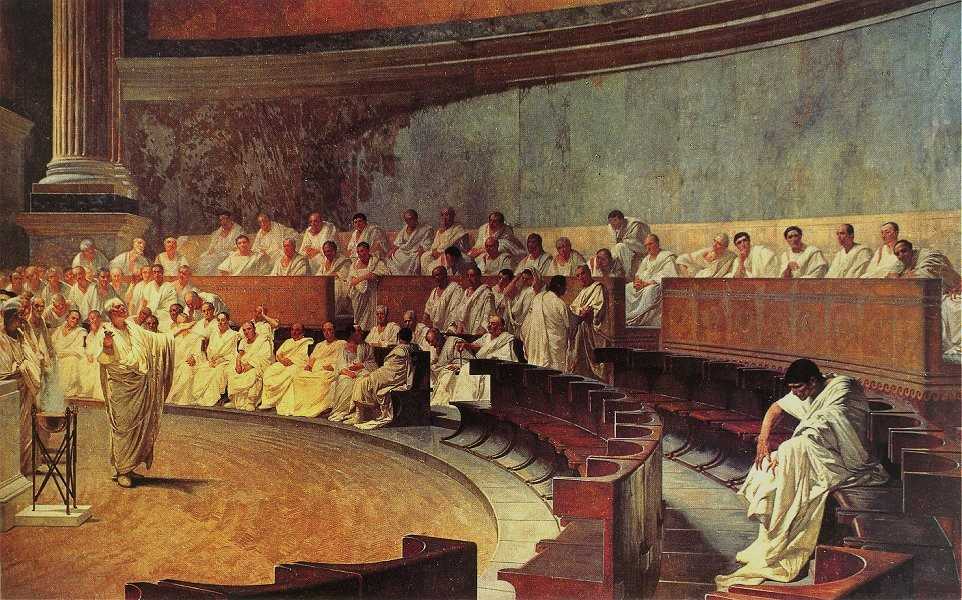 Lucius Sergius Catilina (Catiline to his friends) was a very jealous man. Having once run against Cicero for the position of consul and lost, he became determined to win the next election by any devious method necessary. Plan A was to bribe people to vote for him, and when that didn't work, he decided to go for bust and simply knock Cicero off on election day. This plan was ferreted out by the ever vigilant Cicero, the election was postponed, and the Senate established marital law. When the election finally was held, the murderer-cum-candidate was surprisingly trounced at the polls. Now it was time for Catiline's Plan C: raise an army of co-conspirators, create insurrection throughout Italy, overthrow the government, and slice and dice as many Senators as they could get their coo-ky hands on. But Cicero was again one step ahead and discovered the plan. He called the Senate together for a meeting at the Temple of Jupiter in the Capitol, an orifice only used in times of great crisis. Catiline, who seriously didn't know when he was not welcome, decided to crash the party. With his archenemy in attendance, Cicero began his Catiline Orations, a series of speeches covering how he saved Rome from rebellion, the guilt of Catiline, and the need to whack he and his cronies.
Worthy Excerpt:
I wish, O conscript fathers, to be merciful; I wish not to appear negligent amid such danger to the state; but I do now accuse myself of remissness and culpable inactivity. A camp is pitched in Italy, at the entrance of Etruria, in hostility to the republic; the number of the enemy increases every day; and yet the general of that camp, the leader of those enemies, we see within the walls-aye, and even in the senate-planning every day some internal injury to the republic. If, O Catiline, I should now order you to be arrested, to be put to death, I should, I suppose, have to fear lest all good men should say that I had acted tardily, rather than that any one should affirm that I acted cruelly. But yet this, which ought to have been done long since, I have good reason for not doing as yet; I will put you to death, then, when there shall be not one person possible to be found so wicked, so abandoned, so like yourself, as not to allow that it has been rightly done. As long as one person exists who can dare to defend you, you shall live; but you shall live as you do now, surrounded by my many and trusty guards, so that you shall not be able to stir one finger against the republic; many eyes and ears shall still observe and watch you, as they have hitherto done, tho you shall not perceive them.
Read full text of speech here.
June 12, 1987; Brandenburg Gate, Berlin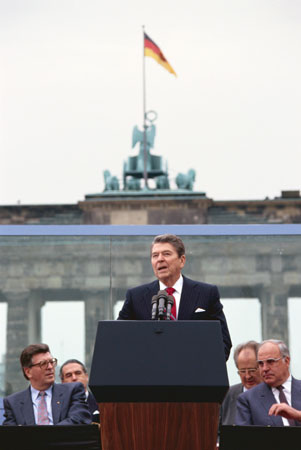 Since the end of World War II, Germany had been a divided country, the West free and democratic, the East under authoritarian communist control. When President Reagan took office, he was committed not only to uniting that country, but to bringing down the entire "Evil Empire." While the importance of Reagan's role in successfully doing so is endlessly debated, it beyond dispute that he exerted some influence in bringing the Cold War to an end. There is no more memorable and symbolic moment of this influence then when Reagan stood at the Berlin wall, the most visible symbol of the "Iron Curtain," and challenged Gorbachev to "tear down this wall!"
Worthy Excerpt:
We welcome change and openness; for we believe that freedom and security go together, that the advance of human liberty can only strengthen the cause of world peace. There is one sign the Soviets can make that would be unmistakable, that would advance dramatically the cause of freedom and peace. General Secretary Gorbachev, if you seek peace, if you seek prosperity for the Soviet Union and eastern Europe, if you seek liberalization, come here to this gate. Mr. Gorbachev, open this gate. Mr. Gorbachev, tear down this wall!
Read full text of speech here.
431 BC; Athens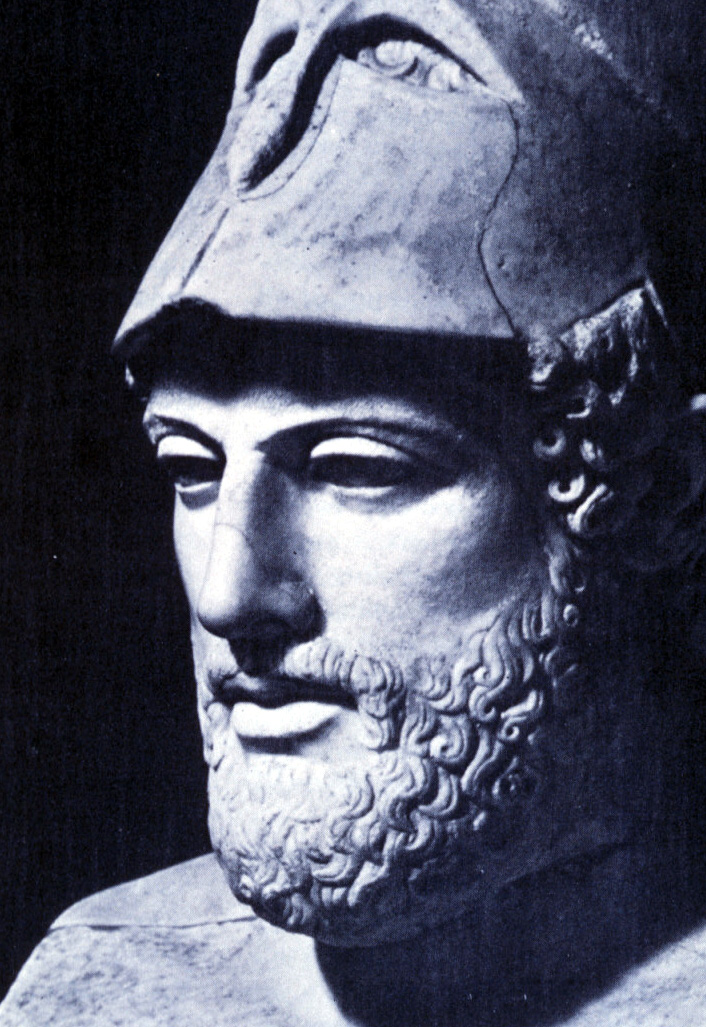 Pericles, master statesman, orator, and general, was truly, as Thuciydies dubbed him, "the first citizen of Athens." Pericles was a product of the Sophists and had been personally tutored by the great philosopher Anaxagoras. His study with the Sophists made Pericles a highly persuasive orator. Through his speeches, he galvanized Athenians to undertake an enormous public works project that created hundreds of temples, including the Pantheon.
Pericles' gift of oration was put to the test during the epic battles of the Peloponnesian War, a civil war between Athens and Sparta. His speeches inspired Athenians to fight to become the number one power in Greece. In February of 431 B.C., Athens had their annual public funeral to honor all those who died in war. Pericles was asked to give the traditional funeral oration. Rather than focus his speech on enumerating the conquests of Athens' fallen heroes, Pericles instead used his funeral oration to laud the glory of Athens itself and inspire the living to make sure the soldiers had not died in vain.
Over 2,000 years later, Pericles' funeral oration inspired Abraham Lincoln's "Gettysburg Address." Like Pericles, Lincoln was a leader during a time of civil war. Like Pericles, Lincoln focused on exhorting the living to live their lives in a way that would make the sacrifice of fallen warriors worthwhile.
Worthy Excerpt:
So died these men as became Athenians. You, their survivors, must determine to have as unfaltering a resolution in the field, though you may pray that it may have a happier issue. And not contented with ideas derived only from words of the advantages which are bound up with the defense of your country, though these would furnish a valuable text to a speaker even before an audience so alive to them as the present, you must yourselves realize the power of Athens, and feed your eyes upon her from day to day, till love of her fills your hearts; and then, when all her greatness shall break upon you, you must reflect that it was by courage, sense of duty, and a keen feeling of honor in action that men were enabled to win all this, and that no personal failure in an enterprise could make them consent to deprive their country of their valor, but they laid it at her feet as the most glorious contribution that they could offer.
Read the full text here.
April 19, 1951, Washington; D.C.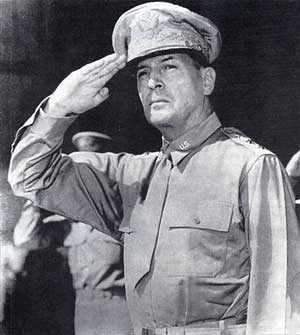 During the Korean War, General MacArthur and President Truman clashed over the threat posed by the Chinese People's Liberation Army and their incursion into Korea. MacArthur continually pressed Truman for permission to bomb bases in Manchuria, believing the war needed to be extended in area and scope. Truman refused the General's requests, arguing that directly drawing China into the war would arouse the Soviet Union to action. MacArthur continued to press his case, and Truman, accusing the General of insubordination, made the decision to relieve MacArthur of his command. After serving for 52 years and in three wars, the General's military career was over. MacArthur returned to the United States and gave this farewell address to Congress.
Worthy Excerpt:
I am closing my 52 years of military service. When I joined the Army, even before the turn of the century, it was the fulfillment of all of my boyish hopes and dreams. The world has turned over many times since I took the oath on the plain at West Point, and the hopes and dreams have long since vanished, but I still remember the refrain of one of the most popular barrack ballads of that day which proclaimed most proudly that "old soldiers never die; they just fade away."

And like the old soldier of that ballad, I now close my military career and just fade away, an old soldier who tried to do his duty as God gave him the light to see that duty.

Good Bye.

Read full text of speech here.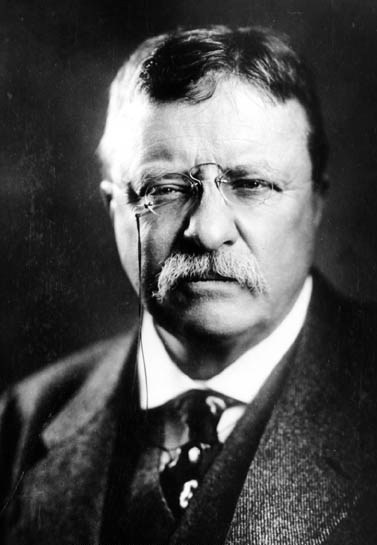 Roosevelt was an advocate of having many children and making sure the next generation would continue to uphold the great virtues of civilization. He was always concerned that young men not be coddled or cowardly, and grow up to live rugged, strenuous, and thoroughly manly lives. But he also strongly believed that being ruggedly manly and being refined in mind and spirit were not incompatible and should in fact go hand and hand. In this speech, he exhorts young men to pursue virtuous manliness. Amen, brother, amen.
Worthy Excerpt:
It is peculiarly incumbent upon you who have strength to set a right example to others. I ask you to remember that you cannot retain your self-respect if you are loose and foul of tongue, that a man who is to lead a clean and honorable life must inevitably suffer if his speech likewise is not clean and honorable. Every man here knows the temptations that beset all of us in this world. At times any man will slip. I do not expect perfection, but I do expect genuine and sincere effort toward being decent and cleanly in thought, in word, and in deed. As I said at the outset, I hail the work of this society as typifying one of those forces which tend to the betterment and uplifting of our social system. Our whole effort should be toward securing a combination of the strong qualities with those qualities which we term virtues. I expect you to be strong. I would not respect you if you were not. I do not want to see Christianity professed only by weaklings; I want to see it a moving spirit among men of strength. I do not expect you to lose one particle of your strength or courage by being decent. On the contrary, I should hope to see each man who is a member of this society, from his membership in it become all the fitter to do the rough work of the world; all the fitter to work in time of peace; and if, which may Heaven forfend, war should come, all the fitter to fight in time of war. I desire to see in this country the decent men strong and the strong men decent, and until we get that combination in pretty good shape we are not going to be by any means as successful as we should be. There is always a tendency among very young men and among boys who are not quite young men as yet to think that to be wicked is rather smart; to think it shows that they are men. Oh, how often you see some young fellow who boasts that he is going to "see life," meaning by that that he is going to see that part of life which it is a thousandfold better should remain unseen!
Read full text of speech here.