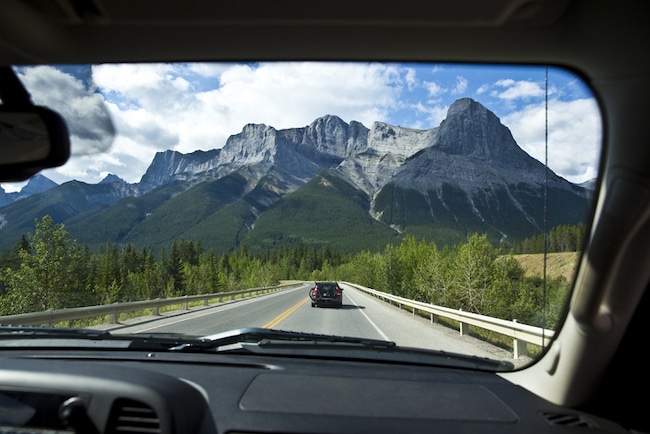 How was your last weekend?
Pretty ho-hum, again?
Tired of the same go-round of restaurants, landscapes, and entertainment options in your town?
Why not take a road trip this weekend? Drive somewhere, say, eight hours away?
Does that strike you as nutty? Do you find yourself thinking, "Oh no, that's too far. I couldn't possibly!"?
It's a strange phenomenon: people will readily and routinely sit at a desk for eight hours every day, but find the idea of spending the same amount of time sitting in a car unreasonable. This, despite the fact that with the former option, you begin and end the day in the same monotonous spot, whereas with the latter, you get up from your seat in a completely new place.
We often place psychological limitations on how a weekend should and can be spent, and the seeming tiresome-ness of a long drive constitutes a central one. But part of this perception lies in how folks often frame driving; if you think of it as a chore, it will feel like a chore. But if you think of it as a chance to meditate, catch up on podcasts, or listen to an interesting audiobook, it's not bad at all. Eight hours in the car is certainly no more tedious than eight hours spent working or doing household tasks and errands.
You can do a shorter weekend road trip, of course. Or a little longer of one; though ten hours is about the bearable limit. But around eight hours, give or take, represents a sweet spot that allows you to get somewhere that feels definitively different from your current locale while being eminently doable over a (long) weekend's time.
You use one of those vacation days you keep sitting on for no reason and leave Friday morning. You then have two nights and one full day to enjoy a completely new place before returning home on Sunday. This kind of getaway ends up feeling more substantial than you'd think! And certainly makes for a much more fun and memorable weekend than you'd have otherwise had.
The last several summers, while the kids were off with their grandparents, we've driven nine hours from Oklahoma to New Mexico, stayed two nights there, and driven home. Despite their brevity, these trips were all supremely enjoyable.
Last year, we took a ten-hour drive to Colorado for a short backpacking trip in the mountains. The idea was to arrive in the early evening, hike in a few miles, camp out that night, spend the next day hiking and camping out, and return home the following day. On the second day, we missed the turn-off on the trail we were taking and accidentally ended up back at our car in the afternoon. We had already covered the trails that led out from there and didn't have time to make it back to the trail we were supposed to have taken. Faced with the prospect of either camping by the parking lot or just getting in the car and driving home, we chose the latter and arrived in Tulsa at two in the morning, having been gone for less than 48 hours — half of which was driving. That might sound like a major drag, but we actually had a blast; it was one of our favorite trips.
Think about taking off on your own road trip this weekend. Book a hotel, plan on camping out (do dispersed camping for free!), or score a last-minute discount on an Airbnb.
If you live in New York City, you could be in Acadia National Park in eight hours.
If you live in Los Angeles, you could be in San Francisco in six.
If you live in Little Rock, AR, you could be on the beaches of Destin, FL in nine hours.
If you live in Denver, CO, you could be in Yellowstone National Park in eight hours.
If you live in Philadelphia, you could be in Great Smoky Mountains National Park in nine hours.
If you live in Amarillo, TX, you could be in Crested Butte, CO in eight hours — and enjoy a 30-degree difference in temperature.
If you're still feeling daunted, remember that you spend eight-hour stretches sitting around day after day — each of which becomes part of an endless blur of nothingness. It's perfectly reasonable to occasionally spend an eight-hour stretch sitting around that will deposit you in a new place, offer a bit of adventure, and lead to the making of lasting memories.