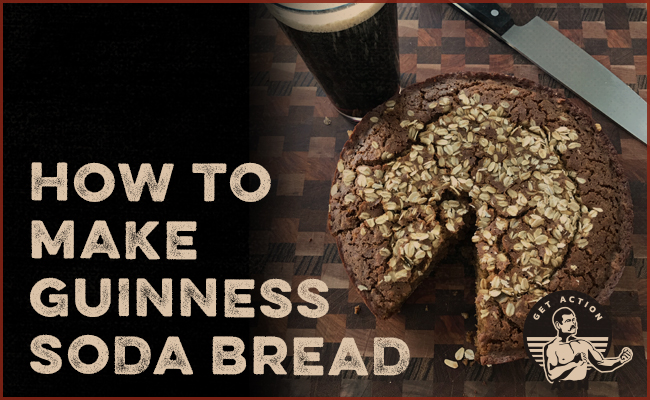 If you want to really harness the Irish spirit on St. Patrick's Day, skip the gimmicky green beer and green desserts. Instead, make something that's truly part of Irish culture. When I was in Dublin a few years back, I quickly discovered that Guinness beer really does hold sway over the small island country. And along with that beer was served plenty of Guinness bread — a dark, chewy, semi-sweet "soda" bread.
Soda bread, as a category, is defined by its use of baking soda as the primary leavening agent rather than yeast. It also almost always uses buttermilk as the liquid, making for a sweeter final product. Plus, it's a very easy type of bread to make, as you'll see.
While dark bread often gets its color from dark flour, this one gets its color right from the beer. Don't worry though, the alcohol gets cooked off in baking, making it perfectly acceptable for kids and teetotalers too.
Serve it alongside corned beef and cabbage, mashed potatoes, and any other Irish-themed dish you're concocting to celebrate St. Patrick.
How to Make Irish Guinness Soda Bread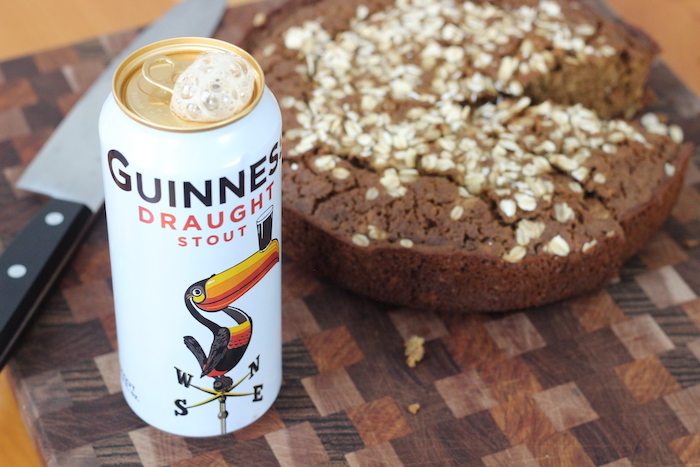 Ingredients
2 1/4 cups whole wheat flour (270 grams); the whole wheat makes it chewier and nuttier, but all-purpose works fine too
1 cup old fashioned oats (plus another handful or two for topping)
1/2 cup brown sugar
2 tsp baking soda
1 tsp baking powder
1 tsp salt
1/4 cup melted butter (4 tbsp)
1 tsp vanilla extract
1 cup buttermilk
10oz Guinness
1. Preheat Oven to 425
2. Mix All Dry Ingredients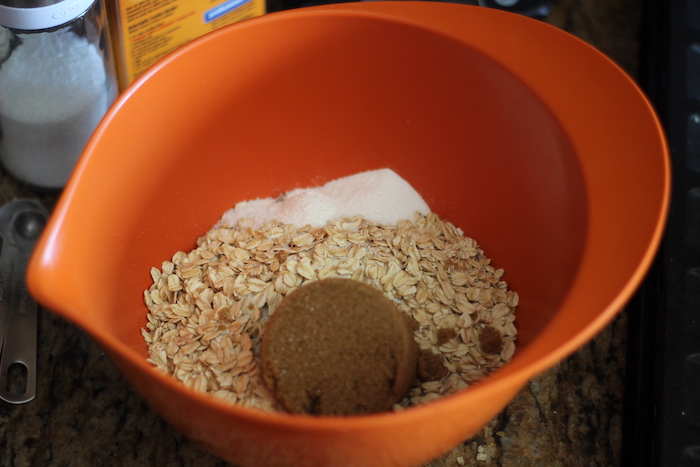 In a mixing bowl, combine all dry ingredients — flour, oats, brown sugar, baking soda, baking powder, and salt. Mix them well with a fork or whisk. The brown sugar might make it a little clumpy; don't worry about that.
3. Mix All Wet Ingredients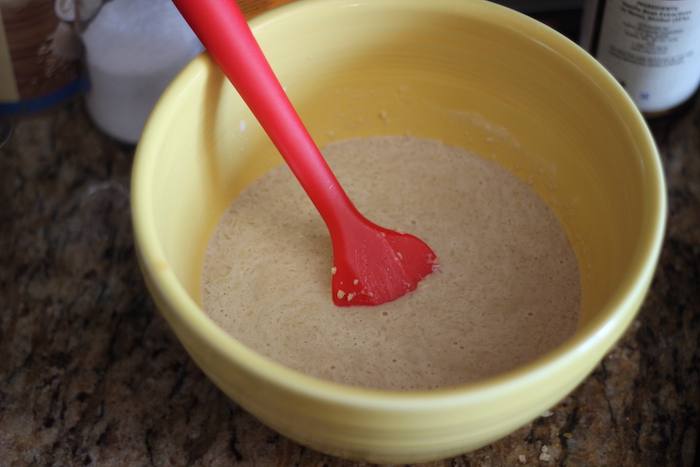 In another mixing bowl, combine all the wet ingredients — melted butter (let it cool a couple minutes first), vanilla, buttermilk, and beer. Drink the few ounces of Guinness left over in the can.
4. Combine Wet and Dry Ingredients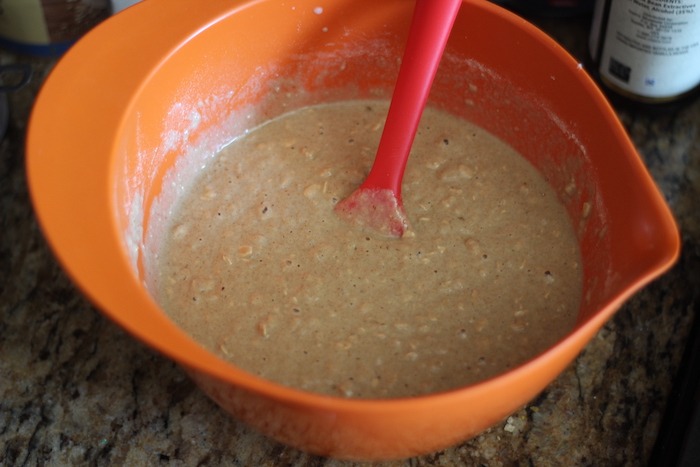 Slowly pour the wet mix into the dry mix and mix it all together. This isn't dough like you may be used to; this is a batter, really. It will resemble pancake batter. (In fact, now I wonder if you could make pancakes with it . . . someone try it and let me know.)
5. Pour Into Greased Dutch Oven
I used a Dutch oven for this recipe, and that's the preferred vessel, but any number of baking dishes would work, including loaf pans. Whatever you use, grease it up well, and you'll be alright. It's a surprisingly forgiving bread.
Top with a couple handfuls of additional oats.
6. Bake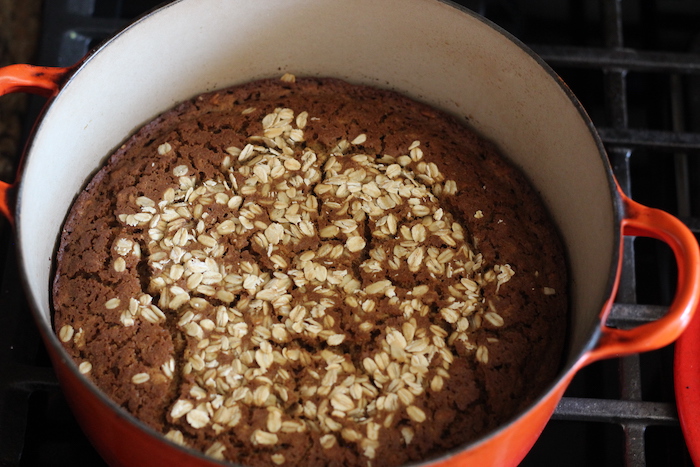 Bake for 30 minutes, then reduce to 375 and bake another 25 minutes. Poke with a toothpick to check doneness; it should come out clean. Pull out of the oven and let cool for 20-30 minutes before removing from the Dutch oven. It should come out nice and easy since you greased it so well.
7. Serve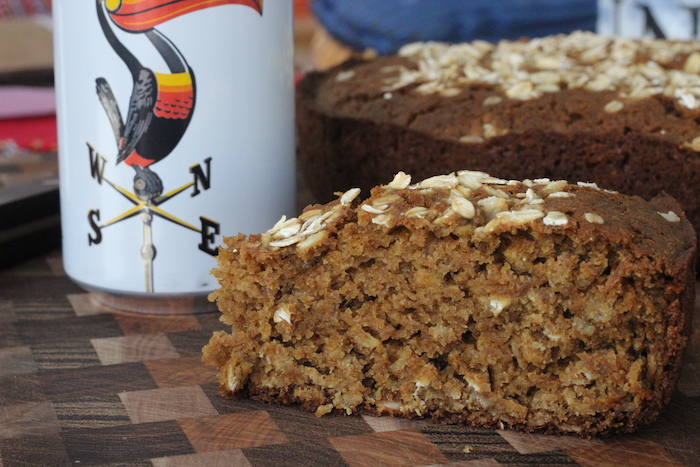 I like to serve this as pie-like wedges. Tastes great on its own, but also goes well with butter and/or honey. And of course, it's best paired with a fresh Guinness.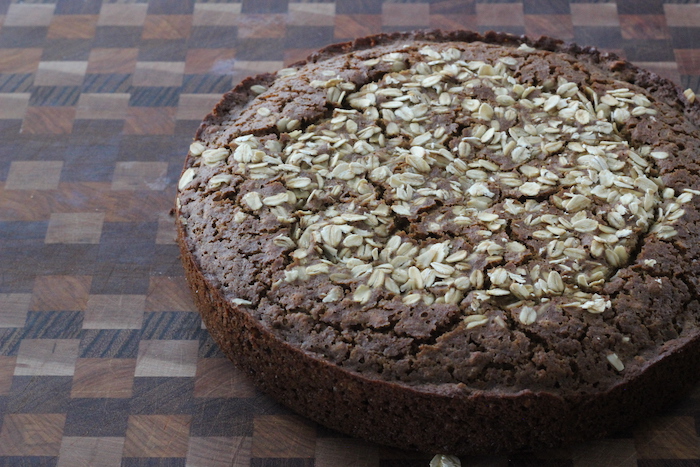 Tags:
Recipes