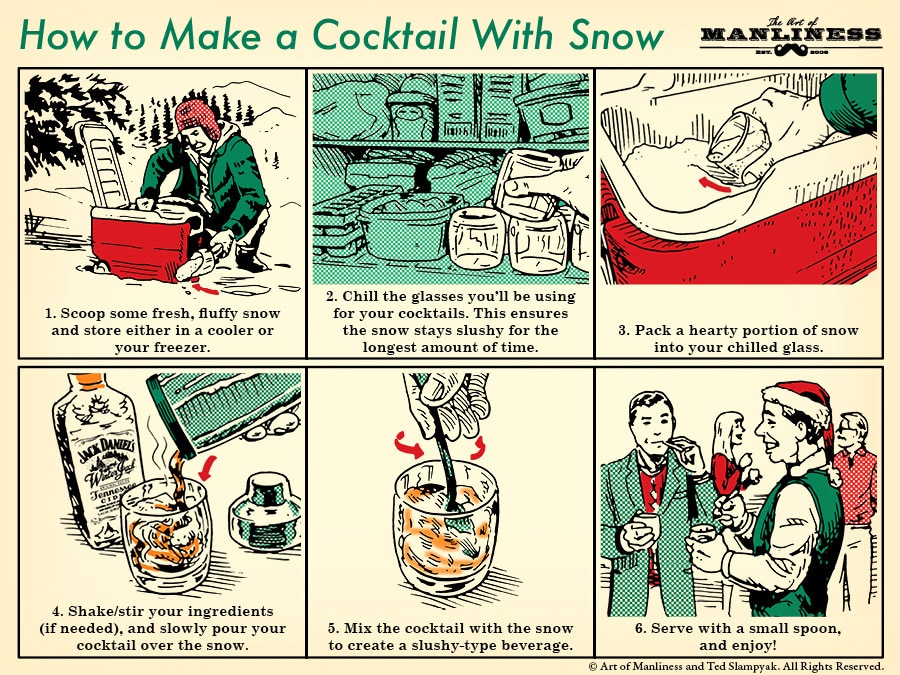 In the colder months, it's often warm cocktails that come to mind for an evening drink. But there's another way to jazz up those winter refreshments: snow. That's right, you use the fluffy white stuff itself in place of ice, and get a unique, slushy cocktail.
This ingredient is not just a fanciful gimmick either; bartenders in urban centers around the country have started to take advantage of the unique properties of snow to create memorable delicious drinks for their patrons.
Just mix up your favorite cocktail — be it a Manhattan or a martini — and pour it over a glass full of snow. You'll impress your guests, and enjoy a tasty twist on your favorite drinks.
To make your cocktail extra wintery, try the following recipe:
1oz Winter Jack
1oz Gentleman Jack whiskey
2oz ginger beer
Apple slices to garnish
Combine the Winter Jack and whiskey in a cocktail shaker with ice, shake it up, and pour into your glass over the snow. Top with ginger beer and apple slice, and enjoy!
Scoop some fresh, fluffy snow and store either in a cooler or your freezer.
Chill the glasses you'll be using for your cocktails. This ensures the snow stays slushy for the longest amount of time.
Pack a hearty portion of snow into your chilled glass.
Shake/stir your ingredients (if needed), and slowly pour your cocktail over the snow.
Mix the cocktail with the snow to create a slushy-type beverage.
Serve with a small spoon, and enjoy!
Like this illustrated guide? Then you're going to love our book The Illustrated Art of Manliness! Pick up a copy on Amazon.