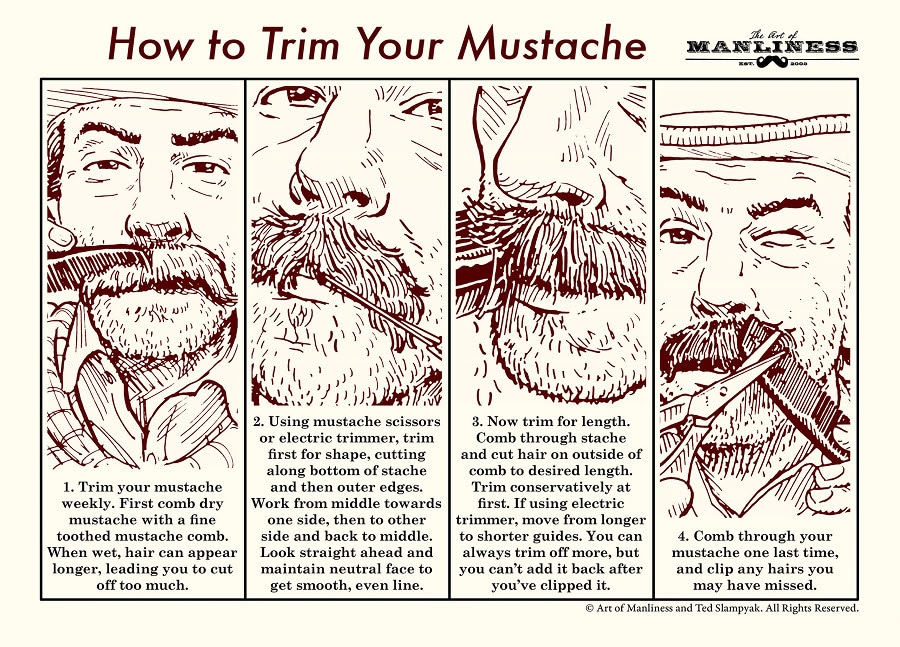 Illustration by Ted Slampyak
Trim your mustache weekly. First comb dry mustache with fine toothed mustache comb. When wet, hair can appear longer, leading you to cut off too much.
Using mustache scissors or electric trimmer, trim first for shape, cutting along bottom of mustache and then outer edges. Work from middle towards one side, then to the other side and back to middle. Look straight ahead and maintain a neutral face to get smooth, even line.
Now trim for length. Comb through mustache and cut hair on outside of mustache comb to desired length. Trim conservatively at first. If using electric trimmer, move from longer to shorter guides. You can always trim off more, but you can't add it back after you've clipped it.
Comb through your mustache one last tie and clip any hairs you may have missed.
Like this illustrated guide? Then you're going to love our book The Illustrated Art of Manliness! Pick up a copy on Amazon.