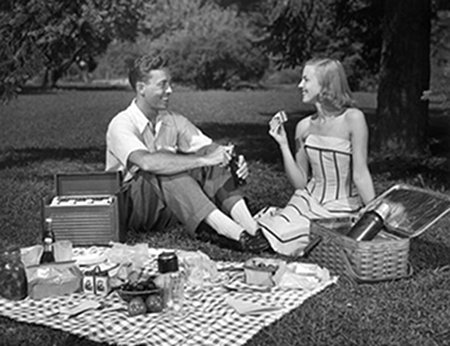 Picnics lead to marriage.
Okay gents, now that I've got your attention, allow me to explain.
Less than two years ago, I met the woman of my dreams. I'll be the first to admit, I've always been a pretty picky guy when it comes to dating. However, within a few hours of meeting my future bride-to-be, I knew that I could spend the rest of my life with her. It was just that simple– when you know, you know. Yet, life and love are always more complicated. Our problem? I lived in Nashville, while she was just moving to Los Angeles, by way of NYC. Yeah I get it; our story already had the makings of a great country music song.
For those who've never done the distance, I'll get straight to the point: it can be brutal. Sure, modern technology such as email, Skype, and FaceTime have made communication easier, but in our case, the idea of starting our relationship from 2000 miles apart, while navigating the ups and downs of the entertainment industry seemed virtually impossible, if not irresponsible. Besides, I assumed she was probably more interested in all of those Hollywood surfer/producer types–how could a cowboy boots-wearing, singer/songwriter food guy ever capture her heart?
Ok, enough with the self-doubt talk.
Sometimes, you have to man up. After a month or so of casually communicating, it seemed that the distance and detached lives we were leading were putting out our initial spark. So, I called an audible. I can still remember her reaction when I told her–3 days ahead of time–that I'd just booked a flight to come visit her in California. Shocked, excited, nervous? Hmm, I'd say it was a mixture of all three. Either way, it was a bold move. Or as Will Hunting best said it, I had to go see about a girl.
What ensued was a weekend that changed both our lives. I did my best to win her over via my Southern gentleman charm, along with a few fancy dinners, walks on the beach, and all of that other stuff of fairy tale romance. But, what pleased her most was a simple afternoon picnic I had planned toward the end of our weekend. You see, I even went as far as to pack a foldable cooler, blanket, and corkscrew with my luggage to ensure my plans went off without a hitch. That might seem a little overboard, but it's all about making the effort, fellas. By the end of the weekend, we knew that we were both committed to pursuing a serious relationship–regardless of the distance.
The takeaway? After an incredible year of dating, racking up the miles via planes, trains, and automobile, I found it time once again to man up. This past January, I boarded yet another plane to take me back out to California. But this trip was different. Relishing our time together, over a picnic on that same beach from before, I asked her to spend the rest of her life with me.
As it turns out, risks are worth taking — she said yes.
In other words, pursue the one with everything you have, and don't be afraid to enjoy a picnic or two along the way.
Cheers!
MM
Guidelines, Tips, and Meal Planning for Picnics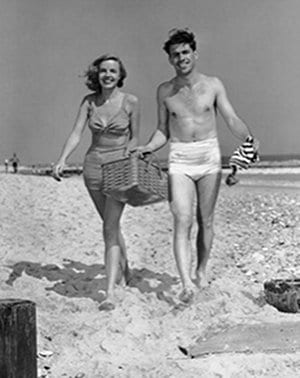 First and foremost, plan ahead. The whole point of enjoying a picnic is to take advantage of the great outdoors, so choose a beautiful spot on a day when the weather is agreeable.
Pack accordingly. The following items/suggestions will help ensure that you are properly prepared. To be fair, I've made this list rather thorough. Pack according to your needs, companions, and environment. Forgetting something can really put a kink in your plans, so a good idea is to make a checklist of what you want to bring, and then cross off each item as you place it into your basket.
Picnic Packing List
–A comfortable blanket or ground covering to sit on. If you are worried about ruining your favorite quilt or blanket, bring along a vinyl tablecloth to serve as an under layer.
–A cooler for items that need to be kept cold. Use plenty of ice packs to keep everything chilled. You can also freeze bottled water, lemonade, or fruit juice to double as ice packs and save space–just be sure you have the time to let them thaw prior to serving. Last but not least, don't put the cooler in your trunk during transport, as it's the hottest part of the car.
–A basket or large bag to carry everything else. You don't necessarily need to get an old fashioned wicker basket, but try to use something more charming than a bunch of grocery bags.
–Plastic storage containers and plastic storage bags. Both of these items prevent things from spilling, while also keeping food separated and fresh.
Note: Don't put bread items (like the French baguette I suggest below) in a 100% sealed plastic container or plastic wrap. Instead use parchment paper, butchers paper, etc., to keep the bread from becoming soggy.
–Plates, forks, knives, napkins, cups and/or glassware, and a cutting board. I prefer using the real stuff over plastic or paper. It makes the picnic feel more special, and it saves the environment.
Note: I wrap my glassware in cloth napkins, and usually stack my plates and other fragile items within my blanket. This allows the napkins and blankets to perform double duty, without taking up too much space. Also, there are many manufacturers on the market that sell picnic baskets that come with real glassware and server-ware and are specially designed to secure and protect it. These products can tend to be a bit pricey for those that rarely picnic, but they do add a touch of convenience for those who plan on dining outside on a regular basis.
–Sunscreen and bug spray.
–Books, magazines, or other literature. For lazy reading during breaks in the conversation.
–A small stereo or your cell phone to stream/play background music.
–Frisbee, ball and glove, or board games for the competitive types.
–A sharp knife for cutting, a bottle opener for soda/beer bottles, and a corkscrew to open a bottle of wine. You'll be kicking yourself if you forget these!
–Trash bags and moist towelettes for cleanup.
–Small first aid kit. Overboard, perhaps–prepared, yes.
Food & Drink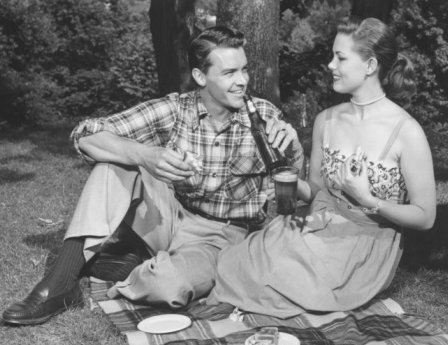 Some general guidelines:
Choosing your food. Serve finger-friendly, easy-to-prepare foods, such as sandwiches, wraps, cut fruit, hard-boiled eggs, chicken wings, tear-able bread, carrot and celery sticks, crackers, chips, cookies, and so on.
Substitute pesto for mayonnaise. Foods with mayonnaise must be kept cold, and can go bad when left out for too long in the heat. Instead, I advocate picking up a jar of pesto from your grocer, or making it at home. It can be used as a condiment, or as a binder in potato/pasta salads. Besides that–it's delicious.
If serving a salad, wait to dress the greens until ready to serve. This will prevent things from becoming soggy.
Choosing a wine. Rosé wines are a popular choice for picnics. Served slightly chilled, these wines can act as a refreshing go-between either a red or a white. I prefer those that are less sweet. Otherwise, a crisp, chilled Sauvignon Blanc or Chardonnay can be nice on a hot day, or a lighter Pinot Noir will also suffice for those who are more inclined to drink reds.
Bottled water, fruit juices, craft sodas, and beer make good beverage choices too. Just keep in mind that these tend to be the heaviest items, so pack accordingly.
Choosing a cheese. If you'll be picnicking on a hot day, it's best to choose a firm, low-moisture cheese since soft cheeses can get gooey. Aged Gouda, Asiago, Manchego, or Pecorino (Fiore) Sardo are good options.
Menu suggestions: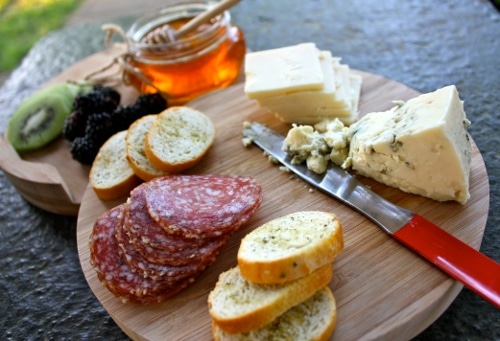 Cheese Board
I'm a big advocate of keeping things simple. For that reason, I always like throwing together a simple cheese board. An assortment of cheese, bread, cured meats, and fruit makes the perfect lunch, while requiring little to no preparation.
Sharp White Cheddar Cheese, sliced
Aged Blue Cheese
Sopressatta, sliced paper thin
Toasted French Bread Slices
Honey
Kiwi, sliced
Blackberries

Prepare and assemble ingredients onto a large cutting board. Serve.
Turkey Pesto Submarine Sandwich
You can also never go wrong with packing delicious sandwiches for your picnic. This is one of my favorites.
1 French Baguette
4 oz. Prepared Pesto
½ lb Sliced Turkey
1 Vine Ripe Tomato, sliced
¼ Red Onion, sliced thin
1 Handful Arugula or shredded lettuce
Slice baguette lengthwise, and smear pesto on both cut sides of bread. Pile the remaining ingredients onto the sandwich and top off with remaining half of bread. If serving in small portions, insert toothpicks vertically into the sandwich, every 2 – 3 inches. Using a knife, slice into individual serving portions. Serve.
Lastly, have fun! Share with us your comments and tips for pulling off the perfect picnic!