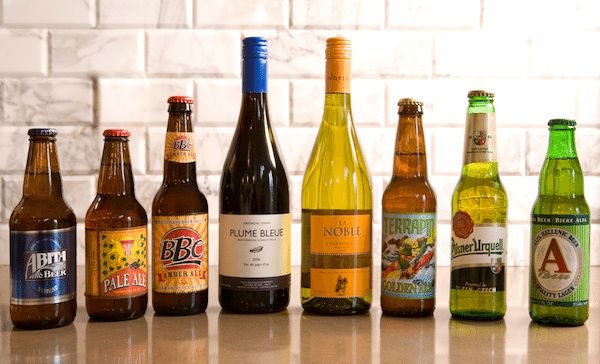 Out of all the articles I've written for AoM, I must admit that I enjoyed this assignment the most. You see, I subscribe to the two-hand cooking approach when in the kitchen — right hand for holding tongs, flipping steaks, stirring vegetables, or plating meals, and the left hand to hold my adult beverage of choice.
Fact is, one of my favorite forms of relaxation after a long day is standing over a sizzling cast-iron pan or my charcoal grill with an ice cold beer or glass of wine in hand. Certain days are harder than others, which is why I also have been known to enjoy a bourbon cocktail from time to time.
Regardless if you partake in an adult beverage or not, the truth is that we all enjoy a bit of booze in some of our favorite meals. From a red-wine-laced Bolognese sauce, to a beer-battered tempura, alcohol is a popular ingredient in most kitchens. In fact, its versatility — from being a cooking fuel to deglazing to braising to finishing — is unparalleled when compared to most other ingredients.
Such a subject is so detailed and encompassing that it would literally require a science lab and an entire book to do it justice. That said, I felt it important to showcase the very basic elements of utilizing this ingredient while cooking, along with some of my favorite recipes.
Crack open a drink and let's get to work!
Pairing Alcohol With Food
In order to start, in my opinion, one must have a basic understanding of pairing food and alcohol as part of the finished meal. We often overcomplicate this mutually beneficial relationship with stiff rules. Truth of the matter is to keep it simple — which can mean using your eyes as well as your taste buds. What do I mean? Lighter colored beers, wines, and spirits tend to go with similar looking lighter colored proteins, sauces, cheeses, etc. As the alcohol gets darker, so should your pairings. Of course, this is a very basic assumption, and there are many exceptions, but to speak in terms of generality, I've laid out some of my most common wine, beer, and spirit pairings below:
Wine: Sauvignon Blanc; Beer: lagers — white or light fish, mild cheese, fruit
Wine: Chardonnay; Beer: pilsners, lagers, cream ales; Spirits: sake, clear spirits — grilled chicken, salmon, shellfish, and grilled fish; anything with a scampi or cream sauce
Wine: Pinot Noir; Beer: wheats, brown ales — grilled fish, vegetables, or lighter meats – chicken, pork, veal; pasta with cream or red sauce
Wine: Merlot; Beer: brown ales — red sauce pastas, red meat, sharp cheeses, smoked or grilled foods
Wine: Zinfandel; Beer: pale ales — tomato pasta dishes, pizza, pesto, red meats, chicken, heavier sauces
Wine: Cabernet Sauvignon; Beer: porters, stouts, high alcohol beers; Spirits: dark spirits — red meats, especially steak, grilled and smoked foods
Wine: Syrah; Beer: pale ales, IPAs, high alcohol beers — red meats, spicy foods, pan seared or blackened fish
Wine: Rosé, Champagne; Beer: hefeweizens — salads, pasta salads, chicken, fish, light spicy foods
Cooking With Booze 101
Now let's talk about using alcohol to cook our foods. Similar to the pairing method above, lighter colored alcohols and spirits also make their way into lighter proteins, sauces, and meals — an example would be a white wine used in a seafood scampi sauce. Darker spirits work with heavier proteins, sauces, and dishes such as a dark rum used in a nutty caramel or chocolate sauce.
In my experience, folks underestimate the amount of residual alcohol that remains in the dish, even after the cooking process takes place. Let's take a look at this chart from our trusty friends over at the USDA:
| | | | | |
| --- | --- | --- | --- | --- |
| Preparation / Method | | Retained | | Evaporated |
| Flamed (flambé) | | 75% | | 25% |
| Left uncovered overnight, no heat | | 70% | | 30% |
| Stirred into mixture and baked or simmered for 1 hour | | 25% | | 75% |
| Stirred into mixture and baked or simmered for 2-1/2 hours | | 5% | | 95% |
| USDA Table of Nutrient Retention Factors, Release 6 | | | | |
Moral of the story? Don't let your 10-year-old eat too much of that flamed bananas foster!
This brings me to my next and very important point. Don't cook with anything you wouldn't yourself drink! As displayed above, a good portion of alcohol will remain in most cooked dishes, which means you need to use a quality spirit that doesn't taste like junk. There's no need to break the bank on an '85 cab, but don't put into your food what you wouldn't generally consume.
I'd be remiss to not also mention a couple safety tips. To keep lawsuits at a minimum, I've avoided the flambé technique in this article — I've seen too many near disasters. Remember that alcohol is highly flammable, especially if you are working over high heat using a gas stove. My suggestion is to always pull the dish off the heat, especially when deglazing pots and pans. If you get a flare up, don't stress — remember the flame will likely burn down very quickly. (Keep an extinguisher on hand to quell the flames if needed — or use salt as a last resort.)
Got it? Good — let's get cooking!
Cooking With Booze: 5 Mouth-Watering Recipes
Penne a la Vodka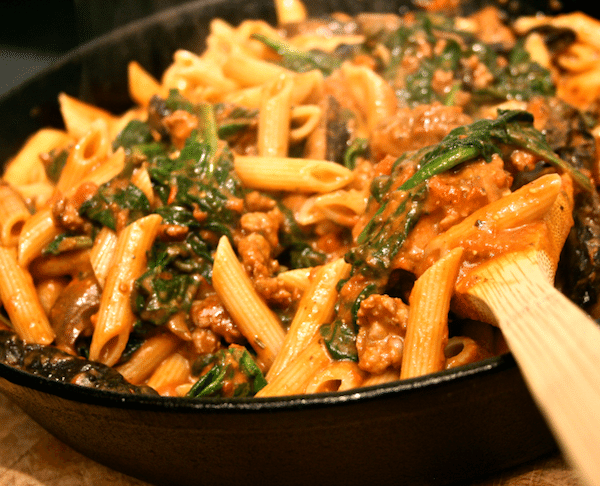 This dish is arguably one of the most beloved from my first book, Have Her Over for Dinner. As such, my friends have nicknamed it Penne a la Moops (for those who are fans of Seinfeld). Anyways, this is a rosé sauce of tomato and cream, which contains a little bit of vodka to help pull the flavors together. This dish is hearty and super filling — not to mention the fact that it makes for great leftovers.
Prep: 10 min
Cook: 30 min
Total: 40 min
Serves: 6
1 lb. dried penne pasta
1 lb. Italian sausage, casings removed
4 Tbsp. unsalted butter
1 onion, finely diced
½ tsp. kosher salt
2 cloves garlic, minced
1 tsp. red pepper flakes
1 lb. button mushrooms, sliced
1 16 oz. can crushed tomatoes
1 cup heavy cream
2 Tbsp. vodka
4 cups loosely packed spinach leaves
Parmigiano Reggiano cheese, grated to taste
Cook pasta in salted water until al dente. Drain and keep warm.
Meanwhile, brown sausage in a cast-iron skillet over medium heat until cooked through; remove and drain on paper towels.
Melt butter in the same skillet; add onions and salt, and sauté until tender, about 6-8 minutes.
Add garlic, red pepper, and mushrooms; cook until mushrooms are tender, about 5 minutes.
Add tomatoes, cream, vodka, and return the sausage to the pot. Allow the mixture to come to a slow simmer, reduce heat to low and simmer 10 minutes uncovered.
Prior to serving, fold in the pasta, followed by the spinach, and toss until spinach is wilted and incorporated. Serve with grated cheese.
Seafood Scampi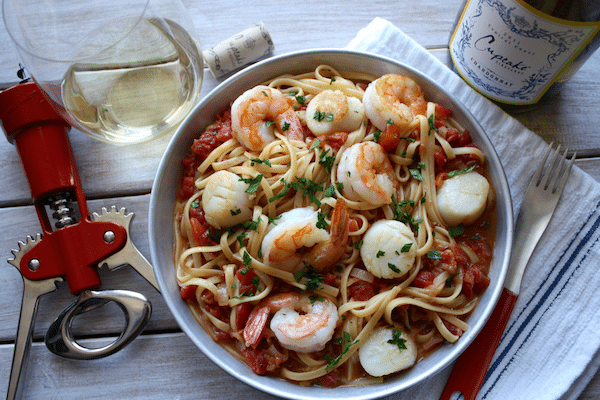 This classic dish is bursting with tender, succulent seafood in every bite. If you are not a fan of seafood, substitute cooked chicken breast instead.
Prep: 15 min
Cook: 20 min
Total: 35 min
Serves: 2
8 oz dry linguine pasta
Kosher salt
4 Tbsp. unsalted butter, divided
2 Tbsp. extra virgin olive oil
½ lb. large shrimp, peeled and deveined with the tail on
½ lb. large sea scallops
Fresh cracked pepper
½ lemon
1 small shallot, minced
2 cloves garlic, minced
1 cup chardonnay/sauvignon blanc wine
1 14.5 oz. can petite diced tomatoes
3-4 sprigs fresh flat leaf parsley, finely chopped
Bring a large pot of water with 1 teaspoon of kosher salt to a boil. Add pasta and cook for 7-8 minutes, or just under al dente. Drain the pasta and set aside to keep warm (add olive oil to pasta to prevent from sticking).
While pasta is cooking, melt 2 tablespoons of butter into 2 tablespoons of olive oil over medium-high heat in a skillet.
Season shrimp and scallops lightly with kosher salt and fresh cracked pepper; add to skillet. Sauté for 3-5 minutes until shrimp are just pink and scallops are beginning to firm; remove from pan and place on a plate to keep warm, squeezing the juice of the lemon over the top.
Add shallots and garlic to the empty skillet over medium-high heat and sauté for 1-2 minutes, careful not to burn the garlic. Deglaze the skillet with the wine, scraping up any of the browned bits from the bottom of the pan with a wooden spoon.
Add the petite diced tomatoes and bring to a simmer and allow the mixture to reduce by one-third, or 6-8 minutes.
Add the shrimp, scallops, and pasta back into the pan to heat through, 2-3 minutes. Remove from heat and add the remaining butter, stir until completely incorporated. Toss and serve immediately. Garnish with parsley.
Beer Can Chicken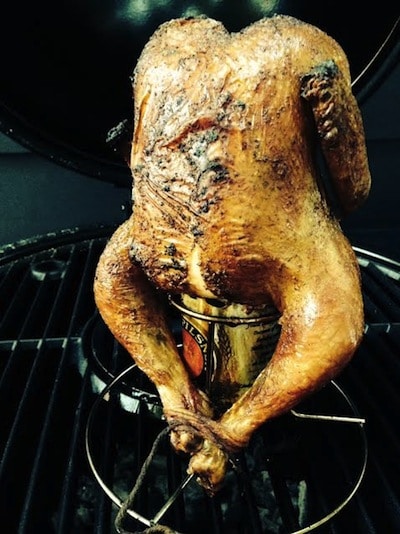 No, good sir, it doesn't get any manlier than smoking a whole chicken perched atop a can of beer. Often tried, but rarely perfected, this is one of those techniques which is a true marriage of cooking and booze. The beer (use any you'd like, as long as it's in a can) lends extra flavor and moisture to the bird throughout the cooking process. To get the best results, use a komodo style smoker, otherwise, you can still get good results on a gas grill over indirect heat. You can pick up a stand/cradle to elevate the bird and keep it sturdy for about 5 bucks – which is a worthy investment in my opinion. Otherwise, you can go old school and just stand the bird up on the can.
Prep: 10 min
Cook: 60 – 75 minutes
Total: 1 hour 10 min – 1 hour 25 min
Serves: 4
1 4-5 lb. young chicken, washed and rinsed clean
¼ cup extra virgin olive oil
2 Tbsp. Creole seasoning
2 cloves garlic
1/2 lemon
1 can beer, open and with a couple swallers taken

Beer can chicken stainless stand
Butcher's twine
Prepare a charcoal smoker or gas grill for indirect heating/smoking over medium heat, about 275-300 degrees.
Meanwhile, coat chicken in oil, and evenly rub the Creole seasoning into the chicken, including the cavity. Stuff cavity with garlic and lemon, and place the bird on top of the beer on the stand. Secure by tying the legs together with butcher's twine.
Smoke the bird, rotating on occasion, until the internal temperature reaches 170 degrees F.
Tent with foil and allow the bird to rest for 20 minutes prior to cutting and serving.
Pan Seared Filets + Red Wine Pan Sauce
Re-create that steakhouse experience at home without breaking the bank. Splurge on some top quality cuts of steak – remember that great meals start with great ingredients. The deep, rich flavors of red wine combine with the pan drippings to create a luscious sauce that will set this meal over the top.
Prep: 10 min
Cook: 30 min
Total: 40 min
Serves: 2
4 Tbsp. unsalted butter, divided
2 8 oz. filet mignons, at room temperature
Kosher salt
Fresh cracked pepper
1 Tbsp. shallot, minced
½ cup cabernet or Syrah wine
½ cup beef stock
Preheat oven to 425 degrees F.
Heat a cast iron skillet over medium-high heat and season filets with salt and pepper. Add butter and sear filets, undisturbed, for 2-3 minutes. Flip filets, then put skillet onto the bottom rack of the oven for about 5-7 more minutes depending on the cut ( until internal temperature is 135 degrees F for medium rare/medium). Remove filets from oven and tent with foil to keep warm and rest.
Place cast iron skillet back on stovetop over medium-high heat and sauté shallots for 1-2 minutes. Deglaze pan with wine, and reduce mixture by half.
Add stock, and once again reduce mixture by half.
Remove from heat, add remaining butter, and season the sauce to taste with salt and pepper. Serve sauce with steak.
Blueberry + Peach + Bourbon Granola Crisp

A simplified version of a classic cobbler, chock full of fresh peaches and blueberries. Better yet, I like to spike mine with a little bourbon to help bring out even more flavor. You can use this same fruit mixture for traditional cobblers or pies, but I like the crispy granola crunch on top – it's also a heck of a lot easier to prepare.
Prep: 15 min
Cook: 40 min
Total: 55 min
Serves: 6
Fruit Mixture

3 ripe peaches — pitted, peeled, and sliced
1 cup fresh blueberries, washed
½ lemon, juiced
2 Tbsp. Kentucky bourbon
1 tsp. lemon zest
3 Tbsp. brown sugar
1 tsp. ground cinnamon
1 tsp. ground nutmeg
Topping
1 cup granola
2 Tbsp. brown sugar
1 pinch kosher salt
4 Tbsp. cold butter, cubed
Preheat oven to 375 degrees F.
Toss the fruit mixture together into a greased cooking pan until evenly combined.
Next, add the topping ingredients in a mixing bowl, cutting the butter into the dry ingredients until you get a course crumble.
Spread the topping over the top of the fruit mixture and bake for 30-40 minutes or until browned and crispy.
Cool slightly before serving. Serve with vanilla ice cream if desired.
What are your favorite ways to incorporate alcohol into your cooking?