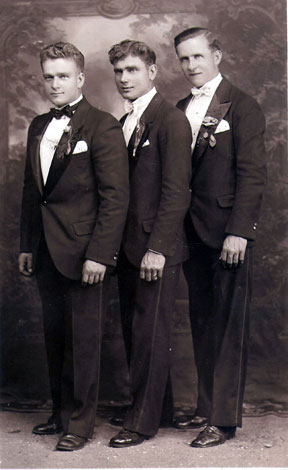 Your groomsmen are your best buddies, guys who have been there for you through thick and thin. And on the most important day of your life, they'll be there for you once again, standing by your side as you take the plunge. Of course no one likes going to weddings and getting dressed up in some monkey suit, but it's no big deal to them because they're your bros. In return for their longtime friendship and for coming to support you in getting hitched, you are supposed to bestow upon each of them a groomsmen gift.
It can be hard to think of a classy gift your friends will actually like, and more difficult still, something they will actually use. No guy needs another knickknack that's going to sit in his desk drawer and gather dust. But many guys aren't exceptionally creative when it comes to gift giving and don't like particularly like shopping either. It can paralyze our brains, to the point that we think groomsmen bobble heads might be a good idea.
The engraved flask is a popular choice, but I can't say I'm a fan. When does a regular guy use a flask? Seriously. How often are you stealing sips of whiskey when you're out and about? You've pretty much landed in wino country if you're doing that. Cuff links are a traditional gift, but most guys don't own shirts that necessitate them anymore, so they may not be put to use. Money clips aren't a bad selection, but many men are attached to their current wallet or clip. Watches make nice gifts, but selecting one is really a matter of personal taste and pocket watches, though tasteful and handsome, will likely end up in their underwear drawer.
Fortunately, there are other fine alternatives. I did some thinking, shopped around, and came up with 10 classy, cool gifts that you'll be proud to give to your groomsmen.
Note: No one's paying us a dime to recommend these things to you. We honestly think they're good ideas. Enjoy.

It's a real wooden bat, same kind used as the pros. And you can engrave a message on it. A little pricey, but pretty sweet. Your buddy can use it at the company softball game or wield it when checking out strange noises in the night.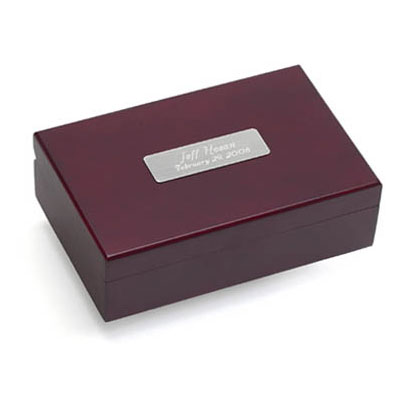 I used to love looking in my dad's keepsake box. He'd keep his tie tacks, tie clips, watches, and old pocketknives in it. The site I linked to above is called etsy.com. People on Etsy sell their homemade crafts online. This seller offers some pretty cool and unique keepsake boxes which are made out of old books. Be sure to check out this one and this one. Pretty damn manly. And check out this one, made from an old post office bank. For something more traditional, see here.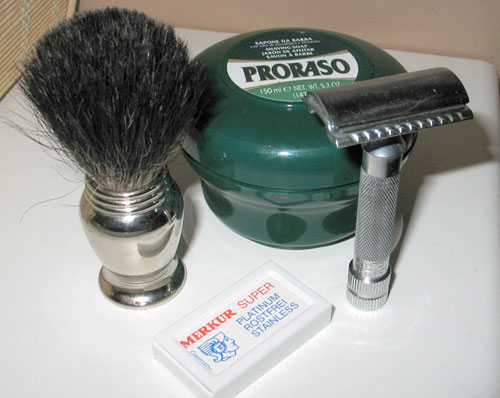 I can't think of a better gift to bestow upon your groomsmen than to help them start shaving like their grandpas. Shaving kits can be pretty pricey, so if you don't have much expendable income, think about simply getting them a nice brush or razor.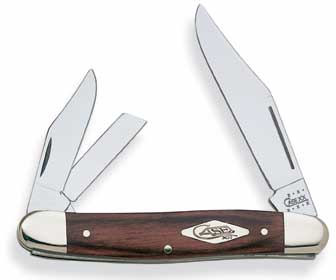 As you know, every man should carry a pocketknife. Lots of gift sites carry engravable pocketknives, but they are generally woosy knives designed to look pretty instead of being used to stab grizzly bears in the heart. Plus, a man doesn't want to think about your wedding every time he takes his knife out of his pocket. So skip the engraving altogether and just get them a sweet, well-made one. There are plenty of good options out there. W.R. Case makes some fine pocket knives. They've been handcrafting them right here in the USA since 1889. Whichever you choose, find a knife that your friend will love to carry around and want to pass on to their son.
Nothing's more manly than building a fire without matches. So if your friends are outdoorsy and you want to find them something unique (read: seriously cool) give them this flint and steel fire starter kit. It's got steel, a flint rock, char cloth, raw cotton, tinder, and instructions all packed in a nice tin. They'll be starting fires like real mountain men in no time.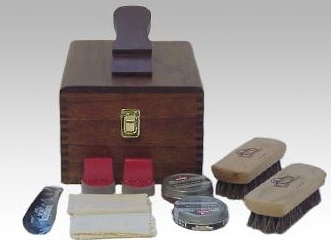 Well shined shoes are essential to a professional appearance, but a surprising number of guys in their 20's don't have a shoeshine skit. Hook your friends up with a gift they'll use throughout their life.

Help your friend upgrade from a crummy Bic ballpoint pen, to the luxury of the classic fountain variety. When your friend writes his information on the back of his calling card for a lovely young lady, he'll be doing it in style. Most department stores carry them and some office supply stores do as well. Note: If you click on the link, be sure and scroll down to find cheaper options. Unless you're considering spending $1,428.00 on a writing utensil. Yowza.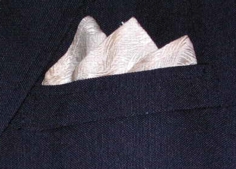 Nothing finishes off a sharp looking suit like a pocket square. If you go this route, it's a good idea to get your groomsmen a white one because it will go with almost any color combination. Or get one that matches your wedding colors and that they can wear on the big day. To personalize the gift, have his initials embroidered into the handkerchief. If your bud is like most young men today, he's probably never folded a pocket square. So be sure to include some directions on how to make your favorite fold or sit down and have a man to man tutorial together.
Gift Certificate to a Hat Store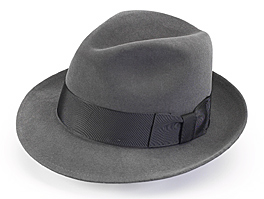 Every man secretly wants to start bringing back the hat, but sometimes they need a little push. Get your buddies on their way to becoming dapper gentlemen by giving them a gift certificate to a local hat store. Before the wedding, they can together enjoy a manly outing to pick out and buy their new lids. On the day of the wedding, the sight of your groomsmen decked out in their suave new hats will make for a most excellent photo op.

Every man needs a Dopp kit. Get your groomsmen a gift they'll use on all their travels. Tell them to pack it up and to not to be a stranger once you're a married man. Let them know your door is always open for a visit.