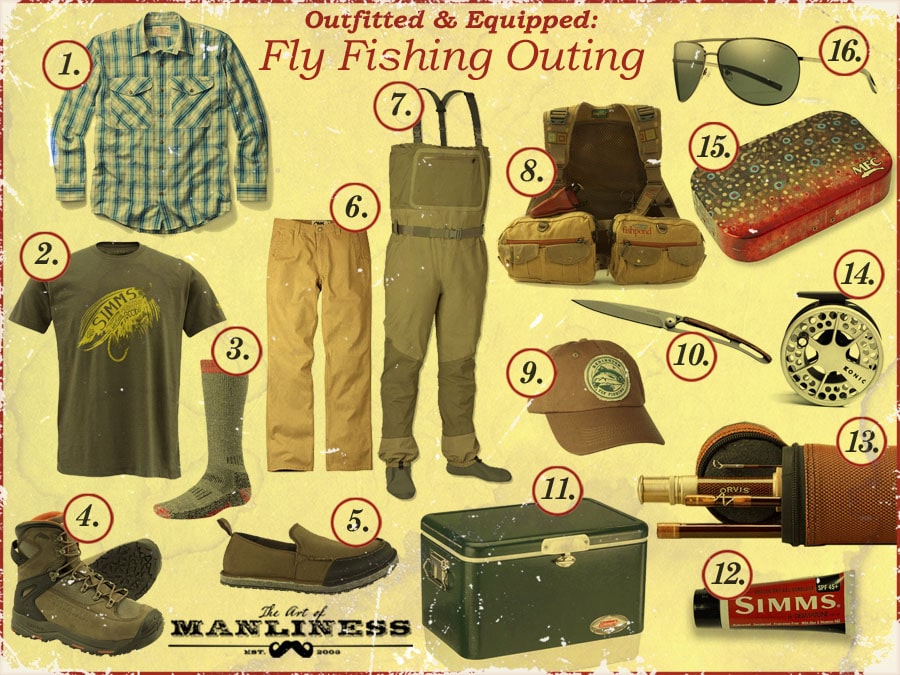 Editor's Note: This gallery was curated by the gentlemen at Field Dressed.
The imminent arrival of spring is in the air, which means that the fly fishing season is lurking just ahead on the horizon. Wherever you live, regardless of climate or water type, fly fishing is a pastime that gives outdoorsmen everywhere the opportunity to connect with nature in a unique and exciting way. Whether you are drifting a dry fly on a secluded mountain stream, throwing deer-hair poppers for bass on your favorite lake, or stripping a wet fly in a trout park with your family and friends, fly fishing is a life skill that offers its rewards in the forms of fellowship, mastery, and fresh food. Here are some suggestions for how to gear-up for the fly water and look classy while you're at it.
How does Outfitted and Equipped work? The FAQ.
1. The Shirt. Filson No. 3 Fishing Shirt. For many fishermen, there is a tradeoff between looking sharp and dressing functionally. With the Filson No. 3 Fishing Shirt, you not only get a sharp, button-down shirt with two chest pockets, but you also get 50 UPF sun protection from the moisture-wicking fabric, roll-up sleeve tabs, and a high back yoke for freedom of movement. This is definitely a shirt that you can wear to the stream and then later, on a date.
2. The T-Shirt. Simms Hooked T-shirt. Since most outdoor endeavors are all about dressing in layers, why not have your 100% cotton interior layer sport the graphic of a huge wet fly?
3. The Socks. SmartWool Hunting Extra Heavy Socks. Socks can be the most important garment choice for an outdoorsman. Whether you are wading in the river or heading up Everest, SmartWool has always provided a wide variety of choices in their proprietary merino wool socks that perform and out-perform the competition. These socks, with their reinforced cushion zones and ankle brace will keep your feet warm, dry, and comfortable all day.
4. The Boots. Simms G3 Guide Boots. What really makes a nice set of waders shine is the perfect pair of wading boots to go with them. From waterproof nubuck leather to their patented RiverTread, which is built into their Vibram soles, these boots are going to give you the comfort, stability, and traction that you need for a day out in the water.
5. The Shoes. Korkers Drifter Mocs. When you are heading to the fly stream in the morning or peeling your waders off in the evening, your feet need somewhere to go. Thus, the Korkers Drifter Mocs were born. Korkers, famous for building innovative wading boots, built these casual shoes with much of the same technology, such as their Kling-On rubber outsole and their rippled sock liner, while having a nice, breathable canvas upper.
6. The Pants. Mountain Khaki Original Mountain Pant – Broadway Fit. Made of 10 oz. cotton, triple-stitched, and built for everything from the boardroom to the boulder field, these pants just might outlive you. They fit perfectly underneath a pair of waders (especially in the slimmer Broadway Fit), and look and feel great for this and most other outdoor pursuits.
7. The Waders. Orvis Silver Sonic Waders. A good pair of waders can mean the difference between an enjoyable day on the water and a leaking, soggy nightmare. These fully welded, waterproof, breathable waders are versatile, lightweight, and tough as nails. As the winners of Field & Stream's "Best of the Best" award, these waders have proven themselves as a force to be reckoned with. And, with Orvis' 100% satisfaction guarantee, it is hard to go wrong with these.
8. The Vest. Fishpond Vaquero Canvas Vest. Finding a balance between classy and functional is a difficult task with a fishing vest, but the boys at Fishpond always seem to come through. This vest, designed in the same manner as upland bird vests, sports waxed canvas throughout, making it extremely water resistant and durable. With pockets galore and some cool, innovative features such as padded straps and hemostat docks, this vest will not only serve you for a lifetime on the water, but will only look better with age.
9. The Hat. Redington Beer Coaster Hat. Hats are essential to any kind of fishing. They keep the sun off your face, the sweat from your eyes, and provide you with added protection from the elements. The Redington Beer Coaster Hat achieves all of this while representing your passions with a vintage-inspired jumping trout logo on the front.
10. The Knife. Baladeo 37-gram Pocket Knife. No fishing setup is complete without a good knife. Having a knife on the water means that you can have dinner on the table later, because cleaning fish is an easy affair with a good, sharp knife. The Baladeo knife also offers two additional features that are well-suited for the fisherman: they are easy to clean due to their design and they have a clip on the back, which makes it easy to store in your vest when not in use and to clip onto a vest strap to dry it out after it gets wet.
11. The Cooler. Coleman 54-Quart Cooler. The market for coolers today tends to vary widely and popular designs often resemble set pieces from sci-fi films. Since a great deal of fly fishing is tradition and a strange mixture of modern and nostalgia, the natural choice for a cooler is the classic Coleman 54-quart steel-belted cooler. With a steel latch and rust-resistant hinges, this cooler will last the test of time and become a regular companion on outdoor adventures. Nothing quite shows the successes of a day's worth of fishing like coming home with a cooler full of the day's catch.
12. The Sunscreen. Angler Sunscreen by Dermatone. Nothing is more important for a day out on the water than a good, effective sunscreen. This particular sunscreen, made by Dermatone for Simms, was designed to be a fly fisherman's sunscreen. Some sunscreens, because of additives, can actually break down the coating of a fly line. This sunscreen is fly-line safe, fragrance free, while giving water-resistant, 32 SPF protection for a protected, comfortable day.
13. The Rod. Orvis Access 8' 4-weight. Samuel G. Camp stated in his book, Fine Art of Fishing, that, "A good fly-rod is worth every cent you pay for it — and more." When looking into a rod, you want to find one that feels great, is well-balanced, casts perfectly, and will stand up to years of abuse. The Orvis Access rods meet those criteria and more with their chrome guides, gold reel-seat, super-grade cork handles, and Orvis' proprietary tapers and actions developed as they designed their higher priced Helios rods. Plus, they carry a 25-year guarantee, so you can't really go wrong with these multi-species, fine casting instruments.
14. The Reel. Lamson Konic II. Having the right fly reel for your rod is like having the right tie for your suit: it makes the outfit. The Lamson Konic II is a reasonably priced reel with lots of great features such as a conical drag system and a large arbor design. They weigh less than 5 oz. and can pick up line like there's no tomorrow. We also recommend loading this reel down with a weight-forward, floating Scientific Angler Mastery Series GPX fly line for a nice smooth cast and Seaguar fluorocarbon leader and tippet for smooth, stealthy presentation.
15. The Fly Box. MFC Brook Trout River Camo Fly Box. The Montana Fly Company excels at building quality, small tackle products, and this box is no exception. This high-grade aluminum box fits great into a vest with their metallic "river camo" pattern of trout skin printed onto the outside of the box. This box features slit foam inserts and will last any fisherman for years of hard use. We recommend filling this box with all of your favorite flies and if you need help filling it, go to your local fly shop, tell them what species you are chasing, and they will be more than happy to point you in the right direction.
16. The Sunglasses. Smith Serpico Aviator Glasses. When it comes to spotting fish, a fisherman's secret weapon is polarized sunglasses. Since polarized glasses reduce surface glare, they almost act like x-ray vision as they cut through the blinding shimmer of the surface so you can see where fish are holding and what they are doing. Smith Serpico glasses are just the thing for a fly fisherman, with large coverage, wrap-around protection, 100% UV protection, polarized lenses, and a lifetime warranty. (The warranty, of course, does not apply to glasses that are lost in the water).
____________________________
Josh Cantrell and Kevin King are co-hosts of Field Dressed: A Gentleman's Guide to All Things Outdoors. On Field Dressed, they cover various aspects of outdoor endeavors, such as hunting methods, fly fishing techniques, gear choices and above all, how to do it all while maintaining etiquette, courtesy, and class. As lifelong fishermen, both Josh and Kevin have fly fished all over the United States, but their favorite spots include The Blue river in Colorado, Bass Lakes in Northern Kentucky, the Battenkill in Vermont, and of course, Bennett Spring in Missouri.