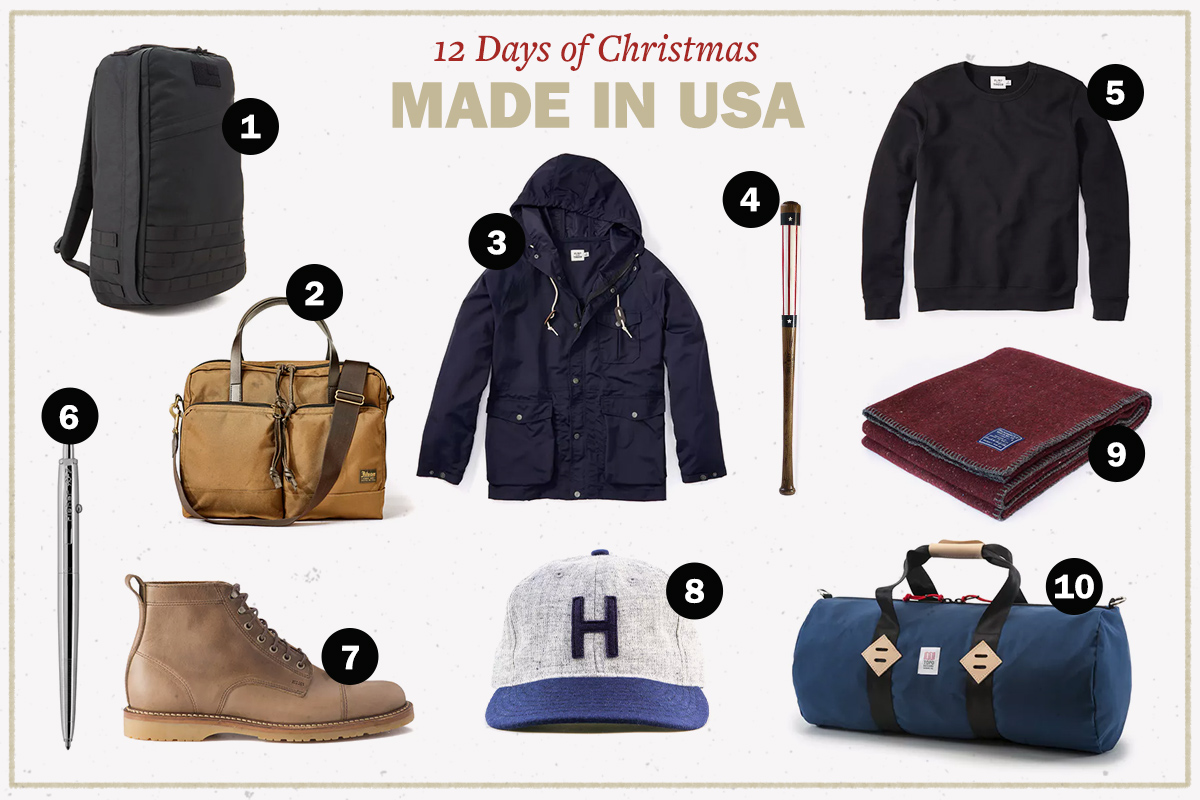 Welcome to AoM's 12 Days of Christmas! We've partnered with Huckberry to bring you 12 straight days of awesome gift guides and giveaways. Each day will feature a different Huckberry shop with 10 gift ideas, as well as a giveaway. The giveaways will run until 12pm CT the next day, and the winner will get to choose an item of their choice from that day's featured shop.
When you buy something made in the good ol' USA, you know you're not only getting a quality item that's built to last, you're also supporting jobs here at home. For the man who appreciates American craftsmanship, here are 10 highlights from Huckberry's Made in the USA Shop (be sure to click the link to peruse the whole line-up).
The 12 Days of Christmas: Made in the USA
1. GORUCK GR1. Andy Forch, Huckberry co-founder, calls this his favorite backpack on the planet. Brett loves his too. That's reason enough for you to get your hands on one. It's built for cities, war zones, and beyond, and made in the U.S. from Special Forces-grade materials. The GR1 also sports a lifetime guarantee.
2. Filson Briefcase. The Filson name alone means this bag will hold up for decades. Made with a heavy-duty nylon fabric, this bag finds the sweet spot between hard-sided briefcases and unstructured messenger bags.
3. Flint and Tinder Ridge Shell. This jacket takes hints from both shell jackets and mountain parkas. The Japanese nylon is water- and tear-resistant, but it's also just dang warm for chilly, wet days in the fall and winter.
4. Pillbox Old Glory Bat. Each Pillbox baseball bat is crafted and hand-painted in Winona, Minnesota. Game ready and cut from the same stuff the pros use (solid maple). Hang it on the wall or lather up the pine tar and put 'er to use in a pickup game with the folks around your cul-de-sac.
5. Flint and Tinder 10-Year Crew. The quality of Flint and Tinder's famous 10-Year Hoodie, now in a crew style. A hefty fleece keeps the cold out, and reinforced stitching means this sweatshirt will also last a decade (or more).
6. Astronaut Space Pen. Writes smoothly, evenly, and dependably, upside down, underwater, over grease, and in extreme temperatures. Thanks to a pressurized ink cartridge with specially developed ink, it can even write in zero gravity, hence the name and its inclusion on every manned NASA space mission since 1968. The version of the famous pen sports the original Astronaut Space Pen design that was used on the Apollo 7 mission.
7. Rancourt Wolf Boot. Each boot from Rancourt is made by hand, and has been for over 50 years. Huckberry teamed up with them to custom-make this particular version, featuring a handsome Chromexcel leather. There's a lot of leather boots out there; this one stands out.
8. Huckberry Explorer's Cap. Huckberry teamed up with Ebbets Field Flannels to bring you these exclusive hats. They're just as comfortable around town as they are out in your favorite wilderness spots.
9. Faribault Woolen Mill Utility Blanket. The Utility Blanket is aptly named, as it's meant to be put to frequent and hard use. These blankets are built from 75% recycled wool blended with poly-nylon for durability, so they'll hold up no matter where you use 'em, whether it's around a smokey campfire, the back of your car, or even just the living room.
10. Topo Designs Classic Duffel. Using the same style, materials, and quality construction as their famed backpacks, this duffel bag will stand up to the abuse of airport baggage handlers, Uber drivers, and whatever else can be thrown at it.
The Prize
Any item available in Huckberry's Made in the USA Shop.
Enter the Giveaway
If you are an email subscriber, do not reply to this email to make your entry. You must click on the title of this post, which will take you to the post on our web page where you can make your entry. Use the form below to enter. Don't forget! You have multiple ways to enter! The more of them you do, the better your chances are!
12 Days of Christmas: Made in the USA

Deadline to enter is 12pm tomorrow (Central Time), December 11th, 2018.