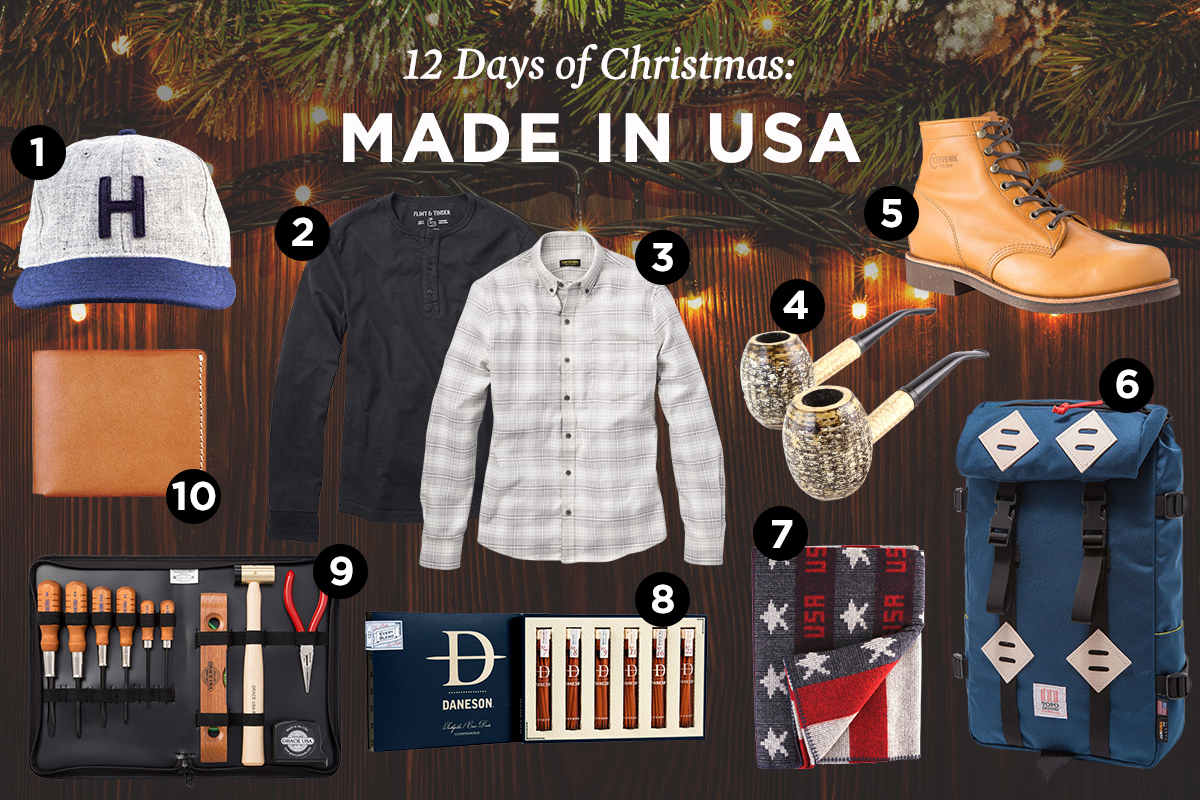 Welcome to AoM's 12 Days of Christmas! We've partnered with Huckberry to bring you 12 straight days of awesome gift guides and giveaways. Each day will feature a different Huckberry shop with 10 gift ideas, as well as a giveaway. The giveaways will run until midnight each day, and the winner will get to choose an item of their choice from that day's featured shop.
When you buy something made in the good ol' USA, you know you're not only getting a quality item that's built to last, you're also supporting jobs here at home. For the man who appreciates American craftsmanship, here are 10 highlights from Huckberry's Made in the USA Shop (be sure to click the link to peruse the whole line-up).
The 12 Days of Christmas: Made in the USA
1. Explorer's Cap. Huckberry teamed up with Ebbets Field Flannels to bring you these exclusive hats. They're just as comfortable around town as they are out in your favorite wilderness spots.
2. Flint and Tinder Heavyweight Henley. Cut from a heavier fabric than your typical tee or henley, this heavyweight henley looks great and, thanks to an old-school yarn spinning technique, can take a serious beating.
3. Flint and Tinder Flannel. Made in the heart of Texas, this button-down sports a smart, tailored cut that's not too tight. It's constructed from a soft, mid-weight flannel that's perfect for the colder months ahead.
4. Missouri Meerschaum Corn Cob Pipe. This corn cob pipe has a classic design that is sure to turn heads. It has a large, barrel-shaped bowl with dark stain added to the coating, giving this pipe a unique and distinctive appearance. Not only does it look great, but it smokes great too!
5. Huckberry X Chippewa 6″ Service Boot. Built with American pride and handmade state-side with premium components, these boots have classic styling for everyday wear with features like Vibram outsoles, full leather welts so you can re-sole them again and again, and comfort insert insoles.
6. Topo Designs Klettersack. The perfect bag for any day-long outing. It's lightweight, and has compartments for beverages, your laptop, and any other needed supplies, be it a charger and a journal for hitting the coffee shop, or a pocket knife and a lunch for exploring the trail.
7. Woolrich Freedom Throw. Heritage and history are woven into this American-made blanket, which honors the Stars and Stripes and our brave men and women in the armed services. Woolrich has proudly produced blankets for the armed service branches dating back to the Civil War.
8. Daneson Flavored Toothpicks. Made with all-natural ingredients, this gift set includes one pack each of the following flavors: Single Malt, Cinnamint, Salted Birch, Lemon, Mint, and Bourbon.
9. Home Care Tool Kit. Since 1941, family-owned Grace USA has been crafting some of the best tools in the world and backing them up with a forever guarantee. This kit, with zip case, includes screwdrivers, hammer, pliers, level, and measuring tape.
10. Red Wing Classic Bifold. Created with their century-plus history of expertise and craftsmanship in bootmaking — Red Wing's new line of wallets uses the same high-quality materials and proven know-how. The design is one we all know, but here it's done Red Wing style, with premium leather and second-to-none craftsmanship.
Giveaway
The Prize
Any item available in Huckberry's Made in the USA Shop.
Enter the Giveaway
If you are an email subscriber, do not reply to this email to make your entry. You must click on the title of this post, which will take you to the post on our web page where you can make your entry. Use the form below to enter. Don't forget! You have multiple ways to enter! The more of them you do, the better your chances are!
12 Days of Christmas '17 – Made in the USA

Deadline to enter is 12pm (Central Time) December 3rd, 2017.
Tags:
12 days of christmas 2017