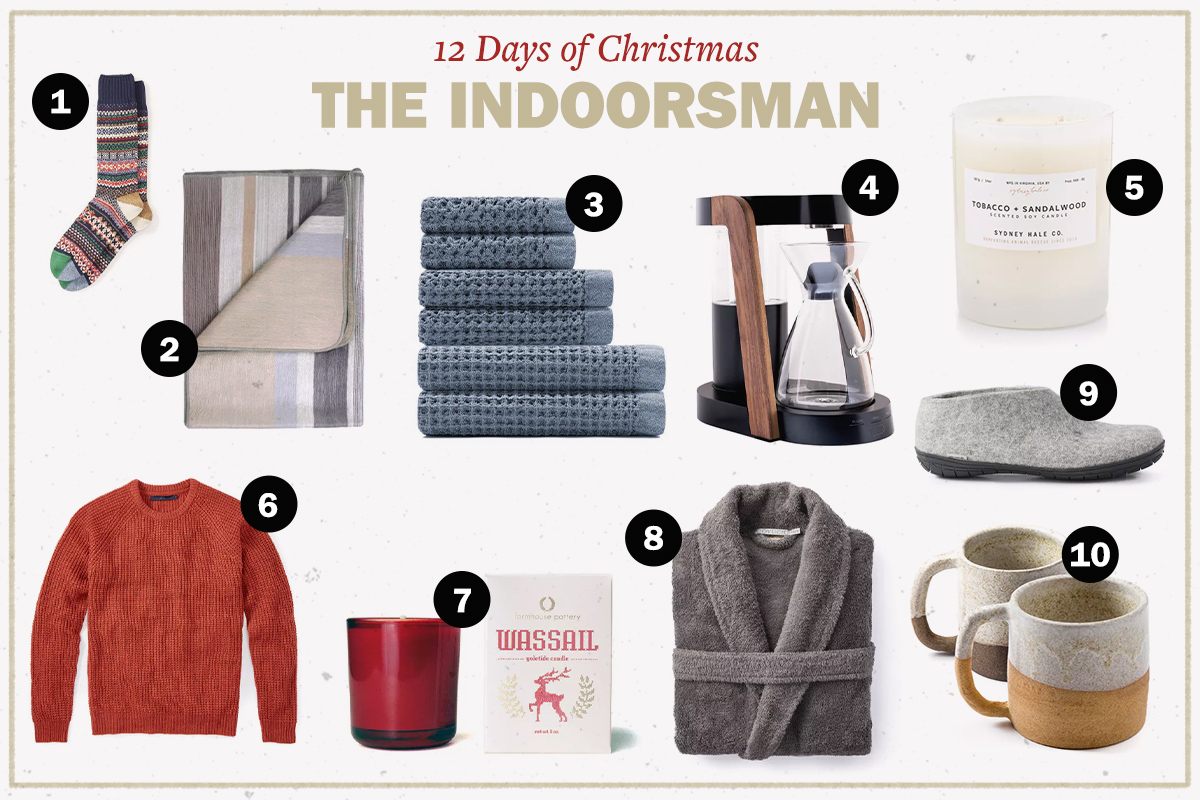 Welcome to AoM's 12 Days of Christmas! We've partnered with Huckberry to bring you 12 straight days of awesome gift guides and giveaways. Each day will feature a different Huckberry shop with 10 gift ideas, as well as a giveaway. The giveaways will run until 12pm CT the next day, and the winner will get to choose an item of their choice from that day's featured shop.
In wintertime generally, and around the holidays especially, one gets the urge to get cozy — to cuddle up with a main squeeze, don warm garments, sit by the fire reading a book, or just generally settle in for a long winter's nap. Today's gift guide features items culled from Huckberry's Gifts for the Indoorsman Shop, which is centered on this very desire. Peruse the entire shop for even more ideas.
The 12 Days of Christmas: Gifts for the Indoorsman
1. CHUP Fika Socks. Durable Japanese socks with a seamless, ultra-comfortable interior. Each design is a limited edition with an intricate pattern inspired by the natural world and folk art.
2. Shupaca Alpaca Throw. Handmade in Ecuador, this blanket has cashmere-like softness. It's lightweight, breathable, but also incredibly warm, making it the perfect nap-on-the-couch blanket.
3. Onsen Bath Towels. The Onsen Towel boasts next-level softness. When you combine that luxurious feel with ample absorbency and quick-drying properties, both thanks to its airy weave, you've got one helluva a towel on your hands.
4. Ratio Coffee Maker. A stripped down coffee maker that uses simple materials and a precision pour over design. Don't let that simplicity fool you though. The variable brewing algorithm precisely mimics pour over coffee, and was designed by scientists to ensure the highest-quality cup, every time.
5. Sydney Hale Candle. Let the masculine scent of tobacco, sandalwood, and talc fill your home or office. This candle burns for 50 hours and is hand-poured in rural Virginia.
6. Suit Iron Sweater. Hiding behind the refined tailoring of this sweater is a technical craftsmanship that makes it perfect for an active, urban lifestyle. The insulating wool is blended with acrylic for extra strength. From the couch to the caroling, this sweater will go with you for it all.
7. Yuletide Candle. Inspired by Vermont's rural cottages and natural beauty. Light it and welcome the yuletide nostalgia into your home for up to 45 hours of burn time. Hand-poured in Vermont.
8. Coyuchi Cloud Loom Robe. Step out of the shower and into a cloud. Coyuchi's 100% organic cotton is spun with the Aerospin process which results in a soft and absorbent fabric. It's so comfortable you'll be tempted to wear it out of the house.
9. Glerups Camp Sole Shoe. Hailing from Denmark — a country that knows a thing or two about how to stay cozy when it's cold outside — Glerups' shoes are handcrafted from 100% pure, natural wool, which naturally wicks moisture from your feet so they're always warm and dry.
10. Uzumati Mugs. Hand-dipped, speckled mugs inspired by California's mountains and deserts. Each vessel is fully handmade, making them unique to your cupboard and yours alone.
Giveaway
The Prize
Any item available in Huckberry's Gifts for the Indoorsman Shop.
Enter the Giveaway
If you are an email subscriber, do not reply to this email to make your entry. You must click on the title of this post, which will take you to the post on our web page where you can make your entry. Use the form below to enter. Don't forget! You have multiple ways to enter! The more of them you do, the better your chances are!
12 Days of Christmas: Gifts for the Indoorsman

Deadline to enter is 12pm tomorrow (Central Time), December 9th, 2018.