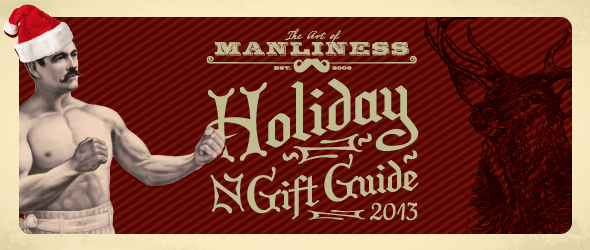 The holiday season is officially upon us and that means it's time for our annual Art of Manliness holiday gift guide. When we make our gift guides, we try to hunt down and share the kind of products an Art of Manliness Man would want to find under the Christmas tree: manly, useful, and classic. We also try to include gifts that are unique and one-of-a-kind.
In this year's gift guide, we incorporated useful items that we talked about in posts this year, as well as classic items that seem to have been the most popular in gift guides past.
Use the guide to find the perfect Christmas gift for your father, husband, brother, or friend, or print out the post, circle your favorites, and casually leave it where your loved one will find it. And of course you'll want to send a copy to the man at the North Pole.
If you don't see something on the list that strikes your fancy, be sure to check out our gift guides from previous years for more ideas (including one entirely dedicated to stocking stuffers!).
If you're looking for gift ideas for the ladies in your life, check out the Art of Manliness Women's Holiday Shop on Huckberry.
The items below are organized from least expensive to most to help you find something that best matches your budget. Hope you enjoy browsing the list as much as we enjoyed putting it together!
6 Pack of Locally Brewed Beer (or Soda)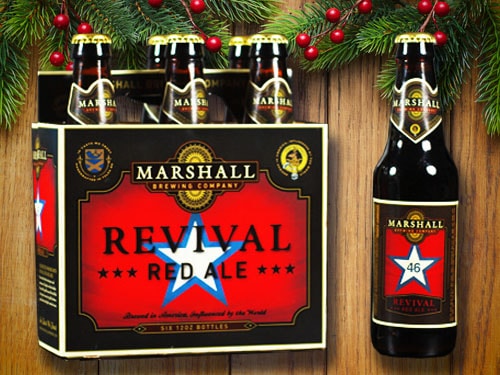 Local and regional breweries have hit an all-time high in America. There's a reason for the popularity; small breweries simply create a better product than the big boys of beer, and can take more inventive risks. In the last year I've (Jeremy) had watermelon beer, rosemary beer, and even Rocky Mountain Oyster beer. For the man who enjoys a libation every now and again, a six-pack of fine, handcrafted beer is a great gift. For the gentleman who doesn't partake in libations of the alcoholic variety, some handcrafted, local soda makes a fine replacement. $6-$12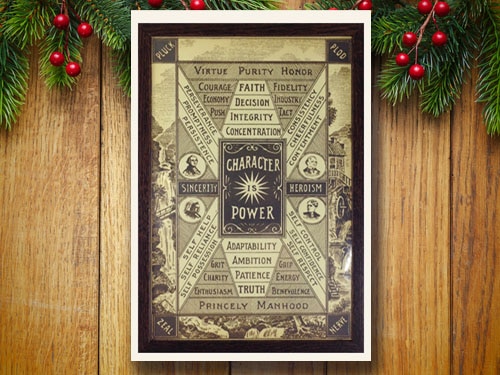 Back when we wrote our book, Manvotionals: Timeless Wisdom and Advice for the Modern Man, we came across a fascinating illustration that served as the frontpiece to a book published in 1899: Traits of Character Illustrated in Bible Light by Henry F. Kletzing. We thought it would make for a great poster to help inspire men to strive for excellence.
Enlarged and sharpened to beautifully display the qualities of true character, this handsome and inspiring poster is ready to be hung on your wall and serve as a daily reminder to be your very best. $9 (you can buy this print framed for $32)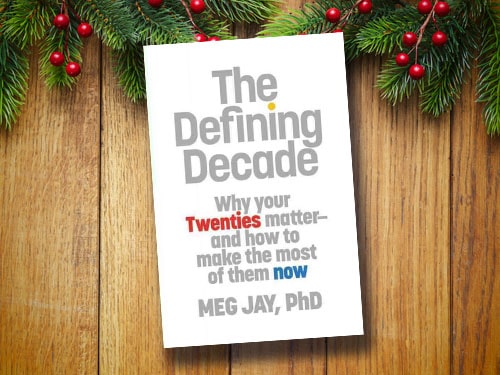 Easily one of the best books we've read this year, and also one of the most important. Our modern society has largely said that one's twenties are sort of a throwaway decade — why bother "growing up" when you can do it in your thirties and be just fine? In reality, however, instead of freeing you and relieving you of stress, putting off your life goals does the exact opposite, and creates anxiety in your life. Your twenties matter. You're life isn't limitless, so don't waste perhaps the most important decade of your life. For even more insight, check out the podcast we did with author Meg Jay. $10

Earlier this summer, I did some "scientific" testing of products for men that reduce the inevitable phenomenon of swamp crotch in the hot and humid summer months. One of the products that came out on top was Fresh Balls.
Your recipient will laugh when they first pull this out of their stocking, but come summer they'll be thanking you. $12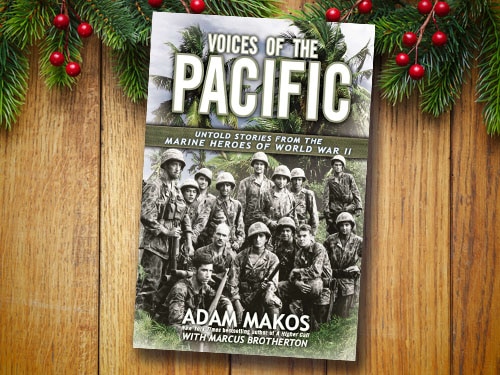 If you've enjoyed Marcus Brotherton's articles on AoM, then you'll enjoy his most recent book, Voices of the Pacific: Untold Stories From the Marine Heroes of World War II. Marcus has carved out a niche for himself in the WWII history genre by interviewing veterans of the Big One and publishing what they have to say with minimal editing. You get to read what actual soldiers experienced and felt without the author putting his own spin on things. I kid you not, when you read one of Marcus' books, you feel like you're sitting at a kitchen table surrounded by WWII vets telling you their war stories. In Voices of the Pacific, Marcus interviews the Marines who fought on the Pacific front. Be sure to check out We Who Are Alive and Remain for stories from the Band of Brothers in Europe. $14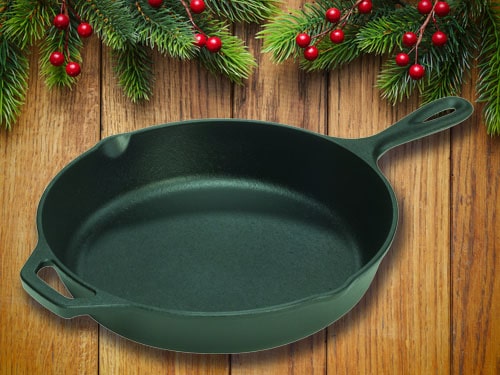 Cast irons pans last a lifetime, cook your food evenly, and even impart a low dose of iron to your food. It feels sacrilege to cook bacon and eggs in anything else. Be sure the recipient of this gift knows how to properly season and care for their new skillet. $19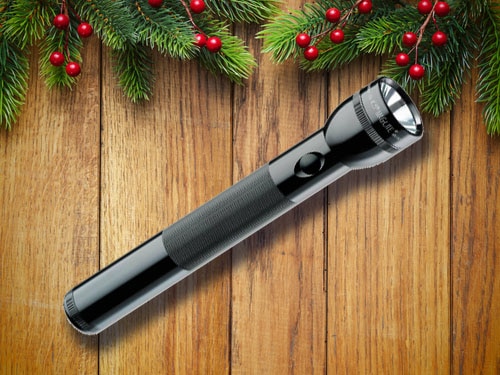 Every man should carry a torch. Always keep a smaller one on your keychain and a more heavy-duty one in your house and garage. When it comes to the former category, you can't go wrong with a classic Maglite. The LED bulb will last nearly forever, and heavy-duty aluminum casing gives it shock and water resistance. Can't beat the price tag either. Don't let your home be without a Maglite. $17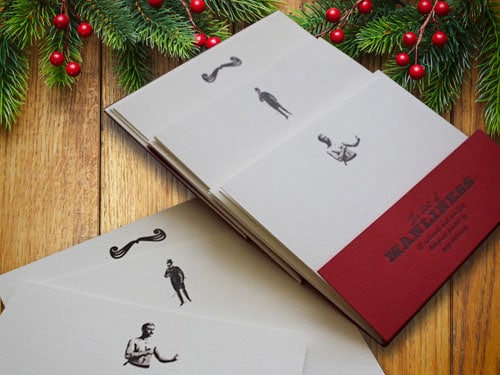 If you want to give your handwritten correspondence some class, upgrade your paper. While this seems an easy task, most stationery is a bit feminine in nature, which is why we designed our own Art of Manliness stationery. Made from high quality stock, these correspondence cards will impress your coworkers, friends, and family alike. With over 20 designs to choose from, you'll have no problem finding one that matches your manly personality. $20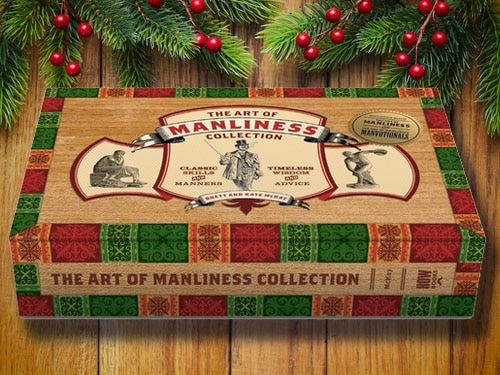 Get both of our books in a handsome vintage-inspired cigar box along with six manly coasters for around $20. That's about what it would cost to buy both books separately, plus you're getting a cool cigar box and some nice-looking coasters! What man wouldn't want to find this awesomely manly book collection under the Christmas tree? The cigar box the books come in is even accented with festive red and green. All the more reason to give it for Christmas. $23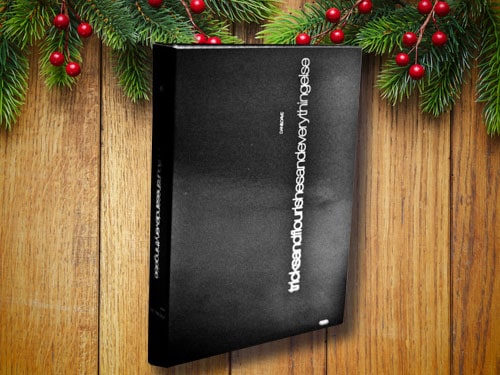 Like most kids, I went through a "magic phase." Here I am a 30-year-old man and I'm going through another one. It's primarily so I have cool stuff to show my kids when they get older, but I'm re-learning how much I genuinely enjoy learning magic tricks. I've been enjoying this trilogy of instructional DVDs on card tricks and flourishes from the Buck Twins. Be sure to check out their line of great playing cards, too. I'm particularly fond of their Vintage Plaid deck. If you're looking to become the coolest uncle or dad on the block, knowing a few card tricks will certainly help. $25 for each DVD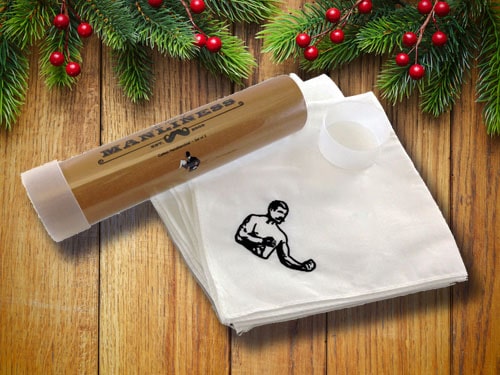 If every man should carry a handkerchief, it might as well be the damn manliest handkerchief you can find. Introducing the Art of Manliness hankie set. You'll find three white linen handkerchiefs with an embroidered image of John L. Sullivan emblazoned on the cloth. These are a great edition to your everyday carry. Each set of hankies comes with a print of our illustrated guide to using a handkerchief drawn by Ted Slampyak. $25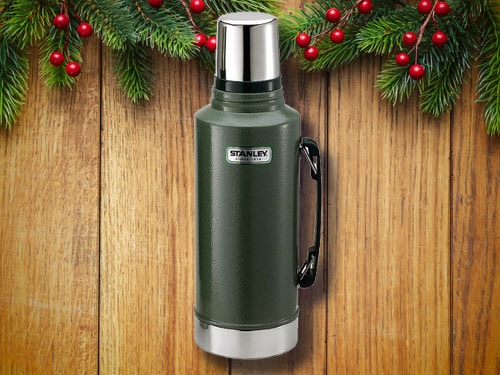 This sucker will be the only traveling thermos you'll ever need. Made with stainless steel, the Stanley Thermos is rustproof and naturally BPA free. The 8-ounce lid doubles as a cup for your coffee, hot chocolate, or soup. Oh, and it keeps its contents hot/cold for 24 hours. Need more convincing? Didn't think so. $25-$50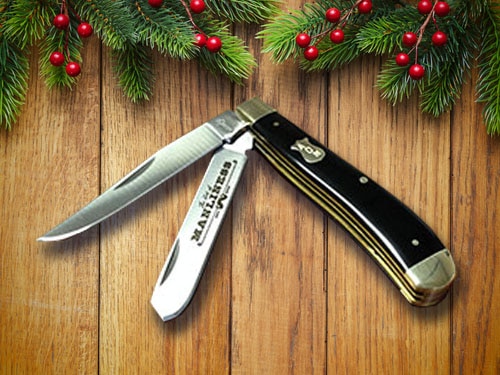 Every man should carry a pocket knife. The Art of Manliness pocket knife offers the high quality materials, precision in German engineering, and the sharp look and fine details of the modern Böker knife. This traditional double bolster knife takes us back to the good ol' times. Fine polished brass bolsters and synthetic handle scales with inlay. The blades are made of high performance 440C stainless steel. This everyday carry is laser etched with the AoM monogram on the outside and the Art of Manliness logo on the inside and makes for a perfect coming-of-age gift. $29
The Timex Field Watch has been a staple of our gift guides and Outfitted & Equipped series for good reason. These wacthes were inspired by the field watches issued to soldiers during the first half of the 20th century and look great with a wide variety of get-ups. While there are more expensive name-brand versions out there, if you're looking for a simple, yet handsome-looking watch and can't bear the thought of having your wife fork over $150 or more, this is perfect. Consider the Timex Camper or Timex Expedition. $30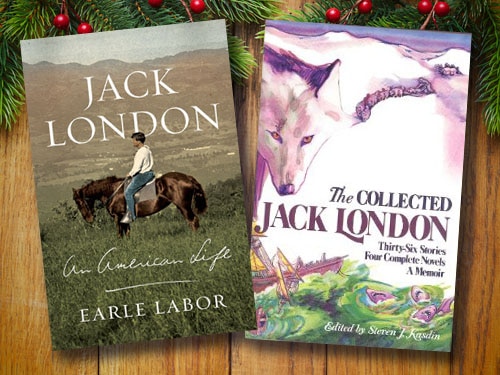 Last spring we embarked on an epic journey through the life of Jack London. If that series left you wanting to learn even more about the life of this incredibly virile and yet complicated man, pick up a copy of the most recent (and supposedly very best) biography written on London. Just published, Jack London: An American Life by Earle Labor is high on my to-read list.
London's own writings also make for a fantastic fireside companion during the winter months. While you can read many of his numerous works for free online, it's nice to have them collected in one place. This copy contains his most well-known writings, and can be found on the cheap. $30 for the pair
Bottle of Scotch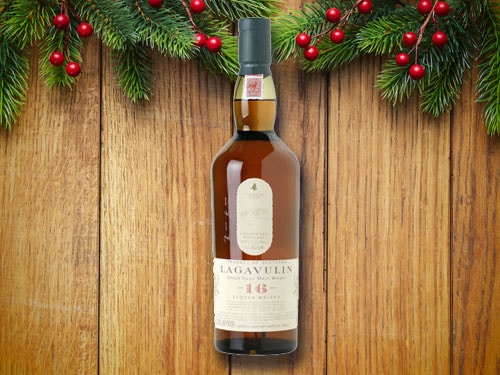 For the man who enjoys a good glass of Scotch while he stares out the window at night manfully pondering deep thoughts. Scotch is considered by many (including both Nick Offerman and his TV character Ron Swanson) to be the king of the expansive whisky family. Its caramely, biting taste is perfect to warm yourself during a winter night around the fireplace with a thick, manly tome in your hand (perhaps Ulysses by James Joyce). You can get a bottle of Scotch at most liquor stores for anywhere from $30 to $300, but the $60-$80 range is probably your sweet spot. Lagavulin 16, pictured above, is Ron Swanson's choice, and fits nicely in that sweet spot. $30-$300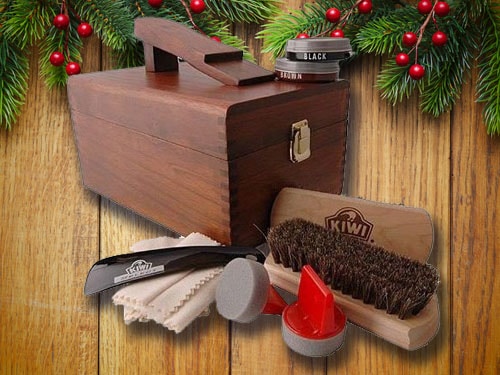 A shoeshine kit makes the perfect gift; it's something that no guy thinks to buy, but every guy needs. I have fond memories of my dad bringing out his wooden shoe shine box once a month to shine his boots and our family's shoes. Buy a quality kit in a manly wooden box that has all the necessary accoutrements to keep your loved one's shoes shining like a sheet of glass. Included in this set are two cloths, a tin each of brown and black polish, two sponge daubers, two 100% horsehair brushes, a shoe horn, and of course the handsome wood box. $35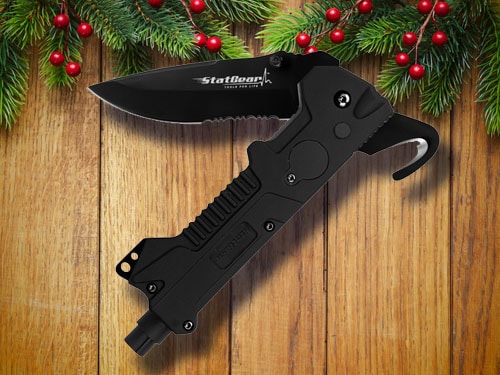 You never know when you'll plunge off a cliff and find yourself trapped in a sinking car. That's why a T3 Tactical Auto Rescue Tool from StatGear should always ride along with you. The knife and belt cutter make getting out of your seatbelt a breeze and the spring loaded steel tip window punch allows you to shatter your window so you can swim to your escape. Make sure to check back on the site next Thursday for an illustrated guide to escaping a sinking car. $40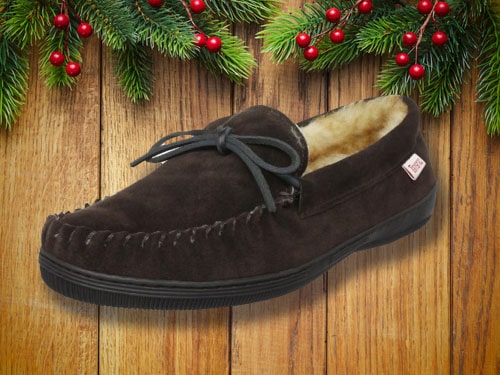 In the chilly winter months, a cozy pair of slippers is a staple for when you're at home lounging around. Nice dress socks aren't known for their warmth, so coming home to a pair of comfortable and warm slippers is about as good as it gets. And when you're stepping out of bed in the morning, there's nothing better than slipping your dogs into a waiting pair of fleece-lined foot-pillows. If a full-on slipper isn't your thing, check out the awesome astronaut-inspired slipper socks on Huckberry. $40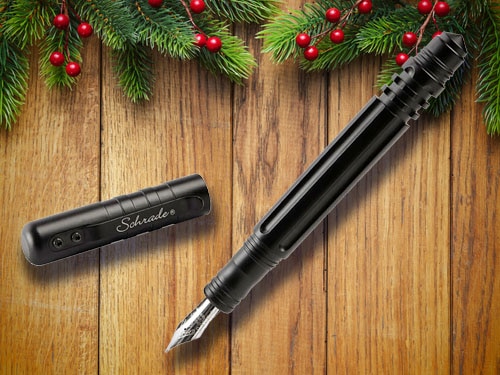 Have you ever wished that you could carry something around that could both sign checks and injure would-be attackers? If so, you sir need a tactical fountain pen. This pen combines the gentlemanly refinement of a fountain pen with the virile ruggedness of a tactical pen. Made with aircraft aluminum, this tactical fountain pen can withstand the most rigorous of beatings. $40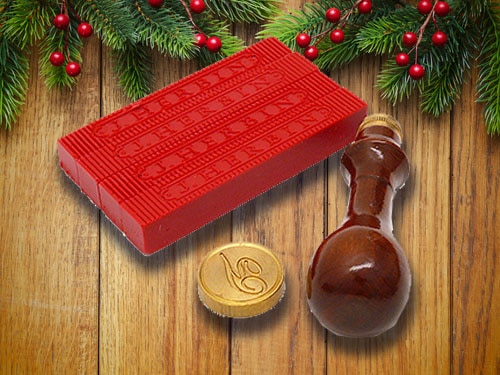 Who knew that the humble wax seal could be so interesting and so fun? We did a write up earlier this year, where we discovered the fascinating history of the wax seal that dates all the way to the Middle Ages. The practice has changed very little since that time, and it's easy to do yourself to bring some class to all the handwritten letters you're sending. While there are various kits out there, in my testing, J. Herbin proved to be the best of the bunch. This kit contains one brass seal engraved with a letter of your choice, and four sticks of their supple sealing wax. $40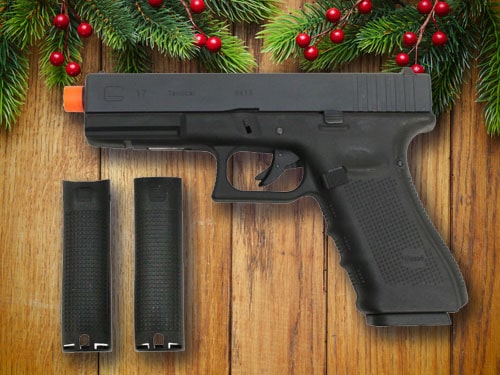 I made it a goal this year to learn how to safely use a firearm for self- and home-defense. What I quickly learned was that the cost of learning and practicing with firearms goes up very quickly. Between firing range costs, ammo, etc., it was getting to be more than I wanted to spend on a regular basis. So I did a bunch of research and testing and came to the conclusion that supplementing your regular training with airsoft training can be a valuable (and not bank-breaking) practice. While there are varieties of airsoft guns, I recommend the gas-powered versions. Also make sure you don't skimp by going with a cheapo $20 model. I recommend Airsoft Global, which is where I bought mine. $40-$100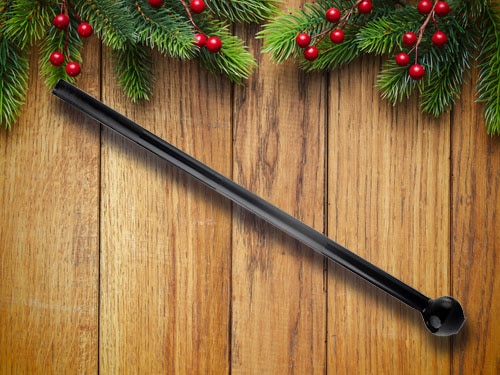 Using a steel mace in your workout routine is one of the most effective ways you can enhance your strength and conditioning. You'll also be channeling the spirit of warriors of the last 2,000 years who have used the mace in training. This mace from Onnit comes in 10, 15, and 20 lb weights; I have the 15-lber and it's a beast.  $40-$75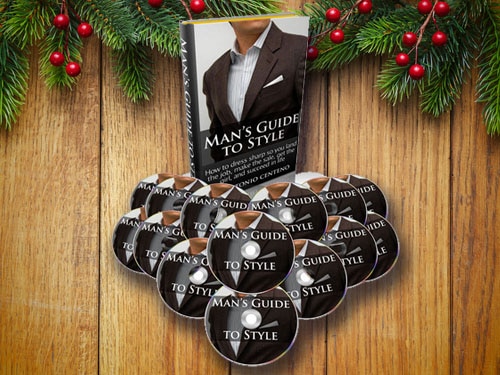 If you've been following AoM for some time, then you're probably familiar with the fantastic work of our resident style expert, Antonio Centeno. Besides writing here, Antonio has his own men's style website that he maintains. Recently he released a huge self-study program for men looking to up their style game. It's called A Man's Guide to Style. It's a digital download filled with 100 lessons delivered via text, video, and audio. If you've been looking to improve your wardrobe (or know a man who's mentioned he needs to) this is a great starter resource. When you buy this course, Antonio also throws in a bunch of free bonus materials on grooming, etiquette, and buying guides. $47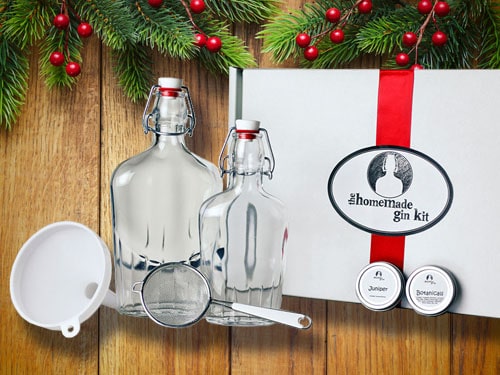 Make gin at home using the HomeMade Gin Kit — no bathtub needed! The kit includes a special blend of spices, botanicals, and flowers, a tin full of juniper berries, two Italian glass swing-top bottles, a double mesh fine strainer, and a funnel. Grab an affordable bottle of vodka, follow the instructions, and in 36 hours you've made your very own gin. Make a bottle for yourself and give one to a friend.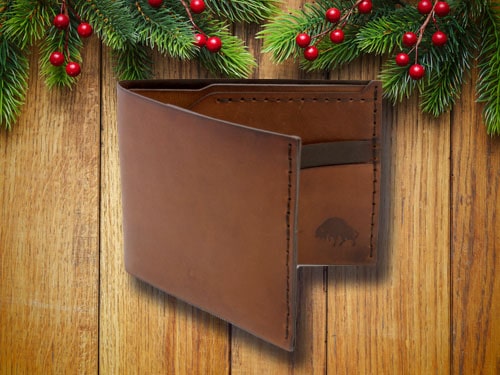 If you aren't familiar with Bison Made's products, you need to be. Their leather wallets are handcrafted here in the US of A. They don't use any linings, rubber, or glue, and their stitching has a lifetime warranty. While a duct tape wallet might be cool in college, there comes a time when every man needs something more grown-up. This is it. $40-$150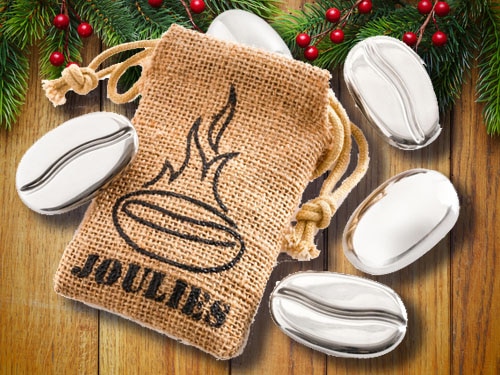 Coffee has a rich history in America. From providing much-needed warmth to men in the field in the Civil War to giving modern men a pickup on their commute, it has cemented its place in many a man's morning routine. Unfortunately, coffee also has a rich history of being scalding hot one second, and seemingly ice cold the next. It often seems like you have but a 10-minute window in which coffee is at its perfect temperature for consumption. Enter Coffee Joulies. They are similar in concept to whisky stones, except they cool the coffee at first to make it drinkable faster, and then keep the coffee at that temperature for hours. Your 10-minute window has now expanded to the entire morning. $60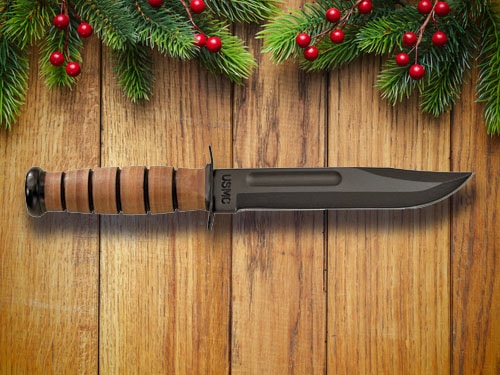 First used by Marines during WWII, the KA-BAR USMC knife has since become standard issue among other branches of the U.S. military. And for good reason. This thing is a beast! You'll feel 5x more manlier just holding it. It's a great addition to any man's bug-out bag. $64
Harness your inner ancient Persian and 19th century old-time strongman by training with Indian Clubs. Indian Clubs are a great addition to any man's workout routine. They're great for building arm and shoulder strength as well as forging a grip like a vise. Plus, they're just fun to use. It helps to do your Indian Club exercises bare-chested while sporting a mustache. $72-$120
Every man needs a comfy robe he can wear around a cold house while he drinks his coffee and reads the morning paper. These robes from Pendleton Woolen Mills fit the bill. Made of 100% virgin wool, a Pendleton Woolen Mill robe is designed to keep you warm and toasty. As a bonus, it's machine washable and has three pockets — one each for the remote, the newspaper, and a cookie for later. I got one of these as a gift a few Christmases ago, wear it nearly every day, and love it. $87-$228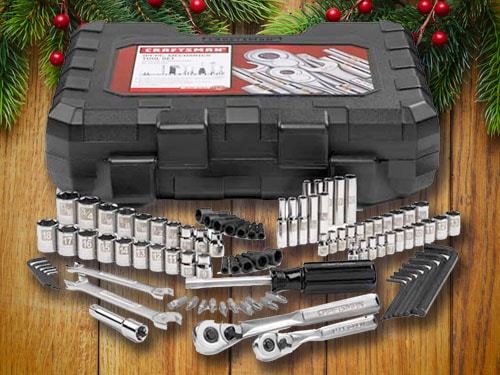 Craftsman is the gold standard when it comes to tools. This set comes with the Craftsman lifetime warranty, is made of alloyed steel, and better yet, will serve all your socket wrench needs. For the man in your life that isn't terribly familiar with tools, this is a great set to have. It comes with two wrenches and 52 sockets, as well as a screwdriver with an interchangeable bit set. $90
The GORUCK Challenge is a 9-13 hour team event in which a Special Forces veteran — called a Cadre — leads you on a 15-20 mile "guided tour" of your city. It begins at night and runs until the morning. Along the way, you take part in military-inspired challenges and "missions," which includes doing some basic training calisthenics, taking a little swim, carrying logs (and each other), and a lot of marching. Oh, and you do it all while wearing a backpack filled with 30 to 40 pounds of bricks and other equipment. The goal of the Challenge is to finish it, and finish it as a team. "Good livin'" is what GORUCKers call it; it's challenging and it hurts, but you kind of love it. Read my full review of a challenge I did last year. $90-$140 (depends on how far in advance you sign-up)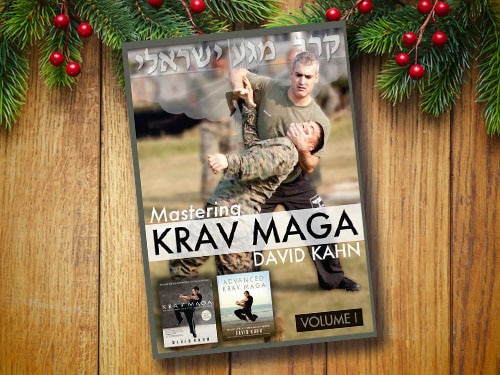 Krav Maga is a brutally effective tactical mixed martial art/combative and self-defense system that was first developed by Imi Lichtenfeld in the 1940s for the Israeli military. Its success as a self-defense system lies in its principles of simplicity, combined defense and attack, and retzev, or continuous motion. It also provides tactics for defending against a variety of weapons. While joining a gym is preferable for learning self-defense, if that's not an option, watching a DVD will give you a basic overview of Krav Maga and its techniques. I highly recommend David Kahn's set of DVDs. They're very well-done and David does a great job explaining and demonstrating the methods and movements. $96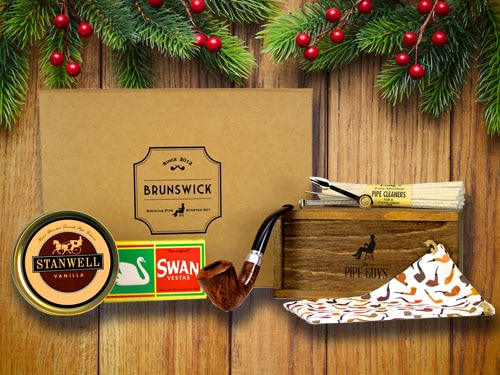 Pipe smoking is a relaxing ritual for many men. Pipe smokers wax poetic about the satisfaction you get when you pack the tobacco into the bowl just right. Then, the whoosh of the match followed by that wonderful, aromatic smell. This starter pipe smoking set from the Pipe Guys is a great gift for the man who's just started pipe smoking or expressed an interest in it. It's got everything you need: pipe, tobacco, and pipe cleaners. Level up this already awesome gift by throwing in a paperback by J.R.R. Tolkien or C.S. Lewis (two famous pipe smokers). $99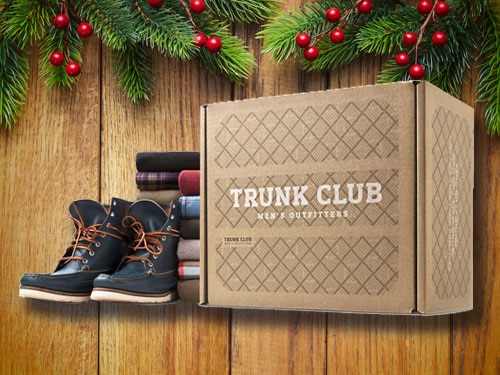 Even with all the great style advice we offer here on AoM, shopping and trying to find all the right clothes that all go together can still be an intimidating experience. Trunk Club offers the opportunity to have your very own stylist remove all the guesswork for you. When you sign up, you take a visual survey based on your current style and also what you'd like your style to be. Based on that, a stylist (the service is free of charge) selects — just for you — a "trunk" that caters to your preferences and style. You can even contact your stylist if you have questions or are unhappy with their selections. It's not a membership — you only receive a box when you request one. The downside of the service is that the clothes are really high-end — and thus expensive. But you only pay for what you like and can send the rest back — shipping is free both ways. So it's a risk-free way to try out new clothes. It's especially useful for when you need to put together an outfit for a special event or are embarking on a new phase in your life and want to start building a different kind of wardrobe. $100 minimum for gift card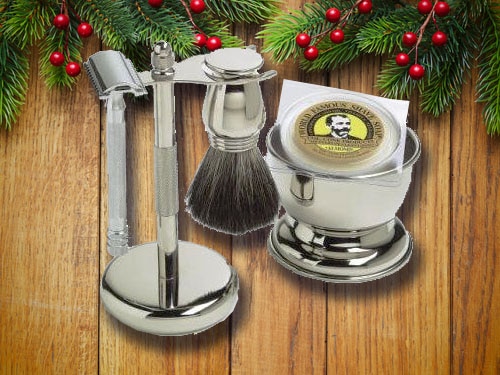 Stop wasting money on Gillette Mach 12 cartridges and start shaving like your grandpa used to. Using a double-edge safety razor for your daily shaving needs provides a way closer shave than a cartridge razor or an electric razor. It also leaves your skin feeling significantly better. And to top it off, once you invest in the materials, you're set for life, and all you need to buy from then on is 10-cent blades and shaving soap. This set includes a Merkur safety razor, chrome shaving bowl, badger-hair brush, a stand, and shaving soap to get you started. $107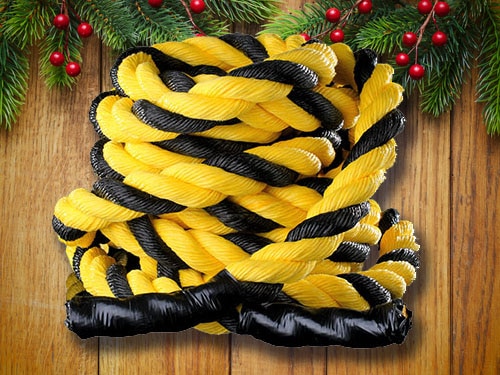 Doing a quick 10-minute workout with these battle ropes is like doing wind sprints for your arms. I prefer the 50′ long, 2″ thick version, but you can get shorter and thinner ropes as well. You could use regular manila ropes, but these polypropylene ropes from Onnit won't fray, break down, or hold water. And they come with vinyl wrapping on the ends for grip support. Give the gift that will make someone puke, in the best possible way. $145 (on sale right now for $130!)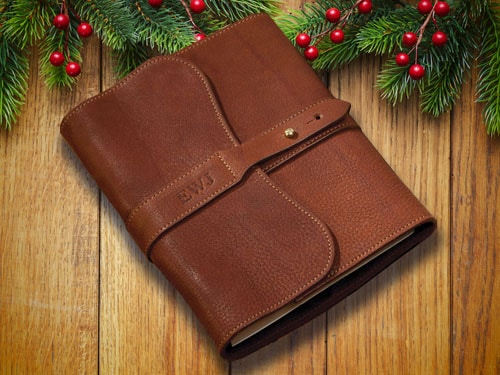 Every man should keep a journal. If you've had trouble getting into this manly habit, perhaps what you need is a journal so handsome and inviting it's hard not to write in it. Enter the Col. Littleton No. 9 Journal. Wrapped up in rugged steer hide, this baby will have you putting pen to paper in no time. Perfect as a travelogue for all your manly adventures. Don't worry, it's refillable, so the hefty price tag isn't just for one-time use. If you give someone this gift, tell them to stay tuned for a post on Jan. 1 that will help them jump-start their journal writing this year. $145

From their iPad cases to their Dopp kits to their signature briefcases, there isn't anything made by the Saddleback Leather Co. that most men wouldn't be positively giddy to find under the tree come Christmas morning. Handsome, well-crafted, and made to last (everything they make is backed by a 100-year guarantee), your loved one would likely trade a few years of tchotchkes that gather dust in his closet for one gift that he'll be using until he goes to his grave. $150-$600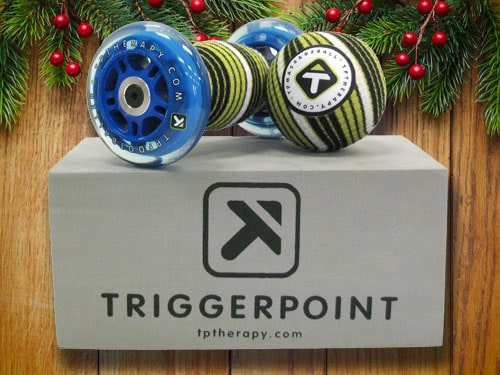 When you need to recover from your battle ropes and warrior mace workouts, doing some trigger point release (also known as self-myofascial release) exercises will keep you loose, limber, and free of pain — even if it does hurt so good while you're doing it. This starter set comes with two massage balls, one Footballer, one Quadballer, one Baller Block platform, an instructional DVD, and a total body guidebook. $180
A good EDC (Everyday Carry) kit will delight any man this Christmas. This set from Kaufmann Mercantile is the belle of the ball — you simply won't find a better kit to be on your person at all times. It comes with a small knife made of cutlery-grade steel, a brass compass with a glow-in-the-dark background, a pen with a pressurized cartridge (so it can write anywhere, at any angle), a brass flashlight with a blinding 235 lumens, and a magnesium fire starter. No matter the situation, this kit will come in handy. $219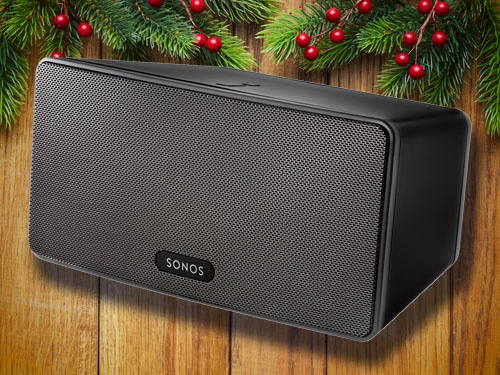 There was a time when you needed all kinds of wires and hookups to have a great sound system. That time is long gone. Enter the SONOS wireless speaker. Coming in three sizes, this speaker is loaded with features that a technoholic will love. It's humidity resistant, meaning you can jam out in the shower to your heart's content. You can even stream directly from iTunes and online streaming services like Pandora. Just awesome. $200-$400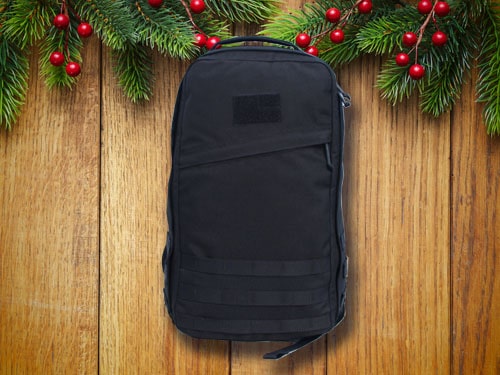 Built in the USA of military-grade, highly water-resistant materials, the rucksack's stress points have been strength tested at over 400 lbs, and it comes with a lifetime repairs guarantee. The pack will not only hold up during a GORUCK challenge (see above) but will also do duty for college life and traveling the world. They've even been used by Special Forces soldiers, who have reported that their durability and low profile relative to volume capacity make them an ideal assaulter's pack. How's that for versatility? $295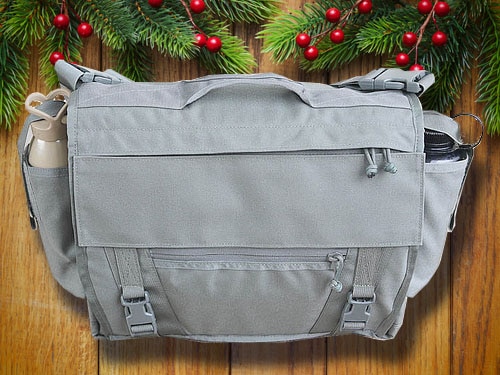 For the Sheepdog in your life. A Made in the USA messenger bag which you can use to both carry a laptop and fight out of. The ITS Tactical Discreet Messenger Bag has a quick access pocket for concealed carry and tons of other features too, but it's designed not to look like a tactical bag and draw attention to itself. $349 (On sale right now for $275, and includes a free padded insert — a $49 value!)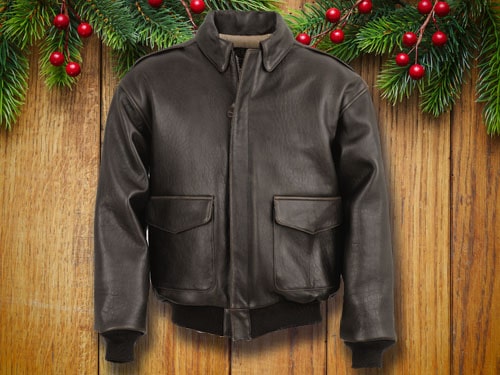 Schott's of NYC has been making rugged, quality leather coats for almost 100 years. Schott's was the first to put a zipper on a jacket and the creator of the first leather motorcycle jacket. Their motorcycle jackets became legendary when they were worn by Marlon Brando in The Wild One. Schott's also made jackets for the military, like the Type A-2 Jacket above which was worn by the Army Air Corps. The inside features an escape map of Europe, which pilots would sow into the jacket's lining to enable them to find their way to the safety of the Allied lines if they were shot down. $535-$1,100
Last updated: October 7, 2017