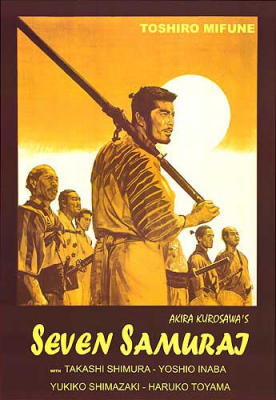 Seven Samurai is probably one of the most influential films ever made. Countless westerns were inspired by this 1954 Japanese classic. The Magnificent Seven being one of them. Set in feudal Japan, a peasant village hires seven medieval mercenaries to defend it from marauding bandits. The bravery the seven samurai show will inspire any man to stand up for injustice.
Line: "This is the nature of war. By protecting others, you save yourselves."
From Here To Eternity is probably best remembered for the famous beach love scene of Burt Lancaster and Deborah Kerr, but there's a lot more to this legendary film. Based on the novel by James Jones, From Here to Eternity is about the life of an American soldier stationed in Hawaii before the bombing of Pearl Harbor. The film considerably tones down the controversial topics in Jones' book. However, it was still groundbreaking in its depiction of topics that were taboo in the 1950s: serial adultery, alcoholism, and a U.S. military teeming with corruption and incompetence. The film focuses on two professional soldiers: Prewitt (Montgomery Clift), a hard-headed ex-boxer given 'the treatment' by his commanding officer to force him to fight in the regimental boxing championships and the company's Top Sergeant (Burt Lancaster), who is having an affair with the officer's frigid wife (Deborah Kerr). From Here to Eternity reminds you that sometimes life's a messy thing and doesn't always have happy endings.
Best line: "A man don't go his own way, he's nothing."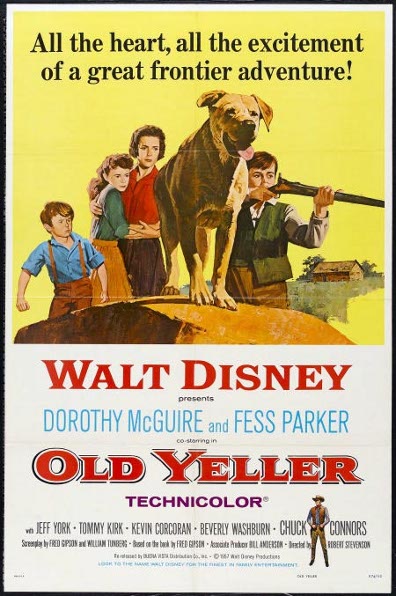 No other movie better portrays the powerful bond between man and canine. No other movie better drives home the message that becoming a man sometimes means doing things that hurt.
Best line: "He was my dog. I'll do it."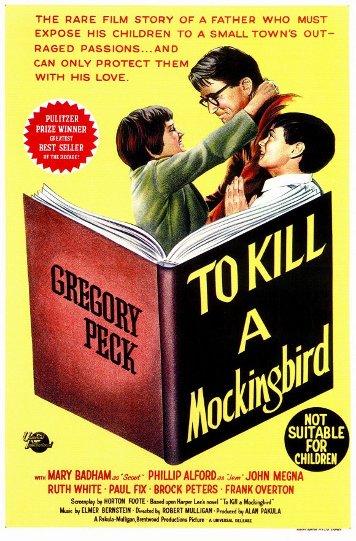 Gregory Peck plays Atticus Finch, a small-town Alabama lawyer and widower father of two, who passionately defends a black man accused of raping a white woman. The courtroom scenes have inspired many a legal career. In addition to being an inspiring lawyer, Atticus Finch is an inspiring father. If you're a dad or a dad to be, watch To Kill a Mockingbird and take some notes.
Best line: "If you can learn a simple trick, Scout, you'll get along a lot better with all kinds of folks. You never really understand a person until you consider things from his point of view, until you climb inside of his skin and walk around in it."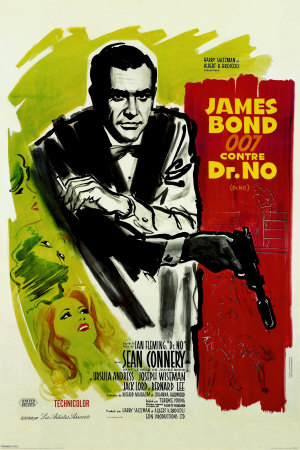 The first James Bond film and quite possibly the best. 007 (Sean Connery) is sent on a mission to Jamaica to investigate the murder of a fellow MI-6 agent. Action, intrigue, and sexually suggestive named women are mixed in to make this a stellar guilty pleasure.
Best line: "Bond. James Bond."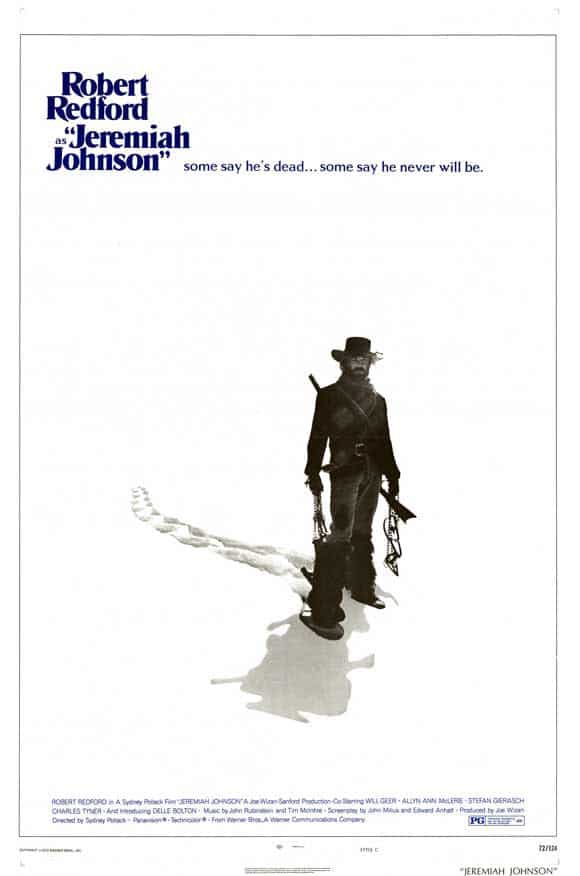 An American soldier (Robert Redford) goes west to escape the Mexican War and becomes a mountain man. A grizzled old trapper takes Johnson in and teaches him how to survive harsh winters, bears, and Indians. After accidentally violating an Indian burial ground, he loses his new Indian wife and their adopted child to vengeance, and a vendetta between him and the Crows ruins his idyllic life as a fur trapper. For about half the movie we get to see Jeremiah Johnson take on surprise attacks by Crow Indians with nothing but his fists and a Bowie knife. The film is actually based on the real life of mountain man Jeremiah Johnson
Best line: "Where you headed?" "Same place you are, Jeremiah: hell, in the end"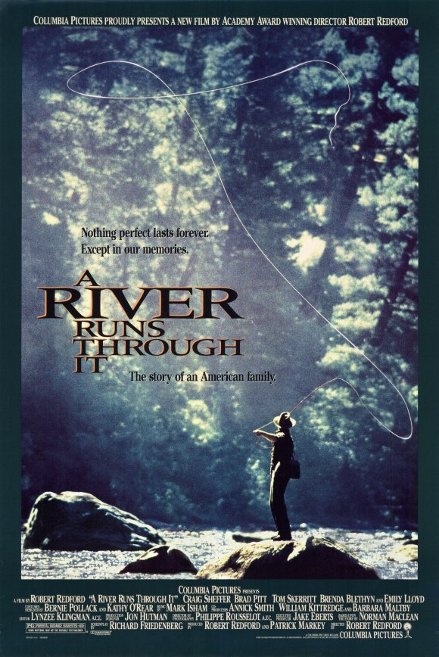 A River Runs Through It follows an older brother's attempt to save his talented brother from self-destruction through the healing power of fly fishing. Set in Montana's beautiful Blackfoot River country, the viewer is presented with stunning shots of nature. Director Robert Redford's commentary and narration engages the viewer to ponder important life questions. From the story we learn that sometimes the people we love the most are the hardest to help.
Best line: "It is those we live with and love and should know who elude us."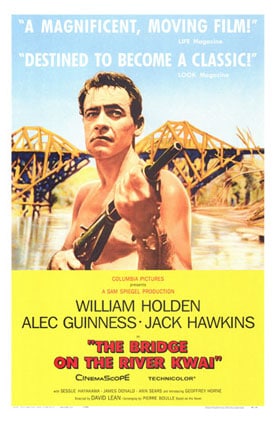 A group of British prisoners of war during WWII are ordered to build a bridge for the Japanese Burma-Siam railway. Instead of sabotaging the bridge, the men build the bridge under the command of Colonel Nicholson. The bridge becomes a metaphor for the futility and insanity of war, egotistical pride, a belief in saving "face," and stubborn, inflexible obedience to class, military codes and rules.
Best line: "Do not speak to me of rules. This is war! This is not a game of cricket"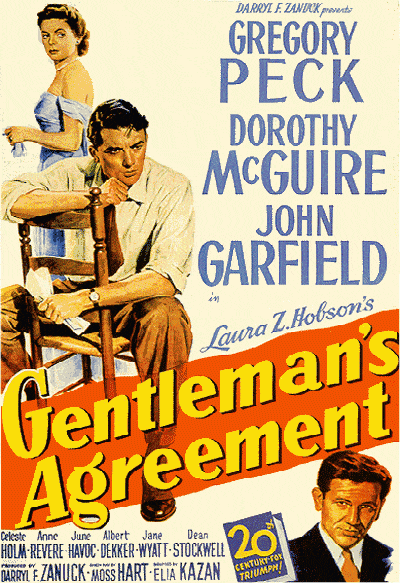 "I swear I'm not a racist but…" So many people have no idea what their true feelings toward people are until their foot is shoved in their mouth. In the film, Phil Green (Gregory Peck) poses as a Jewish man in the cultured society of New York and Connecticut to gain information for a magazine article. His eyes are opened to the world of bigotry that often goes unnoticed.
Best line: "I've come to see lots of nice people who hate it and deplore it and protest their own innocence, then help it along and wonder why it grows. People who would never beat up a Jew. People who think anti-Semitism is far away in some dark place with low-class morons. That's the biggest discovery I've made. The good people. The nice people."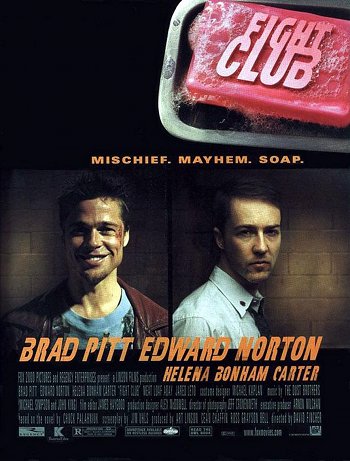 At first blush, Fight Club just seems like another violent movie with guys beating each other to a bloody pulp. The fighting, however, is just a vehicle to explore and critique the sad state of modern American masculinity. Everything about Fight Club is amazing- the story, the cinematography, the acting, everything. Edward Norton plays a nameless narrator whose life has been hollowed out by his job and his desire to own all the contents in the IKEA catalog. His life changes when he meets soap salesman, Tyler Durden. I wish I could go on, but I can't. The first rule of Fight Club is never talk about Fight Club. Guess you'll have to see the movie yourself.
Best line: "You're not your job. You're not how much money you have in the bank. You're not the car you drive. You're not the contents of your wallet. You're not your f****ing khakis."
Indiana Jones (Raiders of the Lost Ark and The Last Crusade)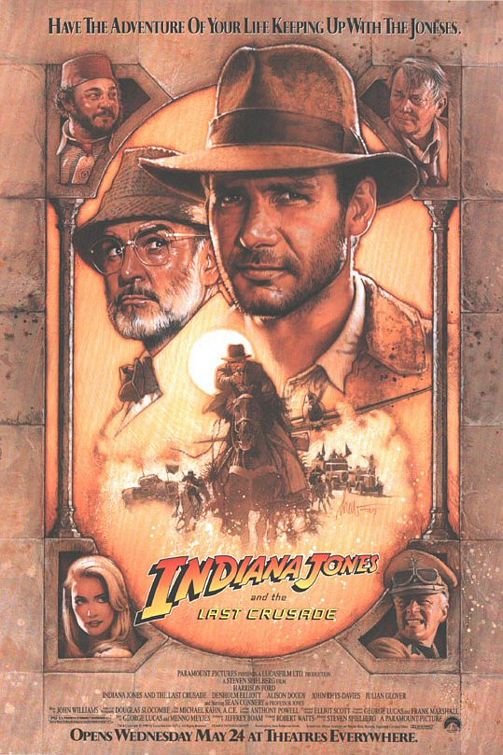 The hat, the whip, the legend. There aren't too many films that inspire adventure today. The problem with most current action movies is that there's too much emphasis on the action and not enough time spent on developing a good story. Indiana Jones strikes a perfect balance of action and first rate storytelling. Watching an Indiana Jones movie will take you back to your boyhood dreams of fighting Nazis, getting the girl, and swinging from beams with your trusty bullwhip.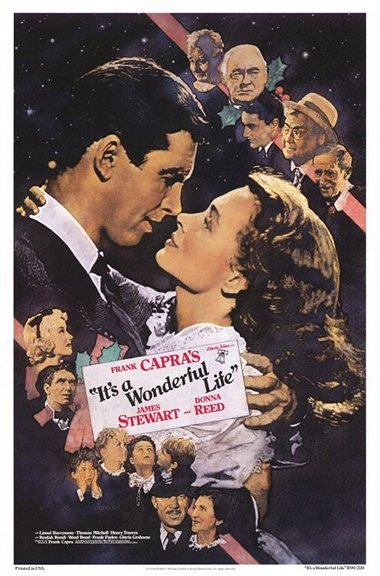 A perennial Christmastime favorite (mainly because the copyright wasn't renewed in 1975 and TV stations could air it for free). We often think of It's a Wonderful Life as a heart warming and inspiring film. But if you take a step back, you'll see that there's an underlying darkness to it. George Bailey (Jimmy Stewart) had dreams of traveling, going on adventures, and being an architect in a big city. But his responsibilities to his family and his community kept him from leaving his small town. After the savings and loan he owns goes bust, Bailey considers suicide (pretty heavy for the 1940s), only to be shown what life would be like without him. In the end, he learns that happiness is found not in pursuing big dreams but through family, friends, and fulfilling responsibility to those around you.
Best line: "Strange, isn't it? Each man's life touches so many other lives. When he isn't around he leaves an awful hole, doesn't he?"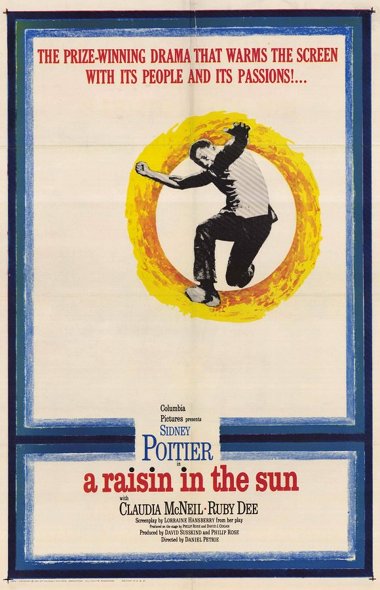 Is A Raisin in the Sun about racism? Obviously. Is it about family and dreams and identity? Of course. But it's also about being a man. About becoming a man. Walter Lee Younger makes mistakes, he's stubborn, and he has his dreams dashed. But he's not defeated. He finds the humility to unite with his family and the pride to stand up for his convictions. He mans up in the end.
Best line: ""He finally come into his manhood today, didn't he? Kind of like a rainbow after the rain."
When we think of mythic heroes, we often think of characters from classical history like Achilles or Agamemnon. In The Natural, we see the archetype of the epic and mythological hero transposed from the battlefields of ancient Greece to the baseball diamonds of 1920′s America. Robert Redford plays Roy Hobbs, a baseball player whose promising career was cut short in his youth by a deadly dame. 16 years later, Roy is back to fulfill his dream to play major league ball. Just as Achilles had his mythological armor made by the gods, Roy wields his mythological bat, aptly named "Boy Wonder," made from a tree struck by lightning. When you get down to it, The Natural is about re-birth and going after a dream no matter what it takes. Beautifully shot and masterfully scored, you'll be bawling like a baby by the time the credits roll.
Best line: "You've got a gift Roy… but it's not enough – you've got to develop yourself. If you rely too much on your own gift… then… you'll fail."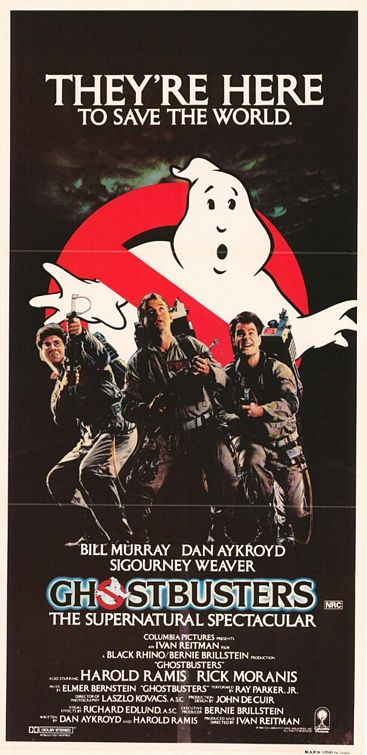 I hold a special place in my heart for Ghostbusters. When I was a kid, I was obsessed with the movie. I watched it over and over, played the video games, and had all the Ghostbusters toys. Moreover, from the ages of 4 until 6, I demanded that my family call me Peter Venkman and not Brett. Back then I loved the movie primarily for the cool special effects and proton packs. 20 years later, I still think the proton packs are cool. But I'm finally starting to appreciate how incredibly funny Ghostbusters is. There's no deep meaning you can take away from Ghostbusters, it's just a really entertaining and fun movie. When you're looking for something to watch after a long day at work, you know who to call.
Best line: "Ray, when someone asks you if you're a god, you say 'YES!'"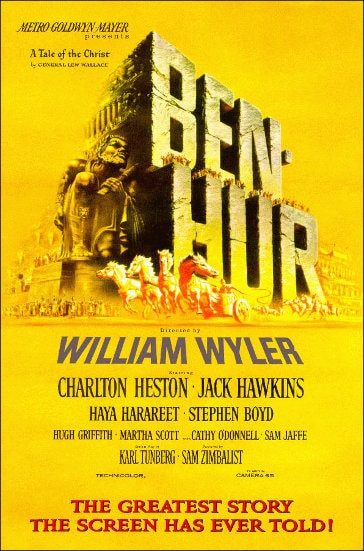 Two words: Chariot Race. Before CGI and all the other wires and fancy tricks, they had real guys doing crazy stuff that most filmmakers today won't even dream about. And man, does it pay off for this picture. The chariot race is probably the most remembered event in the film, but it is certainly not the guts of the story. Family, the futility of revenge, inner peace, and a host of other themes lay the foundation for the character arc of Judah Ben Hur. One of Charleton Heston's greatest roles.
Best line: "You can break a man's skull, you can arrest him, you can throw him into a dungeon. But how do you control what's up here? How do you fight an idea?"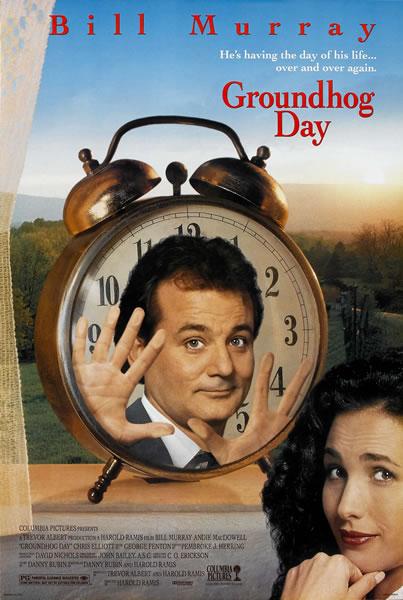 On it's surface, Groundhog Day is just another comedy. But if you delve deeper, you'll find a story that drives home some profound messages. Bill Murray plays Phil Connors, a cynical egotistical weatherman who, for some reason, must live the same day over and over. That day just happens to be Groundhog's Day. We never learn how long Phil is stuck in this purgatory of repetition. It could have been a month or maybe even a thousand years. While the repetition provides some funny gags, it also sets up a backdrop for Phil (and the audience) to be hit with a heavy dose of anagnorisis. From Phil's plight we learn the only real change in life can only come from within us.
Best line: "I'm a god." "You're God?" "I'm a god. I'm not *the* God… I don't think."
Another childhood favorite. Remember how I forced my family to call me Peter Venckman for two years after I saw Ghostbusters? Well, after I saw Top Gun in Kindergarten, they were calling me Maverick. In the role that made him a blockbuster star, Tom Cruise plays cocky navy pilot Pete "Maverick" Mitchell who is selected to train with the best of the best at the prestigious Navy flight school called "Top Gun." Yeah, the story is sort of cheesy and yeah, some of the battle scenes weren't all that realistic, but Top Gun entertains from beginning to end. Plus, it has a killer Kenny Loggins theme song. What more can you ask for in a 80′s flick?
Best line: " I feel the need… the need for speed!"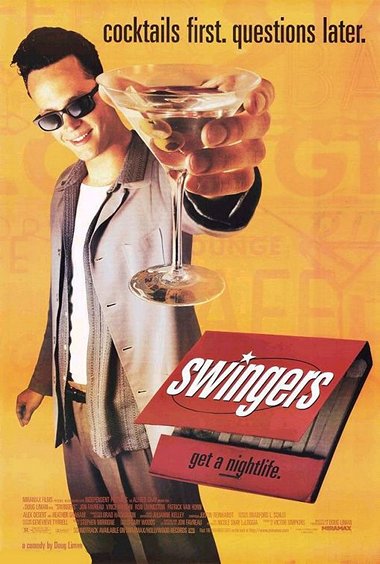 We've all had moments in our life when our self confidence has been completely obliterated. Nothing goes right and it seems as though nothing will. But with time and some help from our buds, we get our swagger back. To me, that's what Swingers is all about. John Favereu plays Mike, a crestfallen 20-something living in LA who was recently dumped by his girlfriend. His confidence hits an all time low, but with the help from his smooth talking buddy, Trent (Vince Vaughn), Mike slowly starts to come out of his shell. Swingers has some of the best dialogue I've ever seen in a film and is full of memorable quotes you can pull out when your buddy is feeling down on himself.
Best line: "You're so money and you don't even know it."
June 6, 1944 – the invasion of the Allied soldiers on the beaches of Normandy. One of the turning points in all of history. The film tells the story from both sides – Axis and Allies. For both it will be the longest day.
Best line: "You can't give the enemy a break. Send him to hell."
This post was written as a collaboration between AoM and my good friend Cameron Ming.
To see a list of just the movie titles, click here.