While the classic fall bonfire is a great way to spend a chilly evening with friends, another great activity for this season is creating a movie theater in your backyard. With just a little bit of set-up, you can have the awesome outdoor ambiance of a drive-in, but with homemade snacks and drinks and no cost for admission (unless you decide to charge your friends, of course!).
Supply List: What You'll Need to Set Up a Spooky Backyard Theater
DVD player or computer
Projector + requisite cords
Speakers
Extension cord(s)
White bed sheet(s)
Chairs
Snacks
Drinks
Blankets – for warmth and for cowering under when the movie gets too scary
Location, Location, Location
Before you do any set-up, you need to choose the right location. You obviously need physical space not only for theater-goers, but for your projection set-up and cordage as well. You'll also need access to power; with a long extension cord, you can do just about anything.
Another consideration should be any light pollution that comes into your yard. You'll want to find a dark place, as free from the glare of street and/or house lights as possible. The darker the environment, the clearer your picture will be.
The Equipment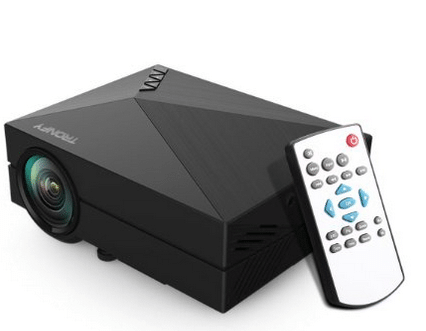 Projector. Projectors can be big and expensive, or affordable and portable. They can also be had on the cheap through Craigslist or eBay. There are a lot of mini projectors on the market that provide a decent picture (it's the backyard, so you're obviously not going for HD quality) and get good ratings. (The Trofny movie projector is on sale at Amazon right now for just $95. The original price is $499. Get 'em while they last.) These often require just a tripod, rather than the small table that you'd need for a full-size projector. Know that with any projector, you often need some sort of adapter cord to make it function with a laptop. They do, however, usually come with the red, yellow, and white composite cord that you'd need if using a DVD player.
Speakers. Speakers are another crucial element to the backyard movie night. The tinny output on your laptop won't be nearly enough, nor would a small portable bluetooth speaker (a bigger, high-quality model may do the trick, especially if you have a small crowd). You'll want some wireless surround sound speakers, or even an amp if you're the musical type and have one sitting around.
Sheet/Screen. Finally, you'll of course need a screen, which is where some white bed sheets come in. Using just one can get the job done, but placing two back-to-back creates a better, less see-through screen. Make sure they're ironed, as wrinkles will impede your viewing experience. The screen can be taped to a garage, strung between trees, or even hung from a clothesline (tip: utilize bricks if the sheet touches the ground). Just be sure it's pulled as taut as can be for an optimal picture.
Once this is all set, grab some lawn chairs, bean bags, or even just blankets and fluffy pillows, and create a nice amphitheater around your screen.
Snacks and Beverages
Part of the fun of a spooky backyard movie night is noshing on some tasty fall-tastic grub and imbibing a delicious drink or two.
For snacks, it would be sacrilegious to not include popcorn. Rather than the microwave variety, make it on the stove with a popper, melted butter, and sea salt. To jazz it up even more, grab a popcorn seasoning pack, and everyone can choose their favorite. Some other great fall foodstuffs you should have on hand include roasted pumpkin seeds and hot apple pie (with vanilla ice cream of course).
On a chilly October evening, you probably don't want a cold beer. Best to have hot chocolate and mulled cider available.
Scary Movie Ideas
And now for the main attraction! You'll want to choose a movie that's scary, but not terrifying. You're not necessarily going for actual fright, but presenting your friends with a night of fun entertainment. A great way to do this is by picking an older B-roll horror flick. They're usually a little funny, a lot cheesy, and if you're lucky, partially scary. Some offer genuine chills, while others are so campy they'll have your audience laughing out loud. Here are some of Team AoM's favorite vintage horror films (as a bonus, many can be found in the public domain free of charge.):
That's all it takes to create a spooky backyard movie night! Just a little bit of forethought and know-how goes a long way in creating an evening that everyone will remember for a long time, and will be pining for come future autumns.
Tags:
Movies