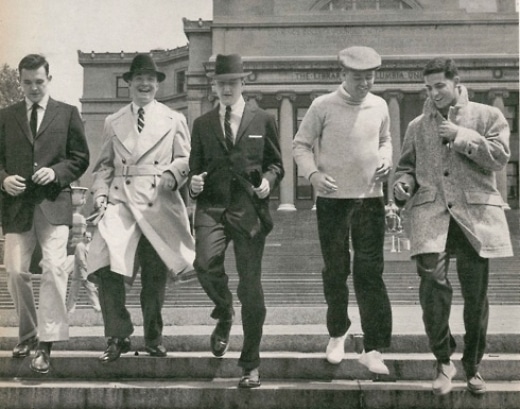 A man's wardrobe should undergo subtle shifts as he gets older and takes on different roles in life. To help you look great at every age, this year we'll be offering guides to dressing sharp and casual in your 20s, 30s, 40s, 50s, 60s, and beyond.
In a man's 20s, he does a lot of creating and experimenting with his career, habits, and relationships, as well as his style.
In his 30s, he starts to build and solidify the things he launched in the previous decade of his life.
While modern 30-something men aren't always as solidly settled into adulthood as those in times past, it's still a decade where guys are at least trying to pivot and head in that direction. You should largely know who you are by now — what direction you want to head, and, how you like to dress.
So this is a decade where you can start to build on the things you learned by experimenting with your personal style in your 20s. You're going to improve the quality and fit of your favorite staples and cull your wardrobe into something befitting a man on the up and up.
Casual in Your 30s: Needs and Wants
As we discussed in the first installment of this series, a "casual" wardrobe isn't necessarily short on formality — it's simply what you wear outside of work for personal pleasure, whether that's comfortable jeans or dapper suits.
What you wear when you're just being "you" tells people a lot about you. It's going to be one of the large determining factors in how your friends and peers perceive you.
So what should a man in his 30s be thinking about in regards to style, particularly when compared to men of other ages and generations?
1. Fit
Unless you're very lucky or very determined or both, your body has probably changed since you were 20. That's not a bad thing, unless you're fond of getting carded, but it is something you need to take into account when you dress.
The big three-oh is a good time to go through your closet and get rid of some old clothes. It's a safe bet you've got some things in there that don't actually fit, either because they've shrunk over time or you've grown, and you'll want to remove the temptation to wear them out and about.
These are also the years when, if you haven't before, you should be diving into the luxury that is custom-tailored clothing.
Depending on your means, you may not be able to afford a wardrobe made of bespoke suits and shirts, of course, and you can look great without. But you should at the very least establish a relationship with a tailor you like, and have him (or her) adjust your off-the-rack clothing to your specific measurements.
Your peers are increasingly going to be better dressers as you age, and a tailored fit in all your clothes — even the casual ones — helps you stay ahead of the curve. It also makes sure your body is looking its best at all times, no matter what shape it's in.
2. Identity
Your 20s were a good age for experimenting with looks. Your 30s certainly haven't turned you stodgy, but it is time to have a little consistency in both your personality and its outward reflection. Dressing like a ripped-jeans grunge rocker one day and an ascot-wearing turn-of-the-century dandy the next just makes you look flaky.
You should have — or should work on developing — a look you're comfortable with as your standard or "default" style. You don't have to box yourself in, but you should probably know by now whether you prefer to wear jeans, chinos, or wool slacks as your off-hours trousers, and whether you prefer shirts with a traditional turndown collar ("dress" shirts) or something a little more relaxed.
This is also a good age to establish a few "favorites." Own a couple beloved (and perhaps aging) garments that your friends know you for. Adjust and repair them as needed to keep them in your regular wardrobe for years. It'll be a comforting touchstone for both you and everyone else.
Perhaps most importantly of all, this is an age where it's crucial to have an identity — both an internal one and a wardrobe to represent it — that's separate from your work life. Don't be the guy who wears khakis and a blue shirt to the office, then puts on khakis and a blue shirt for a baseball game on Saturday as well.
It may sound like a minor concern, but having a "self" that's separate from what you do for a living makes a big impact on your happiness and stress levels. Your clothes should be something enjoyable that you unwind in, not a reminder of your job (even if you love your work).
3. Gravitas
We usually reserve the word "dignity" for older gentlemen (you'll see it, for example, in our article on dressing for your 40s), but a man in his 30s wants his clothes to add a certain social weight as well.
There comes an age — and it almost always comes in the 30s at some point or another — where it's no longer possible to be mistaken for a fun-loving 20-something out on the town. Rather than dressing even more relaxed and "funky" in an attempt to appear more youthful, accept that milestone with class, and even enthusiasm; exuding a bit of gravitas prompts people to take you more seriously and allows you to move into a more influential role.
This is an age where you should be comfortable wearing a jacket more often than not, wearing leather shoes instead of sneakers, and tying your own tie without thinking about it. You should have a haircut that can go before a board meeting or a judge with no more preparation than a quick combing. You should own a decent watch.
Little acknowledgments of adulthood like that are integral to looking like a man who's comfortable being who he is, rather than a man who misses what he was.
Casual Looks for Your 30s
In your 20s your style was guided by a lot of choices: relaxed or straight-laced? Vivid colors or earth tones? Modern or classic?
By now, you should be mostly past either/or binaries. This is an age when you should have a base style and be looking to expand on it. If you don't have a base style yet, find one — you might start flipping through GQ and Esquire for some decent, fairly mainstream examples of grown-up fashions, or just take a trip to classically-styled menswear stores like Brooks Brothers.
Here are just a few looks that every 30-something male should be able to pull off, and the clothes you'll need to do it:
1. The Casual Suit
Hopefully you already have a proper business suit at this point, even if it's not a regular staple of your work wardrobe. (And if you don't have one yet, go buy it: solid charcoal gray or navy blue, single-breasted jacket, notched lapels, tailored fit.)
By your 30s, it's time to add a casual suit to the wardrobe as well. This has a lighter color and often a pattern of some kind to it: think medium-gray sharkshin, blue- or gray-scale Glen check, brown tweed. You get the idea.
This is something you wear to nicer, more conservative social events: Sunday church and brunches, weddings (when there isn't a stricter dress code on the invitation), bar mitzvahs for friends' children, and so forth.
It's your way of showing the world that you're an adult even when you're having fun. It also has the advantage of looking really good on you, as long as you got the fit adjusted to your personal measurements, and it sets you apart from all the guys wearing dress shirts and slacks.
So get yourself a suit that you couldn't wear to work at a law firm or a financial office. Make sure no one will mistake it for re-purposed business wear. And have fun looking sharp in it.
2. The Ever-Changing Sports Jacket
By your 30s you should be wearing a jacket more often than not. It doesn't have to be a formal jacket — you can get quite casual with things like corduroy, bright colors, and vivid patterns in your off-hours — but it should be there.
The best shape is, of course, the classic sports jacket or blazer. It gives you the same "broad shoulders, narrow waist" look that a suit jacket does, with less formality. For starters, a navy blazer, a woolen tweed, and a soft, colored corduroy or velvet makes a good trifecta for the beginner's closet.
Expand your collection aggressively, through whatever means suit your budget and your shopping habits best. A man on a limited budget can do very well for himself buying thrift-store jackets close to his size and having a tailor make the necessary adjustments.
In addition to your sports jackets and blazers, this is also a good age to have (or be working on) a collection of stylish coats and outerwear. If you don't have a couple options for your top layer, fix that. A dressy wool overcoat is good for the fanciest nights out, and for lower-formality occasions you've got options like denim and leather jackets, military-style fatigue jackets, wool hunter's coats, peacoats, cardigans, and more.
3. The Summer Casual
Most suits and jackets are what's traditionally called "three-season wear" in the fashion industry. They'll hold your wardrobe down from around mid-September to early May in temperate, northern-hemisphere climates (men in more exotic locations obviously need to adjust a little bit).
Having something stylish to wear in the hot summer months is a big step in a man's wardrobe.
Summer looks for stylish grown-ups aren't actually that hard, but they do include pieces of clothing that a lot of men never get around to buying, or that they buy cheap when they do purchase. You should own at least a couple short-sleeve shirts that are appropriate for an older crowd: polos are good, as are button-fronted shirts with turndown collars.
You'll also want some lightweight pants (khakis and white cotton slacks are traditional), leather loafers, boaters, or other slip-on shoes, and maybe leather-strap sandals like Birkenstocks for more casual events.
To really crank it up a notch, there's classic Southern styles like seersucker suits and white bucks — not an essential part of a man's wardrobe, certainly, but a good way to own the summer. And linen suits, jackets, trousers, and even shirts are an indulgence that a man should definitely treat himself to as he ages. Just be sure not to mix your linens; if you're wearing a linen suit, wear a cotton shirt.
Three Items (and One Grooming Habit) Every Man in His 30s Should Own
1. A Proper Dress Watch
It doesn't have to be a $3,500 luxury watch, but you need a watch with a proper metal or leather band. There are some perfectly good-looking ones starting as low as $100 from brands like Timex and Victorinox (Brett's favorite affordable watch is Armogan's Spirit of St. Louis), and for a little bit more you can get something pretty fancy.
Keep it simple, classic, and not too chunky, and if you want to make matching easy on yourself down the line, get one that can be swapped out to multiple bands without using a screwdriver. That way you can switch back and forth between a black leather band and a brown leather band to match the shoes and belt you're wearing.
2. A Respectable Wallet
No more pulling out a tattered billfold exploding with receipts, if you please. It's time to own something slim, leather, and intact. Prune its contents as often as you need to keep it from ruining the line of your trousers.
And absolutely no nylon or velcro sports wallets at your age, with the exception of "safety" or travel wallets clipped to your body when you're traveling abroad.
3. Shoes for Every Occasion
At a minimum, a man can get by with only two or three pairs of shoes, but they need to be exactly the right kind — and it'll be easier on the wear-and-tear if you have a few more to choose from.
You realistically need a pair of plain black leather shoes for business dealings and high-formality events, at least one pair of brown leather shoes for when you want to look more casual but still dressy, and two or three casual options for social wear.
Invest in some quality and don't be shy about adding to the collection. Is a really nice pair of boaters that you only wear three months out of the year worth $100 or more? Absolutely, if they look great when you wear them.
4. A Grown-Up Haircut
Can you glance in a mirror, run a comb through your hair, and be ready for the most important interview of your life?
If not, time to change your hairstyle. You don't want something that takes a ton of maintenance and is capable of falling apart into a mess of tangles or straw-ends by quitting time. This is also a decent age to start moving away from dyes, if you'd been using them in your younger days — whether or not you're going gray. It's your hair; own it.
By the same token, be honest about it when you start going bald. Get a short, classic cut that doesn't try to comb over or layer on top of the bald spot, or go contemporary and shave the whole thing. Anything that isn't ashamed is fine, but avoid the creeping comb-over like the plague.
Looks the 30-Something Man Should Always Avoid
Give up now and don't even try — these are a few things you should never be wearing once you've passed the big three-oh. If you're wearing these you're doing it wrong:
"Athletic" gear (outside the gym). Under Armour or heather-gray T-shirts, mesh shorts, tank tops, sweatpants, pop-off training pants, athletic shoes — stop wearing them outside the gym. No one's going to mistake you for a college student at your age, so you just look like a man who never learned to dress better than a college student. If you're not working out, there's no reason to be wearing jock clothes.
Runway fashions. It's time to stop following the bleeding edge of fashion, if you ever did. There's nothing wrong with looking trendy if it's your pleasure, but give up on looking experimental. Bizarre color/style combinations, wild fabrics and patterns, and hairstyles that take an hour and a pound of product to arrange are hard to pull off even when you're a young man, and nigh near impossible when you start to get on in age.
Ties without a jacket. Seriously, there's nothing that says "I work in a cubicle" louder and clearer than slacks, a dress shirt, and a necktie with no jacket. Do you want to look like your life is over already? Then don't wear a collared shirt and tie without also throwing a jacket on.
Team jerseys. Unless you're at the game itself, you're too old to be wearing a hockey, football, or soccer jersey. Other sports are right out too, while we're at it.
Beyond that, let your taste and your social circumstances guide your "yes" and "no" lists. If you hang with a deeply artsy crowd where experimental fashions are de rigueur, maybe stay clear of conservative classics like a navy blazer with khakis. If you're schmoozing with buddies from a law firm, a bright plaid jacket and Converse sneakers probably aren't the way to go.
Use a little common sense, but above all else have some faith in your sense of self — know who you are, and dress like it.
____________________________
Written By Antonio Centeno
Founder, Real Men Real Style
Click here to grab my free ebooks on men's style