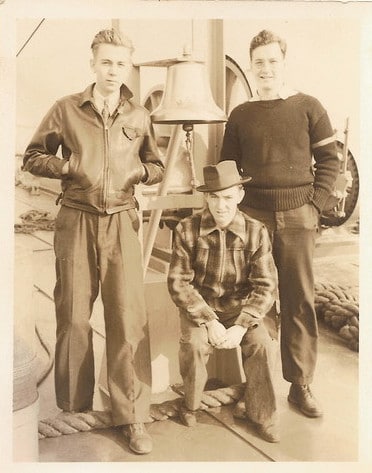 Custom suits and imported silk ties look great, but they're not a lot of use to young men in their late teens and early 20s.
Even if you could afford that kind of a wardrobe (most can't), there's no place to wear it – it's far too formal for socializing with 20-somethings, and very few men are walking out of college and straight into high-powered financial or legal offices.
So much of the advice on how to dress well as a man isn't all that useful for high school and college students, or even for post-grad students and working 20-somethings. A good suit is useful to own, but not something you're going to be wearing when you go out with friends.
So what to wear instead?
The trick is diversifying – taking the same casual level of dress that most young men wear, and adding new looks to it to stay sharp without looking stuffy.
The Varied Wardrobe: A Young Man's Friend
It's safe to assume that most young men have a couple pairs of jeans, some T-shirts, a sweatshirt or two, and maybe a few button-down shirts in their wardrobe. If you don't have those, you're either unusually well-dressed or very inventive.
The way to go from looking like everyone else to looking sharp and stylish is to take those basic wardrobe pieces and swap a few of them out for pieces that are nicer, but aren't necessarily any more formal. When everyone else is wearing jeans and T-shirts or hoodies, you stand out by being the guy in something a little different.
Here are a few basic staples of most young men's wardrobes, and some alternatives to them that can be worn stylishly but casually:
Blue jeans – Swap them for colored corduroys, earth-tone cotton slacks, gray wool flannel trousers, or just jeans in a darker color and close fit. Even the simple upgrade from light blue work jeans to dark, stylish, contrast-stitched jeans goes a long way in improving your style.
T-shirts – Replace them with polo shirts, lightweight long-sleeve T-shirts, henley shirts, Breton tops, and other light, but distinct, styles. If you do wear a T-shirt, something with a solid color and either no design or an artistic design (rather than a band name or sports team) is best.
Hoodies – Swap them for casual collared shirts, plaid flannels, cotton sweaters, lightweight cashmere sweaters, sweater-vests, and cardigans.
Coats – Keep the thick winter coat for when you really need it, but add blazers and sports jackets to the fall and spring wardrobe. Throwing a casual jacket on over even just a T-shirt and jeans instantly upgrades the look.
Sneakers – Swap 'em for casual leather shoes. Saddle shoes, wingtips, brogues, loafers – there's a lot of options here. If you do want to keep sneakers in the wardrobe, go for colored canvas options (like Converse All-Stars) to keep it stylish.
These are all just examples of a simple point: the more things you have in your wardrobe that aren't the same old blue jeans and T-shirts, the sharper you'll look. Small upgrades go a long way in casual company.
Items You Might Not Own (But Probably Should)
So what are some pieces that young men can wear to break out of the mold a little?
These are a few that are worth knowing about. You probably can't add them all to the wardrobe at once, but if you're working on adding variety a few pieces at a time, these would be worth your while:
Jackets and Coats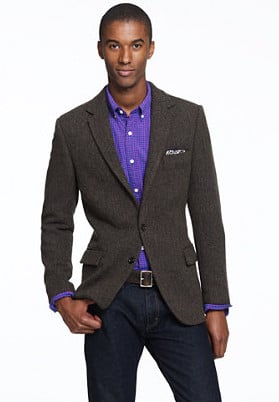 Sports jackets – These are probably the easiest way to dress up any casual outfit. Throw a blazer or sports jacket on and suddenly you're classy. Not particularly formal, but certainly sharper than your peers, and with an almost infinite variety of colors and patterns out there to choose from you can add quite a bit of uniqueness to your wardrobe with only a few pieces.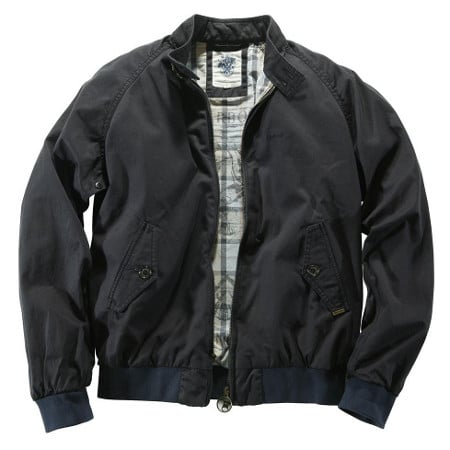 Blouson – A tight-waisted descendent of WWII-era field jackets, this is a good option for times when a sports jacket with lapels feels a little too dressy. It has a timeless feel that reminds people of old movies, war heroes, and middle America.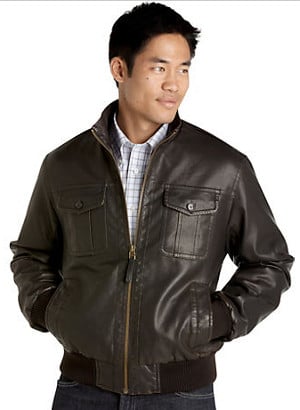 Leather jackets – Another good casual jacket option, you've got your choice of a couple styles, ranging from the heavy, lined bomber jacket to tight-fitted moto jackets. They have a little "tough guy" swagger to them.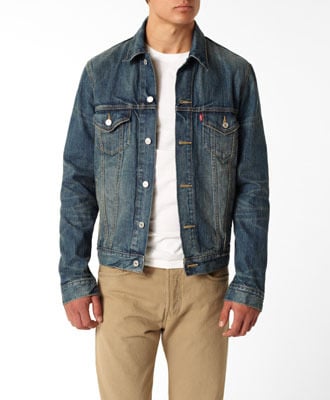 Jean jackets – Again available in lots of styles, these shouldn't be worn with matching denim (blue jeans and a blue jean jacket is no good), but look great with slacks, corduroys, or in some cases, darker denim, though mixing denims should always be done carefully.
Overcoats – A long wool overcoat is something many young men lack, and something that becomes invaluable in cold or wet weather when you're dressing up. Throwing a puffy winter parka over a suit or nice jacket ruins the whole look. Keep an eye on second-hand shops if you can't afford one new off the rack — a good Chesterfield or polo coat is the ideal companion to your nicer outfits.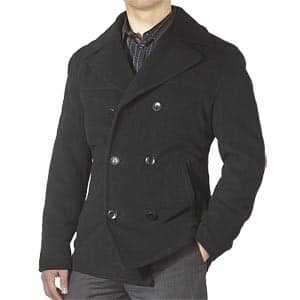 Pea Coats – Originally worn by sailors, pea coats are often made from navy-colored or black heavy wool, and feature broad lapels, double-breasted fronts, and large buttons. Looks sharp, and pulls together both casual and slightly more formal outfits.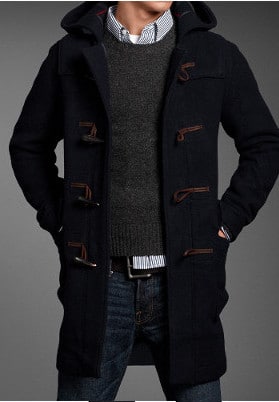 Duffle coats – Also called toggle coats for their typical style of button, duffel coats were originally military surplus and later became a staple of European intellectuals and students. They're still classic campus wear, and striking these days for their uniqueness (especially on American campuses, where they were never quite as ubiquitous).
Barbour jackets – Wet weather gear from England, the Barbour has various imitators from brands like L.L.Bean and Land's End, but the originals are sturdier – being made with waterproofed cotton with a quilted lining. They look rugged and outdoorsy, and have the added benefit of keeping you dry without being a shiny plastic poncho or something similarly unstylish.
Want more help dressing for cold weather? Visit this classic AOM article.
Trousers and Pants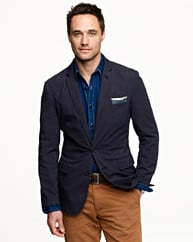 Odd trousers – This is the catch-all term for pants that don't match your jacket, but generally implies casual wool trousers. Blue jeans worn with a jacket are technically odd trousers, but most people wouldn't say that. Instead, you should be thinking about colored and patterned wool or cotton slacks — everything from plain gray flannel trousers, to plaids and houndstooth is fair game, and looks good paired with a casual jacket.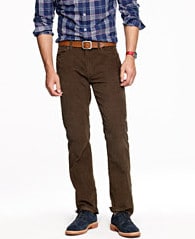 Corduroys – These can come in any color, ranging from staid earth tones to neon-bright primary colors. The former is a good casual companion to a tweed sports jacket; the latter works well in lively evening outfits with a sharp blazer or casual shirt. In either style they're comfortable, sturdy, and more breathable than denim, making them a good alternative to jeans.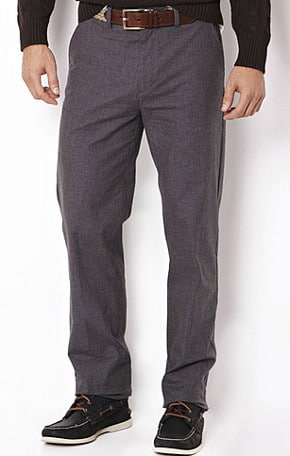 Gray flannel trousers – A staple that every man should own, these are for when you want to look dressy and a little more conservative and/or grown-up. Pair them with a decent dress shirt and a blazer and you're set for a work day in most offices; skip the blazer and wear a more casual collared shirt (plaid "lumberjack" shirts work well) for an off-duty look. Curious as to why flannel trousers are so hard to find? Read my post here.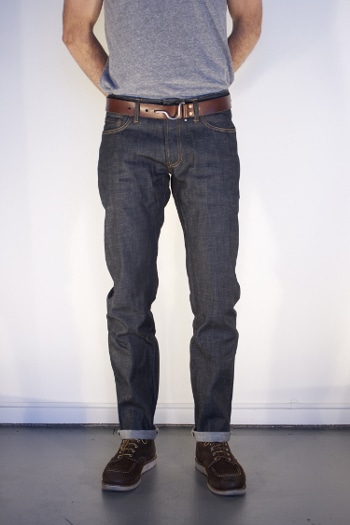 Fitted jeans – Looser jeans are fine for manual labor and very casual wear, but most of your jeans should be fitted to your side, with a bit of taper in the lower legs and no sag in the crotch or bottom. That makes them dressy enough to pair with casual sports jackets, particularly if the jeans are in a dark color. Deep indigo is your best bet, though black and gray have their roles as well, and daring men can go for white jeans with a dark top.
Cargo pants – Have a pair for doing manual labor in, and don't be afraid to wear them from time to time with a collared work (not dress) shirt in blue or plaid. Multiple pairs are appropriate if you're someone who does a lot of physical labor.
Shirts and Tops
Dress shirts – Everyone needs one or two in plain white for dress occasions; for the rest go for light patterns and colors. They should still be based in white or a very light pastel, but both stripes and checks are fine for most occasions.
Casual collared shirts – Useful for evening casual wear in particular, shirts that have the same basic cut as a dress shirt but a bolder pattern or color go well with everything from gray wool slacks to blue jeans. Variegated stripes (multiple stripes of varying width and color), deep colors like purple and red, and figure patterns (repeating designs rather than line designs like stripes and checks) are all good options for casual collared shirts.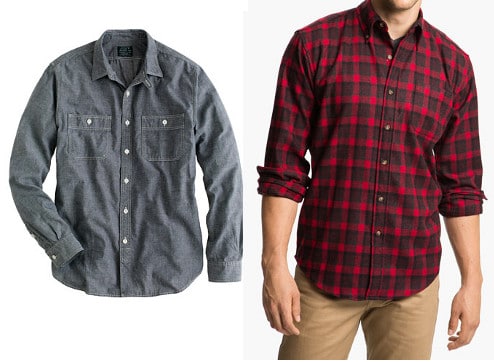 Work shirts – Another collared style, these are made of softer cotton or denim. Chambray shirts have become more popular in style, and blue Oxford workshirts are a classic, as are plaid "lumberjack" shirts. The latter are sometimes made in virgin wool instead of cotton, as with the iconic Pendelton brand.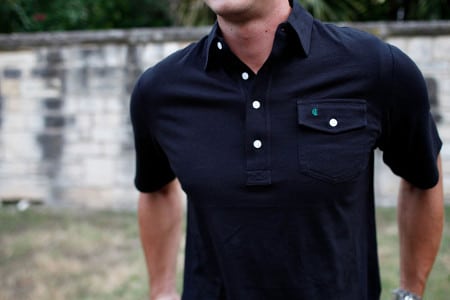 Polo shirts – Useful for all warm weather needs, everyone should have a few. One in white, one in a solid dark, and one with a few narrow stripes (the classic golf look) is a good start to the collection. Avoid wearing polos with a company logo on the chest unless you're actually on the clock and working for that company.
Rugby shirts – Something like a long-sleeved polo shirt, these usually have broad horizontal stripes and in some cases, a team logo or school crest on the left breast. They're good for a collegiate look that doesn't rely on a hoodie or T-shirt.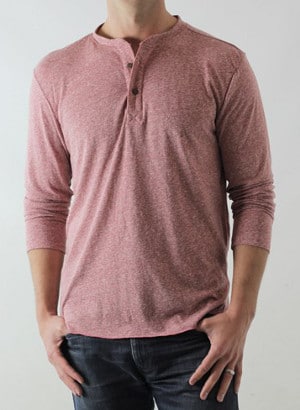 Henley shirts – Similar to a T-shirt, but with a small, buttoning "fly" in the front, below the ring collar. They can be long- or short-sleeved, and both are a nice alternative to a plain tee.
Breton top – Familiar to most people as "the French shirt" — a three-quarter length sleeve shirt with horizontal stripes in alternating white and navy blue (or white and black; other colors are occasionally seen as well). A unique and eye-catching look for bold dressers. Don't pair it with a beret unless you're trying to look like a caricature of a Frenchman, or are a mime.
Guayabera – A traditional Mexican style also called a Cuban shirt. Guayaberas have multiple front pockets, a soft collar, and decorative columns of pleats or embroidery, and can range from plain white to brightly colored and extravagantly decorated. It's a good touch of the exotic for a North American's summer wardrobe.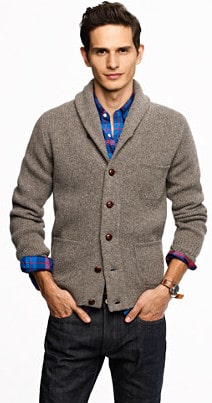 Cardigans – Buttoned or zippered sweaters that open in the front. No college student should be without a thick, loose, blanket-like wool one. Nothing is better for draping around a girlfriend's shoulders, or just looking stylish on the way to class. Lighter, more fitted versions in cotton or light wools, like cashmere, are good for fall and spring.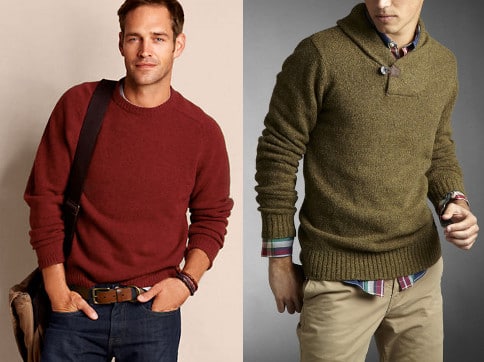 Sweaters – Any style of pullover sweater can work well either on its own or paired with a sports jacket. For more on sweaters visit this classic AOM piece.
Footwear and Accessories
Work shoes – Dark leather with a rubber sole and thick stitching, for a look that's sturdy but not sloppy. An ideal alternative to sneakers in almost any outfit, work shoes are made for work and often incorporate nonslip soles and steel toes. Doc Marten is the iconic brand here, developed by a German named Dr. Klaus Marten in 1943 and later acquired by an English company who transformed them into a staple of the young working class, football hooligans, and musicians.
Work boots – Similar to work shoes but thicker, taller, and sometimes more varied in color. For the most part practical in use, but throw them on with jeans and a lumberjack shirt when you just feel like looking tough and outdoorsy (even if you're just walking down to the store or across campus). I am a fan of Red Wing boots – still made in Red Wing, Minnesota.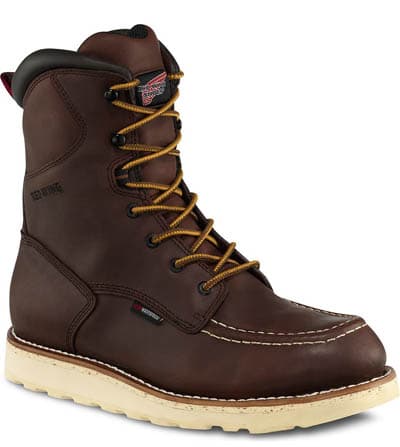 Sandals – A good pair with dark leather straps keeps you looking sharp in the summer. The Birkenstock brand isn't required, but it's a good example of the style, and the soles are comfortable.
Canvas sneakers – A pair of colored canvas sneakers like the Converse Chuck Taylor All-Stars is good for dressing down an outfit. Throw them on with a blazer and odd trousers or even a suit for a nightclub/concert look. Just don't wear them with jeans and a T-shirt unless you're trying to look sloppy.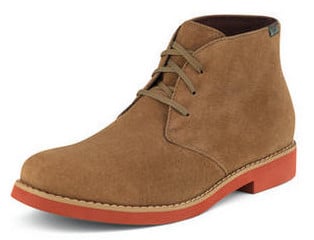 Chukka or desert boots – Desert boots are a practical sub-species of chukka boots, which are a low-ankled, loosely-tied style of casual leather boot. They're good for both practical outdoor use and casual social wear, and make a nice alternative to casual leather shoes.
Leather shoes – Everyone needs a pair of plain black Oxford Balmorals for dress purposes, but beyond that it's good to have a few pairs with casual accenting. Brogues (shoes with perforated patterns), saddle shoes (two-tone shoes with a horizontal band across the upper), wingtips, and other styles that feature strong, decorative elements are all good for wear with everything from blue jeans on up.
Dress watches – Stay within your budget, but have one. Either a metal or a leather band is appropriate, though you should always match your leathers. Anything from a good Timex to a Rolex can work, but stick to small, simple faces so that you can wear it with suits as well as your day-to-day gear.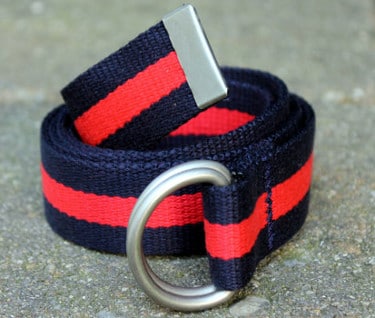 Decorative belts – Again, everyone needs at least one in black leather, but for casual wear consider stamped or tooled belts, or plain leather ones with interchangeable buckles. Colored leather, canvas, or cloth belts can be a great way to turn an outfit from just "sharp" to "unique," so long as you don't go overboard (the belt should never be the most noticeable piece).
Metal pens – A seemingly small touch, but one that makes a great impression. Have a good, metal-barreled pen in your jacket pocket any time you wear one. That way you always look prepared, and when you pull it out you look a bit fancy, unlike someone with a plastic Bic.
Pocket squares – A final accent, and one you should have every time you wear a sports jacket, blazer, or suit jacket. Own a couple in plain white and then as many as you want in colors and patterns. Your jacket isn't complete without one. And know how to fold your pocket square!
Dressing for Special Occasions
Dressing for Class (High School)
High school fashion is a rough game! Too sloppy and you're just another dude in the crowd, but too natty and you're likely to get teased (or worse).
Dark-colored jeans or corduroys and an untucked dress shirt is a good middle ground, especially when worn with casual leather shoes of some kind – it's clearly different from your classmates, but it's not stuffy. And if you find yourself in trouble with a teacher or administrator, you can tuck the shirt in quickly for an instantly respectable look.
Things you should definitely own: Dark indigo jeans, colored corduroys, or cotton slacks; casual collared shirts (both dress shirts and softer, thicker workshirts work well).
Things you should avoid: Blazers or sports jackets (unless part of the school uniform), neckties (way too stuffy, and likely to get pulled on as well), very fancy leather shoes
Dressing for Class (College)
Ah, college. Master of your own fate at last. For most of us, this is our first chance to dress ourselves and head out into the world without any input from anyone, and there's usually no dress code to worry about unless you picked a very conservative school.
But nothing attracts a professor's negative attention like a stereotypical college slob – you show up in sweat or pajama pants, a hoodie, and flip-flops, and you're basically taking points off your grade in the form of his or her lowered expectations. If your professor thinks you're a slacker, he or she reads your paper like a slacker's – just looking for opportunities to dock points.
So raise the bar at least a little. You also want to make a good impression on any potential romantic prospects you meet, so don't be afraid to out-dress your peers. Sure, they might give you a hard time if you show up in a sports jacket, but they'll get over it – and you'll still look good.
The ideal college look is usually something a little more formal than jeans and an untucked shirt, and a little less formal than a tucked-in dress shirt and navy blazer. Good middle ground options include colored and patterned dress shirts (tuck or untuck it depending on how sharp you want to seem), very casual sports jackets (tweed and corduroy are your friends here), dark jeans, colored cotton slacks, and cardigans or pullover sweaters.
Things you should definitely own: At least one or two sports jackets (seriously, try it if you haven't), dark jeans, some decent cotton slacks, maybe a pair of gray wool trousers; sweaters for the cold months.
Things you should avoid: Neckties (although a colored bowtie can look whimsical and fun, if you wear it with confidence), matched suits, severe leather dress shoes (casual styles with some decorative elements to them are fine); ratty blue jeans and hoodies (too sloppy).
For more style tips for college students, check out this classic AoM article.
Dressing for Graduate School
At the point where you're out of undergrad the responsibilities change, even in academia — you're no longer just responsible for yourself. Graduate students are almost always either part of a research team, part of a teaching team, or both. You end up representing a lab, a department, or a particular professor, and you need to be making a good impression. You probably won't get thrown out of your program for being sloppy…but if the research isn't going well or you screw something else up, it sure won't help your case.
Grad students who teach undergrads need to look dressier than their students. That means wearing either a jacket or a tie – you don't need both, though you can wear both if you want to. If you don't have either you're probably underdressed.
If you don't teach class sections but you do work in a shared lab or office, you can relax a little – tucked-in collared shirts are probably fine, though a sweater or jacket will certainly make you look sharper.
The ideal look for a grad student at work is usually a sports jacket or blazer (with a pocket square – always a good way to improve the sharpness of your look), a dress shirt tucked in, and either wool or cotton slacks. Dark, fitted jeans can work, but at that point you're almost looking like a well-dressed undergrad. Dress slacks will give you a little more authority.
Things you should definitely own: A couple of good blazers and sports jackets, plenty of colored/patterned dress shirts, leather shoes and belts; a few neckties and pocket squares.
Things you should avoid: Matched suits (except at formal presentations), sweatshirts or performance fleece, sneakers; blue jeans.
Dressing for Work: Office Casual
Obviously, not everyone's going to have an office job. "Dressing for work" could mean everything from a bespoke suit on down to a pair of hip-waders, depending on your employment.
But for the most part, recent graduates end up somewhere in between those extremes, in an environment where full suits and ties aren't required but jeans and a T-shirt would be frowned upon.
It's a range filled with boring options, so rely on variety and details to spice your outfits up. Also rely on jackets, which no dress-casual worker should be without. They give you a sharper body shape than a guy in just a dress shirt, and they add the possibility of a pocket square, which is one of the most stylish accents out there for men.
Blue jeans might be allowed in some workplaces, but they don't ever look particularly professional, so go for wool trousers or cotton slacks instead. Neckties may or may not be mandatory, and if they're not, consider wearing one anyway – at least a few days a week, enough to make it clear that you enjoy the added style. The first time you try it someone will probably tell you, "Oh, you don't need to wear a tie," but you can just reassure them that you felt like looking a little sharp anyway.
Things you should definitely own: A pair of gray flannel trousers (really, every man needs one at some point in his life), a couple sharp-looking blazers, light-colored or lightly-patterned dress shirts, leather dress shoes; plenty of pocket squares.
Things you should avoid: Suits (unless you need them for meetings or the like), blue jeans, sweatshirts or performance fleece; sneakers.
Dressing for the Weekend: Daytime Errands
When you don't have class or work, it's tempting to wear the oldest and most comfortable clothes in the wardrobe, but try to save those for working around the house. When you go out in public, it's worth a little time and effort to look sharper than the average guy on the street. You never know who you might run into, after all – friends, bosses, maybe even a future spouse. Who knows? That's sort of the point – and the reason you want to be nice-looking any time you venture out.
"Nice" in this case definitely doesn't mean "dressy." Wear something like blue jeans and a sports jacket that's making a nod toward nice dress without being too formal.
Most people aren't trying to wear their most eye-catching styles during the day (save those for socializing in the evening), so jeans or plain-colored slacks are usually the best trouser option, paired with just about any kind of shirt you please and a jacket or sweater on top. Shoes can be leather or stylish canvas sneakers.
Things you should definitely own: A couple pairs of well-fitted jeans (deep indigo is best, but a lighter blue is fine during the day), comfortable walking shoes, casual sports jackets.
Things you should avoid: Dressy blazers or suits, brightly-colored trousers, sweatshirts/hoodies or T-shirts with nothing over them.
Dressing for the Weekend: Evening Socializing
When you head out at night with friends, it's time to look your best. Not your most formal, necessarily (though you may need a suit and tie at some specific events and establishments), but well-styled and striking.
That means breaking out the more unique wardrobe items: patterned blazers, colored trousers, and deeply-colored shirts. You don't have to wear all the colors of the rainbow – just gray slacks, a black shirt, and a light-gray blazer can look plenty sharp – but you should be wearing an outfit that you definitely wouldn't wear to work.
This is where a lot of guys run into trouble since our "dressed up" wardrobe tends to also be our "work appropriate" one. It's worth investing in some blazers, shirts, and pants that you wouldn't necessarily wear outside of a social setting so that you're not one more guy in khakis and a blue button-down when you go out for the evening.
Casual suits aren't something that every guy owns, but they can be a good look for the evening. The trick is finding one that's clearly not a business suit – the fit should be close, and the color or pattern should be obviously informal. Worn without a necktie, you can look pretty sharp in a close-fitted leisure suit (a phrase with unfortunate associations from the 1970s, but as long as you steer clear of polyester and bright colors you'll be fine).
Things you should definitely own: Colored/patterned/textured blazers, colored trousers, casually-patterned shirts; colored canvas sneakers or casual leather shoes.
Things you should avoid: Solid-color dress shirts, plain blazers or jackets, work shoes.
Dressing for a Date (or When You're Looking for a Date)
Ahhh, romance! A part (hopefully) of every young man's life at one point or another. But how to dress for love?
Happily, the outfits for going out stag and hoping to find a date are basically the same as the outfits you'd wear on most first dates (unless you do very fancy first dates). A pair of dark jeans or cords, a light-colored or lightly-patterned dress shirt, and a casual sports jacket or sweater will keep you looking both "nice" and "relaxed" – the two traits you really want to be projecting when you're looking for love.
A sharp-dressed guy who seems to care about his appearance is much more attractive than one who's sloppy with his grooming, so pay attention to your details. A recent haircut, trimmed nails, a good shine on the shoes, and, of course, a colored pocket square to liven up the jacket all speak well of the man wearing them.
Avoid deliberately "sexy" looks, however. Whatever television has told you, most girls are not looking for skintight pants and shirts unbuttoned halfway to the navel. Look comfortable, confident, and neat, rather than slick. Seriously.
Things you should definitely own: Dark jeans or corduroys, sports jackets and blazers, lightly-colored dress shirts, casual leather shoes; pocket squares.
Things you should avoid: Light-colored jeans, T-shirts, sweatshirts and performance fleece, sneakers or athletic shoes; business suits.
For more tips on dressing for a date, see this AoM article or check out this "60 Second" guide for a quick crib sheet.
Dressing for a Job Interview
The basic rule for interviews is "wear the uniform of the job you want, plus one level of formality higher." So if you're applying for a job as a high school teacher, where you'd expect to wear collared shirts and either a jacket or sweater most days, you show up at the interview in a suit. If you're applying to dig ditches with the state Department of Transportation, on the other hand, you probably don't want to show up in anything fancier than khakis and a button-down.
That said, most job interviews for the kinds of jobs young men gravitate toward are suit-and-tie affairs. It rarely hurts to be a little overdressed, and you make the best impression you can when you're wearing a sober, well-fitted suit.
As a result, most young men benefit from owning an "interview suit" even if they have no other need for a suit. The basic interview suit – acceptable everywhere – is either charcoal gray or navy blue, single-breasted, two-button, and has notch lapels. Some small variations are fine – you're not going to lose a job opportunity because you wore peak lapels – but that basic formula is always reliable and conservative enough for anyone's tastes.
You should wear the suit with a necktie; if you feel the interview is too casual for a tie it's also too casual for a suit. Suits without ties speak of leisure, which isn't the image you want to project. For a non-suit interview, wear a pair of plain-colored slacks and a dark blazer instead, with a light-colored or lightly-patterned dress shirt and an open collar underneath.
FYI – I cover dressing for a medical industry interview, engineering interview, law school interview, or business school interview here.
Things you should definitely own: At least one good, simple suit in a plain, dark color; black Oxford Balmoral dress shoes.
Things you should avoid: Casual suits, suits without neckties, jeans, casual shoes.
Dress Young, Dress Sharp: The Varied Wardrobe

No matter what you're dressing for, the key for a young man is to have options. Most of your peers are dressing alike: if they're in school they're wearing jeans and sweatshirts; if they're working in an office they're wearing khakis and button-downs.
There's a whole lot more options out there. Corduroys, cardigans, sport coats, blazers, loafers, canvas shoes, belts, polos, Henley shirts, saddle shoes, dress boots, cashmere sweaters, topsiders – the list goes on and on, and you should experiment freely.
Because as a young man, you've got everything to gain by standing out – and your poorly-dressed peers are making it easy on you.
Watch a video summary of the post:

Written by Antonio Centeno
Founder, Real Men Real Style
Creator of the internet's largest collection of FREE Style Videos