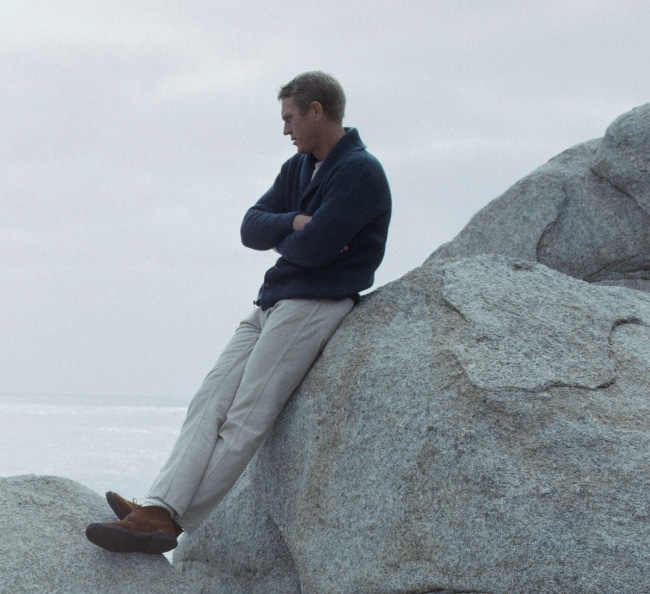 Think of the cardigan sweater and you may think of a kindly grandfather sitting by the fire, smoking a pipe. Or a college professor. Or, very likely, Mr. Rogers.
Maybe these associations don't leave you excited about this garment. Maybe they make the cardigan seem more bland and old fashioned than fresh and modern.
But look at those examples again. From one perspective they may seem a little "uncool," but they also embody maturity and a secure, friendly, unflappable authority — steadiness over faddishness. Why wouldn't you want to project that kind of air — at any age? This kind of confidence lends the cardigan a certain style in and of itself. Even Mr. Rogers had a bit of swag to his look (really). After all, what's cooler than showing you're completely comfortable with yourself, and what you're about?
Further, while cardigans may have an old school feel, it's perfectly possible to wear them in a way that's sharp and up-to-date. Conveying both style and stability need not be a contradiction.
Today we'll offer a full reexamination of the cardigan: delving into its history, why it should be embraced by the modern man, and how to wear this handsome, underrated garment with real style.
The History of the Cardigan
Tracing as it does to a notorious military officer and a bloody battle, the origin of the cardigan sweater certainly belies its more milquetoast reputation.
In the mid-19th century, members of the British military had taken to wearing thick knitted sweater coats (which had been worn by fishermen for a couple centuries prior), and no one wore them with more regularity and panache than James Thomas Brudenell, the 7th Earl of Cardigan. Brudenell — who had a reputation for being vain, brash, and haughty and had been removed from a post for misconduct and prosecuted for dueling with a fellow officer — commanded the 11th Hussars. Holding high standards for their parade and dress, he outfitted his men with brilliant, stylish uniforms, while he himself adopted a soft, fur-trimmed sweater coat as his signature look.
During the Crimean War, Brudenell served as commander of the Light Calvary Brigade and was ordered to lead his men into a valley surrounded by twenty Russian battalions armed with heavy artillery. The resulting bloodbath, and the heroism shown by the ill-fated cavalrymen who galloped into cannon fire, inspired Tennyson to write his famous poem, "The Charge of the Light Brigade." It also brought Brudenell, who emerged from the battle unscathed, much acclaim. Though his personal conduct during the charge was later questioned, Brudenell's sweater — which became known as the cardigan — enjoyed a less checkered renown, and became a popular garment in high society.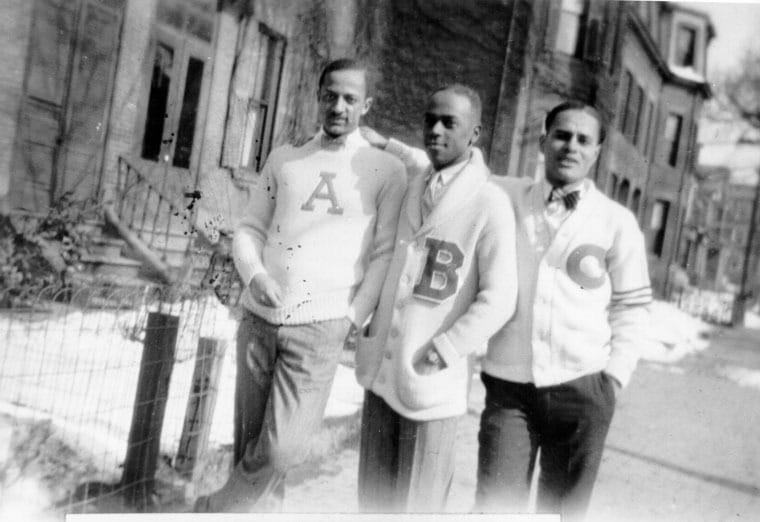 The cardigan emerged across the pond in the form of letterman sweaters worn by American high school and college students, which were emblazoned on the left breast with cloth letters (typically the school's first initial) that signified the achievement of certain standards in athletics and other activities. Stripes on the sweater's sleeve indicated further awards.
The tradition of the letterman cardigan began at Harvard in the late 19th century, and particularly took off during the Roaring 20s, when the sweater became a prominent example of preppy collegiate style. In the 30s, the cardigan also became go-to outerwear for the golf course.
In the 1950s, the cardigan had a resurgence, both in the form of letterman sweaters, and as golfing attire. Crooners like Frank Sinatra, Perry Como, and Bing Crosby frequently rocked the sweater both while hanging out and hitting the links (Como made them his trademark look on his weekly television show). Though the cardigan became popular day-to-day wear among celebrities as well as creative, "avant-garde" types on the West Coast, it was too casual for the typical mid-century man to wear to the office, and was rather what one put on after work to relax (hence, why Mr. Rodgers would come home, take off his jacket, and put on his sweater). It was casual, comfortable, but smart-looking leisure wear.
It was in the 1970s, when the old swingers started aging, and Mr. Rogers came on the air, that the cardigan began to earn its more conservative, "square" reputation that lessened the garment's popularity. The sweater then had a bit of a revival in the 90s, being sported with slacker style by Kurt Cobain and "the Dude" in The Big Lebowski.
Today the cardigan is one of those pieces of clothing that slightly waxes and wanes in popularity, but has largely settled into the category of "style staple" — never not "in," never not appropriate, as long as you wear it well.
What Is a Cardigan?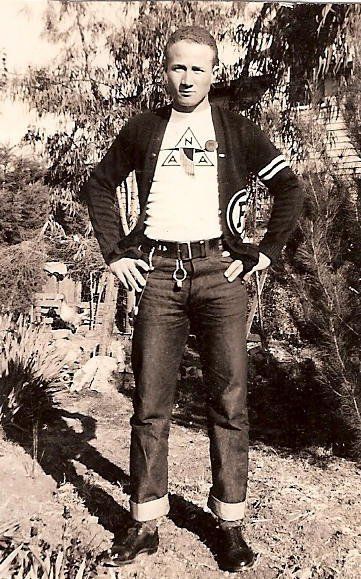 In a modern times, a cardigan is a knitted, open-front sweater that is put on through your arms, rather than pulled over your head. It can be worn open or closed (with the exception of those without any fasteners), and is fastened with buttons (most traditional), toggles, or a zipper (least traditional). The fasteners do not typically rise all the way up the sweater, but stop at the chest, creating a kind of v-neck effect.
Cardigans are made with wool (most traditional), cotton, or wool/cotton/synthetic blends, can be thin and fitted or thick and loose, and come in a variety of colors, textures, and styles.
Why Wear a Cardigan?
The cardigan is a wonderfully versatile garment that boasts the benefits of both form and function.
The cardigan is a 3-season piece of clothing. In the early fall and spring, it functions as cozy outerwear on cool days. The thicker varieties can even take the place of a coat entirely. But unlike a jacket with its stiffer fabric, the cardigan's soft knit still allows for great flexibility (hence, why it was a favorite of golfers and other sportsmen). When the temperatures really drop in the late fall and winter, the cardigan then becomes a handsome, insulating layer that can be worn over long-sleeved shirts and under sports coats and jackets.
The sweater's button-up front makes for easy on and off: put it on for chilly mornings and nights and take it off in the heat of the day; put it on and take it off as the temp fluctuates in your office. Plus, it's always nice to have a removable layer you can offer if your gal gets chilly on a date.
Finally, swapping a cardigan sweater in for a sweatshirt is an incredibly easy way to level up your style, all while staying just as comfortable. With one simple change, the look instantly goes from more juvenile and sloppy to more mature and put-together.
Tips for Wearing a Cardigan With Style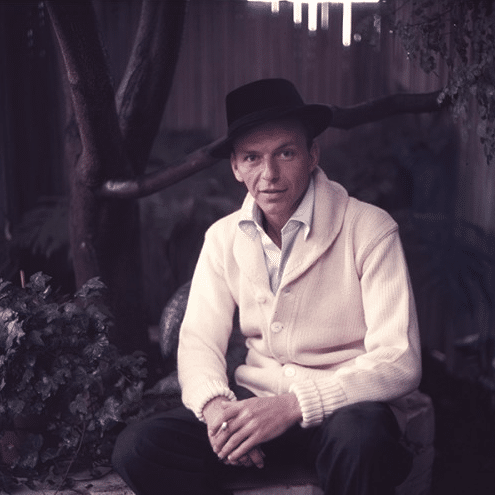 Get a good fit. With a soft knit, the fit of a cardigan is more forgiving than other garments with stiffer fabric and sharper lines. But you still want it to fit you well.
First, you don't want a cardigan to be too big, loose, and baggy. When buttoned up, it should sit close enough to the body that the v-neck doesn't gape open when you lean over. The sleeves can be longer than what you'd want on a more tailored garment — they're often rolled up or pushed back on your forearms — but you don't want them to completely swallow your hands. The sweater should cover the belt/waistband of your pants but not extend much past the tops of your back pockets. A long cardigan that hangs down over your butt looks feminine, like something your lady friend would have paired with leggings and Ugg boots a few years back.
You also don't want the cardigan to be too tight. The fabric shouldn't pull around the buttons when closed or cling to your bulges.
Cardigans (and sweaters generally) work better for those with athletic, average, and skinny physiques, than those with greater girth. Cardigans are harder for bigger guys to pull off because they can accentuate the midsection. The tendency of knitted garments to cling rather than drape makes sweaters in general less of a good choice for those with extra girth, who will find a sport coat more flattering. (You can find more style tips for big guys here.)
Sweaters can be a boon to skinny guys though, who can add weight to their thin frames by layering in general, and who will look especially filled out by choosing a cardigan with a thick, chunky knit.
Pick a knit thickness based on your needs. A thinner, lighter knit will be appropriate for all-day, indoor wear, and works under other layers like a sport coat. A thicker knit cannot fit under other layers, and can only function as outerwear. It will keep you warm when outdoors, but will get hot when you're inside. A medium-weight knit can work well for both inside and out, at least on more temperate days.
As a general rule: thicker, cotton, patterned = more casual; thinner, wool, solid color = less casual. Thin wool cardigans can fit under suit jackets and even when worn without a jacket, generally look dressier and more traditional. Thicker cardigans act as outwear and tend to be more casual. This is especially true of thick, cotton cardigans, some of which can approach a sweatshirt-like look and feel.
There are exceptions to this rule, of course: there are classy thick wool cardigans that can be substituted for a sports coat, and thin, casual cotton cardigans that should only be paired with jeans.
When it comes to color, cardigans with a pattern (either all over or on the chest and shoulders) look more casual, and sometimes the designs make them especially apropos for wearing around the holiday season, which you should; I'm of the opinion that every man should own at least one (non-ugly) Christmastime cardigan. Solid, classic color cardigans — black, navy, brown, and grey — will look more conservative and formal.
Go with buttons, generally. Cardigans can be closed with buttons, toggles, or a zipper. Buttons generally make for the most classic, handsome look. Toggles can be okay, but create protrusions that make your overall look less sharp. Zippers are the least traditional and most casual option, and some don't even consider zippered sweaters to be true cardigans, trending as they do towards sweatshirt territory. For another thing, they create less of the v-neck effect, that allows you to show off the shirt/tie you're wearing underneath. You can mitigate that though, by leaving the sweater partly unzipped, and zippered cardigans still make a decent choice for dressing down and pairing with jeans.
Stick with smaller, simpler, classic buttons. Bigger, decorated buttons read as more feminine. Leather, horn, and wood buttons offer a nice, traditional look, but are hard to find (most cardigans sport plastic buttons these days). A tailor can swap out the plastic buttons of a sweater for a more classic kind, should you desire.
Follow the "Always, Sometimes, Never rule" with your cardigan buttons. The same rule which applies to 3-button suit jackets also applies to cardigans: always button the middle button, sometimes the top button (along with the middle), and never the bottom (you want to allow the bottom of the sweater to flare out over your waist). Unlike the suit jacket, however, where you can just button the middle button, this will result in too much pulling in a knit garment and make your belly look bigger. The middle button should typically be buttoned along with the button below and above it (cardigans almost always have more buttons than suit jackets).
Of course, you can wear your cardigan open too.
Try the shawl collar. A shawl collar adds just a bit of extra weight and warmth to the sweater, and also makes for a rugged, handsome look.
Wear a cardigan that's darker than your shirt and lighter than your jacket. Ordering your layers from lightest to darkest will make for a flattering look.
Wash your cardigan from time to time to keep it fresh. One downside of knit sweaters is that they tend to absorb odors. You don't want to wash your sweaters too much, as this will create wear and pilling. But give your sweater a sniff on occasion to see if it's gotten ripe. If it has, you'll need to hand wash it and lay it to dry (if it's wool), or take it to the dry cleaners.
Dressing the Cardigan Up and Down
Like any great versatile garment, the cardigan can easily be dressed up and down, going from everyday casual wear to a semi-formal occasion. Here are a few tips and visuals on how to ascend and descend this sartorial ladder.
Casual
One of the best things about the cardigan is that it's really hard to mess up. It can literally be thrown on with any shirt in your wardrobe — tee, henley, button-down, polo — and stand a very good chance of looking good.
Smart Casual/Business Casual
You know those events and locations where you're supposed to dress in "smart casual" or "business casual" and you wonder what the heck that means? Well one thing it definitely means is the cardigan. Once you dress it up a bit more from your everyday wear, it's a great choice for nicer get-togethers and parties, dates, and casual workplaces.
More Formal and Dressy
A thinner, fitted wool cardigan can be worn under any suit jacket and swapped for the vest or waistcoat of a 3-piece suit. The knit cardigan softens the suit up a little, while adding a bit of visual interest and a layer of warmth. Try a black suit with a maroon or dark blue cardigan, or a navy suit with a gray or maroon cardigan. Keep the look sharp enough, and you can wear such an ensemble to a semi-formal event (keeping in mind that lighter suits are appropriate for daytime, darker for night).
Well, there you go: how to elevate (and embrace) this so-called grandpa sweater and wear a cardigan with style. It's such a good feeling to know how, isn't it neighbor?