Through your teenage and even college years, you might be able to get by without owning a single suit. But after you graduate, you may land a job that requires you to wear one every day. And even if you end up working in a casual office, you may find that the need for a suit starts cropping up more often in your life — for interviews, funerals, weddings, and other special occasions.
The question then arises: what kind of suit should you buy as your first (and maybe only) one? And if you need and/or desire to add even more suits to your wardrobe, what kind of suit should you buy for your second, third, and so on?
In Men's Style, Russell Smith recommends a very useful order for buying suits — what I call "the suit ladder." Here's how it goes, rung by rung:
Rung #1: The Charcoal Gray Suit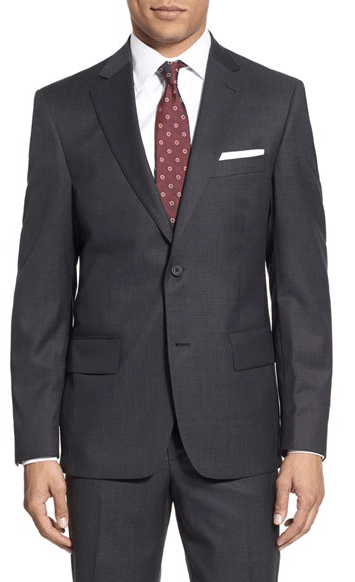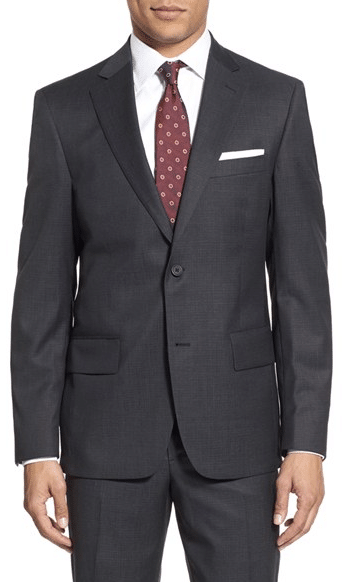 When purchasing your very first suit, it's either going to be the only one you wear to work until you're able to afford another, or the only one you ever own, period. So you want something classic and versatile.
If your only suit has a distinct pattern, and you wear it semi-regularly around the same people, they're going to remember, and realize you're wearing the same suit over and over. If the suit is simple and solid, however, they'll likely not notice.
For this reason, some men turn to the black suit as a seemingly safe and unobtrusive option. But that's not the way to go. Black suits are made to be worn at night, while most business is conducted during the day. In the glare of the sun and your office's fluorescent lighting, a black suit looks overly stark, somber, and funereal, conjuring up images of priests, mobsters, and undertakers. It's also hard to pair a shirt and tie with a black suit, as the inky color sets up too sharp a contrast.
No, the best color for your first suit is a dark, almost black, charcoal gray. The style should be plain and flexible: single-breasted, 2-3 buttons, with a classic fit. The fabric should be a fine, lightweight wool, so that you can wear it in every season of the year.
A charcoal gray suit matches well with a wide variety of other colors, making choosing your dress shirt and tie a breeze. And it's a suit that can be worn to most every occasion — job interviews, the office, networking events, weddings, funerals, so on and so forth.
Rung #2: A Navy Blue Suit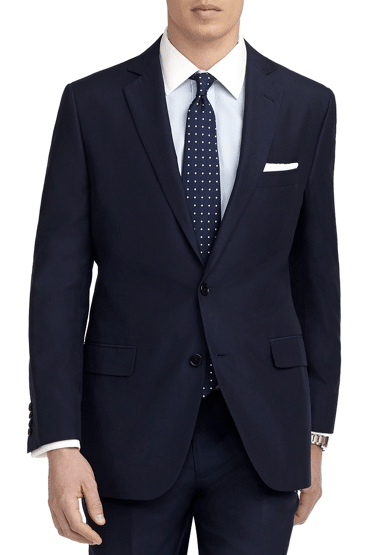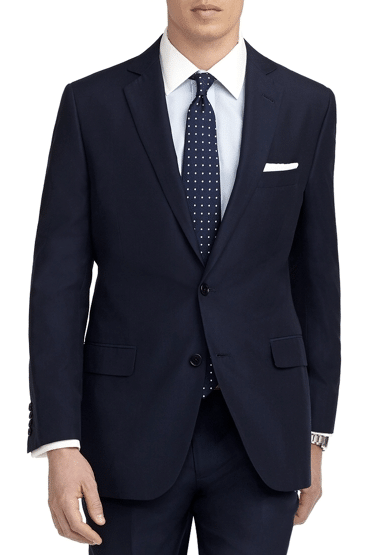 If you're going to be wearing a suit to work every day, you're going to need a closetful of them. To preserve a suit, you don't want to wear it on back-to-back days; instead, you should give it at least 24 hours to air out and return to its original shape. You also need several suits simply to have a variety of things to wear to the office day after day. You can get by with a minimum of 3, but will likely find you want 5 or more. So when you get your first or second paycheck, you should use it to buy your next suit and start building your wardrobe.
If you don't wear a suit too often, a dark gray one may be all you ever need. But you may find it desirable to have a second suit, simply for versatility's sake.
In either case, the next rung up on the suit ladder is a navy blue number. While charcoal suits tend to look professional and subdued, navy suits, though they look quite sharp on just about everyone and are appropriate for the office, have a slightly more youthful and laid-back vibe. As such, they're perfect for weddings and other social events.
You're still going to keep the style simple here: 2-3 buttons and single-breasted. When it comes to matching your suit with a shirt and tie, navy isn't quite as versatile as charcoal, but goes with many colors, especially pinks, purples, and reds.
Rung #3: A Pinstripe or Plaid Suit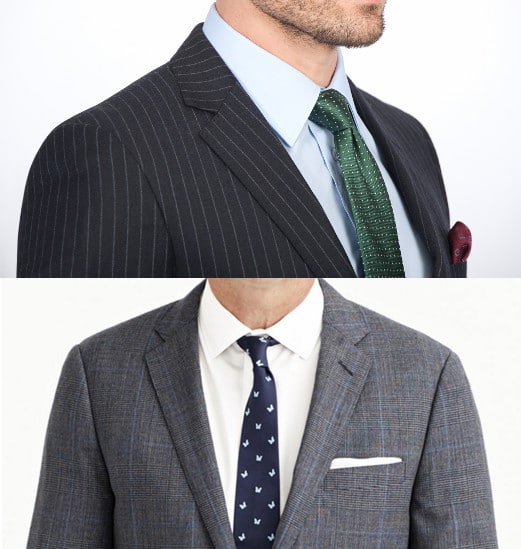 The man who rarely wears a suit will likely have stopped with rung #2, if not the very first rung. But if you work in a professional office, or are simply sartorially inclined, you'll want to keep climbing the ladder and adding to your wardrobe.
Now that you've got two classic suits in your closet, you can afford to allow your next one to have a little panache. Go for something like a navy or charcoal pinstripe suit, or one in Glen plaid (a woven check pattern). Pinstripes convey confidence, professionalism, and a little high rolling flashiness and are great for important meetings; Glen plaid exudes a subtle, old school elegance.
If you live in a warmer climate, instead of adding another traditional dark suit to your wardrobe, consider a lighter gray, lighter weight wool, slightly more casual suit for your third acquisition. We're talking medium gray here (either solid or plaid); very light gray suits are too casual for the office. You can know if it's medium gray, rather than light gray, by imagining the fabric with a white pinstripe; if you could easily see the stripe, it's dark enough, but if you couldn't see the white without looking very closely, the gray is too light.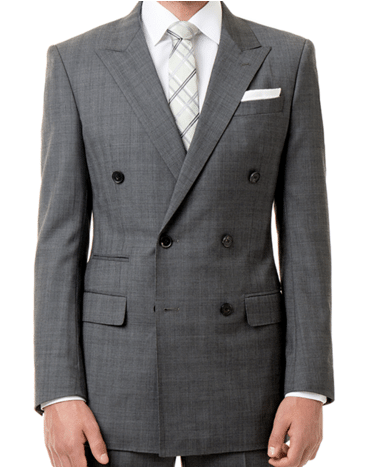 At the third rung you can also consider making any of the above options double-breasted. Double-breasted suits have come back in of late, and they're quite handsome when pulled off correctly (especially for portlier men, as they disguise your gut). To achieve a more modern look and avoid harkening to the boxier 80s DB, make sure the suit is well-fitted — cut close to the torso with higher armholes and natural shoulders. Also choose a jacket with a 6X2 button configuration (6 buttons in all; only 2 can be fastened).
Rung #4: A Black Suit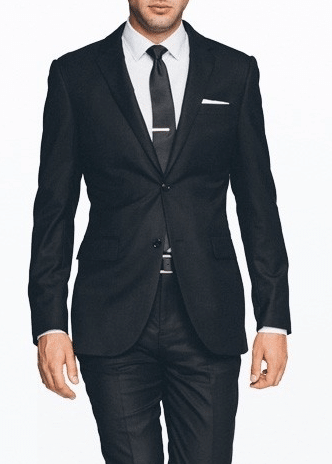 If you haven't bought a mid-gray suit yet, now is the time for that. If you have, you now might consider buying a black suit. Black suits aren't especially versatile for the reasons mentioned above. If well-fitted and worn under the dim lights of nighttime events, however, black suits can look good and work for a variety of occasions.
Wear a black suit and a standard dress shirt and tie, and you've got traditional funeral wear. Pair the suit with a black dress shirt or t-shirt and some Chelsea boots, and you're ready to attend an artistic premiere. Don an interestingly patterned shirt in neutral colors like white, gray, or navy, and you're ready for going out to swanky clubs and parties. Put together a crisp dress shirt, black bowtie, and black Oxfords, and you'll be dressed appropriately for a "black-tie optional" event. Here's a great rundown of the many different things you can do with a black suit.
Since you're not wearing this suit to the office, feel free to make the fit a little tighter and the style more fashion-forward, and to have some fun with doing different things with details like the buttons and lapels. Though if you do plan on wearing it to formal events, you'll want to keep the styling fairly classic.
Rung #5+: Anything You'd Like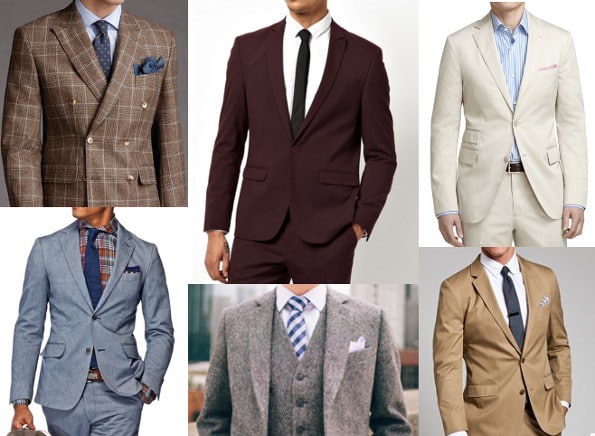 Once you've assembled the 5 suits that make up your core wardrobe — dark gray, navy, pinstripe/plaid, medium gray, and black — you can, budget allowing, branch further out and think about getting a suit that's less practical and more indulgent. As Smith puts it: "At this point, you can start to begin to buy suits not because you need them, but because you like them."
There may be a type of suit you're not going to wear very often, but have always been drawn to. Maybe you've long wanted to rock a seersucker suit, or would like to try one in brushed cotton, linen, or tweed. This is the time to experiment with different colors as well, perhaps a pastel or a brown. The latter is still considered unprofessional in some cases, but may fit in fine at your workplace and some social events. I chose a solid brown suit for my wedding day, in fact.
If you wear a suit every day for work, you may want to add a couple more professional suits with slightly different colors and details to your wardrobe over time. If you've made it up this far on the suit ladder simply because you're a style hound, well then, the sky (and your budget) is the limit!