Seersucker suits don't get a lot of love these days.
A Missouri state legislator proposed a ban on anyone over the age of eight wearing one, because, he scribbled in a handwritten amendment, "adults look ridiculous in seersucker suits."
The Republican National Committee's "Comms College" — a training course for the GOP's young communication staffers — recently instructed its students not to wear seersucker suits on television. (Whether this is due to the suit's old fashioned reputation, or simply the fact that seersucker can look wavy on camera, was not disclosed. Maybe both).
And outside the halls of government, plenty of gents think that donning a seersucker suit will make them look like they should be selling ice cream from a truck, or pacing a Southern courtroom.
In truth, such concerns are not invalid. A seersucker suit can look like a dated costume or a pair of shapeless pajamas.
But, such an outcome is hardly inevitable. Done right, a seersucker suit can look sharp and debonair. And of course, its functional benefits are unassailable: it's easily washable, you never have to press it, and no other suit will keep you cooler during the warm summer months.
Handsome and functional? Sounds like a manly combination to me.
Having sweated out plenty of hot and humid Oklahoma summers in a gray wool suit, I've wanted to own a seersucker suit for a while now. This year, I finally followed through, and here's what I've learned about wearing one with real panache.
What Is Seersucker?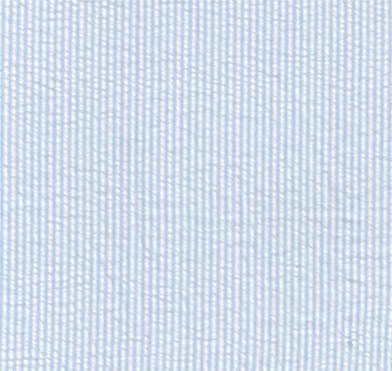 Seersucker is a fabric made with a unique cotton weave that causes the thread to bunch together in some places, giving the fabric its trademark bumpy appearance (called "pucker"). Typically, the pattern on seersucker alternates between smooth and puckered pinstripes, though the puckering pattern can be checkered as well.
This alternating puckering pattern, combined with the lightweight cotton fabric, is what gives seersucker its trademark cooling property. The puckering causes more of the fabric to be held away from the body, allowing greater air circulation between you and your clothes.
The History of Seersucker Suits
Clothing oneself in seersucker duds was popular during the British colonial period, especially in the heat of India. It was worn largely by laborers and servants who wanted to keep cool whilst they performed their work. The word "seersucker" is in fact derived from the East Indian variation of the Persian shir o shakkar or shir o shekar, meaning milk and sugar. The allusion denotes seersucker's unique combination of stripes that are smooth (like milk) and rough (like sugar).
Seersucker was brought to America sometime in the second half of the 19th century, and first worn by men in the railroad and oil industries. Laborers donned overalls, work jackets, and caps made from a heavy-duty, dark blue version of the seersucker fabric. With its durable but ventilated nature, such garments were prized by men who had to work alongside hot locomotives, engines, and furnaces.
Seersucker thus developed an association with blue collar men, and was ignored by the middle and upper classes. That began to change when Joseph Haspel created the first seersucker suit in 1909. Based in New Orleans, Haspel had been manufacturing seersucker overalls for factory workers when he struck on the idea of creating a sharp suit that gentlemen about town could wear in the hot weather months. To promote the wash-n'-wear functionality of his suits, he dove into the ocean while wearing one and then showed his associates how it had dried completely by dinnertime.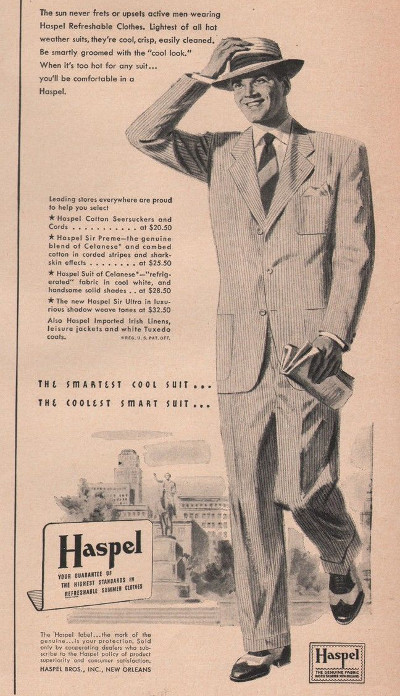 Still, it was hard to shake the public's perception of seersucker as a poor man's suit. That was until the 1920s, when students at Princeton adopted the style, donning it for lawn parties and reveling in their subversion of the material's economic associations (yes, hipsters have been around for far longer than you know).
For the next few decades, the seersucker suit enjoyed great popularity amongst college men of the Northeast and gents of all kinds in the sweltering South. Writers wore them when vacationing at the beach; Congressman donned them while legislating at the Capitol; and yes, lawyers grabbed their seersucker lapels while making their closing arguments in Southern courtrooms.
And then…air conditioning arrived. As more and more private homes and public establishments installed A/C in the 1950s, seersucker's cool, lightweight properties became less and less necessary. Men figured they'd wear the same suit to work that they wore all the year round; they'd only be outside when getting in and out of their car, after all. And so the popularity of seersucker suits began a steady decline.
How to Wear a Seersucker Suit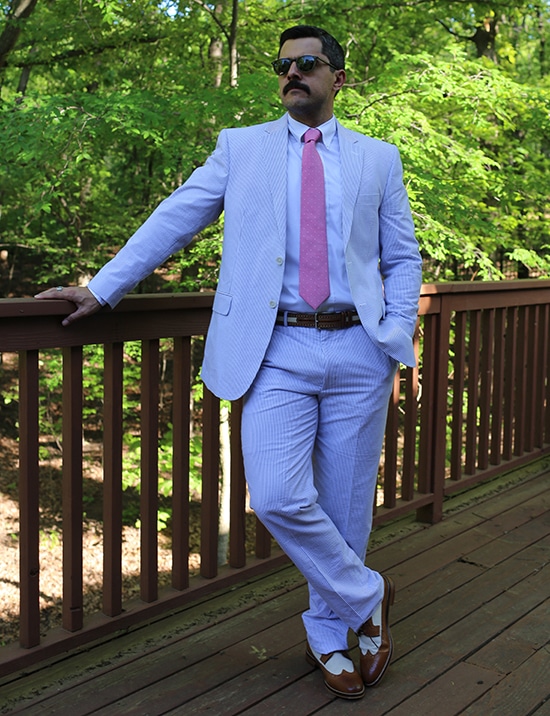 While the seersucker suit occasionally waxes in trendiness, its position today is much like that of traditional hats: worn by those who simply like the style, and don't give a damn about whether or not something is currently in. Like hats as well, just because you don't watch trends, doesn't mean you should just throw a seersucker suit on and call it good. Wearing the item properly — so that it fits well and looks sharp — matters.
What follows are some tips on how to pull off the seersucker suit in the modern day:
Where to Buy
As the fabric is slow and expensive to produce, seersucker suits are made by surprisingly few manufacturers.
Haspel, maker of the original suit, is still around, but has largely moved to turning their signature fabric into trendier menswear. Their traditional seersucker suit is available through Nordstrom at a hefty price ($700) and in seemingly only a few sizes.
Brooks Brothers, who introduced the suits that became so popular with college students of the 20s, still makes a classic seersucker suit as well. It's a little more moderately priced at $500.
Not wanting to spend very much for my first go-round with seersucker, I picked one up from JoS. A. Bank. The suit certainly has its limitations, as I'll mention below. But, it was on sale for only $118. I wear a suit to church every Sunday, and I plan on wearing it most weeks this summer, so it will get plenty of use. I figure if my experiment with sporting seersucker is a success, I can always upgrade later to a more quality model.
When to Wear
Traditionally, men only busted out their seersucker suits between Memorial Day and Labor Day. That rule has gotten looser in the modern age, but it's still only appropriate for hot weather months and occasions.
A seersucker suit would be out of place as workwear in many traditional offices; workplaces in the South have more wiggle room, depending on office culture. They're generally not a good choice when you're trying to make a serious and professional impression; a regular, wool suit will give you a more structured, put together look. Instead, the seersucker suit is right at home anywhere that has a looser, more casual feel — a spring/summer outdoor wedding, the Kentucky Derby, and dressier parties near the beach.
Lining & Material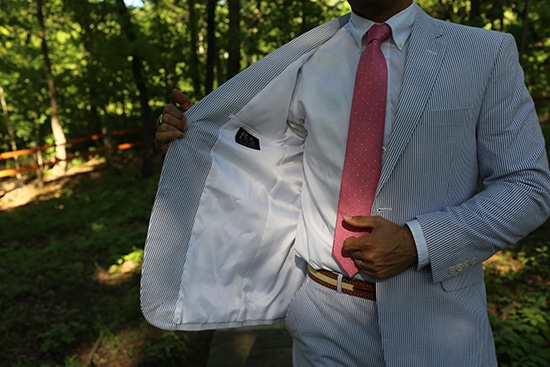 Seersucker suits are typically unlined. Since they're designed to keep you cool, an extra layer would simply defeat the purpose.
The jacket of my JoS. A. Bank suit did come fully lined, however, and the pants are lined down to the knee too. The thin lining is advertised as being specially designed to regulate temperature and release heat. Whether the lining works better at keeping a man cool than simply having no lining at all, is an open question.
Seersucker suits should be made with a 100% cotton fabric, and the authentic variety will have ample puckering and texture; I was disappointed with the JoS. A. Bank suit on this account. It's really more of a faux seersucker — the material is striped, but flatter and smoother than the real McCoy.
A well-constructed pair of seersucker pants will have a hem that's been reinforced with heavier material; this helps keep their shape, and protects the fragile fabric from wear and tear. Unfinished bottoms, on the other hand, allow for easy altering, and I got my pants hemmed by a tailor for a better fit.
Keep in mind when you're wearing your seersucker get-up, that unlike other suits, creases are okay and all part of the material's charm. Your suit will not have to be ironed or pressed.
Fit
Fit is the most important factor in wearing any suit, and it's doubly important when donning the seersucker variety. Because the material is so soft and lacks natural structure, if it doesn't fit you well, it will droop and hang on your body like a pair of pajamas. Have the suit altered as needed.
Because of the fabric's lack of inherent structure, some seersucker jackets (including the one from JoS. A. Bank) come with shoulder pads to artificially add some in. A natural shoulder, however, is preferable.
The pants can be a little baggier that you might normally wear — seersucker doesn't lend itself to the super slim fit currently in fashion — but shouldn't balloon into clown territory.
Color & Stripes
Stripes that are wider lend a suit a more traditional and southern appearance, while thinner stripes give the suit a more modern look (from far away, your suit may even appear to be a solid color).
The most classic color for the stripes of seersucker suits is blue and white, followed by gray and brown. These days one can sometimes find seersucker suits in a wide variety of colors from green to yellow to pink. These avant garde hues will certainly read as trendier, and make you stand out, if that's your goal.
Accessories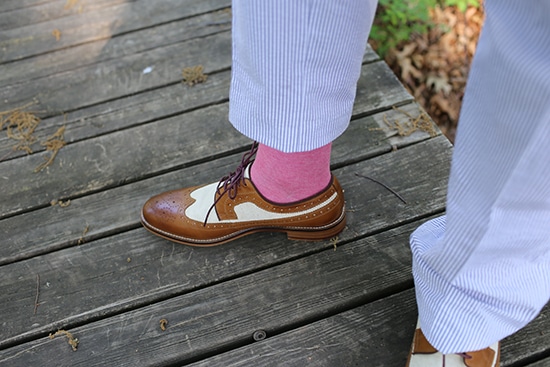 More than with wearing an ordinary suit, accessories are truly key in pulling off a seersucker. Choosing the right ones can really pull it together; overloading on the wrong ones can turn your get-up into a costume. For example, if you pair your seersucker suit with a striped bow tie, red suspenders, white shoes, and a straw boater, it'll look like you just stepped off the set of a period piece. Instead, choose just one very traditional accessory, and make the others more classic:
Shoes. White bucks are the most traditional. Spectators are a good choice that you'll get more mileage out of. And this is the only suit where you can get away with wearing a penny loafer.
Socks. According to the "rules," you're supposed to match the color of your sock to either color stripe in the suit. So on a traditional white/blue seersucker suit, a white or blue sock would be in order. But because of the casualness of the suit, you have more wiggle room for some "sock game." Feel free to bust out your brightly colored patterned socks when you don your seersucker suit. Just don't go sockless; you may be wearing an all-cotton suit, but it's still a suit.
Belt. Surcingle and ribbon belts, usually far too casual for suits, are acceptable with seersucker.
Suspenders. Wear them if your pants don't come with belt loops. Red is the most traditional color.
Tie. A bow tie will give you the traditional Southern look. A necktie is more subdued; choose knit or linen for the material.
The seersucker suit isn't for every man. But if you think you might enjoy wearing one, you should go for it. It takes a little confidence and a sense of humor to pull one off, but when other guys are sweating in wool this summer, while you're cool as a cucumber, you'll be the one getting the last laugh.