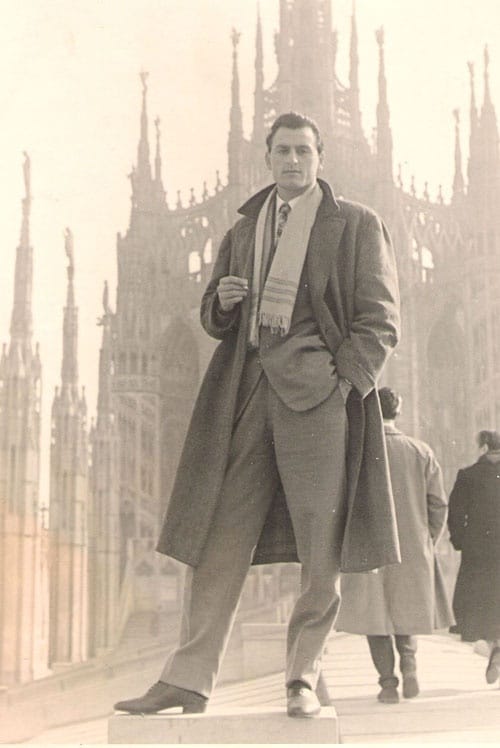 You probably want to be taken seriously, get good service at a restaurant, and make a good first impression when you meet a business partner.
Fleece coats from The North Face may be great for a camping trip and for outdoor activities, but at your office job, they make you look like an amateur, especially if you wear a suit.
When it is cold outside, the only acceptable outerwear with a suit is an overcoat. But there are a lot of terms thrown around when discussing these dressier jackets. In particular – what is the difference between a topcoat, an overcoat, and a greatcoat
In a nutshell, the differences all pertain to weight, style, and heritage.
An overcoat is a long coat with sleeves that is worn on top of something else.
A topcoat is a lightweight overcoat.
A greatcoat is a heavy, bulky overcoat with a military history.
When you buy a coat understanding this distinction, especially when buying online, you can save quite a bit in shipping fees as well as disappointment.
Characteristics of a Quality Overcoat
A good overcoat should be warm, fit you, and make you look great.
Fabric. If you plan to wear your overcoat for years to come, make sure you buy a coat that is made of 100% wool and that it weighs at least 4 pounds (for average-sized men). In general, heavier coats last longer because the fabric is more durable.
Cashmere coats are nice, soft, and warm but they will show wear on the cuffs, the collar, and moths love them. In addition, they can double the price of a coat for little to no advantage (in terms of warmth or appearance). With the quality of most wool jacket fabrics these days, they are often just as soft as all but the finest cashmere. I find a nice compromise is a wool cashmere blend – my overcoat is about 10% cashmere.
Sleeves. The coat sleeves should completely cover the suit sleeve as well as the shirt cuff, and even reach a little further down. This way, you should not get cold on your wrists when you wear gloves with it.
Length. Traditionally, overcoats were rather long-reaching garments, extending almost all the way to the ankles. These full-length coats are often the coat of choice for seasoned gentlemen as they can compliment a wide range of figures…to include those of us a bit rounder in the midsection.
Today, most younger men wear their coats knee-length, which is anywhere between the lower part of the knee to slightly above. This only compliments men with trim builds and who wear the coat closer to the body. It's a convenient option if you find yourself entering and exiting your automobile multiple times a day.
If you pick a full-length or knee-length coat is a matter of choice, but bear in mind that the full-length coat may be warmer, and can make you look a little more seasoned than the knee-length coat.
Fit. When you buy an overcoat, make sure to wear a shirt and a sportscoat or suit jacket because the coat has to fit on top of it.
Some men like a looser fit while younger men often prefer a trimmer fit. However, if you see X-wrinkles when buttoning your overcoat, it is definitely too tight.
Style. With regards to style it is once again up to you what you choose. The single-breasted overcoat with notched lapel is a good all-a-rounder whereas the double-breasted peak lapel overcoat is a little more formal and wears warmer when it is cold because you have two layers of fabric over your chest.
Construction. High-quality coats have a sewn canvas, whereas less expensive overcoats have a fused canvas. A sewn canvas is definitely more durable and built to last whereas a poorly glued interlining can come loose after a few years, ruining the garment. If money is of no concern to you, go with a fully canvassed overcoat. If not, try to buy fully canvassed suits and go with a glued overcoat. Unlike with a suit, a glued canvas overcoat is acceptable since it is cut looser and you wear it less frequently.
Types of Overcoats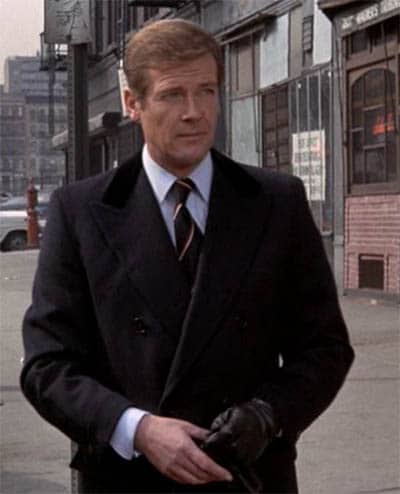 In order to be more specific, I want to introduce you to a number of classic overcoats which have all made their mark in men's clothing history. As such, these styles are timeless and will look as good today as they will 20 years from now.
Chesterfield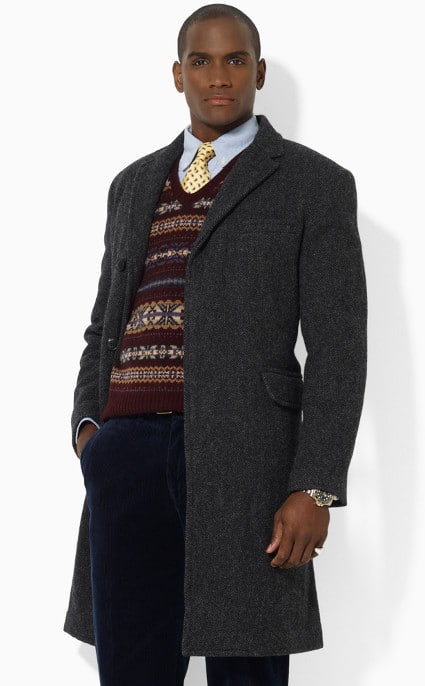 First, let's look at the Chesterfield coat. Named after the Earl of Chesterfield, and invented in the mid-19th century, it was the very first overcoat of its kind. Over the years, it has only changed insignificantly and today a Chesterfield features:
No waist seams or front darts (up until then, those were the standard)
Single-breasted fly front
Short, notched lapel
Velvet collar (optional)
Straight side pockets – it looks like a flap pocket but it could be a jetted pocket
No cuffs
Single back vent and an otherwise plain back
Generally, it is about knee-long and in grey or charcoal, it makes for a great business coat. If you go with a velvet collar, you will definitely own a conversation starter. If you want to learn more, check out this article on the Chesterfield coat.
Covert Coat

The Covert coat is very similar to the Chesterfield, but it was designed for hunting and the outdoors. Therefore, it had to be tailored from particularly sturdy material – the so-called Covert cloth, named after the covert bushes. It was designed to protect its wearer from mud, bush encounters, and of course the weather. For that reason, it had to be very heavy (29 or 30 ounces a yard), sturdy, and durable. Today, the fabric is not quite as heavy anymore, but it is still a tweed material made to last. It always comes in a brownish-green color because it does not show the dirt very much.
A Covert coat usually has the following:
Single-breasted with a fly front
Notched lapels
Made of brown-green Covert cloth
Short topcoat that is just a little longer than the jacket beneath
Signature four (sometimes five) lines of stitching at the cuffs and hem, and optionally on the flap of the chest pocket
Center vent
Two flap pockets with optional ticket pocket
The collar is constructed either of Covert cloth or velvet
Poacher's pocket (huge inside pocket that can accommodate a newspaper or an iPad)
The rows of contrast stitching are a hallmark of the Covert coat and lend it a more casual flair. If you want an overcoat that will be your companion for the next two decades, you should consider this one.
It should be noted that if you wear your coat primarily for business, this may not be your best choice.
If you'd like to know more about this garment, I recommend this article about the Covert Coat.
Trench Coat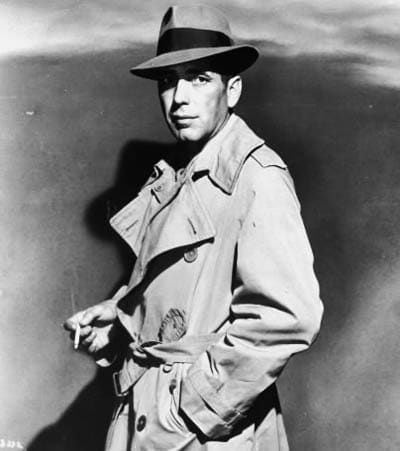 The Trench coat is a timeless classic that was invented in the trenches of WWI and evolved into a raincoat that is second to none. To explore the trench coat further, please read this classic AOM Guide.
Paletot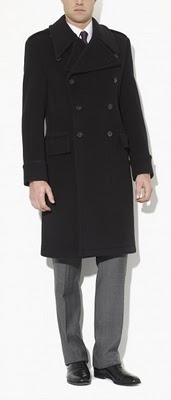 The name Paletot is French and was used to describe a fairly short overcoat that was very fitted, but otherwise could have many features. It could be double-breasted or single-breasted, with pleats or without, and could have pockets or not.
Today, a Paletot is a classic business overcoat with the following features:
Double-breasted with a 6×2 button arrangement
The top buttons have a wider button stance and are not buttoned at all
It must have peaked lapels
The coat is semi-fitted to fitted and has a flat back without a belt
Especially in a dark, plain fabric, this coat is very versatile. Personally, I think a navy blue or charcoal Paletot overcoat can be worn to the office, with a tuxedo, at funerals, and pretty much anywhere else. So, if you only have money for a single overcoat, you'd be hard-pressed not to buy a Paletot. To learn more about this coat, read this Paletot Overcoat article.
Guards Coat
The Guards Coat derives from the coat English Officers of the Guard used to wear. It is usually a navy blue overcoat that is very similar to the Paletot with two basic exceptions:
It has a half belt in the back
It can be buttoned with three buttons or just two
Basically, the Guards Coat is not very different than the Paletot. Its back belt makes it a little fancier and more unique but at the same time it is very difficult to find one off the rack. If you strive to be classic and versatile, yet unique, the Guards Coat is the way to go. Otherwise, stick with the Paletot.
Ulster
The name Ulster is derived from the Irish province of Ulster, whose people popularized a particular tweed overcoat. A classic Ulster is:
Rather long, roomy, and double-breasted with either 6 or 8 buttons
Great for cold weather because its Ulster collar makes it easy to protect the neck from the elements
A rough country code with patch pockets, cuffs, and contrast stitching
Made out of heavy, durable Donegal tweed
Belted in the back with an adjustable half-belt
An Ulster is an overcoat for a man who is outside a lot and needs a reliable companion. In my opinion, it is an ideal travel coat for the colder months of the year because it is warm, durable, and has big, patch pockets, so nothing can fall out accidentally. In addition, the Donegal tweed structure hides dirt and stains.
Overall, the Ulster overcoat is for the rugged man who is not all that much into suits but enjoys rugged, high-quality products.
Polo Coat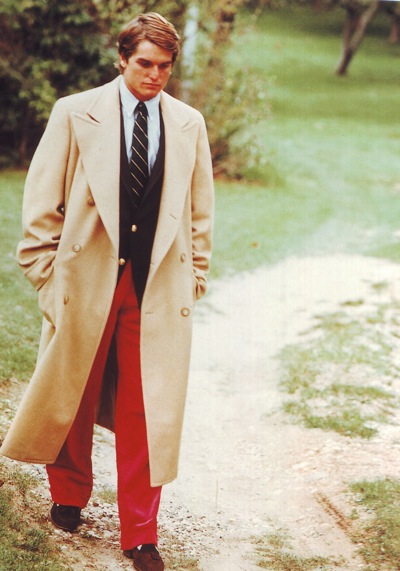 The Polo Coat is an American classic that originates in England. During the chukkers of a Polo game, the polo players used to wear a golden-tan wrap-coat to keep them warm. Later, the belt was substituted with buttons, and when they started wearing the coats after the game as well, spectators noted it and by the end of the 1920's the Polo Coat was one of the most popular ivy league overcoats. A few years later, no well-dressed man could live without one. A Polo Coat has the following characteristics:
It is made out of golden, tan-colored camel hair or a 50/50 blend with wool
It has a half-belt or a full belt
It features 6 or 8 buttons
Patch pockets
Peaked lapels or an Ulster collar with optional cuffs
As you can see, the Polo coat is quite similar to an Ulster overcoat, but it is special because of its camel hair fabric and the golden-tan color.

With its light color, the Polo Coat definitely stands out from the crowd. If you are looking for an American legend, this is your overcoat.

How To Buy An Overcoat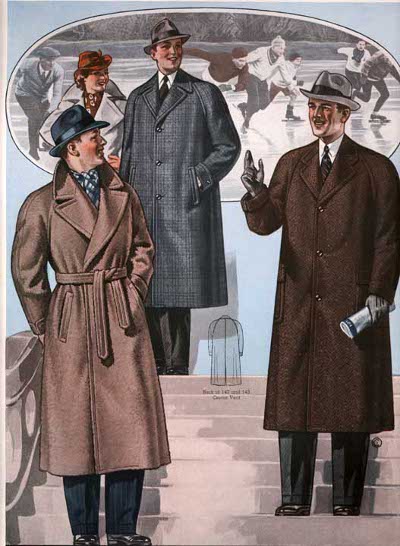 Buying Used
eBay and second-hand stores are good places if you are a bargain hunter and look for special styles. Of course, supply is limited and it requires a lot of work. If you do not have an overcoat yet, I would advise against eBay because it is very difficult to get the fit right. Every manufacturer's sizes run slightly different. Instead, head to your local thrift stores and check the racks for overcoats.
Make sure the overcoat does not have stains, as not all of them will come out at the dry cleaner. Also, double-check for moth holes because fixing them will be either very expensive or impossible. In order to make sure you do not have any surviving moths or their eggs in your garment, send the overcoat to the cleaners. This will guarantee that all moths are dead. And no, putting clothing in the freezer does not work..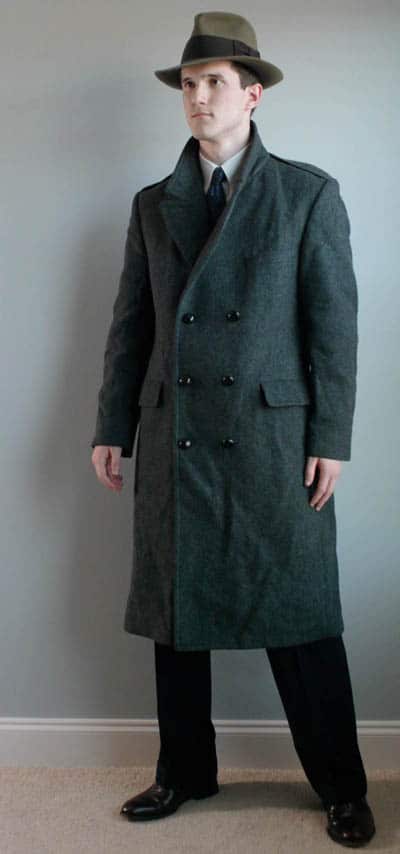 Buying New
New overcoats are definitely an easy route, though department stores often lack variety in overcoat styles and colors. Chances are, you will find a better selection at your local haberdasher and since it is the end of the season, you will probably be able to buy a classic overcoat on a discount.
Custom Overcoats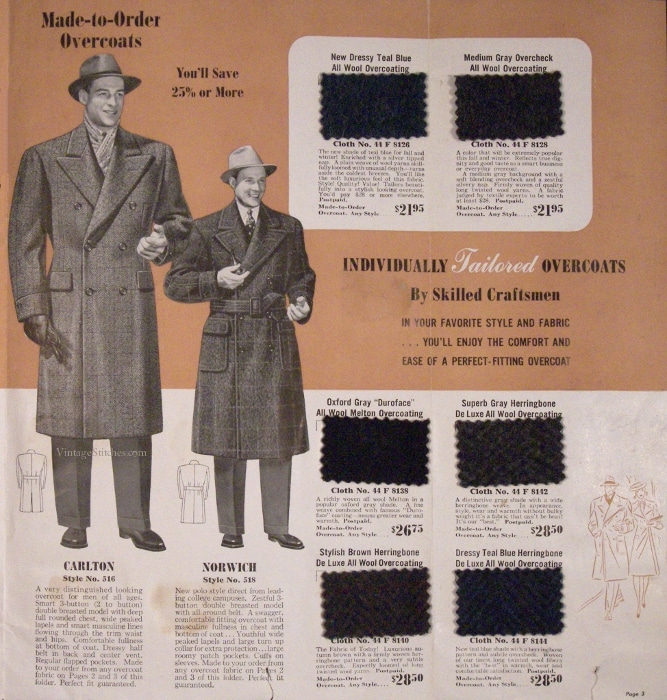 Most men never bother to think about a custom overcoat, although it probably provides you with the best fit and you get exactly what you want. Moreover, you pay for the quality of the fabric and the workmanship, not for marketing and ads.
Considering that a classic overcoat can last for 20 years or longer and you can get exactly what you want with a custom piece, you may want to think about having one made just for you.
Conclusion
In summary, a well-fitted classic overcoat is a smart investment you'll get thousands of wears out of. And every time you put it on, you'll instantly step up your style. Even if you're just wearing jeans and t-shirt underneath.
Watch a Video Summary of This Article
What do you think? What are your thoughts on this classic piece of menswear?
___________________
Written by Gentleman Gazette's +Sven Raphael Schneider & Real Men Real Style's Antonio Centeno