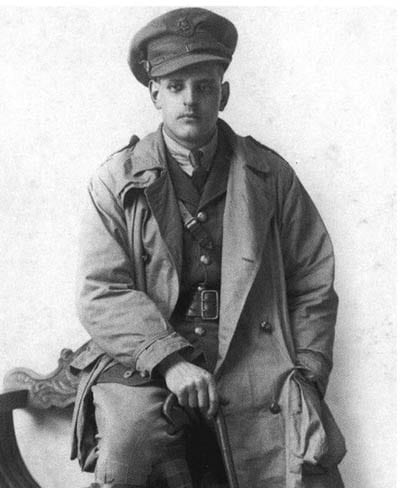 Perhaps no garment is as romanticized as the trench coat; from South Africa to France to Casablanca to London, it has remained functional and almost unchanged for over 100 years. Look closely at the pictures in this article and you'll notice the trench coat of a century ago is almost identical to those sold in shops today. Surprisingly, very few men sport a trench coat nowadays despite its enduring heritage. I hope this article changes that, as the trench coat is a classic garment that can add a punch of handsome to any outfit a man wears.
The Trench Coat's Military Origins
The origins of this garment can be traced to the Tielocken coat Thomas Burberry designed for British officers in the Boer War. The coats were referred to by their creator's name and made of gabardine, an innovative and durable wool fabric designed by Burberry to repel water and keep the wearer warm but ventilated. Only officers were allowed to wear the coats; they were not a required part of the uniform and could only be purchased privately.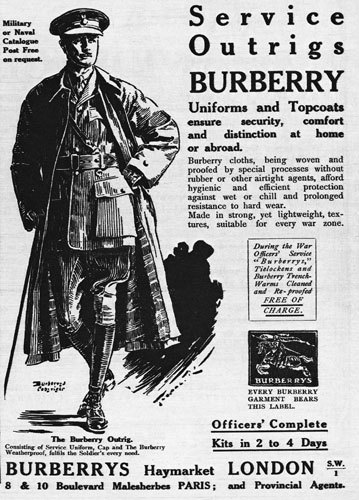 For WWI, Burberry redesigned the coat to include D-rings and shoulders straps, and the British War Board ordered over half a million of them for the military's officers. The coat quickly became a coveted item among soldiers; it held its own in cold weather by utilizing a wool blanket insert and also served as an emergency sleeping system. The coat earned its name from the protection and mobility it provided to the men fighting in the war's infamous trenches.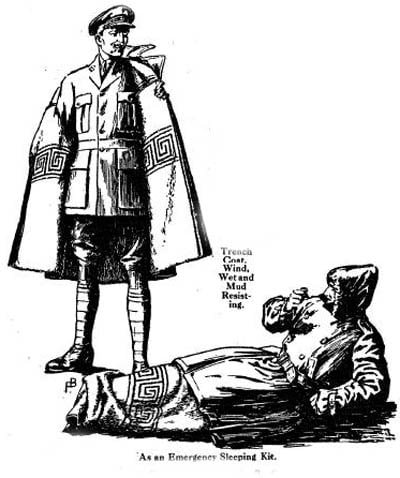 Nothing like sleeping in the mud and smoking a pipe in the comfort of your trench coat!
After the Great War, dozens of Hollywood's leading men brought the trench coat to the silver screen. Humphrey Bogart's most memorable scenes in both Casablanca and The Maltese Falcon feature him wearing what would soon become an iconic garment. Characters such as Dick Tracy captured the public's attention with adventure and mystery wrapped up in a trench coat.
The trench coat again saw action in World War II, with Russia and the United States following Britain's lead in issuing the coat to its men in uniform. However, it was largely eclipsed by more specialized (typically shorter) jackets tailored to the needs of different units and the nature of the war's battles. Today the trench coat still serves in the world's militaries as light weather protection for dress uniforms.
Trench Coat Fabric
Wool Gabardine – Wool gabardine was used on early trench coats as the dense weave repelled water and was surprisingly strong; complete with a silk lining, this garment was lightweight, functional, and handsome. The first jackets were sold only to British officers – a customer who had considerable spending power and was willing to invest in a garment that served him better than anything issued. Today wool gabardine is only used on high-end or custom trench coats upon request – its high cost makes it impractical for mass sale, although vintage wool gabardines can be found at reasonable prices.
Cotton Fabric – Early versions of the trench coat were made with a heavy duty khaki drill. Today trench coats use cotton densely woven with poplin and twill weaves (of which gabardine is one). Although cotton does not have the heat retaining properties of wool, it is more durable and if treated can be water resistant. Cotton is also less expensive than wool and available in larger quantities from various sources. Today cotton is the fabric of choice for most trench coats, although manufacturers often mix in man-made fibers for better weather resistance properties and cost savings.
Leather Trench Coats – The leather trench coat is a modern variation, and as such has not earned the status of being a classic piece of menswear. Heavier and warmer than its cotton or wool fabric brethren, it is more closely related to the overcoat in terms of functionality. Leather's ability to repel dirt and water and ease of cleaning have won this trench coat a following among hard working city men. Unfortunately, the black leather trench coat's portrayal as the uniform of organized crime's henchmen has saddled the wearing of the coat with negative connotations.
Trench Coat Color – The traditional and most common trench coat color is khaki, although you'll see jackets labeled as such varying from ivory to tan. Darker trench coats emerged in scale during the Second World War; from a practicality standpoint it makes sense as they require less cleaning and are somewhat more camouflaged. Today, black, blue, and even pattern trench coats fill department stores and make up a hefty portion of the market. Although some may argue the darker colors are less sophisticated and turn their back on tradition, I personally like them as they are practical and compliment a man with dark features.
Trench Coat Style
The style of the trench coat has changed very little in its over 100 year history. Classic clothing like this is viewed by many as a sound investment because it lasts. The owner of a classic trench coat can be assured it will never become dated. And although buying a new one can be hard on the wallet, it's hard to find a man who would trade his coat in after it has served him faithfully for decades.
These are the common style features you should look for in a classic men's trench coat:
Double Breasted Front Style – The classic trench coat is double breasted with six to ten buttons depending on length. Although single breasted jackets are available, I recommend most men purchase a double breasted coat as it will for 95% of them be the only double breasted garment in their wardrobe. The single breasted variety is best reserved for petite men who may appear buried in too much excess fabric.
Single Back Vent – Trench coats have a single vent – the original purpose was to give a soldier room to run as he moved across the battlefield while ensuring protection from strong winds as he waited for the "word."
Raglan Sleeves – Unlike normal jacket sleeves, the Raglan sleeve is more relaxed and makes the jacket more comfortable when worn with multiple layers of clothing.
Epaulets (Shoulder Tabs) – A military holdover, epaulets allowed officers to attach rank insignia without damaging the coat.
Storm (Gun) Flap – Assumed by many to be padding for a rifle butt, the "gun" flap is actually a protective flap to ensure water does not slip into the jacket as it runs down the shoulders. It effectively serves as a cap, keeping the wearer dry, assuming he has on headwear. We see it on the right side for men and on the left side for women as the jacket buttons up in opposite ways for the different genders. The reference to this flap being a gun flap is probably due to it being requested during WWI when officers complained about water seeping into the coats after firing their rifles. The raising of the right arm opened up and exposed the early trench coat's breast fold to the elements – not something you want in a downpour.
Detachable D-Ring Belt – The trench coat's belt enables the wearer to adjust the jacket's torso and gives him the ability to carry a firearm, sword, or utility pouch.
Cuff Straps – I've heard some people say these were for holding grenades – this is assuredly a myth as no sane person who has ever been around explosives would use them in such a way. The trench coat's cuff straps served simply to tighten the fit and keep the rain out – occasionally someone strapped a piece of gear onto them (like a map – never a hand grenade!).
How Should a Trench Coat Fit?
A trench coat should be large enough to be worn over a suit jacket or heavy sweater; it should not be large enough to use as a parachute when jumping out of the back of C-130. A good measure is to try on a coat and button it up fully – the shoulders should extend out past your natural shoulder by .5 to 1 full inch (to allow room for a suit jacket), and you want to be able to fit a full fist in the chest area while having full arm movement. Next look at the sleeve length – they should be worn 2 to 4 inches longer than a suit jacket's sleeves, to about the pinch on your hand.
Modern trench coat length ranges from 37 to 45 inches; the first trench coats were made longer, often worn only a few inches off the ground to better protect the wearer from the elements. There is not a right length for a trench coat, rather a man should choose a length based off his body type. Tall and large men should consider longer coats that fall below the knee – short coats make them look like giants. Smaller men should select shorter coats that fit above the knee and are closely tailored. These smaller coats will be more proportional and not make you look like you're wading in excess fabric.
Trench coats can usually be made smaller in the torso and shortened by 5-8 percent (not inches – think 3 inches at most). They rarely can be made larger, as excess fabric is not usually sewn in. Therefore, buy the best fit you can find, and if anything, err on the side of the coat being a little too large.
Purchasing a Trench Coat
Buying a used trench coat – Thrifting for a trench coat, although time consuming, is a great way to find an amazing deal at a rock bottom price. I recommend avoiding large marketplaces like EBay, as the number of bidders and large number of counterfeit items can have you paying a steep price for complete junk. Instead, visit a wide number of thrift stores such as Goodwill and the Salvation Army – not only is the money you spend going to help those in need, you may just find a handsome vintage Burberry selling for pennies on the dollar.
Buying a trench coat new – Buying a trench coat new is of course the more expensive route, especially if you buy an authentic Burberry. However, to own a Burberry is a sure way to guarantee you're getting a good build that is backed by a strong warranty and a solid company history. Of course there are many other manufacturers of trench coats – just be careful of deals that appear too good to be true….they often are.
Custom trench coats- A custom trench coat is an option few men think of, but they can be as affordable if not more affordable than buying a brand name coat. The main advantage of the custom option (besides perfect fit) is the ability to ask for unique features and style options. Want a trench coat that is historically accurate, that is made to house an iPad, or made with a unique fabric? Then custom is something you should consider.
Conclusion
In summary, the trench coat's ability to meet the demands of warfare enabled it to survive for decades before being picked up by the public. When it did find its way into the civilian wardrobe, its heritage and usefulness made it an indispensable item. And so my question is – what's stopping you from wearing one?
Written by
Antonio Centeno
President, A Tailored Suit
Articles on Men's Suits – Dress Shirts – Sport Jackets
Join our Facebook Page & Win Custom Clothing