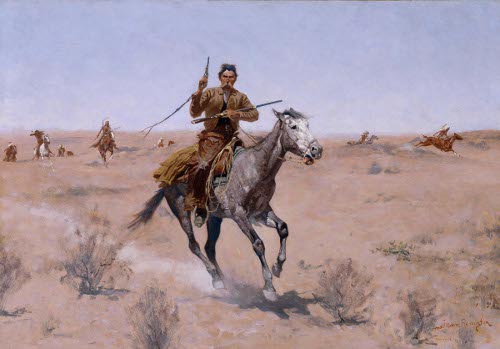 Editor's note: This post was a collaboration between AoM and Sam Gambino, a manly artist in his own right.
My first exposure to art was in grade school when we had "art time." My teachers were kind, middle-aged ladies who taught me to trace my hand and add colorful feathers to make a whimsical Thanksgiving turkey to take home to mom and dad. I finger-painted and made colorful Chinese lanterns. There were always big, bold, primary colors. The canvas of choice? Construction paper. While I enjoyed creating this simple, primitive art, I knew that there had to be more to it…that there had to be "real" art out there beyond just my amateur creations.
I then saw the Keep On Truckin' image with those struttin', free-wheelin' bald guys, each with a huge left foot. There was a funny, "cool dude" vibe to the image that I liked.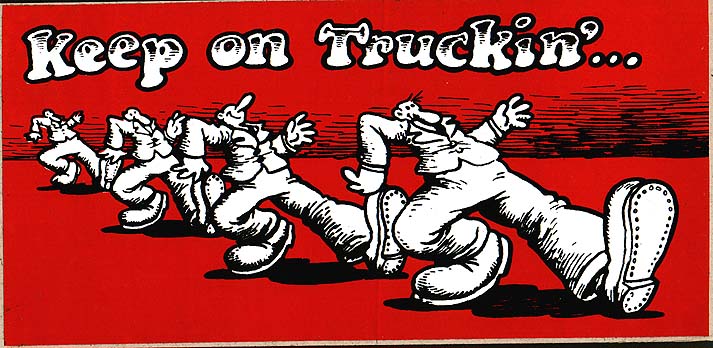 From that point on, I started looking for cool "man art" in everything from TV Guide to humorous Wacky Packages and MAD magazine. As time passed, my search progressed into a quest for different representations of manly art. I noticed the artwork featured in old Perry Mason episodes. It was back there on the wall behind some guy who was either holding a glass of Scotch or lighting a cigarette with the clank of a Zippo. Sometimes, there was violence and despair in the slashes of paint on those abstract pieces. Ironically, though, the finished piece ended as one of sheer elegance and sophistication. I soon realized that manly art didn't necessarily have to look like a caveman's dinosaur sketch on a rock wall. I also liked the dark, moody paintings that were featured at the beginning of Rod Serling's Night Gallery. I guess the darker subject matter represented the "snakes, snails, and puppy-dog tails" aspect of art for me. I later got my hands on some old Man's Life, Popular Mechanics, and Field and Stream magazines from the 1950s. The illustrations depicted guys who were fishing, hunting, or in gut-wrenching peril out in the wild. With all of these images burned into my mind, my own interpretation of masculine art began to take shape.
I came to realize that in my case, masculine art could encompass one or more of the following: humor, danger, despair, violence, aggression (in depiction or technique), manly activities, and anything else of interest to a man. There was also sophistication, elegance, and beauty. So, who's to say what constitutes manly art? Below we've shared more than a dozen artists, both classic and modern, famous and less well known, some of which have shaped my own art, and all of which have a special quality that Brett and I feel connects with the masculine spirit.
George Bellows (1882 – 1925)
Bellows was a member of the "Ashcan School" — a group of artists who sought to realistically portray the working-class neighborhoods of New York City. Bellows most famously applied this gritty realism to boxing matches — showcased with a dark atmosphere into which the fighters had been placed with bright, forceful brushstrokes.
LeRoy Neiman (1921 – 2012)
LeRoy Neiman first decided to be an artist while serving as a cook during World War II. When he wasn't making pots of mashed potatoes, he painted murals on the kitchen walls, as well as on sets for Red Cross shows. After the war, he became one of the most popular artists in America, known for his colorful, impressionistic take on what he called scenes from the "good life" — oftentimes athletic events, but also leisure time and celebrities as well.
Jake Weidmann (1984 -)

We featured Jake Weidmann in our So You Want My Job series last fall, and his interview easily became the most popular of all time. Clearly we were not alone in admiring Jake's disciplined quest to become one of only eleven "Master Penmen" in the world. Jake's beautiful art combines his exquisite penmanship with evocative imagery — his pieces are truly one of a kind.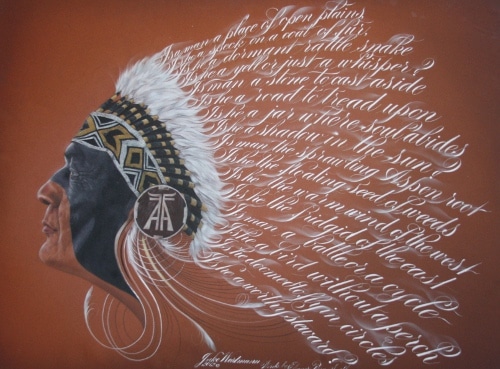 Thomas Moran (1837 – 1926)
Thomas Moran was a member of the Hudson River School, a movement of artists who strove to capture one of the manliest of themes: the sublimity and majesty of nature. Moran's paintings of the West pulsated with the energy of exploration and discovery, as well as the feeling of man's smallness besides such awesome natural features. The inspiration that such scenes can impart is palpable.
Roy Lichtenstein (1923 – 1997)
Lichtenstein was an American pop artist who became a leading figure of the new art movement of the 60s. He drew inspiration from comics and advertising.
C.E. Monroe
Monroe's art appeared on numerous covers of Field and Stream magazine during the 1950s and 1960s. He also created classic ad art for Winchester rifles and Savage Arms during those years. His work respectfully depicts men at work and play during a period of the 20th century when men were unapologetically depicted as not only strong, but as living examples of class and style.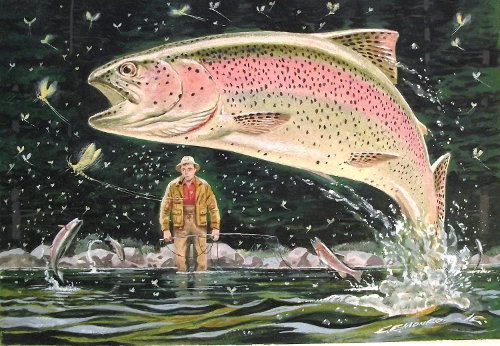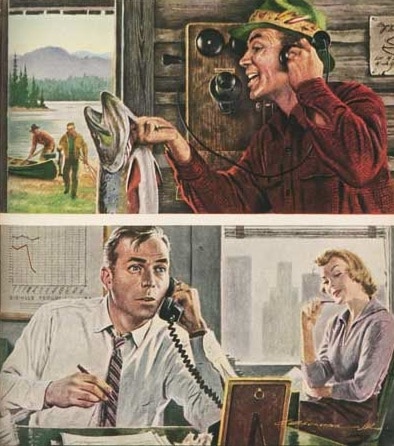 Frederic Remington (1861 – 1909)
The preeminent artist of the Old West, Frederic Remington is most famous for his depictions of cowboys and Native Americans. Unlike his contemporaries, he focused on the men and animals of the West, rather than the landscape. He also painted military scenes; commanders of the Western Army would invite him into the field to do their portraits. He even went along with Theodore Roosevelt, an admirer of his work, as a war correspondent during the Spanish-American War, and captured the Rough Riders charge up San Juan Hill.
Diego Rivera (1886 – 1957)
Rivera was a controversial Mexican artist — both praised for his rich, storytelling murals and frescoes, and criticized for his left-leaning politics. He often depicted the heroism and struggle of the worker, and preferred public murals as his medium for their ability to bring art to the masses.

Ernie Barnes (1938 – 2009)
Ernie Barnes was one interesting cat. Not too many men become both an NFL football player and a renowned professional artist. Growing up under Jim Crow laws in North Carolina, Barnes had to study art only in books; his race barred him from museums. Bullied in high school, he got involved in athletics when a masonry teacher and weightlifting coach encouraged him to build his body. By senior year he was the captain of the football team, and went on to play in college and then professionally for the Colts, Titans, Chargers, and Broncos. He would sometimes get in trouble with his coaches for sketching during team meetings and even timeouts during games. After his playing days were through in 1965, his art finally took center stage — the league actually decided to keep him on as a salaried player, but commissioned him to do paintings rather than be on the field. Barnes' art career took off, and he spent the next decades doing sports-themed pieces, depictions of life in black communities, and even album covers.
Nicholas Coleman (1978 – )
Nicholas Coleman is a modern artist I discovered because he follows the Art of Manliness on Twitter. I really dig his work, which aims to preserve the history of the American West and reminds me of my grandfather. Coleman says he works to give his pieces a sense of realism as well as a "certain amount of spontaneity and a slight impressionistic feel…that lets the viewer participate in the work." He endeavors to create "a connection between his paintings and the observer by invoking a mood that the viewer can walk into."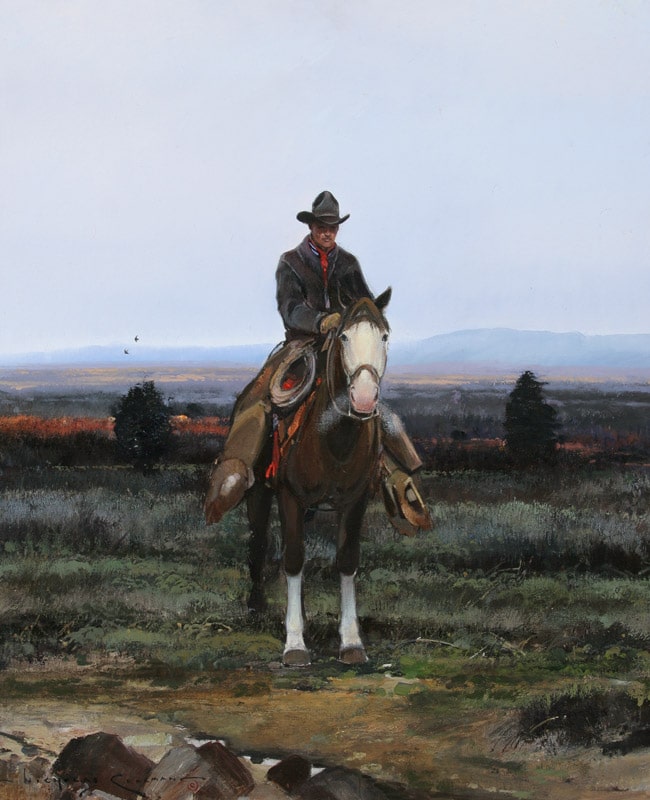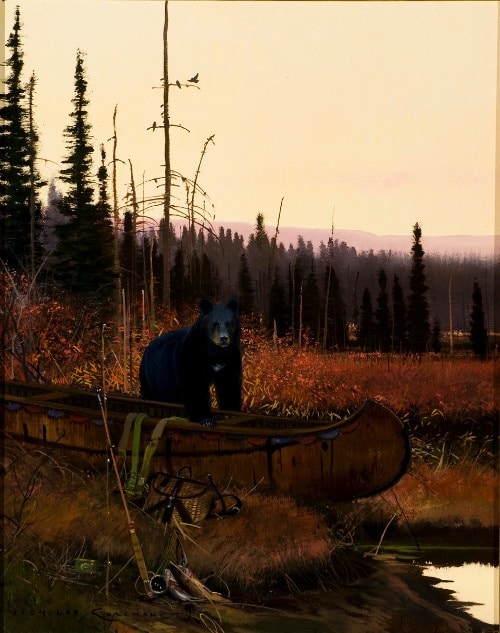 Jim Flora (1914 – 1998)
Jim Flora was a children's book author and illustrator, a commercial illustrator, and a fine artist, but is most well known for inking the covers of cool jazz and classical LPs in the 1940s and '50s. He infused fun, mischief, music, and movement into his work with playful abandon.
C.M. Coolidge (1844 – 1934)
How could a list of manly art be complete without some dogs playing poker? Commissioned in 1903 by Brown & Bigelow to advertise cigars, the sixteen-part series of oil paintings was done by C.M. Coolidge, an artist with little formal training. The pieces feature anthropomorphized dogs smoking cigars and drinking while playing high-stakes poker. The painting "A Friend in Need" even depicts "cheating for charity." Should a man compromise his character to help the underdog? Evidently, Coolidge thought so. Either way, this series is timeless and isn't expected to fade away for at least another one hundred and nine years.
Vincent van Gogh (1853 – 1890)
The famous Van Gogh may not be the first artist that leaps to mind when you think of manly art, but his style had rough beauty that was both eloquent and often rather masculine.
Norm Saunders (1907 – 1989)
Saunders illustrated for pulp magazines, comic books, trading cards, crime novels, and men's adventure magazines, most notably beginning in the 1930s, and continuing through the 1960s. He was a master at depicting a moment of desperation or distress between shady or campy characters, with his work being marked by a masculine and even risque edge (he was known for illustrating beautiful dames). Saunders could arguably be categorized as the "Mickey Spillane" of the art world.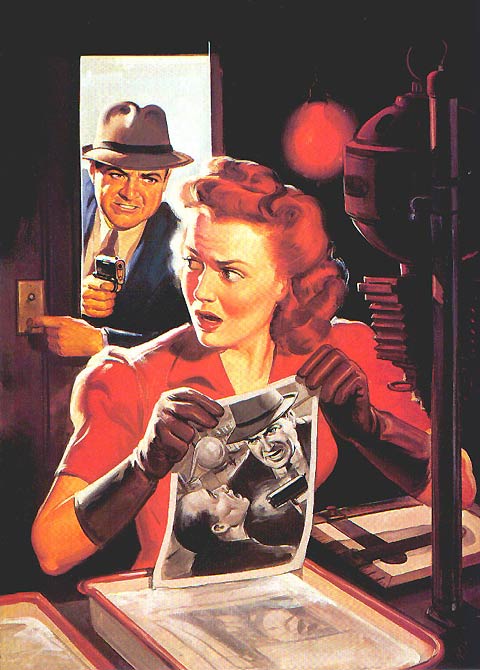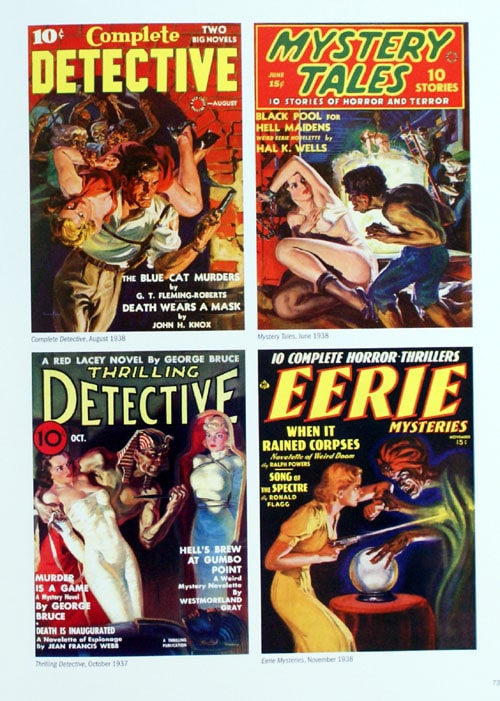 Robert Williams (1943 – )
Williams is classified as an "underground" or lowbrow artist who got his start as an illustrator, oil painter, and cartoonist in the 1960s. Having been kicked out of school in the ninth grade, he headed to California where he would end up rubbing shoulders with other anti-establishment cartoonists like R. Crumb and become immersed in the state's hot-rod culture. His car-themed pieces tend to tell an irreverent story of speed, danger, and sometimes, revenge.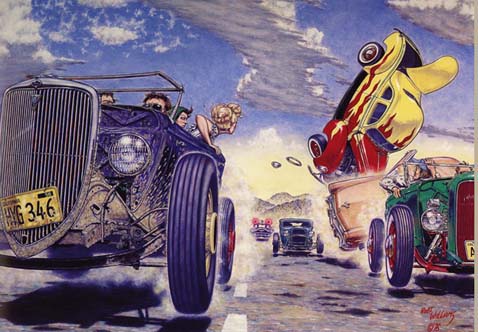 Robert Wood (1889 – 1979)

English-born, when Robert Wood emigrated the United States, he criss-crossed the continent, looking for beautiful landscapes to capture. He was a prolific artist, sometimes finishing a painting every day, and had completed over 5,000 works by the time of his death. His beautiful landscapes were some of the most reproduced of the 20th century. His seascapes can be moody and unsettling at times with waves crashing under a threatening sky. However dramatic, much of Wood's work has a bold, aggressive beauty that sets it apart from the work of other landscape artists.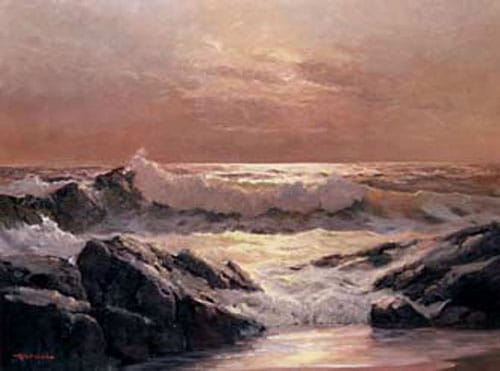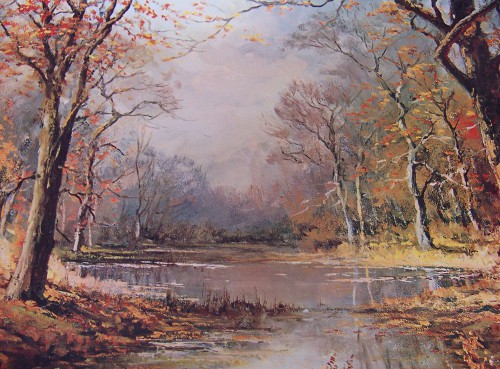 Arnold Friberg (1913 – 2010)
Friberg studied with Norman Rockwell at the Grand Central School of Art and his paintings have the same kind of idealized richness that the latter was famous for, but with a little more realism and ruggedness. During WWII, he was given the chance to be a captain and stay stateside illustrating recruitment posters, but decided to go to the front instead, though he still employed his artistic skills there in drawing maps. He also spent three years working on the pre-visualization posters for Cecille DeMille's The Ten Commandments.
We didn't hear back from the Friberg estate with permission to reproduce a couple of his paintings in time for the publication of this article, but you can see a whole bunch of his work on this article we did a few years ago dedicated to him.
Sam Gambino
As an artist myself
, I like to use my love of classic ad art to take a humorous "jab" at men and their weaknesses, egos, insecurities, and/or shortcomings. Frequently using unattractive characters from obscure pop culture sources, I look for humor in depicting them as common men who are dealing with normal issues of the average joe. This condition can be seen in the painting "Insecurity".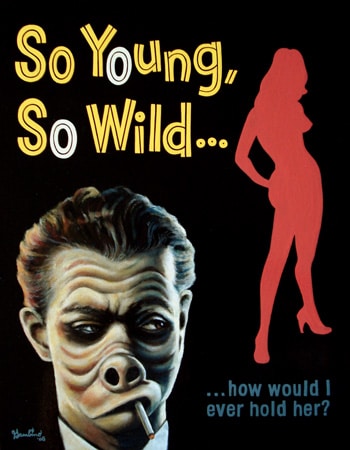 I also have a definite appreciation for still life art that centers around classic and vintage objects of the classic male: cigars, vintage ashtrays, playing cards, even vintage matchbooks, to name a few. "The Back Room at the Belmar" is one such example.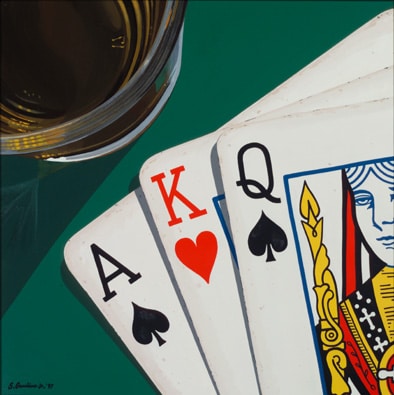 What are your favorite examples of manly art? Tell us below!