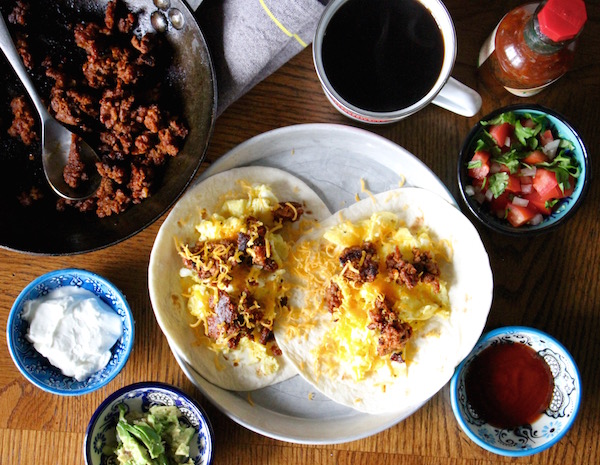 I'm sorry biscuits. I've been cheating on you. No longer am I stuffing you full of bacon, eggs, and cheese, or slathering you with sawmill gravy. I've found a new love — something faster, easier, and dare I say, a wee bit healthier.
I'm talking about breakfast tacos.
Truth be told, breakfast tacos are not a new phenomenon, especially for those from the Lone Star State. Such sustenance has served Texans for nearly a century. And though you can now find versions on menus from coast to coast, I still believe that Texans (and those near) make some of the best A.M. tacos you will ever have.
In the same way that one should learn the craft of making great barbecue from a pitmaster, I believe you should also call in an expert when it comes time to make breakfast tacos. I'm not talking about a famous chef, or even a great cook for that matter. Allow me to introduce you to my friend, and life-long resident of Austin, TX — Mr. Colin Newberry — a man who eats his breakfast tacos daily, and sometimes nightly, scoring his repast from gas station haunts to haute restaurants. Here I'd like to share a bit of his wisdom and let him wax poetic on the beauty that is the breakfast taco:
---
If you have never heard of, or considered a taco for breakfast, there are two misconceptions to dispel first and foremost. First is that the breakfast taco is served on a crunchy corn tortilla shell — it is not. While regular tacos vary between soft and hard tortillas, breakfast tacos are uniformly soft. Second, a breakfast taco's soft tortilla is almost always flour, rarely corn, and never, despite Taco Bell's advertising to the contrary, a fried egg or other abomination. The reason for this is simple: while a corn tortilla undoubtedly has more flavor, it comes at the expense of much needed durability. And if a breakfast taco must be anything, it must be a durable, portable foodstuff.
My first memories of truly spectacular breakfast tacos came on Sundays working at my dad's gas station while in high school. As a treat for giving up a weekend day, I was allowed up to $7 to buy lunch. This left me with a few options. One was to pick up an order of Pete's Tantalizing Tacos from Maudies — at that time a small one-stop taco shop tucked between a liquor store and laundromat that now is one of Austin's largest local restaurant brands. I still swear by Maudie's queso and enchiladas, but their breakfast tacos too often had potatoes in them, an unnecessary doubling of starch, throwing off the balance of egg, dairy, and meat wrapped in the tortilla.
The other option was Porfirio. Porfirio was the man who drove the roach coach aptly named Porfirio's Tacos. He would actually stop by the gas station, and he did this well before food trailers and mobile vending options took over Austin, and the rest of America. But I tell you this — Porfirio had the best darn carne guisada in town, and a great breakfast taco to boot. Though his breakfast taco selections weren't too varied, honestly, they didn't have to be. Using minimal ingredients and expert preparation, Porfirio whipped up the best taco in town, becoming the lodestar by which I judge all other tacos.
So, what does the perfect breakfast taco entail?
In short, a breakfast taco is a flour tortilla, eggs, cheese, and a choice of meat, served with red or green salsa. That's it. Of course, you can church it up or dress it down by adding in black or refried beans, grilled onions, peppers, pico, guac, and sour cream. All of these things come of course, at your own discretion. Some people love potatoes in their breakfast tacos, but as aforementioned, I personally find them inconsistently cooked and too distracting from the eggs and cheese.
There is a split in authority on whether to use the term breakfast taco vs. breakfast burrito. To me, there is a difference between the two. A breakfast taco is filled, folded together at the top with open ends, and is generally smaller, meant to be eaten in multiples without extraneous additions. A breakfast burrito is filled, wrapped and closed on the ends, generally filled with more variables (beans, peppers, potatoes). Eating one burrito usually will suffice. Importantly, either one can be eaten while driving, unless of course, you end up with a smothered burrito.
Whether you're picking up a meal at a Stripes' Laredo Taco Company in West Texas to start your workday, finishing off a night out at a Taco Cabana while in college, or salivating seeing that aluminum-sided truck of Porfirio's pull in past the full service gas island, rejoice in knowing that one of life's simplest breakfast foods is also its best. Viva le breakfast taco, and I'll take a sausage, egg, and cheese with verde sauce, please.

---
Thanks for the advice, Colin. Now I'm hungry! Let's put one of these babies together.
How to Cook and Assemble the Perfect Breakfast Taco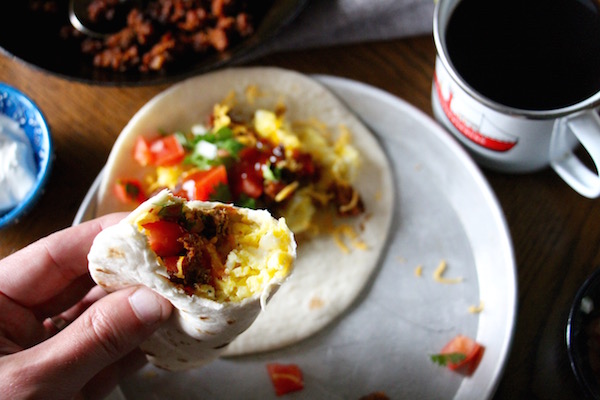 1) The Tortilla. I agree with Colin that a great breakfast taco starts with a warmed, flour tortilla — no larger than 6-8 inches in diameter. You can go "healthier" by sacrificing a little bit of pliability (and flavor) by choosing a whole grain or low-carb tortilla, should you choose.
2) The Eggs. If you have a few extra minutes, I prefer to soft scramble my eggs, rather than doing a hard, fast scramble (click here for details on the difference between the two methods, and how to generally make perfect eggs). This ensures that the eggs remain moist and creamy. To soft scramble, whisk together a few eggs and place into a non-stick pan, with a pat of butter, over medium-low heat. Continuously use a spatula to move the eggs about, ensuring they reach a small curd consistency and remain moist. Remove the pan from the heat while the eggs are still cooking. Lastly, season with just salt and pepper! I see a lot of folks adding cumin, chili powder, or other ingredients to their eggs, which I say is a big no-no. You can get that flavor from the next ingredient.
3) The Meat. When I say meat, I mean chorizo sausage. I like to fry up some of this crumbled sausage to add a bit more heft, and of course, its spicy, aromatic flavor. In a pinch, you can use a breakfast sausage, smoked sausage, or even crumbled bacon.
4) The Cheese. I can't live without cheese. I prefer a classic, sharp cheddar that's finely grated so it will melt easily from the residual heat of the eggs and sausage. Monterey Jack is a mild cheese that also works well. If you want to make something fancier, you can use a queso fresco, or any other cheese your taste buds desire.
5) The Toppings. I agree with Colin: unlike a burrito, a taco is meant to have less fillings, allowing you to enjoy the simple, exquisite flavors of a few really good ingredients instead of feeling like you've eaten into an explosion of over a dozen. That said, you can run the gamut from hot sauce, salsa, sour cream, guacamole, pico de gallo, sautéed onions and peppers, jalapeños, beans, etc. This becomes a bit of a choose-your-own-adventure situation. My advice, since you will likely eat more than just one taco, is to consider dividing some of the myriad toppings between a few tacos. You might just find out that a little less, is a little more.
Last but not least: eat! I'll often cook mine up, fold it in some foil, and take it on the road. And be sure to bring a napkin.
____________________
Matt Moore is a regular contributor to the Art of Manliness and the author of The South's Best Butts.