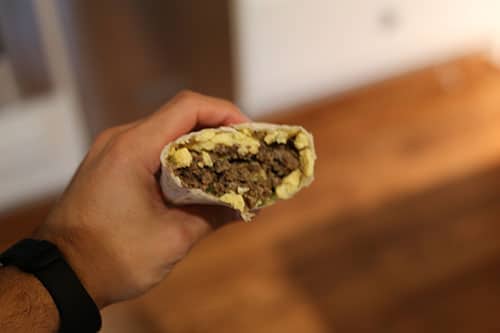 I love me a good breakfast burrito.
They're great for when you're on the go, and if you're generous with the stuffing, they can really fill you up.
But if you're like most busy American men, you just don't have time to whip up a breakfast burrito in the mornings. Sure, you could do one with just egg and cheese, but we all know the best part of a breakfast burrito is the copious amount of savory, meaty sausage, which takes a little while to cook. So you stop by a fast food joint to pick up a breakfast burrito, or you microwave the frozen variety you bought from the grocery store.
The thing is, stopping at a QuickTrip to pick up a breakfast burrito may not even save you that much time and it's not saving you any money (the going rate for a QT burrito is $2.50 right now). And those store-bought pre-made burritos? They're dinky. I have to eat two of them to fill me up and they're always skimpy on the sausage.
What's more, with the fast food and store-bought breakfast burritos, you're getting a lot more additives and preservatives. Just take a look at the list of ingredients for El Monterey breakfast burritos:
In an effort to save time and money as well as get the kind of breakfast burrito I like to chow down on in the morning, I spent an hour and a half one Saturday morning a few weeks ago making a batch of 14 man-sized, sausage-stuffed, egg and cheese burritos that I could freeze and re-heat for later. Now whenever I'm in the mood for a breakfast burrito, I just pull one out of the freezer, warm it up, and go to town.
Below I share the steps I took in preparing my make-ahead frozen breakfast burritos.
Ingredients and Prep Time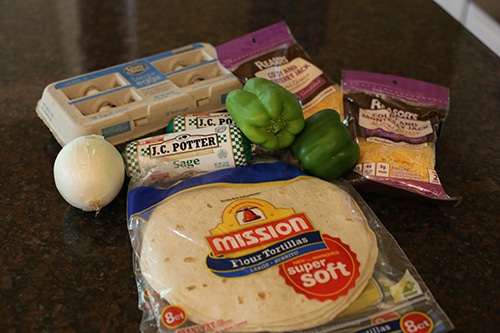 You can make these burritos as simple or as complicated as you want. Just keep in mind the more ingredients you add, the more expensive and time-consuming they are to make. For my batch I went with the following ingredients:
18 eggs
14 flour tortillas
1 bag of shredded cheese (the pic above has two bags, but I ended up just using one)
2 16 oz. packages of breakfast sausage
1 white onion
2 green bell peppers
The above netted me 14 hefty-sized breakfast burritos.
Total cost for ingredients: $15.54
Cost per burrito: $1.11
Total prep time (including clean-up) was 1 hour and 30 minutes.
Compare that cost to the store-bought El Monterey breakfast burritos:
Total cost: $10.98 for 12 burritos
Cost per burrito: $.91
Then compare that to the cost of a McDonald's breakfast burrito: $1.00
Yes, the El Monterey burritos were $.20 cheaper and the McDonald's burrito $.11 cheaper. But the big advantage of the homemade burritos is that they're, well, bigger. My burritos are at least 1.5X the size of these competitors, so you actually do save money when you're comparing price per ounce. I also get less artificial additives and plenty of sausage in my burrito, which is how I like 'em.
How to Make the Burritos
Step 1: Prepare and Cook Onion and Pepper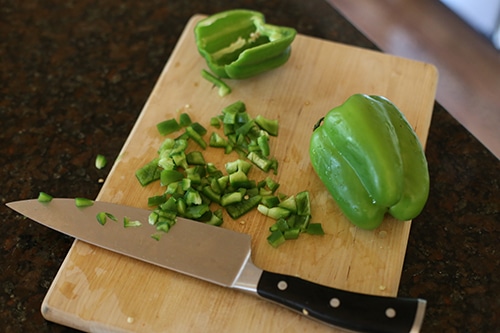 Step 2: Cook Sausage
Step 3: Scramble Eggs
Step 4: Build Burritos
Step 5: Wrap Burrito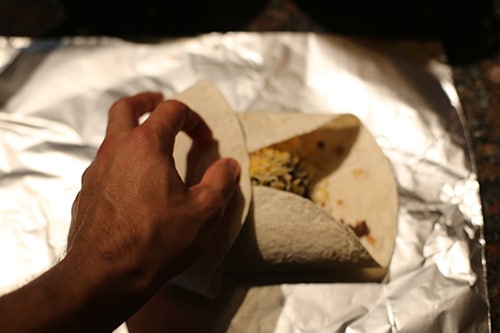 Step 6: Place in Freezer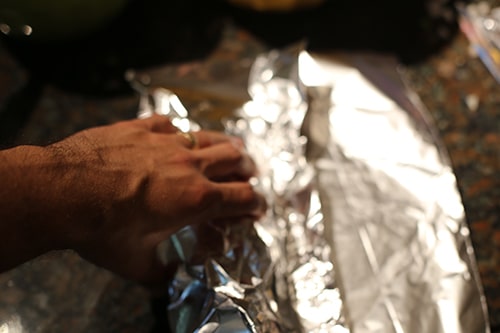 Step 7: Heat Up and Enjoy Your Burrito!