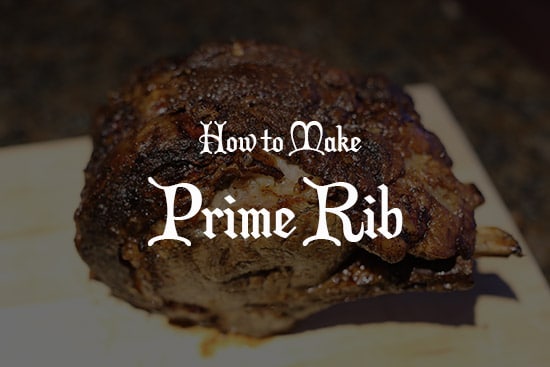 Kate and I are always looking for new traditions to add to our family culture. We've developed a nice stable of Christmas traditions, but we really didn't have any for New Year's Day.
That is, until a couple years ago when we introduced the McKay Family New Year's Day Prime Rib.
Yeah, all capitalized; it's a bonafide occasion.
What better way to ring in the new year than with a giant roast of tender, juicy, pink meat surrounded by a delicious crust of salt and fat? My mouth's watering just writing about it. Is it 2017 yet?
I've cooked a prime rib for New Year's Day for the past two years and it's something our family really looks forward to. If you'd like to add prime rib to your holiday festivities this year (it's also great for Christmas!) or you'd just like to know how to cook delicious prime rib whenever the mood strikes, below I show you how to do it.
How to Cook a Prime Rib Roast
These instructions were handed down to me from my buddy and BBQ expert Karl Engel. They're easy to follow and execute, and have delivered two impeccable prime rib roasts to my table.
Ingredients
The size of your roast and the number of your onions/carrots will depend on the size of the crowd you're feeding. You'll find tips for estimating how much meat to get below:
7 lbs bone-in prime rib roast
Onions
Large carrots
Salt
Pepper
Garlic
Butter
Tools
Roasting pan
Meat thermometer
The Star of the Show: The Prime Rib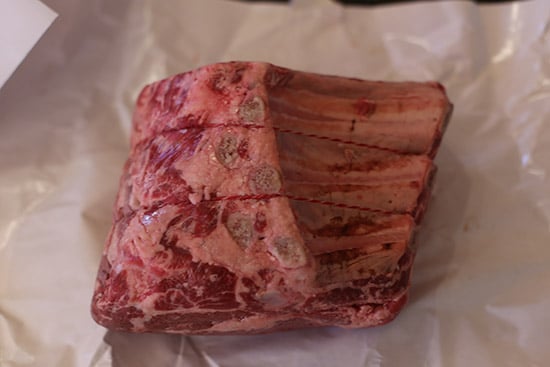 You're not likely to find bone-in prime rib roasts at Wal-Mart. You'll need to head to a local butcher instead. If you plan on cooking this for New Year's, I'd suggest ordering it at least a week before to ensure that they have one available for you by then. Prime rib is a popular dish to serve around the holidays.
To figure out how big a prime rib you should order, a good rough and ready estimate is that a bone will serve about 2 people. So if you've got 6 people coming, order a three-bone prime rib roast, which weighs about 7 to 8.5 pounds. The prime rib that you see in the pictures is a three-bone prime rib roast.
When you order your prime rib, ask the butcher to cut the meat away from the bone, but not all the way. This will allow you to keep the bones in while cooking (which serves as a natural roasting rack), but makes it easy to take the bones out of the meat when you start carving. The butcher will likely tie everything up so it doesn't fall apart while cooking
Pre-Heat the Oven and Prepare Your Roast
Pre-heat your oven to 275 degrees. You could cook your roast at a higher temperature and cook it faster, but Karl prefers low and slow. I do too.
While your oven is warming up, slice up your carrots and onions. We'll place these on the bottom of the roasting pan and then place our meat on top of the veggies. Keeping the roast elevated a little bit ensures it gets a nice crust on the bottom.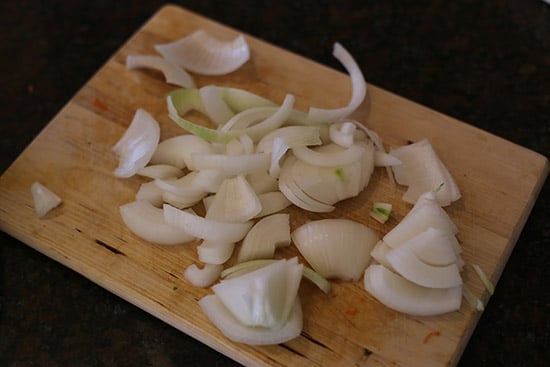 Rub generous amounts of salt, pepper, and garlic powder all over the outside of the roast. And by generous, I mean generous. More than you'd think you'd need. This will enhance your roast's fatty, salty crust.
You can also insert garlic cloves throughout the roast for extra flavor. Just make an incision in the meat and place a clove in it.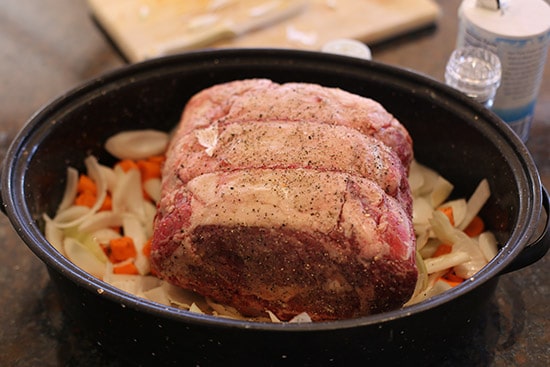 Once the oven has reached 275 degrees, place the prime rib on top of the onions and carrots, with bone side facing down, and place in the oven.
Cook and Butter
At a cooking temperature of 275 degrees, you'll want to cook your roast 15 to 20 minutes per pound. So for an 8-lb roast, total cooking time will be about 2-2.5 hours.
But instead of focusing on the time, focus on getting your meat to the internal temperature that you want. That's why a good meat thermometer is important to have. Traditionally, prime rib is served rare, which is an internal temperature of about 125 degrees. For a medium rare, shoot for an internal temperature of 135 degrees. I wouldn't go any higher than that for a prime rib because then it will be pretty tough and chewy. What's nice about cooking it to medium rare is that you'll have some parts on the roast that are medium well and well done for those people in your party who don't appreciate the wonders of pink meat.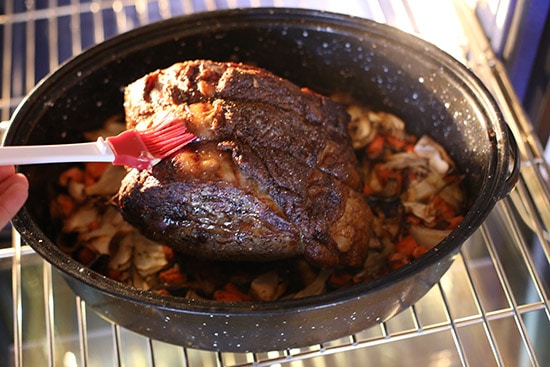 For added flavor, baste the outside of the prime rib with melted butter every 30-40 minutes or so.
And that's how you cook a prime rib roast. I told you it was easy.
Carving the Roast
Everyone has their own way of carving a prime rib. I like to cut all the bones off the bottom of the roast in one piece, leaving me with a nice fatty slab of roast to work with. From that slab, you can slice your meat as thick or as thin as you'd like. If a guest wants a bone and all the fat and meat that come with it, serve them one.
Suggested Side Dishes with Your Prime Rib
You've got your roasted onions and carrots that you cooked your prime rib on. They'll be covered with delicious salty drippings and make a great side dish.
The other things I serve with prime rib are mashed potatoes and rolls.
With those side dishes and plenty of horseradish sauce, you'll have a simple, easy-to-prepare but incredibly delicious New Year's Day dinner and an annual tradition worth repeating.
Happy Holidays!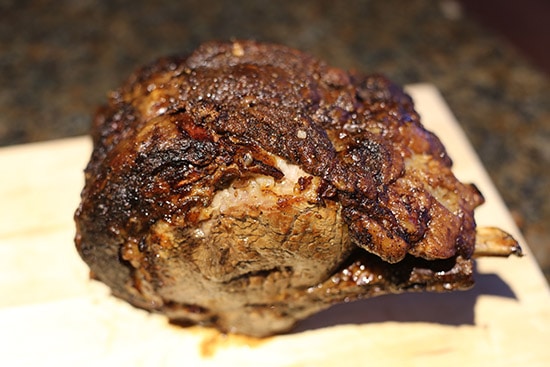 How to Cook Prime Rib
2019-02-15 12:43:23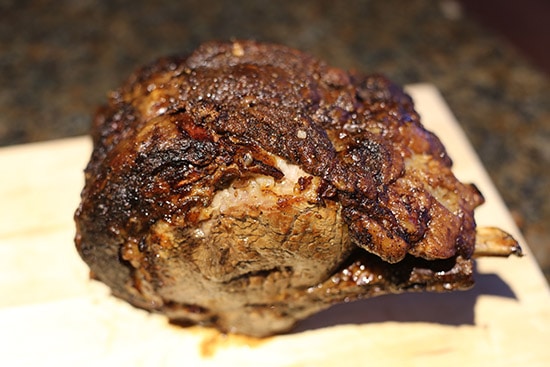 Serves 6
Ingredients
7 lbs bone-in prime rib roast

Onions

Large carrots

Salt

Pepper

Garlic

Butter
Add ingredients to shopping list
If you don't have Buy Me a Pie! app installed you'll see the list with ingredients right after downloading it
Instructions
Pre-heat your oven to 275 degrees.
Rub generous amounts of salt, pepper, and garlic powder all over the outside of the roast.
Slice carrots and onions
Brush roast with melted butter
Put roast in oven for 3 to 4 hours or until internal meat temperature reaches 125-135 degrees
Print
The Art of Manliness https://www.artofmanliness.com/