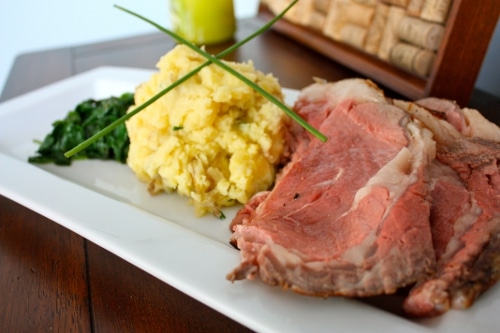 So far in this four-part series on throwing an awesome holiday party, we discussed choosing a party type/theme and then moved on to covering the ins and outs of executing things like the drawing up of the guest list and the sending out of invitations.
Now for those of you who are still stuck on step one and are having trouble deciding what kind of party to host, today I'd like to sway you towards choosing the sit-down dinner option. Why? Well from a guest's perspective, you seldom come away from a party that consists solely of hors d'oeuvres feeling truly satisfied. Don't agree with me? Allow me to jog your memory…you stand around all night, eating cream cheese-filled concoctions, cocktail napkin in hand, while you dodge the occasional awkward conversation, wondering if that spinach and artichoke dip that came out 30 minutes ago is ever going to be reheated. Sound familiar?
Moreover, hosting such a party can be very expensive and time-consuming. Each appetizer typically contains 10 – 12 unique ingredients–many of which will only sit in your spice rack unused. And let's not forget about prepping and serving. Taking on such a challenge is like trying to serve eight or ten individual meals to your guests. In other words, it's just not worth the hassle, or the expense.
So instead I advocate hosting an actual dinner party. Your guests will be impressed when you serve an entire meal–all the while saving you time and money by choosing a themed dinner that includes consistent ingredients and a viable prep schedule.
Indeed, in my opinion there's no better way to celebrate the holidays than by hosting a holiday dinner party for a group of your best friends. Armed with great food, cold drinks, festive tunes, and the sometimes creative costume (or ugly sweater), spending time with the people you love is what makes the holiday season special.
Yet I realize the idea of hosting a sit-down dinner can seem intimidating for a lot of men. Beginners wonder if they can pull it off, and those of you who've hosted such a bash before know that a good time doesn't come for free. In fact, quite a bit of hard work, planning, and expense can go into hosting such affairs.
This is where I come in.
Throwing an outstanding holiday party can be a piece of cake–so long as you have a game plan.
First, don't plan a dinner menu that includes anything you haven't made before. Your guests shouldn't be your guinea pigs. Even when you're following a recipe, things can go wrong the first time you try your hand at a dish, or it may turn out that the recipe that looked good on paper, doesn't taste very good on the platter. Always give all the dishes you plan to serve at a party a private practice run first.
Second, with regards to prep and shopping–do not procrastinate. Make a list of all the ingredients you'll need and go shopping the day before, checking off every item on your list. When you get back home, put away and prep your ingredients, double crossing off your ingredient list to make sure you have everything on hand. This will allow you to feel confident and not rushed when the big day arrives. Also, in the rare event that you find that you missed an important ingredient, you still have time to make another run to the store.
Doing all of your prep work the day before also ensures that you spend your party enjoying the company of your guests. I've learned this lesson the hard way, with many a holiday party spent solo in my kitchen with a cast iron pan and a whiskey on the rocks. Trust me, it doesn't look good to cook and drink alone–nor is it proper etiquette to host a party and not spend time with your guests.
The meal I suggest below makes use of some other key cooking tips when it comes to entertaining for large groups:
Choose a few items that require little or no cooking. These types of dishes can typically be served at room temperature, and do not make use of precious kitchen space and tools. In this case, the antipasti platter works perfectly. Other options would include a crudite platter, hummus and vegetables, or even a large salad.
Items that can be cooked or put together "on the fly" minimize your time in the kitchen. The sautéed shrimp, sautéed spinach, and yogurt and berry parfait all satisfy this component. You can excuse yourself from your guests for mere minutes while these dishes are prepared.
For the main course–go with a big hunk of meat. No, seriously. In this case, I've chosen a standing rib roast, as it's a classic dish of the season. For other events–beef and pork tenderloins, whole roasted chickens, pot roasts, or even a leg of lamb make elegant dishes to serve large groups. You can literally "set it and forget it."
Most importantly–have fun. Hosting holiday parties will create great memories for years to come. And, if you follow my game plan, I can guarantee your parties will become the talk of the town!
Season's greetings!
MM
Appetizer Course

The antipasti platter can be prepped hours in advance and set out prior to your guest's arrival. Once most of your guests have arrived, take a few minutes to put together the sautéed shrimp–the unique "out of the pan" presentation will have your guests feeling like they are getting an á la table chef dining experience.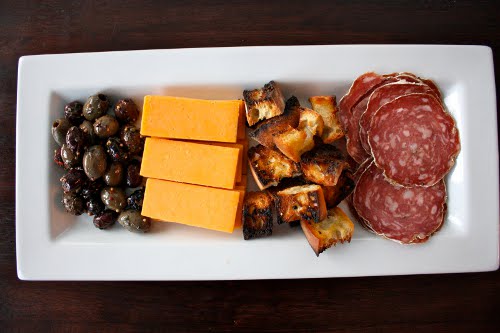 Antipasti Platter – the beauty of this versatile platter is that you can let your imagination run free. Pick out an assortment of your favorite cheeses, cured meats, vegetables, pickled goods, breads, and crackers to serve to your guests. To ensure that you can feed the entire group, plan to have about ¼ lb of total goods per guest. Check out one of my favorite pairings below. (Prep 20 mins, Cook N/A, Serves 8 – 10)
2 lbs Wisconsin Aged Cheddar Cheese, sliced
1 lb Sopressata or Hard Salami, thinly sliced
1 Loaf French Bread, cubed and toasted
1 lb Marinated Olives
Arrange ingredients on a serving platter. Serve. (If prepping in advance, cover platter with plastic wrap and keep in the fridge until 30 minutes prior to service).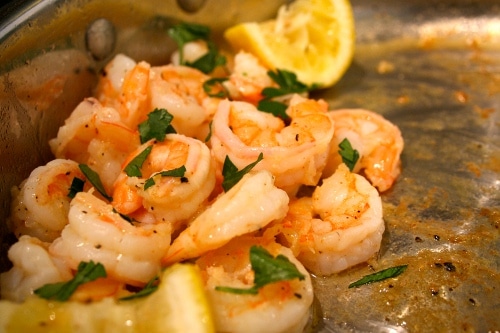 Sautéed Shrimp – a play on the traditional shrimp cocktail, the unique presentation of this dish makes it as much of a dining experience as it is an incredible appetizer. (Prep 15 mins, Cook 10 mins, Serves 8 – 10)
½ Stick Unsalted Butter
2 Tablespoons Extra Virgin Olive Oil
4 Cloves Garlic, minced
1 Pinch Red Pepper Flakes
1 Tablespoon Lemon Zest
3 lbs Large Shrimp, peeled and deveined
¾ Teaspoon Kosher Salt
½ Cup White Wine
Parsley, chopped for garnish
6 inch Bamboo Skewers – to serve
In a large skillet over medium high heat, melt the butter into the olive oil. Working very quickly, next add the garlic, red pepper flakes, and lemon zest and sauté in the oil/butter mixture for 30 seconds–careful not to burn. Add shrimp, season with salt, and cook for 2 – 3 minutes. Deglaze the pan with the white wine, using a wooden spoon to scrape up any of the bits from the bottom of the pan. Continue cooking for another 4 – 6 minutes, or until the shrimp are firm and bright pink. Remove from heat, garnish with parsley, and serve right out of the skillet, using the skewers to pick up individual portions.
Main Course

Standing rib roast has long been a holiday favorite–and for good reason. Your guests will love the juicy, flavorful meat and enjoy sopping up the juices in garlicky mashed potatoes and bright, colorful spinach. This classic meal will make your holiday party memorable and special.
Standing Rib Roast – a classic, delicious dish that's perfect for entertaining. (Prep 15 mins, Cook 1.5 hours, Serves 8 – 10)
1 4 -5 lb Rib Roast
¼ Cup Extra Virgin Olive Oil
Kosher Salt
Fresh Cracked Pepper
10 Cloves Garlic
Preheat oven to 375 degrees F. Meanwhile, place roast–rib side down–into a heavy-bottomed skillet and coat in olive oil. Season entire roast very liberally with kosher salt and fresh cracked pepper and arrange garlic cloves in the bottom of the pan. Place roast into oven and cook for 1 – 1 and ½ hours (about 15 minutes per pound), or until internal temperature reaches 125 degrees for medium rare. Remove from heat and rest for 20 minutes before serving.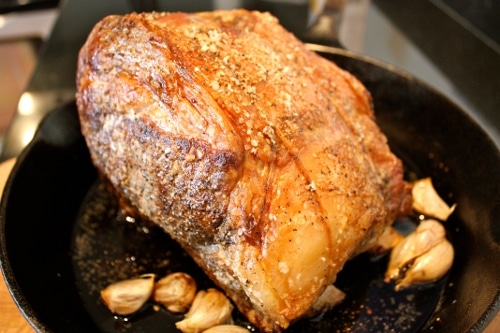 Garlic Mashed Potatoes – utilizing the roasted garlic from the rib roast adds that extra essence to these amazingly delicious mashed potatoes. Go to work on these while the roast is out of the oven and resting–as this will 'hold' for up to 30 minutes or so without the need to reheat. Should you need more time, fold in a little more cream and reheat the potatoes over low heat just before serving. (Prep 15 mins, Cook 25 mins, Serves 8 – 10).
5 lbs Yukon Gold Potatoes, peeled and diced into 1 inch cubes
2 Sticks Unsalted Butter
1 Cup Heavy Cream
Roasted Garlic Cloves (from Rib Roast), skin removed
Kosher Salt
Fresh Cracked Pepper
2 Tablespoons Chives, finely chopped
Bring a large pot of salted water to a boil over high heat; add potatoes and cook until just fork tender, 10 – 12 minutes. Remove and strain potatoes, allowing all of the water to evaporate. Reduce heat to low, and place the empty pot back on the stove and melt the butter into the cream. Add potatoes, roasted garlic, and season with kosher salt and fresh cracked pepper to taste. Using a masher or ricer, mash potatoes until desired consistency is reached, adding more cream for a looser consistency. Garnish with chives and serve immediately.
Sautéed Spinach – a light, quick, and easy side to help round out this fantastic meal. (Prep 5 mins, Cook 5 mins, Serves 8 – 10).
¼ Cup Extra Virgin Olive Oil
¼ Teaspoon Red Pepper Flakes
4 lbs Fresh Baby Spinach
Kosher Salt
½ Lemon
Preheat a large skillet over medium high heat, add oil. Add red pepper flakes and sauté for 30 seconds – 1 minute, careful not to brown. Add spinach and sauté until reduced and tender, 4 – 5 minutes. Season with kosher salt (to taste), and finish with fresh squeezed lemon juice. Serve.
Dessert Course
Why fuss with baking a cake all day? Instead, this light and refreshing dessert is served in individual portions–making you look like you spent extra time and attention on each guest–but truth be told, this delicious dessert couldn't be easier!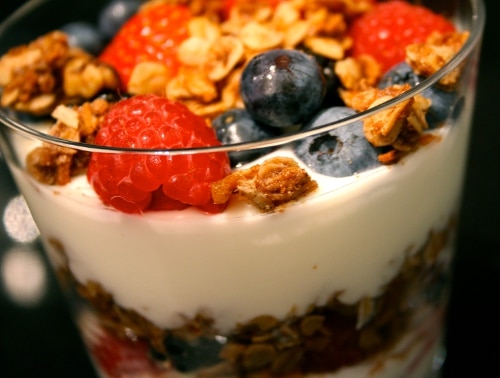 Yogurt and Berry Parfait – satisfy your guests in no time with this simple and beautiful dessert. Most grocers sell pints of prepared berries which will save time and money when it comes to prepping ingredients. Wait to add the granola until just before serving. (Prep 5 mins, Cook N/A, Serves 8 – 10).
5 Cups Low-fat Vanilla Yogurt
2 Pints Mixed Berries (Strawberries, Blueberries, Blackberries, Raspberries)
2 Cups Granola
In individual serving glasses, add a generous layer of vanilla yogurt. Top with berries and granola. Serve.
How to Throw an Awesome Holiday Party Series:
Choosing a Party Theme
Guest Lists, Invitations, and Planning
A Simple and Jolly Dinner Menu
A Primer on Being the Ultimate Host