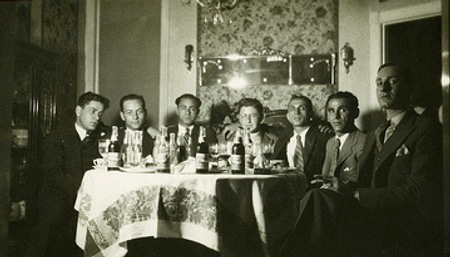 If you are selected to be your friend's best man in his wedding, you have several important responsibilities to fulfill. The first is to plan a bachelor's party for your buddy. When most people hear "bachelor party," they think keg stands and g-strings.
In today's article, we discuss the honorable origins of the bachelor party and how you can throw one with real class for your bud.
The History of the Bachelor Party
Men may be surprised to learn that the tradition of having a bachelor party is rooted in ancient times. The Spartans, who originated the idea in the 5th century BC, would hold a dinner for the groom-to-be on the night before his wedding. The evening would be spent feasting and toasting the groom and each other.
The tradition of having a "bachelor's dinner" continued into modern times. In the 1940's and 50's the occasion was called a "gentlemen's dinner." It was thrown by the groom's father and involved the same toasting and eating that the Spartans had enjoyed. These bachelor dinners were designed for male bonding and to celebrate the groom-to-be's important rite of passage from single life to marriage.
Some time during the last few decades, the "dinner" was dropped and replaced by "party." This was more than just a change in semantics; the ethos and impetus for the tradition began to be transformed. It no longer became an occasion to celebrate the groom, but rather an opportunity for the groom to have one more night of freedom before settling down. Consequently, the bachelor party became an occasion to do all those things which would be considered verboten after the vows had been spoken. Dinner and toasting was replaced by, or supplemented with, strippers, gambling, and copious amounts of alcohol.
Fortunately, these kinds of parties have been going out of style of late. Such parties neither honor the bride-to-be, who will be stressed by the temptations her fiancée may succumb to, nor respect your friend, who has likely reach a point of maturity in which he feels ready to get married and settle down. For the groom-to-be, marriage does not likely signal the end to his days of strip clubs and bar hopping, he having left behind those things some time ago. But marriage will leave him less time to hang with his boys. So instead of viewing a bachelor party as your friend's last chance for debauchery, a party should really serve as a golden opportunity for male bonding, a chance to do activities that may become less frequent post-marriage, and a time to blow off pre-nuptial jitters.
Pick an Activity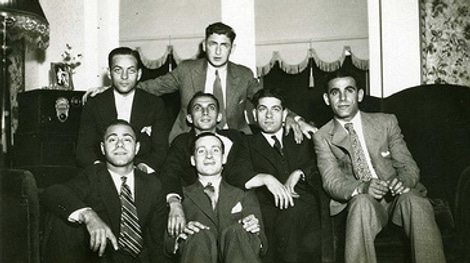 The first step in planning a bachelor party is to choose an activity to center the party around. Just because your fiesta won't involve stuffing dollar bills into g-strings, doesn't mean that it has to be a boring affair. There are plenty of other activities that will unleash your testosterone and get your heart pumping. Here are just a few ideas:
Rent jet skis for a day on the water
Go snow skiing or snowboarding
Attend a professional or collegiate sporting event
Attend a boxing or MMA match
Spend the day golfing
Take a deep sea fishing trip, charter a fishing boat, or take a lesson in fly fishing
Plan a game of a football, basketball, soccer, or bowling
Create a casino night, complete with a paid dealer
Go paintballing
Take a camping or backpacking trip
Tips:
Don't do anything insanely dangerous. You want to have fun, but you don't want to risk breaking one of the groom's limbs. He'll find it difficult to go scuba diving on his honeymoon with a cast on his leg.
It's nice to surprise your friend with what he'll be doing at his party, but be sure to cater to his personality and interests.
Consider the relative budgets of your friends. You don't want some of the groom's friends to skip the party because they can't afford to come.
After you choose an activity for the bachelor's party, plan for a meal to follow it. If it's warm, a backyard cookout makes an excellent choice. If it's cooler, or you simply desire something more formal, rent a room at your friend's favorite restaurant.
At the dinner, encourage your friends to make funny roasts and poignant toasts. They may also wish to impart words of wisdom to the groom. If you have some advice, or want to say things that won't be included in your upcoming best man's speech, feel free to contribute to the toasting.
Choose a Date
There are several considerations to take into account when planning the date of the party. While it is tempting to have the party the night before the wedding when all the guests are in town, this is not an appropriate choice. The groom needs to be sharp for the next day's ceremony, not all tuckered out. Also, a rehearsal dinner is often planned for the same night and would conflict with your party. So choose a date several weeks before the wedding. If many of the groom's friends live out-of-state, you may want to push it back even further, so they need not twice make the same trip in a short period of time.
Send Out the Invitations
Invite all the men in the wedding party and all of the groom's good friends and male relatives with whom he is close.
Send out the invitations about three weeks before the party. The invitations should match the party's level of formality. If the party is to be formal, send quality, written invitations through the mail. If the party is going to be a more casual affair, a phone call or email will do. If the party will involve an activity such as the ones mentioned above, include information such as the cost, meeting place and time, maps, etc.
Each invitee should be responsible for paying for the cost of himself and chipping into the cost for the groom. In the invitation, include a respectful request for a check to be sent to you for the appropriate amount.