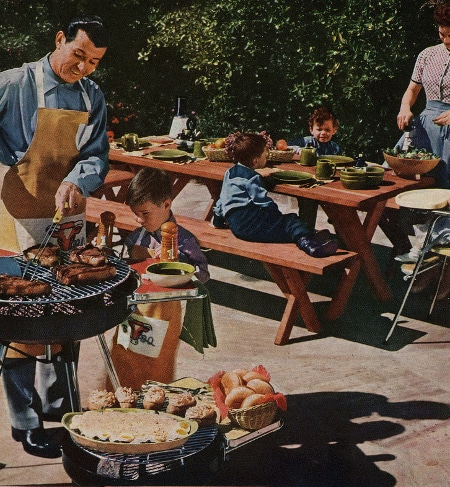 For many of us, Memorial Day weekend kicks off the start of another great summer. Thousands will flock to the beaches, lakes, and mountains of our great country to take in the warm sunshine and beautiful weather. Of course, I'll be right there with the rest of you. Readied with a cold beer in one hand and a spatula in the other, I spend the majority of my Memorial Day weekends surrounded by family and friends at our lake house on Georgia's scenic Lake Oconee.
On such weekends, my house typically becomes the center for all of the action. After all, my family is pretty well-known for never meeting a stranger. For instance, if you walked through my backdoor, momma would instantly offer up a variety of home cooked food and drink from her kitchen–quickly followed by an invitation to stick around for supper. I suppose it's true that the acorn doesn't fall too far from the tree. I owe momma a debt of gratitude for my cooking expertise and Southern hospitality.
Since I can't invite you all over for supper, I figured I'd offer up the next best thing: my recipes. Whenever I'm at the lake, I prefer to spend my time outside–just man and grill. These recipes provide an outstanding base of grilled fare for you to enjoy at your holiday cookout.
Most importantly, when you are surrounded by family and friends this weekend, enjoying some of the great recipes below, say a prayer for the members of our armed forces and their families. Some have made the ultimate sacrifice for our country. Many of them are fighting battles or serving far away from those that they love. May our hearts and prayers be with them until they safely return home.
Best,
MM
Bistro Steak Sandwiches + Caramelized Onion + Basil-Balsamic Mayo

Even with such a complicated name, this recipe couldn't be easier. However, don't let the ease of this recipe fool you, as it boasts tons of flavor. Follow my step-by-step instructions for this delicious and hearty favorite. (Prep 15 mins, Cook 45 mins, Serves 4)
Bistro Steak Sandwiches
4 Hamburger Buns (French-style if available)
2 lbs. Skirt/Flank Steak
¼ Cup Extra Virgin Olive Oil
Kosher Salt
Fresh Cracked Pepper
Caramelized Onions (see below)
Basil-Balsamic Mayo (see below)
Caramelized Onions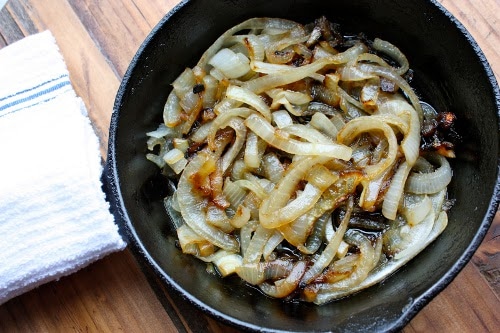 2 Large Yellow Onions, thinly sliced
¼ Cup Extra Virgin Olive Oil
1 Teaspoon Kosher Salt
Add ingredients into a skillet over medium low heat. Cook onions for 25 – 35 minutes, stirring often until browned and tender.
Basil-Balsamic Mayo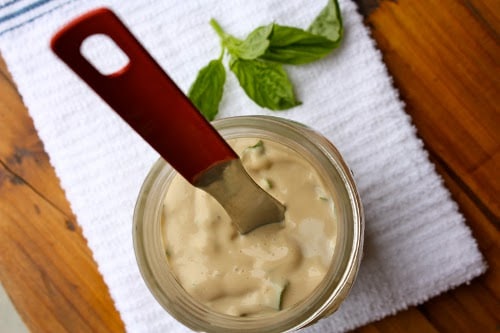 1 Cup Mayonnaise
1 Clove Garlic, finely minced
¼ Cup Fresh Basil, julienned
2 Tablespoons Balsamic Vinegar
Whisk together ingredients in a mixing bowl until thoroughly combined. Cover and keep chilled until ready to serve.
Cooking and Assembly
Preheat a grill or grill pan over medium-high heat. Slice buns and cook cut-side down over direct heat until slightly charred and toasted. Meanwhile, coat the skirt steak in oil and season liberally with salt and pepper. Add the steaks to the grill over direct heat and cook for 2 – 3 minutes on each side for medium rare/medium (depending on the thickness). Remove steaks from grill, allowing them to rest for 4 – 5 minutes before slicing. Next, thinly slice the steaks on the bias and across the grain every ¼ inch or so. Pile the sliced steak high on the bottom side of the bun, while generously coating the top side of the bun with the mayo and onions. Top off the sandwich and serve immediately.
Grilled Beef Kebabs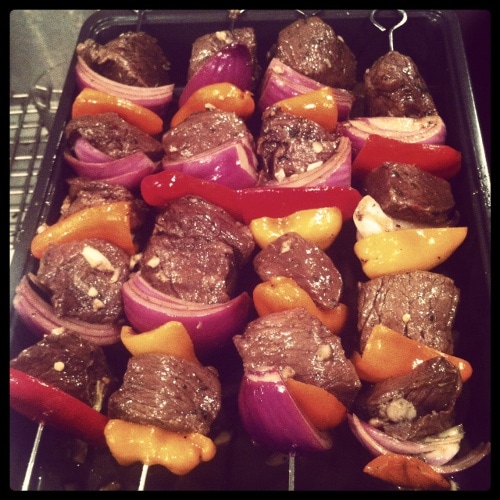 These juicy, marinated kebabs are perfect for preparing a day or so in advance, and pulling out to quickly grill and serve in a matter of minutes. Packed with tender beef and colorful vegetables, these are sure to be a hit with your guests. (Prep 15 minutes, Marinate 3 – 4 hours, Cook 15 minutes, Serves 4)
1/2 Cup Extra Virgin Olive Oil
1/4 Cup Balsamic Vinegar
2 Tablespoons Red Wine Vinegar
1 Lemon, juiced
10 Garlic Cloves, minced
2 Tablespoons Fresh Mint, chopped
2 lbs. Top Sirloin Filets, cut into chunks
1 Large Red Onion, cut into chunks
Assorted Sweet Peppers, seeded and cut into chunks
2 Tablespoons Kosher Salt
1 Tablespoon Fresh Cracked Pepper
3 Pinches Red Pepper Flakes
1 Teaspoon Allspice
1/4 Teaspoon Cinnamon
Add all ingredients to a zip-lock bag and marinate for 3 – 4 hours in the fridge, or overnight. Preheat grill over medium high heat. Skewer ingredients evenly on metal or bamboo skewers (soak prior to using). Place skewers over direct heat, grilling for 2 – 3 minutes on each side for medium. Remove and rest for 5 minutes prior to serving. Serve.
Grilled Rosemary Shrimp Kebabs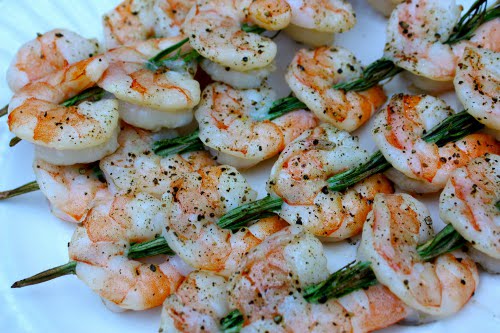 Tender, fresh shrimp are one of my favorite things to put on the grill. The rosemary doubles as a skewer, while also providing a nice, herbaceous flavor to the hearty shrimp. (Prep 10 mins, Cook 8 mins, Serves 4 – 6)
6 – 8 Large Rosemary Sprigs, soaked in water for 10 minutes
1 lb. Large Shrimp, peeled and deveined
Kosher Salt
Fresh Cracked Pepper
1 Lemon, juiced
2 Tablespoons Extra Virgin Olive Oil
Preheat one side of the grill to medium-high heat. Meanwhile, season shrimp in a bowl with a few generous pinches of salt and pepper. Add lemon juice and olive oil–toss until thoroughly combined. Begin skewering shrimp, starting at the bottom of the rosemary sprig and working your way to the top (with the leaves), careful not to overcrowd. Add shrimp to grill over direct heat, 1 – 2 minutes. Move shrimp to indirect heat and cook for another 3 – 4 minutes, or until firm and pink. Remove from grill and serve immediately.
Oven Roasted/Grilled Baby Back BBQ Ribs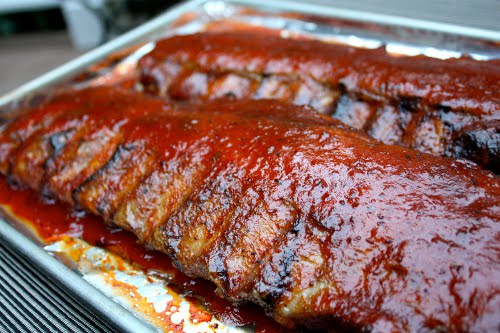 This recipe is written with the assumption that most of you do not have access to a smoker. For those that do, you can replace the cooking process described below with simply smoking the ribs over low heat (175 – 200 degrees F) for 3 – 4 hours. The result is a fall-off-the-bone rib that still packs plenty of bite and flavor. Substitute spare ribs if desired. (Prep 15 mins, Cook 3 – 4 hours, Serves 4 – 6)
2 Slabs Baby Back Ribs, trimmed
Extra Virgin Olive Oil
Kosher Salt
Fresh Cracked Pepper
Garlic Powder
BBQ Sauce (I use Johnny Harris BBQ sauce out of Savannah, GA)
Preheat oven to 175 degrees F. Meanwhile, line a large baking sheet with aluminum foil. Coat ribs in olive oil and season liberally with salt, pepper, and garlic powder. Place ribs, meat side down, onto the baking sheet and bake 3 – 4 hours. Next, preheat grill to medium-high, carefully add ribs over direct heat with the meat side up (as pictured) and coat in BBQ sauce. Grill for 10 – 15 minutes and serve.
Red Cabbage + Chive + Blue Cheese Slaw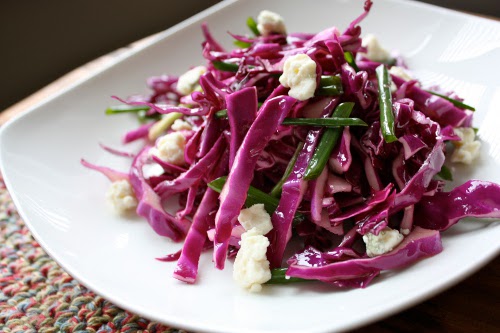 A colorful and delicious slaw, this version omits the mayo without losing any flavor. It's best to prepare this at least an hour in advance, keeping covered in the fridge to allow the flavors to meld before serving. This slaw makes a great side dish for all of the grilled items above. (Prep 15 mins, Cook N/A, Serves 4 – 6)

5 Cups Red Cabbage, thinly sliced
¾ Cup Chives, sliced every inch on the bias
½ Cup Crumbled Blue Cheese
¾ Cup Extra Virgin Olive Oil
¼ Cup Red Wine Vinegar
1 Teaspoon Kosher Salt
1 Teaspoon Fresh Cracked Pepper
Add the first three ingredients into a large serving bowl. Next, whisk together the remaining ingredients until thoroughly combined. Pour the oil and vinegar mixture over the cabbage and toss until evenly distributed. Cover, and keep in the fridge for at least one hour prior to serving. Serve chilled or at room temperature.
What's on your Memorial Day menu? Share your recipes and grilling tips with us in the comments!
Tags:
Recipes