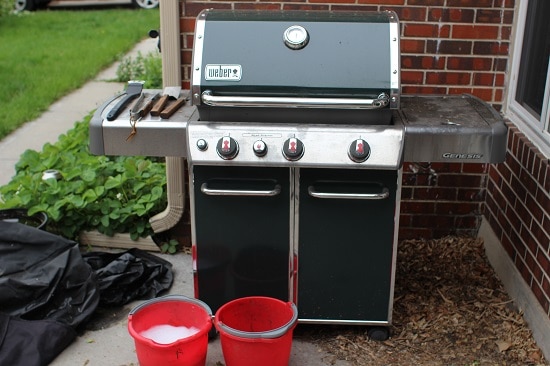 There is perhaps no finer way to spend a summer evening than grilling and enjoying the fruit of your efforts with friends and family. Doing so of course requires a properly functioning grill. Gas grills often have a long lifespan, but that can be shortened if you don't clean and maintain yours regularly. Burners can get dangerously clogged, gunk can build up so much that it causes small fires, and rust can take over your once-beautiful cooking machine. Luckily, maintenance and cleaning doesn't take too much effort. Read on to find out how to keep your gas grill functioning smoothly and belching meat-searing fire.
Maintaining Your Gas Grill
There's really not a whole lot you need to do to keep your grill in tip-top shape. Following the few tips below will ensure years and years of successful and safe cooking:
1. Routinely check for propane leaks. On a monthly basis, run some soapy water along the gas line and connections (with the propane turned on). If you see bubbles form, you know there's a leak, and you either need to tighten the connection or replace the line.
2. Cover your grill. Keep your grill covered when not in use. Most brands make their own covers, which of course have to be bought separately, but they're well worth it. Protecting your grill from the elements keeps it from rusting and becoming dirtier than it needs to be.
3. Clean it regularly. Beyond the detailed cleaning below — which should be done every few months when grilling a lot — you should also spot clean it after each use. Brush the grates, and wipe down the exterior with some Windex, and you're good to go. It's also a good idea to turn the grill up to high for 15 minutes once a week or so to burn off some of the excess gunk. Doing this ensures that grime doesn't build up too much, which can happen quicker than you expect it to.
Cleaning Your Gas Grill
Experts seem to agree that your grill only needs to be deep cleaned 1-2 times per year, but I'd say that with regular year-round grilling it should be done every few months. Veggies fall through the grates, chunky marinades splatter, and grease from your burgers and steaks build up rather quickly. You can often use the eye test and tell when it needs to happen. You'll see how dirty my own grill was with about 9 months between cleanings; it should have been done quite a bit sooner. If nothing else, do it before before and after the high holy summer grilling season.
All you need is a good grill brush, a bucket of soapy water, another empty bucket for your debris, and an old sponge that you don't plan on using again.
1. Give the grates an extra good scrub with your brush.
2. Remove and wash the burner protectors.
3. Wipe grime from the burners.
4. Get rid of all the gunk at the bottom.
5. Put your grill back together and enjoy some tasty victuals!