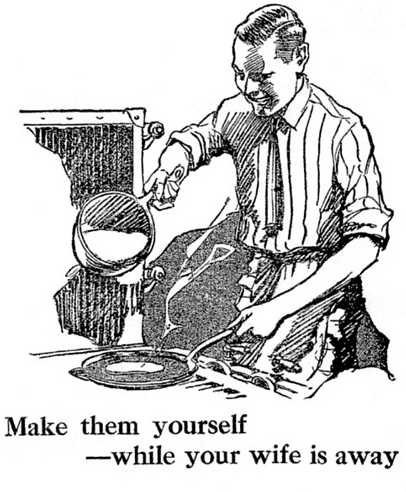 Eat breakfast like a king, lunch like a prince, and dinner like a pauper. –Adelle Davis
Breakfast has always been the man's meal. It's usually men who are in charge of whipping up glorious fire cooked breakfasts on camping trips, and dad who's flipping pancakes on Saturday morning. I'm not sure why this is. Maybe the hard working cowboys and frontiersmen of yesteryear understood the value of a hearty breakfast in the morning and always gave that meal extra attention. Perhaps back in the day when women were expected to make dinner, cooking breakfast on the weekend was a way for the man to take a turn in the kitchen. Maybe it's because men have always had an affinity for greasy spoon establishments and have a deep appreciation for the diner breakfast.
Or maybe it's just because we love sausage and bacon.
Most likely it has to do with the nature of breakfast food. It's simple and straightforward-never fancy or fussy. There are no five star gourmet breakfast restaurants, no wine pairings with your pancakes, and no foie gras omelettes. Breakfast is food without affectation.
At any rate, men love breakfast. We love to make it and we love to eat it.
And there's no better time for a good breakfast than the winter months. It's cold, dark, and dreary, and you want something in the morning that will stick to your ribs and fuel your day. Food so hearty and tasty that the anticipation of it actually gets you out of bed in the morning.
Punxsutawney Phil has predicted 6 more weeks of winter. So here are 5 hearty breakfasts to power you through to spring.
Cajun Breakfast Casserole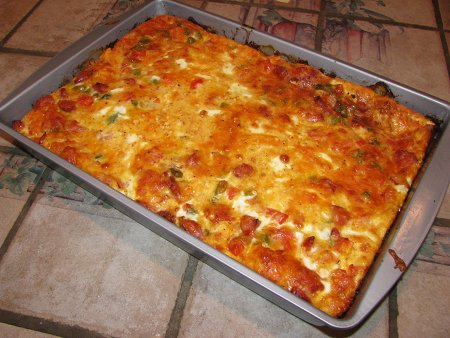 Breakfast casseroles are awesome. Their possibilities are limited only by your imagination. They can accommodate any combination of eggs, vegetables, meat, and bread; you can thus concoct one from anything you have hanging out in the fridge. But if you want a specific recipe, here's a good one.
Prep: 20 minutes, Bake: 40 minutes
Serves 6
Ingredients:
12 to 16 ounces smoked andouille sausage, thinly sliced
1/2 cup chopped onion
1/2 cup chopped red pepper
1/2 cup chopped green bell pepper
1 finely diced jalapeno pepper
1 medium tomato, diced
6 large eggs
1 1/2 cups milk
1 teaspoon Cajun seasoning
1/4 teaspoon black pepper
dash of hot sauce
4 slices bread torn in 1-inch pieces
2 cups shredded cheddar cheese
salt and pepper
Preparation:
Heat oven to 400°. Butter a 2-quart baking dish.
1. In a large skillet, cook sliced sausage with the onion and bell peppers until vegetables are translucent. As they near completion, throw in the tomatoes and let them cook a minute or two.
2. Whisk eggs with milk in a bowl with the Cajun seasoning, pepper, and any other spices you want to use. Add a few dashes of hot sauce to taste.
3. Arrange the torn bread over the bottom of the buttered baking dish. Sprinkle with the sausage and vegetables. Top with cheddar cheese and then pour the egg mixture evenly over the top.
4. Bake for 40 minutes, or until puffy and lightly browned.
Apple-Pecan Baked Oatmeal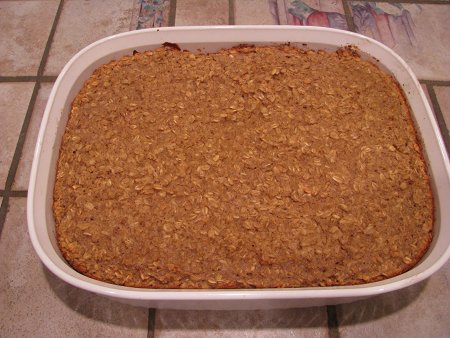 If you love oatmeal, but have never tried it baked, then you're really missing out on a whole lot of deliciousness. This recipe is like a hearty, good for you version of apple cobbler. It makes a ton too, so if you're a single guy or childless couple, you'll have tasty leftovers for several mornings after you make it.
Prep: 20 min, Bake: 45 minutes
Serves 8-10
Ingredients
3/4 cup chopped pecans
5 Granny Smith apples
1 (18-oz.) container regular oats
3 large eggs, beaten
1 cup firmly packed brown sugar
1 cup unsweetened applesauce
3 teaspoons cinnamon
3 teaspoons pumpkin pie spice
4 teaspoons baking powder
1 teaspoon salt
1 1/4 cups water
1 cup milk
1/4 cup melted butter
Preparation
1. Toast the pecans in a pan over medium heat until they are fragrant.
2. Peel and chop apples into 1 inch chunks. Spread the apples on the bottom of a lightly greased 13- x 9-inch baking dish (make sure the pan is pretty deep-the oats need a lot of room). Sprinkle toasted pecans over apples.
3. Combine oats and next 10 ingredients in a large bowl, stirring until well blended. Pour oat mixture evenly over apples and pecans.
4. Bake covered at 400° for 30 minutes; uncover and bake 15 more minutes or until golden brown and set.
If you're feeling a bit wild in the morning, it's extra good when topped with whipped cream.
Green Chili Breakfast Burrito Casserole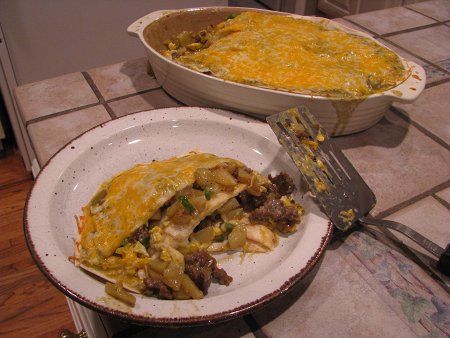 Breakfast burritos make a great morning meal. Fry up some eggs, sausage, onions and so on and wrap it in a tortilla. This casserole offers a twist on this standby, turning it into a green chili wet burrito layered lasagna-like thing. Trust me-it's awesome.
Prep: 20 min, Bake 25 min
Serves 4-5
Ingredients
1/2 pound sausage
4 eggs scrambled
3 medium potatoes, diced
1/2 onion, diced
1/2 green pepper, diced
1 can of green chili sauce
2 cups of Mexican cheese
Flour tortillas
Preparation
1. Fry up the sausage until it's browned. Set aside.
2. Fry up the potatoes. When they're almost done, add the peppers and onions, and fry everything until done. Season with whatever spices strike your fancy. I like to throw in paprika, salt, pepper, garlic powder, and fajita seasoning.
3. Spray a baking dish with cooking spray. Cut the tortillas in half and create a layer on the bottom of the pan. You can tear them in various pieces to cover the bare spots, but don't do too much overlap. Sprinkle in a layer of veggies, sausage, and eggs. Ladle on some of the green chili sauce. Sprinkle on some cheese. The depth and width of your pan and your desire will dictate how many layers you can make. But repeat the process at least once more, finishing with tortillas, sauce, and cheese on top.
4. Bake uncovered at 350 degrees for 25 minutes.
Nutty Buckwheat Buttermilk Pancakes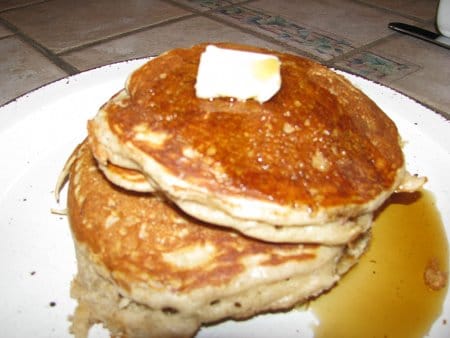 No matter what you call them-flapjacks, hotcakes, or pancakes, they are the quintessential breakfast food. Pancakes are a blank canvas that you can transform into a hundred different varieties of fried flour goodness. Chocolate chip pancakes, blueberry pancakes, banana nut pancakes-the sky's the limit. This is one of my favorite pancake recipes. It produces pancakes that are hearty, nutty, and filling. And the buckwheat makes you feel like you're eating something healthy.
Prep: 5 minutes Cook: 10 minutes
Makes 8 large, filling pancakes
Ingredients

3/4 cup buckwheat flour
3/4 cup unbleached white all-purpose flour
3 tablespoons sugar
1.5 teaspoons baking powder
1/2 teaspoon baking soda
1/2 teaspoon salt
1/2 cup pecans or walnuts, chopped
1.5 cups buttermilk
3 tablespoons unsalted butter, melted
2 eggs
Directions
1. Whisk together the dry ingredients in one bowl and the wet ingredients in another.
2. Mix the wet and dry ingredient together. It's okay for the batter to be a little lumpy. Overmixing the batter will result in tough panackes.
3. Grease and heat up a skillet over medium heat. Drop 5 inch circles of pancake batter into the pan.
4. Wait for bubbles to emerge on the top of the pancakes and then flip them over.
5. Top with butter and real Vermont maple syrup. The use of Aunt Jemima and her syrup impostor kin is punishable by 30 lashes.
Biscuits and Gravy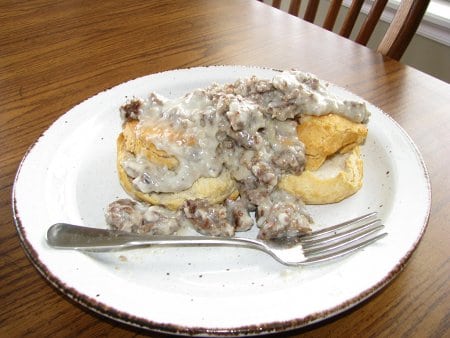 Looking for some good Southern comfort food? Look no further than biscuits and gravy. Nothing else can warm your belly like hearty gravy filled with savory sausage.
My tip: As much as you might like sausage, don't go overboard on it. As you can see, my sausage gravy turned out more sausage than gravy. But I love sausage, so I really didn't care.
I'm not yet confident enough in my culinary skills to make my own biscuits and thus used the refrigerator roll variety. But if you'd like to make your own biscuits, more power to you brotha.
Sausage Gravy
Ingredients
1-pound package pork sausage
Flour
About 1 quart of 2-percent milk
Salt and pepper
Directions
1. In a large skillet, brown sausage over medium heat.
2. Add flour — enough to coat the sausage. Stir until it absorbs the grease from the sausage.
3. Add milk (1 quart or more, as needed), salt and pepper. Stir until thickened. If it's too thick, add more milk.
4. Pour over your biscuits. Enjoy.
Tags:
Recipes