After taking a summer break from podcasting, I'm back in the saddle. And this week's episode is a great one to come back on. I have a very enjoyable discussion with strength training expert and author Mark Rippetoe about barbell training. Mark is the author of the popular book, Starting Strength: Basic Barbell Training. Since 2005, Starting Strength has sold over 250,000 copies without any marketing; its solid advice has simply spread by word of mouth.
Show Highlights:
Why a man should be strong
The benefits of barbell training over machines
The manly strength of old-time strongmen
The importance of form in barbell training
The main lifts every man should be doing
Mark's opinion of Crossfit
And more!
In next week's episode, Mark answers questions that were submitted by AoM readers.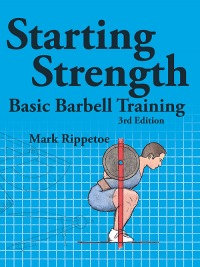 If you want to get strong, then I highly recommend picking up a copy of Starting Strength. It's the most comprehensive book on barbell training out there that's geared for the complete beginner. Even if you've been lifting for awhile, you're bound to learn a thing or two from Starting Strength. And stay tuned for a great article by Mark next month on why barbells beat machines for building strength, hands down.