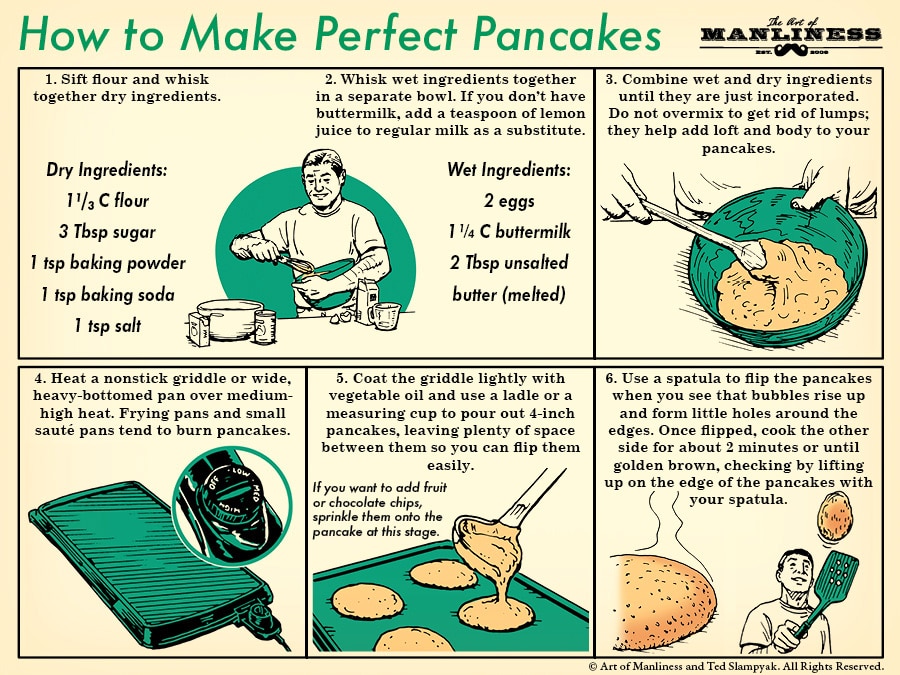 Let's start by admitting that the nature of a perfect pancake is a subjective thing. Some people love thin, almost crepe-style pancakes, while others crave flapjacks that are heavy and almost cakey in texture. In the middle of those extremes is what we're after — a pancake that's got crispy edges and a moist, but not too dense inside. If you want to make the sort of hotcakes you'd find at an all-night diner in the middle of a long road trip, where heavy ceramic mugs accompany warm jugs of maple syrup ready to pour over golden stacks of butter-covered pancakes, these instructions will guide you.
The key to creating these divine cakes starts with fresh ingredients: don't use flour, baking soda, or baking powder that's more than 6 months old, as it weakens key interactions that make the difference between great flapjacks and mediocre ones.
Like this illustrated guide? Then you're going to love our book The Illustrated Art of Manliness! Pick up a copy on Amazon.