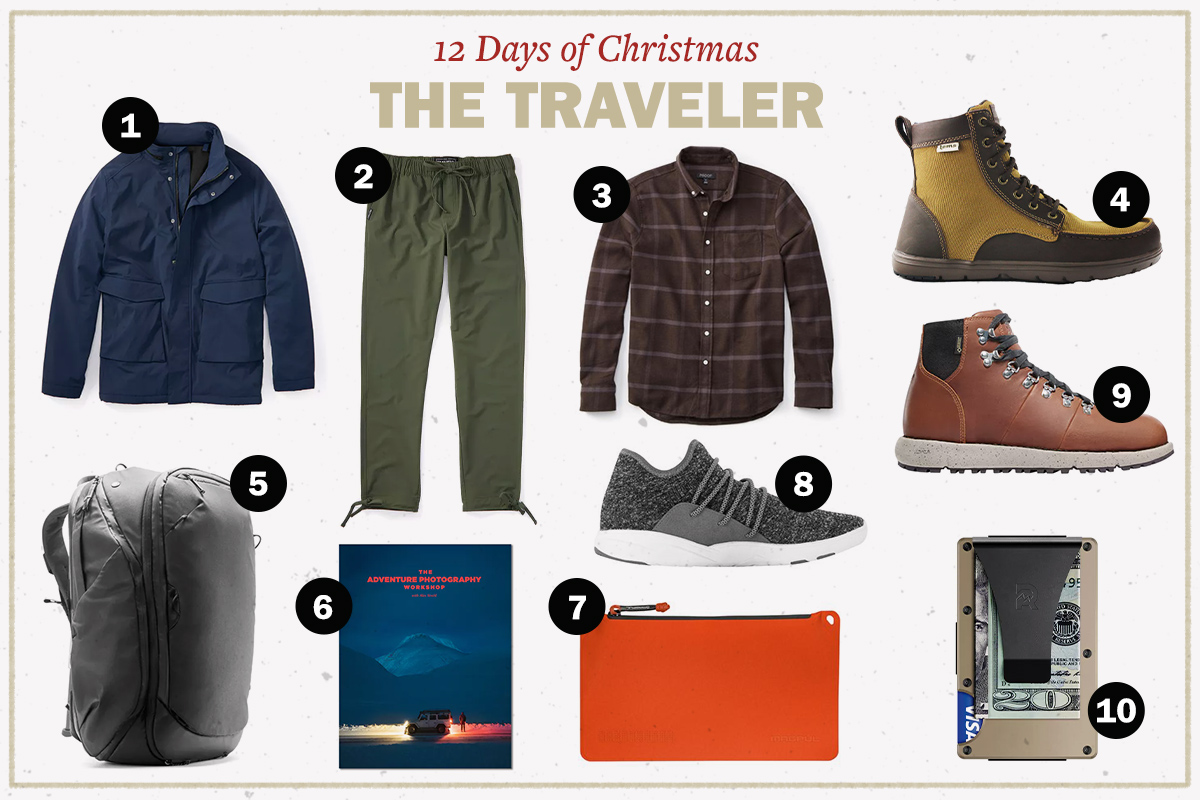 Welcome to AoM's 12 Days of Christmas! We've partnered with Huckberry to bring you 12 straight days of awesome gift guides and giveaways. Each day will feature a different Huckberry shop with 10 gift ideas, as well as a giveaway. The giveaways will run until 12pm CT the next day, and the winner will get to choose an item of their choice from that day's featured shop.
For the man with an insatiable wanderlust, give a gift that will help make his trips easier and more enjoyable. Below you'll find 10 great gift ideas from Huckberry's Gifts for the Traveler Shop that'll enhance a traveler's journeys and explorations.
The 12 Days of Christmas: Gifts for the Traveler
1. Proof Field Jacket. A mid-weight option that is versatile enough to take you from day into night, and work into weekend. Includes a secret "stash" pocket for your valuables that can be accessed without unzipping the jacket.
2. Coalatree Trailhead Pant. The adjectives for this ultimate travel pant are many: lightweight, packable (into its own front pocket, in fact), quick-drying (for an easy wash in the sink), durable, smartly built, and comfy. You won't be leaving home in anything else anytime soon.
3. Proof Heatseeker Flannel. While it might look like your favorite flannel, this shirt is softer and packs a technical punch like a mid-layer you'd wear on a hike. Built from a brushed thermo-regulating fabric, it keeps your temperature in check like merino wool and is machine washable.
4. Lems Boulder Boot. The Boulder Boot is stain- and moisture-resistant so it'll hold a clean and classic look for all the trails and puddles you can throw its way. At a featherlight 9.9 oz., the Boulder Boot is the perfect travel companion, as the heel and toe can be completely folded together to save space.
5. Peak Design Travel Backpack. A backpack that can adapt to any itinerary and is perfect for any one-bag trip. Peak also knows, though, that no trips are the same, and they've built versatility into this bag's DNA. All kinds of pockets, stowable straps, and rear and side access to the main compartment — this pack will do whatever you need it to.
6. Adventure Photography Workshop. Huckberry Ambassador Alex Strohl (whose work has been featured in National Geographic, Vanity Fair, Forbes, and more) is offering this photography workshop which features 5 hours of video lessons, a workshop manual, and some of Alex's favorite tips and tricks.
7. Magpul DAKA Waterproof Pouch. Heavy-duty, reinforced pouches that'll protect your gear, cash, smartphone, etc. no matter the elements. These are a must-have for any outdoor adventure.
8. Vessi Waterproof Knit Shoe. A fully waterproof shoe made from the same type of nano-filtering membranes that technical rain shells use. Not only are they waterproof, but also breathable and odor-resistant. When the weather turns sour, you'll turn to your Vessis.
9. Danner Vertigo. From a legendary brand in the hiking world, the Vertigo will be your go-to hiker for years — maybe even decades — to come. The full-grain leather upper offers superior durability and water resistance. The Vibram outsole offers unmatched traction and balance, especially in slick conditions.
10. Ridge Aluminum Wallet. This slim aluminum wallet gives you RFID protection without the bulk that often comes with that distinction. The expandable track holds anywhere from 1-12 cards, giving you ample versatility based on your outing.
Giveaway
The Prize
Any item available in Huckberry's Gifts for the Traveler Shop.
Enter the Giveaway
If you are an email subscriber, do not reply to this email to make your entry. You must click on the title of this post, which will take you to the post on our web page where you can make your entry. Use the form below to enter. Don't forget! You have multiple ways to enter! The more of them you do, the better your chances are!
12 Days of Christmas: Gifts for the Traveler

Deadline to enter is 12pm tomorrow (Central Time), December 10th, 2018.