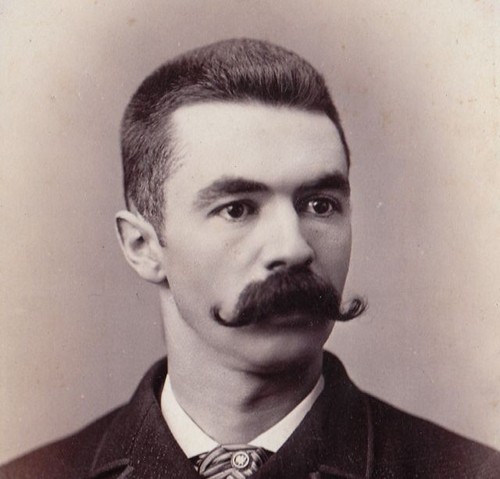 Hark!
That most virile of seasons is once again upon us. It is time for Movember.
For those of you who are new to the site, every November AoM takes part in an annual, month-long fundraiser called Movember. Started in 2003, Movember is a yearly global charitable campaign that celebrates the mustache while highlighting and raising money for men's health issues–specifically prostate cancer, testicular cancer, and male depression. During the month of November, men grow a mustache and raise funds for charities like the Prostate Cancer Foundation.
We're going to be celebrating Movember here on the Art of Manliness website by inviting readers to grow a mo during the month of November. Last year the AoM Movember team raised over $49,000! I know we can top that goal this year. Ready to join us in the fight against prostate cancer? Here's what to do.
How Movember Works:
1. Awesomely manly Aussie and Movember veteran Shaun Daws has started an Art of Manliness team on the Movember site. As team captain, he'll be keeping an eye on the leader board and encouraging you along.
To join the Art of Manliness team, you must register on the Movember site. You must register as a "team member" so we can keep track of your progress. You can register for the AoM Movember team by clicking on one of the following links depending on where you live.
2. On November 1, you must start out clean shaven. You will then commence the growing of your beautiful, hairy mustache masterpiece. You cannot shave your mo until Nov. 30, and you must adhere to the following grooming rules:
There is to be no joining of the Mo at the sideburns–that's a beard.
There is to be no joining of the handlebars at the chin–that's a goatee.
A small complimentary growth under the chin is allowed (aka The Tickler).
3. During the month, hit up friends and family to sponsor your mustache-growing and donate to the cause. Raise as much money as you can! Basically this is like a walkathon, but instead of getting people to sponsor you for doing laps in a windsuit, you get people to sponsor the growing of your manly mustache. It will be hard to restrain your friends and family from donating.
4. Shaun has created a Movember Group in the Art of Manliness Community. Join the group and encourage your brothers. Shaun will be posting news, pictures, and updates, and you should do likewise. Let everyone see how your stache is progressing!
5. If you don't have the cojones to grow a mustache (or if you don't have cojones, period) you can still donate to the AoM Movember Team. Ditto for those who, like me, already have an awesome mustache, and don't want to shave it off. 

Men, this is your big chance to grow the mustache you've always dreamed of having but been too scared to attempt. The beauty of Movember is that during the early growing stage, the stage where the newly formed mustache's appearance is so unsightly that men give up and shave, you have a ready and worthy excuse for why you look sort of skeevy. People will not only abstain from laughing at you, men will pat you on the back and women will kiss you with joy. Then, at the end of the month, when the awesomeness of your stache is in full bloom, people will be in such awe of your cookie duster that they will beg you not to shave it off. It's win-win here, folks.
Show Your Art of Manliness Movember Team Pride With a T-shirt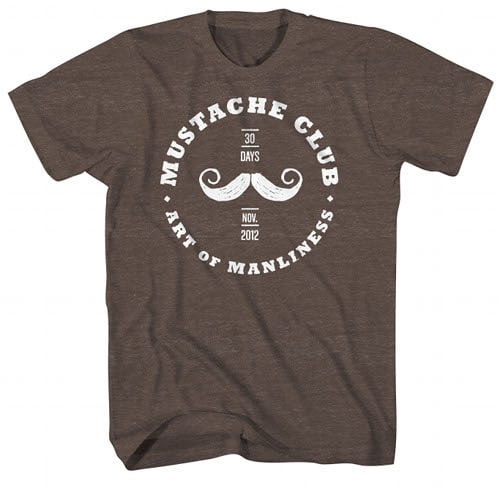 After you sign up for the AoM Movember team, be sure to pre-order an official Art of Manliness Movember Team T-shirt. The fine folks at TankFarm Clothing will be donating $7 of every purchase to the Art of Manliness Movember Team. T-shirts will be shipped before the start of Movember, so you'll have it during the month. It's just another way you can support the battle against prostate and testicular cancer and help propel the AoM Movember Team to victory. Plus, it's an excellent conversation starter and way to let people know why there's furry caterpillar sitting on your upper lip.
Saddleback Leather Company Dopp Kit + Classic Shaving Gear + Art of Manliness Collection = One Awesomely Manly Prize
Besides being rewarded with a great looking mustache, the Art of Manliness team member who raises the most money for the AoM Team will also receive the following prize package:
Saddleback's Travel Case is the ultimate man's dopp kit. Made with thick, full-grain boot leather, it comes with a 100 year guarantee. And packed inside this manly piece of tack you'll find the following classic shaving gear:
Art of Manliness Collection Boxed Set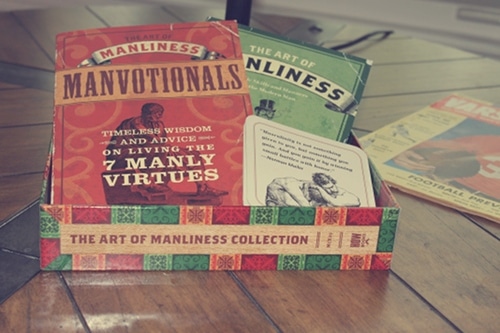 We're also throwing in a signed edition of our Art of Manliness Collection. This vintage inspired cigar box contains both of our books as well as six coasters bearing manly iconography and quotes.
Contest is open to men 18 years and older living in countries in which we've created an AoM Movember Team. No purchase necessary. Void where prohibited.
I hope you will join us this year in this noble and charitable cause. Last year the AoM team came in 12th place in fundraising among all the teams in the US. Fire up your mustache-growing and help us move into the top ten this year! Onward mustached soldiers!
Last updated: October 31, 2013