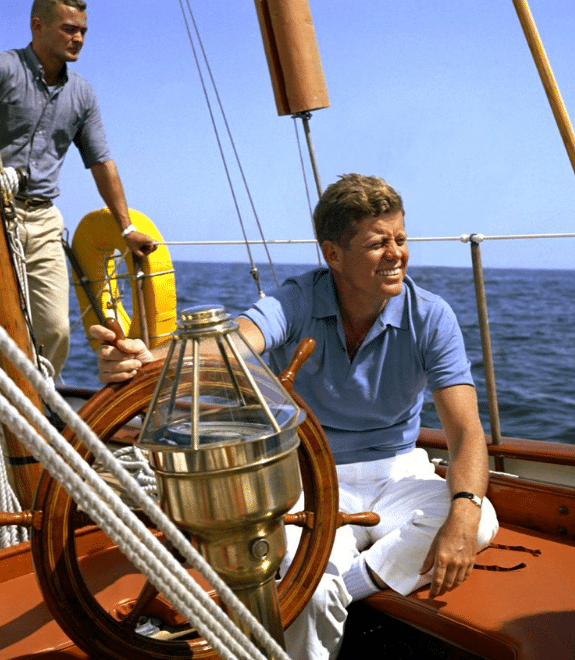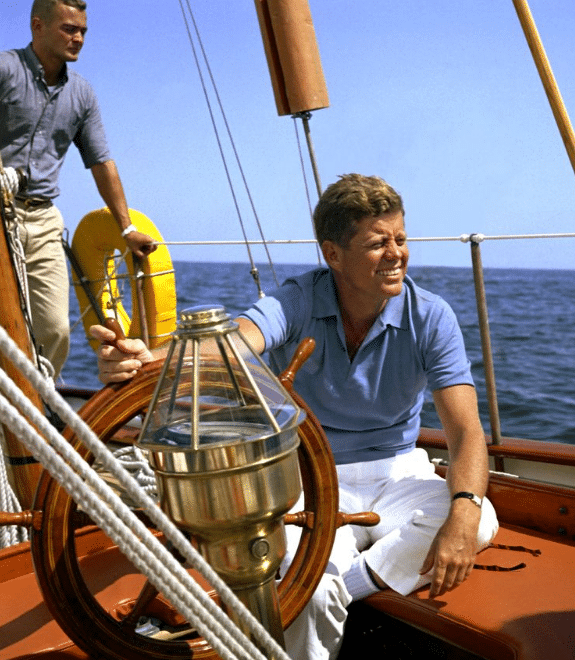 Summertime means picnics, barbecues, fireworks, boating, and more.
Figuring out what to wear to all those events, however, can be a challenge even for the sartorially minded. The comfortable business default of a traditional suit is both too formal and too hot, and the uber-casual look of shorts and a tee just doesn't look as sharp as other equally lightweight and cool options.
So what's a man to do? Never fear! Below, we provide a variety of warm weather outdoor event options.
The Upper Body: Summer Shirts
Most outdoor events are not going to require a necktie. That frees you up to consider just about any type of shirt.
A good summer shirt for social events should be light, breezy, and just a little dressy — far enough removed from a T-shirt that people can tell you're making an effort, but not so business-like that you could wear it to an office job.
Here are a few styles that work well in summer outing wardrobes:
Lightly-Patterned Dress Shirts
If you want an easy option that works for everything and requires no thought, invest in a couple of 100% cotton dress shirts with a light pattern on a white background.
These have the advantage of being business-appropriate as well as social-appropriate, meaning they can do double duty: you can wear one with a jacket and tie to work, and then whip off the tie for an evening event outdoors.
The long sleeves are also handy if things get cold. The rest of the time you can roll them up, making the shirt more casual (a good thing for social settings) and keeping you cool (a good thing for summer in general).
Dress shirts mostly look better tucked in, but younger men can get away with wearing them untucked in casual settings. It's a flexible option, and one that you can customize to suit just about any look and level of formality.
Polo Shirts

The summertime classic. Polos (and the other varieties of knitted, short-sleeve shirts with soft turndown collars) are safe, respectable, and comfortable. You're not likely to be underdressed at any outdoor occasion that didn't come with a specific dress code on the invitation, but you're also not stuffy.
For these reasons, the polo has become many a guy's go-to, which is fine, but it's popularity also means you won't stand out much. You can up the distinctiveness of the polo by getting one that actually fits well (many men make the mistake of wearing a polo that's excessively baggy) and has a handsome, un-corporate look, and by adding accessories like an interesting watch or bracelet.
You can throw a jacket over a polo if you want to, but it's not quite as natural a match as pairing one with a dress shirt.
Short-Sleeved Button-Downs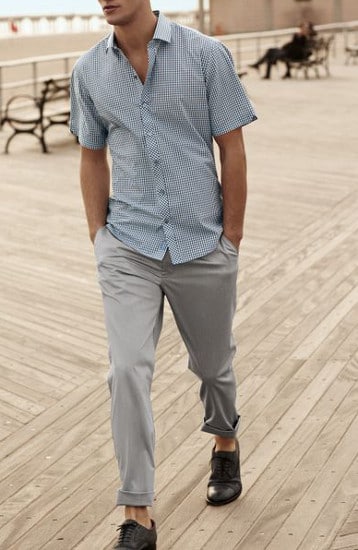 Right in between the dress shirt and the polo in formality are button-fronted shirts with turndown collars and short sleeves.
These can come in any number of fabrics and weaves — linen, poplin, and seersucker are some of the most common, along with cheaper synthetics. Patterns range from plain white to vertical stripes, to bold graphic patterns, to chambray, and Hawaiian prints (though we don't recommend the latter for anything but a beach or pool party).
Short-sleeve button-downs look good (as long as you get the fit right — no excess bagginess in the sleeves or body), have a little more of a unique feel than a polo, and are usually cut with a squared-off hem for wearing untucked. You don't normally layer these, and in the summer that's just fine.
Guayabera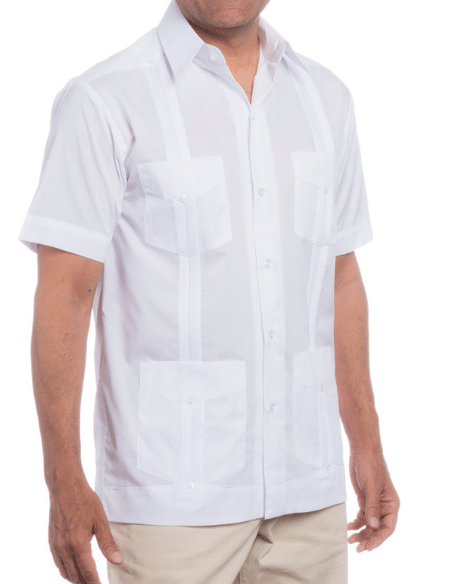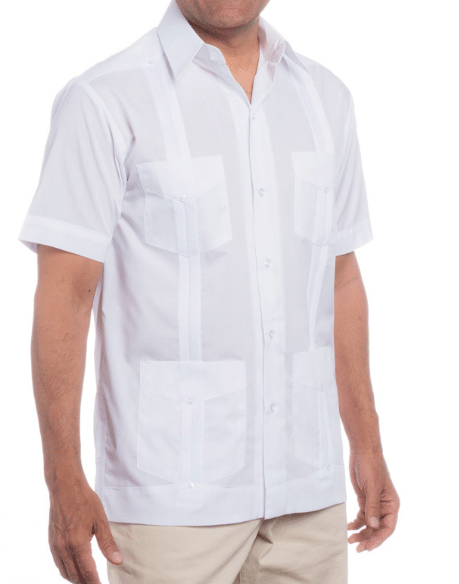 Technically, these are just a style of short-sleeved button-up, but the cultural heritage and unique style earns them their own mention.
Guayaberas are popular in South and Central America, come with large front pockets and, typically, vertical pleats or embroidery on either side of the button placket. They're acceptable as both social and business wear in a number of countries, with plain white versions covering the more formal end of the spectrum and fancy, multicolored versions used for social events and celebrations.
If you want to stand out a little from the crowd at a typical North American picnic, a guayabera is a good way to do it.
T-shirts, Henleys, Etc.
At the least formal end of the outdoors scale are collarless knit shirts. T-shirts and henleys are both typical examples, and in the evenings, long-sleeved versions of both can occasionally be seen as well.
While these are casual, they're absolutely fine for relaxed summer settings. Stick to solid colors and close fits and you're in good shape. Avoid loose, baggy shirts with graphic designs or logos, however, and steer clear of heather gray athletic shirts. Those just make you look like you got lost on your way to the gym. You can learn everything you ever wanted to know about wearing t-shirts with style here.
The Lower Body: Summer Trousers
Any of the shirts discussed above will look better when you pair them with some stylish trousers.
For outdoors events you want a combination of qualities that can be tough to find: light weight and breathability for comfort, and durability and stain resistance (or at least easy cleaning) for inevitable wear and tear. And, of course, the pants have to look good.
Here are a few of our favorite styles:
Tropical/Summerweight Wool Slacks
When you want to look nice and you aren't going to be too physically active, lightweight "tropical" wools are your fine-looking friends.
If you think "wool" and "summer" are two mutually exclusive concepts, you need to get to know this fabric better. It's naturally moisture-wicking, surprisingly breathable in all four seasons, and can actually weigh less than many cotton options.
Any color works, though gray and navy are probably the most common. Wool holds a good crease, drapes smoothly, and lends your pants a nice texture and shape.
Wool trousers are a good option for any nicer, collared shirt, especially if you're going to be slipping on a jacket. For your dressiest outdoor events, light- to medium-gray slacks with a lightly-patterned dress shirt and a blazer makes an ideal get-up.
Khakis
The term "khakis" gets used so broadly by clothing manufacturers that it's almost meaningless these days.
Go ahead and indulge in the same linguistic laziness. Any pants you've got lying around in a twill cotton weave and some sort of tan color, you can call khakis if you want to. No one's going to quibble.
They're comfortable, look summery, and go with everything, making khakis an easy default, but so many companies make them that quality can vary widely. A pair of khakis isn't automatically light or breathable just by virtue of being cotton — in fact, many of them are heavier than wool slacks would be.
For good outdoors wear you want a pair that's lightweight and not too fussy. Darker shades of brown will hide stains better and look good year-round, but lighter ones have more of a summertime feel. Be sure to read our complete guide to khakis for a ton of tips on how to wear them with style.
Chinos
Again, we're talking about terms that have been badly mangled over the years, but for practical purposes let's just use chinos to define cotton twill pants that aren't in the khaki color family. (That's not technically accurate, since the original "chinos" were a light tan themselves, but it seems to be the going usage at big box retailers these days, so we'll work with it.)
The big advantage of non-khaki chinos is exactly that: they're not khakis. That helps them stand out in the crowd. Earth tones and dark colors like navy blue work well, and can provide some helpful contrast for men with high-contrast complexions who want to wear a light-colored shirt.
Seersucker

Perfect for the hottest days, seersucker is one of your lightest options. It has a distinctive dimpled weave, and is often made in either plain white or white with a candystripe pattern, usually blue.
There's not much to say about seersucker trousers except that they're great, and well worth owning a pair. You can dress them up or down; they do equally well with a blazer and with an untucked, short-sleeved shirt.
Linen
Another lightweight material, linen makes very breezy, flowing trousers. They don't hang as straight as cotton or wool, aren't ironed to a crease, and the fabric is prone to wrinkling with wear.
Linen's a great fabric, but a little harder to maintain than cotton or wool. Our advice is to relax and not worry about some minor wrinkling — it's part of the natural texture, just like seersucker's dimples.
Traditional advice is to only wear one piece of linen: no linen shirts paired with linen trousers or jackets, and so forth. In practice, you can break that rule if the textures aren't a close match, but exercise some caution. You don't want two things that look similar but aren't quite the same.
Summerweight Jeans
Most people don't usually think of denim as a summer fabric, but it's both casual and sturdy, which makes it a nice alternative to the options above when you're doing something more rugged and less fancy.
That's when it's time to find a good lightweight denim option. Buckley Denim makes a good lightweight pair of selvedge jeans, and there are some others out there — look for a light ounce weight and a slightly looser fit to keep the jeans cool in the heat.
A pair of good dark jeans is a great way to dress down an outfit. Since they're less commonly seen in the summer, you'll also be sure to stand out more than you would in cotton khakis or chinos.
For the more adventurous, you can also get jeans in lighter colors, ranging from plain white (a classic summer look) to bright neons (more contemporary and bold). Levi's has a decent line of colored jeans, and so do a number of smaller brands.
Synthetic Trousers
The traditional synthetics — polyester and rayon — aren't good summer gear. They're not really good gear for any time of the year, apart from being cheap and sturdy.
But science has moved on, and you can find some great summer gear made mostly or entirely from synthetics now. Camping and sporting goods stores are a good place to look for lightweight, breathable trousers made of things like nylon, polypropylene, and even more esoteric compounds.
These tend to be in a casual style, but you can still wear them to some outdoors events. A basic pair of "expedition" pants (lightweight, synthetic pants with cargo pockets, available from most outdoor-wear brands) paired with a polo or short-sleeved button-up is a great option for events that involve short hikes, games played on grass, or other physical activities.
As an added bonus, some can be zipped off at the knees to convert into shorts or impromptu swimming trunks.
Shorts
We've placed shorts last on this list for a reason — they're just not quite as stylish-looking as long trousers, no matter how well you wear them.
If you're going to wear shorts to a social event, make them stylish ones. Go for the relatively fitted, flat front variety, rather than the very baggy cargo type. The shorts should be longer than mid-thigh but shorter than your knees — just touching the tops of the knees, or slightly above them, is a good benchmark. The fit should be close in the crotch, without sag, and the legholes should be wide enough to let a bit of air in, not snugged down against your skin.
Patterned shorts, as opposed to solid colors, are less formal, but they're a good way to say "this is a conscious style choice as opposed to a convenience outfit" — and if you're wearing shorts, you're not that worried about formality anyway, so you might as well go with the pattern.
Further reading on when, where, and how to wear shorts the right way.
Rolled Cuffs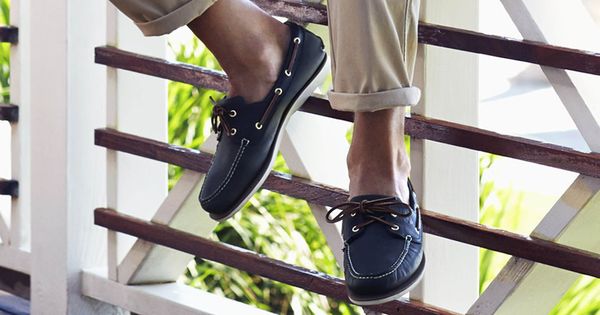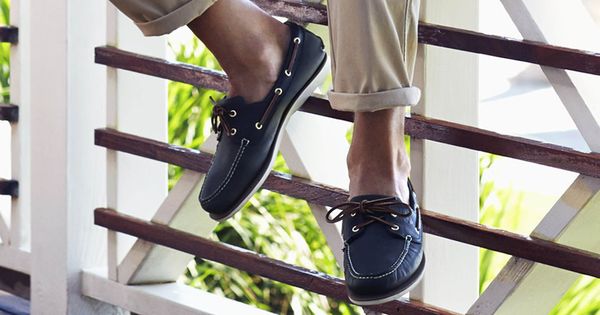 Any pair of trousers can be rolled up — either for style or function or both. This can be done anywhere from one turn over to bare a bit of the ankle, on up to knee-height for wading into ocean surf. Rolling past your knees gets a bit bulky and looks strange, so stop at the knee. And if you're not actually digging for clams, and the rolls are largely for looks (and a bit of ankle ventilation), shoot for a 1 to 1.5-inch cuff, doubled.
As a general rule of thumb, you don't want to be wearing socks when you roll your trousers. If you think you're likely to pull a trouser roll at some point in the event, go for slip-on shoes worn without socks.
That's not to say that people don't wear bright, decorative socks and then roll their pants to show them off…but those people are pushing the boundary of "flaunting" as opposed to "style." Exercise caution.
Jackets, Shoes, and Belts
Shirt and trousers — that's about all you want to be wearing in the summer, most of the time.
But you'll need a few accents, and from time to time you might want to slip a jacket on, so consider these:
Lightweight Sports Jackets and Blazers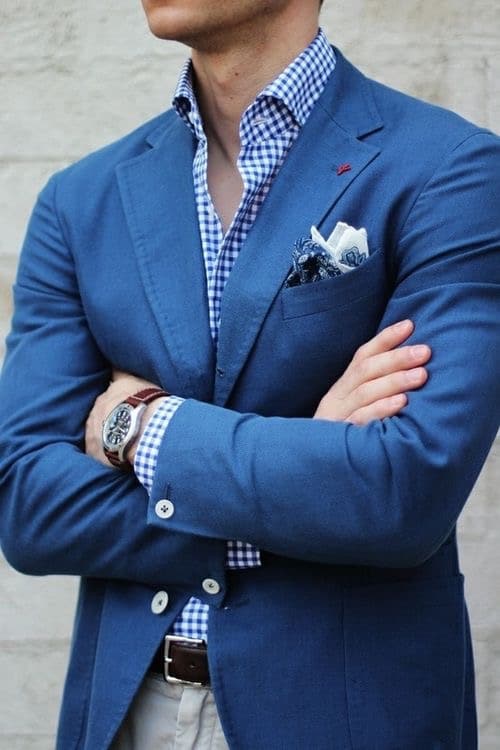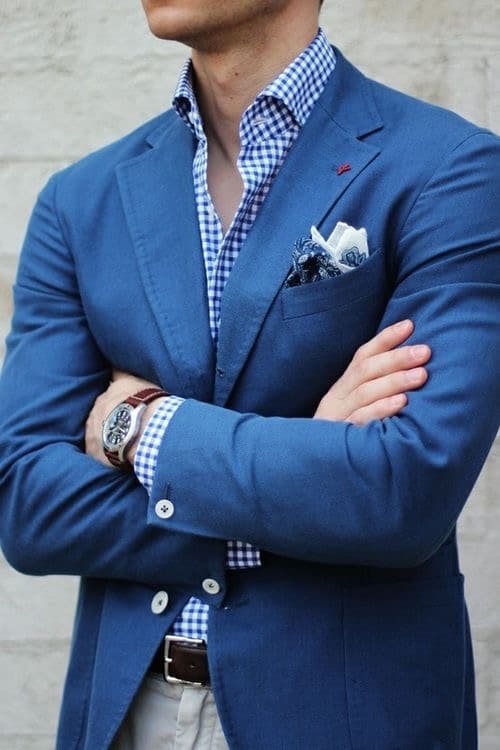 If you need to be more formal than shirtsleeves in the summer, a solid, light-colored blazer in a lightweight fabric is your best bet. Seersucker, linen, light cottons, and tropical wools all work for you here.
It can feel odd to buy a light, breezy jacket at first, but once you have one you'll wonder how you ever made it through the summer without.
Solid colors are best because you can pair them with any sort of patterned shirt or trousers, and lighter colors help keep it summery (as well as reflecting the sun better in the daytime).
Slip-On Shoes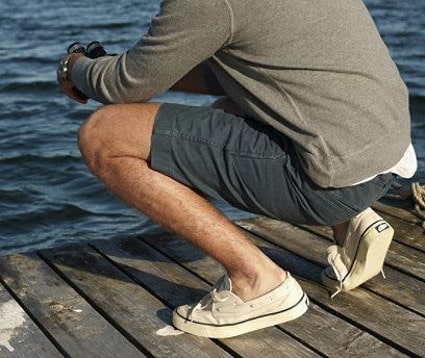 If your closet doesn't have anything between leather lace-up dress shoes and sports sandals, now's the time to change that.
Summer is the time for slip-on styles with a little dress to them — loafers, boaters/topsiders, and so on. When you're being really casual you can go to sandals, but even then it's preferable to go with something leather-strapped and earth tone, like Birkenstocks.
Tevas just aren't going to look good with khakis and a nice shirt, no matter how comfortable or practical they are. Get a pair of loafers or deck shoes and break 'em in.
If you're in the stubbornly anti-boat shoe camp, go with a pair of canvas shoes like Converse, worn sockless.
Casual Belts
It's amazing what a colorful or unique belt can do to turn even the most basic khakis/dress shirt combination into an "outfit."
Step away from the conventional "solid strap of brown or black leather" model a little in the summer and add some leather weave, canvas, fabric, webbed, or even rope belts to the wardrobe. When you do wear a solid leather belt, try to put an interesting buckle on it so that you've still got some uniqueness there.
These are only important if you're tucking your shirt in, of course, but when you do, they're a must.
Hats
Traditional men's hats go in and out of style every few years it seems, and when they're out, they can seem like an affectation. But summer is the easiest time to pull off wearing one, because it's the season when they most clearly serve a functional purpose (keeping the hot sun off your face and neck).
The best summer hats include Panamas, straw fedoras, and tilleys. Look for those made from plant fibers, and woven in a way that they can block light, retain their shape, and allow airflow. Beware of gummed-up straw hats that do not allow airflow through the crown. Despite feeling lightweight in build, they are like wearing a plastic bag on your head and are more suited for show than function.
Depending on your needs, the brim's size can vary widely; roughly, the rule is that the wider the brim, the more functional it is, and the narrower the brim, the more sleek and stylish. My advice here is to go for a brim that's just large enough to keep the sun off your face and neck when the sun is at its peak.
Conclusion
Summer events are easy to dress for — all you need is a shirt, some trousers, and a pair of slip-on shoes.
But good, summer-appropriate versions of all those things aren't always a top priority when men buy clothes. You can end up limping along with "all season" clothing for a long time, putting off the purchasing of summer-specific gear.
Break the habit and get yourself some casual, stylish, lightweight summer clothing. You'll be amazed how much better you feel — and how much better you look.
____________________________
Written By Antonio Centeno
Founder, Real Men Real Style
Click here to grab my free ebooks on men's style