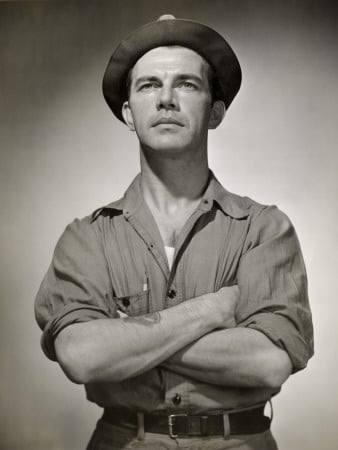 The term "blue collar" has its origins in the blue colored shirts of the working class.
Unlike "gentlemen" who wore white shirts, the blue collared man labored with his hands and didn't wear white cuffs or collars as they were impractical. Instead, he wore blue cotton shirts dyed with inexpensive indigo which helped cover up his clothing's imperfections after hard wear.
The blue collared shirt, and blue collared man who wore it, became a universal symbol of the working class. The French have their bleu de travail, we have our blue collar working man.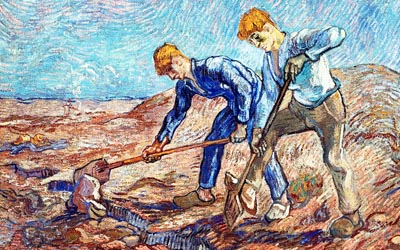 Today we're going to discuss several dressing and style tips that can be used by the blue collar man to improve his working wardrobe.
Of course there will naturally be those that consider the topic of this post a contradiction, arguing that men who work with their hands care little for how they dress, as they are measured by results, not appearances.
No one is suggesting that blue collar men should be interested in fashion trends or become fastidious about their clothes. But giving a little attention to how you dress can improve the functionality of your clothes, increasing both your personal comfort and your safety as you work. It can also boost your confidence and bolster the impression you make on people. Many blue collar men–like plumbers and electricians–are contractors that need to win clients and repeat business. Customers are going to be most concerned about the work you do, but your appearance can help win their trust as well.
Finally, how you dress, no matter what line of work you're in, is about more than just appearance. Style in clothing is about expression of the self through selection and maintenance of gear that reflects the tastes and pride of the individual.

Three Style Guidelines for the Working Man
1. Clothing is Functional
Above all else, the blue collar man's clothing does its job. His boots protect his toes and keep him steady on oily ground; his shirt covers his forearms from sparks; his head-wear shields him from the sun.
Never skimp on clothing that will protect you. Now that doesn't necessarily mean buying the most expensive pair of boots out there; it means understanding what your needs are and buying the item which will protect you even if it means purchasing it at full price. That steel beam isn't going to wait for you to be ready to fall on your foot.
2. Clothing Should Fit
Clothing that fits right simply looks better. It displays your healthy manly physique. Clothing that's too big makes you look sloppy and square.
But more importantly, clothing that fits stays out of the way and performs better by giving its wearer more freedom of movement. This may seem contradictory–shouldn't looser fitting clothing give you more room to move? The answer is no.
Looser fitting clothing that sags too low in the crotch and has too large of an armscye restricts movement of the arms and legs. In addition, excess fabric along the torso and extremities is likely to be caught on sharp edges and can lead to very dangerous situations around moving parts.
3. Clothing Should Be Put on Clean
Every morning when you get dressed, the clothing that you wear next to your skin should be clean and presentable. Although your work may be of the nature that it's almost impossible to not be covered with grease by the end of the day, you put forth the effort to be clean and orderly around your family. A clean presentation may take effort, but it is always worth it when you can hug your daughter and not worry about staining her dress. A clean presentation is about pride in oneself and a show of discipline.
To minimize the amount of cleaning necessary, utilize a protective uniform or clothing specifically designed to cover you. Make use of that shower at work and pay special attention to the cleaning and conditioning of your skin if you need to use harsh soaps. There is a difference between the man who gets dirty at work and adjusts vs. the man who doesn't care to clean himself.
Personal Style Pieces for the Blue Collar Worker
1. Work Boots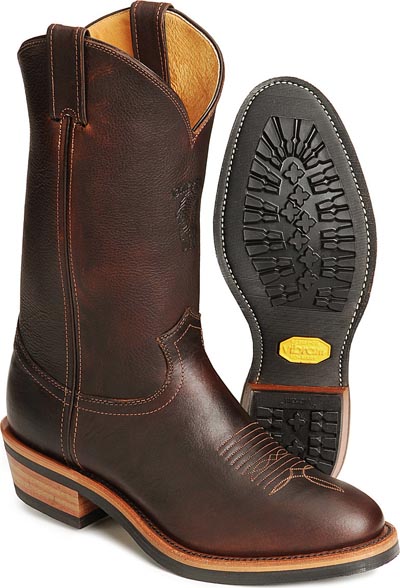 Long before mass manufactured shoes were common, boots were the footwear of choice. Whether a man had to walk along a muddy road or he had the means to afford a horse, the boot was the functional answer to protecting the feet and ankles while providing support and stability in the saddle.
Today less of us ride, but all of us can benefit from this underused and very stylish piece of men's footwear. Whether you're a plumber in Brooklyn or a bricklayer in San Francisco, investing in your feet with a pair of well-fitted work boots is a smart decision.
As mentioned before, your boots above all else should be functional. But too often we fall into the trap of overbuying on feature-rich, space-age looking boots or purchasing footwear that is made from poor materials and is shoddily constructed. Better to invest in a timeless pair of well-made classic leather work boots that can be re-soled. My favorite are of the western variety–they have no laces, are easy to take on and off, and they look nicer after a year's wear when treated correctly with leather conditioners.
2. Work Jeans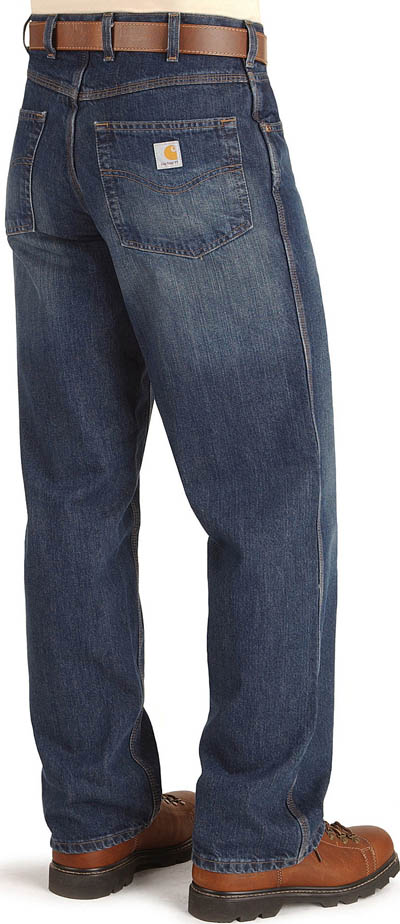 Jeans started off as work wear, but today they're either being manufactured so poorly they barely last a day as work pants or they're sold by designer brands for $500+ a pair. Finding a pair of jeans that are value priced, look respectable, and serve their purpose as work-wear is harder in 2011 than it was in 1911!
When selecting jeans, it's best to opt for dark indigo or black. It hides stains and dirt best, and choosing darker jeans over the lighter variety is a very simple way to get a more stylish look without changing what you normally wear. Avoid anything worn or stonewashed; this isn't 1985, and if you need someone else to wear out your jeans you're reading the wrong article!
Your jeans should fit snugly, and hold up without a belt. Too loose, and the low rise will restrict you as you walk, and worse, become a hindrance when you're trying to get a job done. Cotton stretches over the day, and if you ever have an issue with them becoming too loose, dry them on high heat. If they're too tight, stop drying them with heat and instead wash them only in cold water and hang dry; this will also help them last longer.
My favorite brands are Carhartt, Levis, Lee, and Wrangler. FYI–look for the Art of Manliness' upcoming article on American Made Denim. In fact, if you know of small American companies that should be featured, please contact Antonio.
3. Denim Trouser Alternatives
Khaki Cotton Chinos
If you're wearing khaki pants, you can't be getting that dirty at work. But even though formality-wise your choice of trouser is a step up from blue jeans, the pants you're wearing might look worse due to a poor fit. To improve their appearance, consider taking them to a tailor or seamstress. Small adjustments like having the waist brought in or the legs shortened can make a world of difference.
Another option is to darken-up the colors you wear–not only will these darker colors be more resistant to stains, but darker colors are more formal and paired with medium colored cotton work shirts or dress shirts will give you a more streamlined look.
Wool Flannel Trousers
Not exactly work pants, grey flannel trousers are a durable wool napped weave that is a viable option for the man who needs trousers dressier than jeans but is tired of cotton chinos. Choose a fabric in medium or charcoal grey–it'll look sharp with a patterned dress shirt and not look too far removed from your blue collar roots.
4. Quality Protective Eyewear and Sunglasses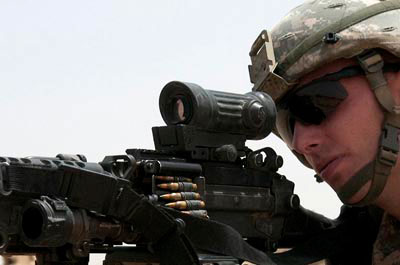 I have never heard of a situation where cheap glasses are a better investment than a quality pair of optics, especially under extreme working conditions. High quality lenses better protect the eyes, are made from sturdier materials, are more comfortable (and therefore more likely to be worn), and are often covered by a warranty.
The most common excuse stated for buying cheap eyewear is that the man in question has the habit of losing them. My response to this is why then should he be trusted with a single tool or an important piece of equipment? If he can't mind his own gear, why should he be trusted with anyone else's?
Seriously–without your eyesight you would be unable to do almost every task you perform at your job today. So many men play roulette when they operate equipment without eye protection, oftentimes because the eyewear provided to them is uncomfortable.
The working man purchases glasses that suit his needs–military and police forces often select sport shades which hug the head and stay in place when running, climbing, and shooting. Engineers select eyewear that enables them to clearly make out far off objects despite intense glare but still look professional when meeting with the onsite client. Machinists select eye protection that is comfortable, protects their eyes fully, and is breathable.
Check to see if your company will reimburse you for the purchase–if not, don't let their shortsightedness affect your healthy vision. Invest in yourself–it only takes one close call to make it all worth it.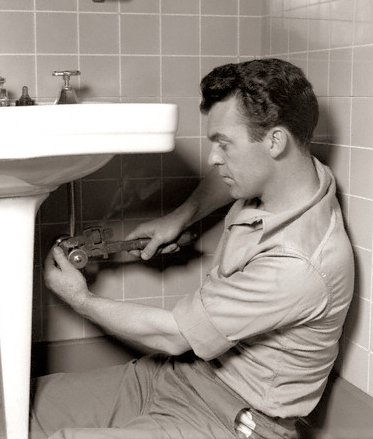 5. The Work Shirt
A T-shirt is not a work shirt–although you can work in it, it does not do any work for you. T-shirts leave your forearms and neck exposed, are often made from synthetic materials that do not breathe, are too lightweight to protect the skin from sharp objects, and have no pockets.
Instead of working in old t-shirts–invest in the work shirts that worked for your grandfather.
The Classic Cotton Work Shirt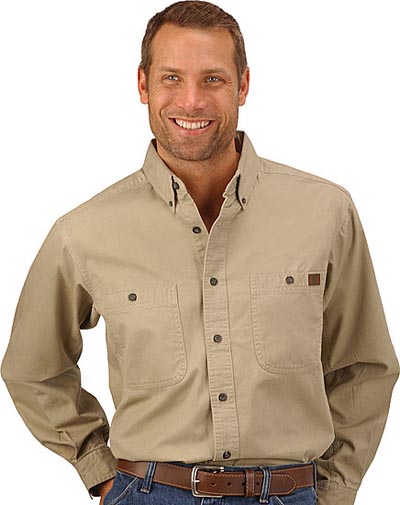 The classic cotton work shirt is occasionally mistaken for a dress shirt, but the two are different. Work shirt fabrics are often made from a thicker yarn than dress shirts and give the appearance of a rougher weave–yet they still feel soft to the skin. In addition, the fabric of choice is solid and dark to better hide stains and slight tears. Cotton work shirts become softer over time but remain durable for years thanks to cotton's unique properties. Double stitched, they gain character when patched and are styled with a functional pocket on each breast.
Denim Work Shirt
Denim shirts have long been a favorite among the working man as they've traditionally been hard-wearing and inexpensive. But while they are made from a lighter weight denim than jeans, the material is heavier and the weave is tighter than lighter woven cottons which makes them less breathable; this is fine for light work in the fall or winter but denim shirts can quickly become uncomfortable as a man starts to work up a sweat and are unbearable in hot weather.
Chambray Work Shirt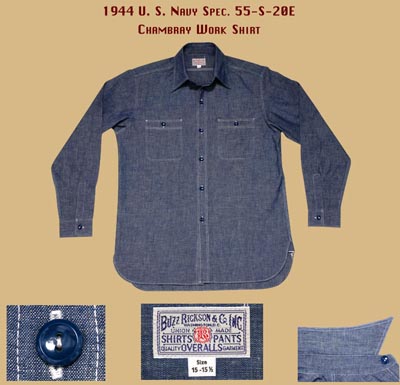 Chambray is a light-weight cotton fabric, normally made with white and blue thread interwoven to form a light blue. Because of its delicate drape, it can come off as more formal than either the cotton work shirt or the denim shirt. However, most chambray shirts incorporate a wide range of casual style features that keep them grounded.
In the last few decades chambray has been hijacked by fashion houses, and although their production gives us more variety and options to buy, at the same time the average price has risen. However, light-weight chambray shirts at affordable prices can be found at box stores in the spring or western stores year round. And although it belongs in the work man's wardrobe–a versatile chambray shirt can also be worn with a suit.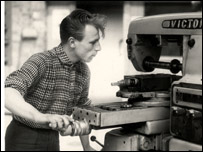 Short Sleeve Collared Work Shirts
In general I am not a fan of short sleeve work shirts unless worn in extreme heat and the work to be performed is light. Better to wear a light-weight long-sleeve classic cotton with the sleeves rolled up–then you have options.
6. Protective Headwear (not hard-hats)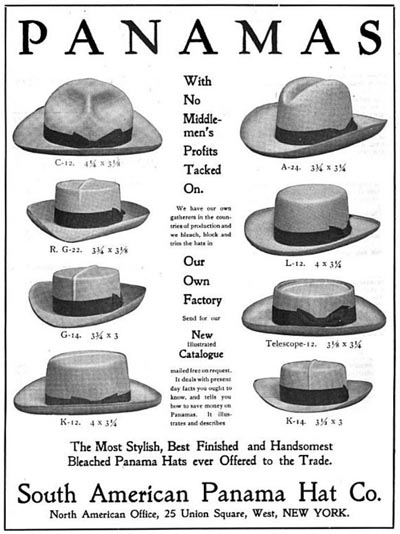 A stylish piece of protective headwear is perhaps the easiest way for a blue collar man to declare his sense of style and common sense. What makes more sense…to have the hot sun beating down on your head all afternoon or to wear a light colored straw hat that allows air to circulate and keeps the sun off your skin?
Most men who work outside, if they wear a hat, wear a baseball cap. This is a poor excuse for a protective cover, as it only partially shields the eyes and is rarely fitted to allow air circulation. Instead, break the mold and opt for a straw hat or panama–which if made correctly are very durable and can be rolled up and then unrolled with no damage.
7. The Handkerchief
Yes, a paper towel or a tissue is more sanitary. But a cotton handkerchief is more versatile. A red handkerchief can be used to not only clean up after sneezing, but to apply pressure on a bleeding hand, mark a truckload as extra long, temporarily tie down a pipe, or 1000 other things.
Video Summary
I've created the following video summary of the post for those of you who prefer to consume your content via video:
Alright, what did I miss? What would you add to the article to make it even better? What are your personal recommendations for things like boots, jeans, and shirts? Share your tips with us in the comments.