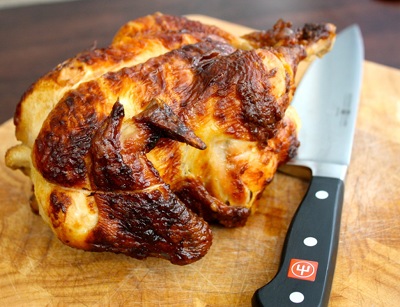 I love eating leftovers.
If you ask me, Momma's spaghetti, pot roast, or lasagna always tasted better on the second day. I suppose there must be something about allowing the flavors extra time to meld together that always makes repeat meals more enjoyable.
However, my love for leftovers is most likely the exception rather than the rule. As it is, for most people the word "leftovers" carries a negative connotation. I get it. With so many food options at our fingertips, it can be boring to repeat meals.
In preparing today's article, Brett offered up some incredible inspiration when he asked, what do I do with the rest of that rotisserie chicken? You know the ones I'm talking about–those birds that spin around the carousel slow cooking to juicy goodness down at your local grocery store. Every man I know has picked up one of these tasty birds at one time or another. Supplement a rotisserie chicken with a quick salad or side dish, and creating a great meal at home suddenly doesn't feel so hard! Though we've spent time teaching you how to roast a chicken at home, the fact of the matter remains–store-bought rotisserie chickens are a convenient, affordable, delicious, and healthy meal option.
Yet, we all know that many of us let much of that bird go to waste, especially when eating for only one or two. Simply put, when dinner time rolls around tomorrow, most of you will have probably already thrown that bird in the trash.
Hold on a second.
It should go without saying, but times are tough these days. Not only should you feel obligated to not waste food, but it also makes financial sense to eat your leftovers. Most of us are guilty of eating the chicken breasts, wings, or legs–only to discard the rest. I know some of you may not be a fan of the dark meat, so I've included recipes that help utilize the best part of the bird (in my opinion) in unique and flavorful ways. Of course, I've also got my suggestions for what to do with the tender and lean white meat as well.
Be sure to strip away the skin and remove the fat and bones before preparing these meals. Of course, you can save the bones and use the rest of the carcass to fortify stocks, sauces, or soups. The meat should keep covered and refrigerated for 3-5 days.
The next time you pick up one of these delicious birds for dinner, keep in mind you're picking up a few extra meals for the rest of the week!
Enjoy!
MM
Breakfast
BBQ Chicken and Cheddar Omelet
I realize BBQ for breakfast might sound a bit strange; however, the flavors in this omelet will surely get your day off to the right start. I prefer vinegar-based sauces, but feel free to choose your favorite brand of sauce to use in this recipe. (Prep 10 minutes, Cook 10 minutes, Serves 1)
1 Tablespoon Unsalted Butter
1 Teaspoon Store-bought BBQ Sauce
¼ Cup Dark Meat Rotisserie Chicken, shredded
3 Eggs
Kosher Salt
Fresh Cracked Pepper
¼ Cup Sharp Cheddar Cheese, grated
1 Tablespoon Green Onions, sliced
Melt the butter into a non-stick skillet over medium high heat. Meanwhile, add BBQ sauce to the chicken and mix well. Whisk eggs with salt and pepper until combined and frothy; add to pan. Allow the eggs to cook for 1 minute, setting in the pan. Using a wooden spatula, carefully lift the cooked portions of the egg from the pan, allowing the runny portions to reach the heat–do not scramble. Continue in this manner until no runny portion remains. Generously arrange chicken, cheese, and green onions onto one side of the egg mixture. Using a spatula, fold over the other side. Continue to cook until cheese is melted. Remove from pan and serve.
Lunch
Chicken Salad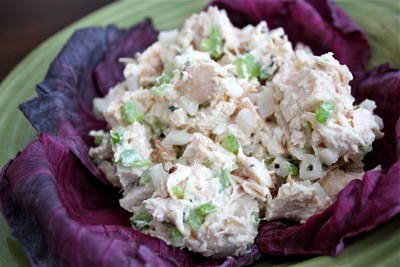 For presentation, I use only the white (breast) meat in this recipe. Rotisserie cooked chickens make great chicken salads because their meat is moist and tender. Serve on toasted bread for a sandwich, or alongside some sliced tomatoes, a hardboiled egg, and a few dill pickles for a complete lunch. Keeps up to 3 days covered and refrigerated. (Prep 10 minutes, Assembly 5 minutes, Serves 4)
2 Cups Rotisserie Chicken Breasts, diced
2 Tablespoons Mayonnaise
½ Cup Onions, finely diced
½ Cup Celery, finely diced
Kosher Salt
Fresh Cracked Pepper
Combine the first four ingredients into a mixing bowl. Lightly season the mixture with kosher salt and fresh cracked pepper, mix thoroughly. Taste the mixture, adding more salt and pepper to adjust flavoring or mayonnaise for added moisture based on your preference. Cover and keep refrigerated until ready to serve.
Snack
Rotisserie Chicken Quesadillas
I've yet to meet a man who didn't like quesadillas; yet I've met many men who surprisingly don't know how to make this simple dish at home. I've kept it simple with this version, only adding in a few extra spices to ramp up flavor. I find that using the dark meat chicken adds more moisture and flavor. (Prep 5 minutes, Cook 15 minutes, Serves 4)
1 Teaspoon Chili Powder
1 Teaspoon Cumin Powder
1 ½ Cups Dark Meat Rotisserie Chicken, shredded
4 Teaspoons Unsalted Butter, divided
4 Large Flour Tortillas
2 Cups Monterey Jack Cheese, grated
Salsa
Sour Cream
Season the chicken with the chili and cumin powder, mix and set aside. Next, add a teaspoon of butter to a non-stick skillet over medium heat. When the butter has melted, lay the tortilla flat in the melted butter. On one side of the tortilla, evenly disperse the chicken and cheese. Using tongs, carefully fold the tortilla over in half. Allow the quesadilla to cook, until the underside of the tortilla is evenly browned. Carefully flip the quesadilla and brown on the remaining side, ensuring the cheese is melted. Remove from heat and repeat the procedure for the remaining three quesadillas. (You can keep quesadillas warm in an oven heated to 200 degrees F) To serve, slice the quesadilla into thirds and serve alongside salsa and sour cream.
Soup
Chicken and Orzo Soup
Forget about heating up that stuff in the can. This soup is perfect for a cool winter evening, or even a sick day at home. Purchase a high-quality chicken stock for a more authentic home-made taste. (Prep 20 minutes, Cook 30 minutes, Serves 4)
2 Tablespoons Unsalted Butter
1 Cup Onions, diced
½ Cup Carrots, diced
½ Cup Celery, diced
1 Tablespoon Garlic, minced
1 Bay Leaf
Kosher Salt
Fresh Cracked Pepper
8 Cups Chicken Stock
1 Cup Dried Orzo Pasta
2 Cups White/Dark Rotisserie Chicken, diced
In a large pot or Dutch oven, melt butter over medium heat. Add onions, carrots, and celery and sauté until the vegetables are just tender, about 7 – 9 minutes. Add garlic, bay leaf, and season lightly with kosher salt and fresh cracked pepper. Increase heat to medium high, slowly add stock, cover, and bring to a slow boil. Add orzo pasta and boil uncovered for 6 minutes. Reduce heat to low, add chicken, and heat through. Adjust seasoning with salt and pepper. Serve.
Dinner
Easy Chicken Divan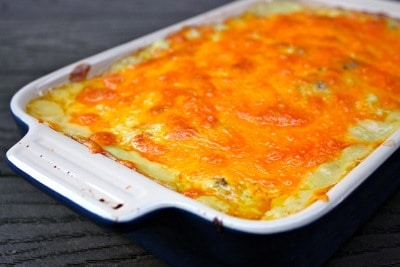 I admit, this is a step outside the box for me as I'm not typically a casserole kind of guy. However, this dish reminds me of my childhood. Served along with rice and a green salad, this is a great comforting meal that is sure to satisfy the entire family. (Prep 15 minutes, Cook 45 Minutes, Serves 4)
1 10 oz Frozen Package Broccoli, chopped
3 Cups White/Dark Rotisserie Chicken, chopped
1 Can Cream of Mushroom Soup
1 Cup Mayonnaise
1 Tablespoon Lemon Juice
1 Teaspoon Curry Powder
½ Teaspoon Kosher Salt
½ Teaspoon Fresh Cracked Pepper
2 Cups Sharp Cheddar Cheese, grated
Hot Cooked Rice, to serve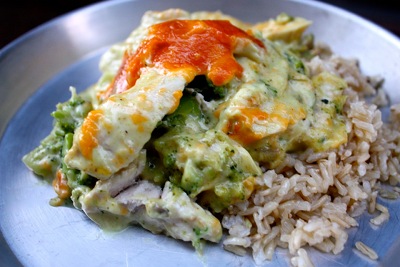 Preheat oven to 350 degrees F. Remove the broccoli from the package and thaw in the microwave for 2 – 3 minutes. Drain broccoli and add to the bottom of a greased casserole dish along with the chopped chicken. Combine the remaining ingredients except the cheese into a mixing bowl and stir until combined. Pour the mixture over the top of the broccoli and chicken and top with grated cheese. Place the casserole into the oven and bake 30 – 35 minutes until browned and bubbly. Serve over hot cooked rice.
What are some more ways you can use a store-bought rotisserie chicken? Share your ideas in the comments.
Tags:
Recipes