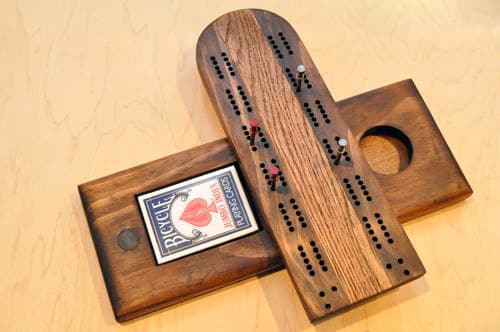 Editor's note: This is a guest post by Ethan Hagan from One Project Closer.
I love a good card game, and some of my favorites include Spades, Hearts, Hand and Foot, and Euchre. Poker, however, never quite goes my way. Believe it or not, I've never played cribbage before. However, when Brett challenged me to make a cribbage board, I thought it would be a lot of fun.
I started reading up on Cribbage rules and found a lot of custom-made boards on the web. I decided on a "classic style" board that follows a design I found on other woodworking sites, and it's perfect for a moderately skilled woodworker like myself. The board has enough holes to play a 61 point game, as opposed to a 121 point game.
Tools and Materials
To make my crib board I used some scrap 3/4″ pine, 1/4″ plywood, and I purchased some oak from the local DIY center. I printed out a hole template, which I modified to meet my needs. The pegs are made from double-headed nails, which you'll typically see used to make concrete forms. The two magnets and wood stain are leftovers from other projects.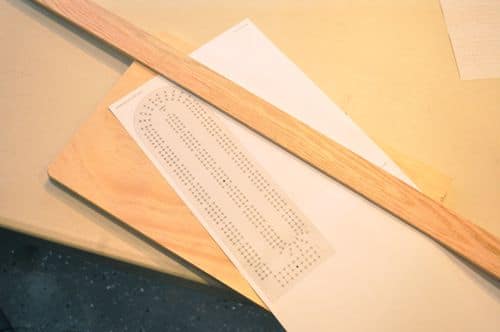 Pine is a soft wood so it wouldn't have been too difficult to cut by hand, and by omitting a few steps, the only necessary power tool is a drill press. I have the tools (so I took advantage of them), and here's what I used.
Table saw
Dado stack
Coping saw
Palm router
Table router
Drill press
Sandpaper
Angle grinder
Bench grinder
Make a Custom Cribbage Board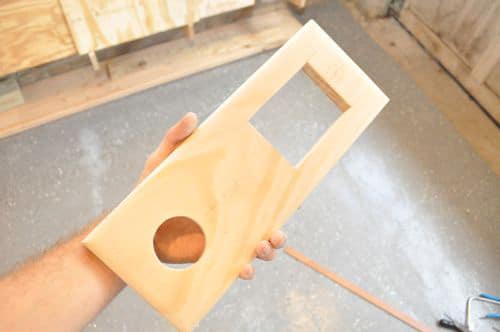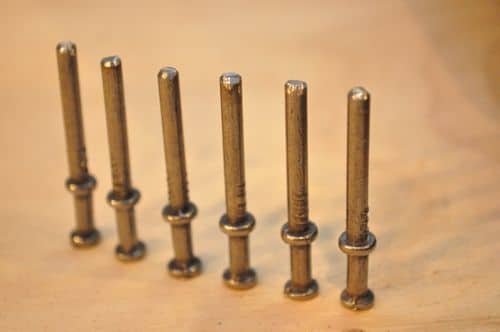 I borrowed a drill press and used a 11/64″ bit to drill all the holes. After taping my template in place, aligning the fence, and setting the depth, things moved pretty quickly. Next, I glued the oak to the top and the 1/4″ plywood to the underside of the base.
I gave everything a final pass with sandpaper to remove any pencil marks or glue. Next, I applied a walnut stain to the entire cribbage board, letting the two different species of wood create some visual interest. To distinguish the pegs, I painted one pair a dark red.
What do you think?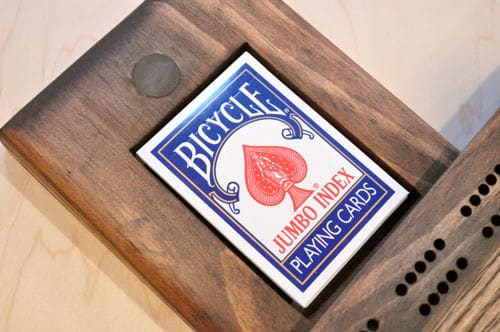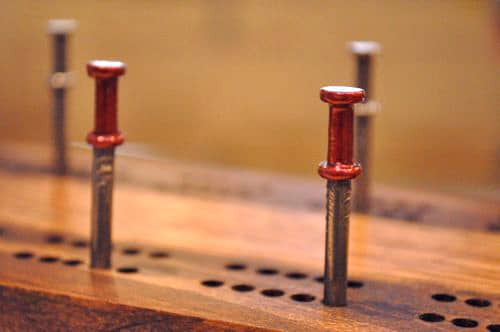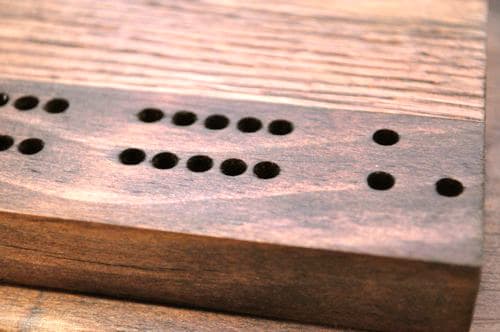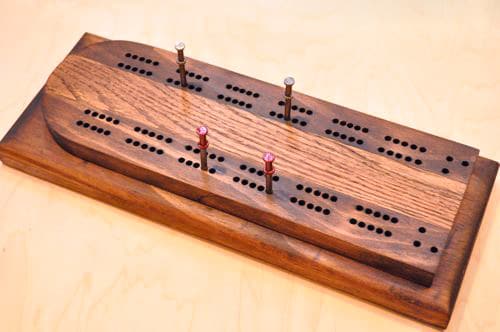 Below are the plans for board, in PDF form. Thanks to Robert Heffern for providing them.
Cribbage Board – Bottom Piece
Cribbage Board – Top Piece
Cribbage Board – With Colors
__________________________________________________________
Ethan Hagan owns and operates a home improvement website called One Project Closer. On One Project Closer you'll learn how to tackle projects with expert knowledge from professional contractors. OPC also provides coupons to home improvement centers like this Home Depot Coupon page. Check out OPC for full details, and follow them on Facebook.