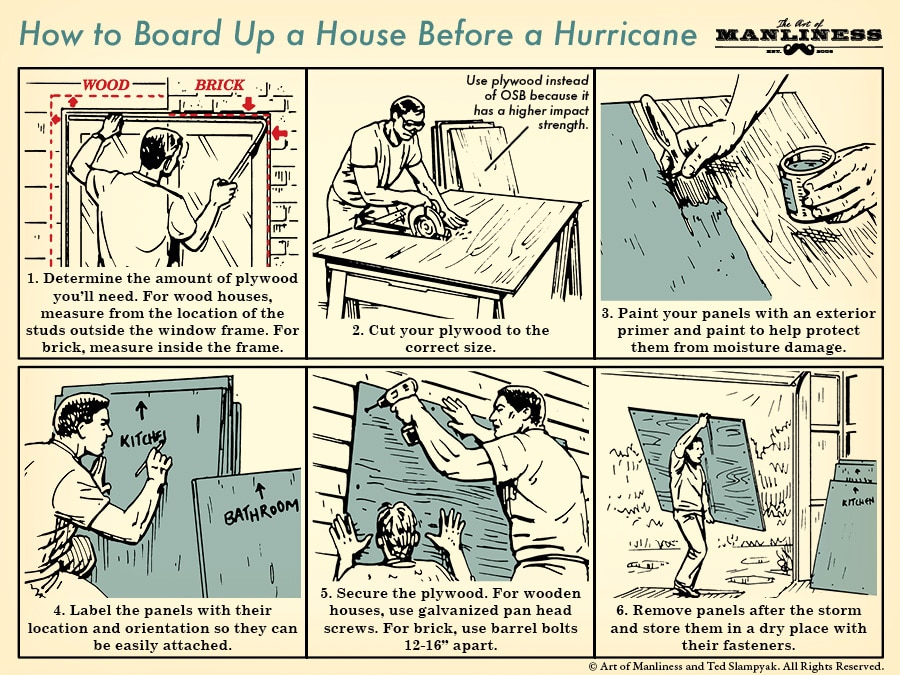 A man's home is his castle and natural disasters are the closest thing to an attacking army. When mother nature chooses to exercise her power on your home, there's little you can do to stop it, especially during storms that include high wind, like hurricanes. Flying debris and sudden powerful gusts can blow out windows, skylights, and sliding glass doors that spread broken glass throughout your home and let in rain, which can cause serious water damage. If you have time before the next big one hits, boarding up your windows properly can help alleviate some of the damage and halt the invasion.
1. Determine the amount of plywood you'll need. For wood houses, measure from the location of the studs outside the window frame. For brick, measure inside the frame.
2. Cut your plywood to the correct size.
3. Paint your panels with an exterior primer and paint to help protect them moisture damage.
4. Label the panels with their location and orientation so they can be easily attached.
5. Secure the plywood. For wooden houses, use galvanized pan head screws. For brick, use barrel bolts 12-16″ apart.
6. Remove panels after the storm and store them in a dry place with their fasteners.
Like this illustrated guide? Then you're going to love our book The Illustrated Art of Manliness! Pick up a copy on Amazon.