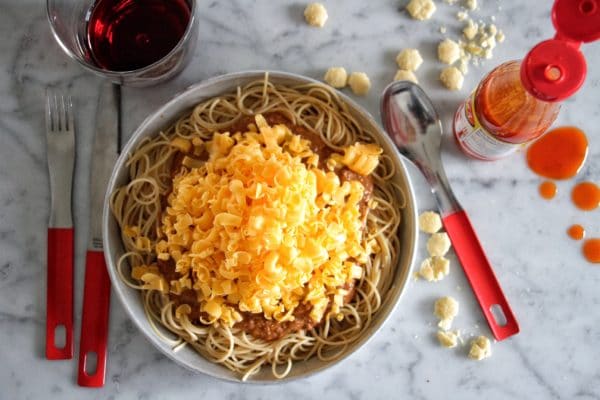 I promise, this is an article about one of the most amazing dishes that you will ever cook and eat. So trust me, I will get to the food.
But before that, in order to understand a fascination, you have to start at the beginning.
I was in rut.
I had just graduated from college, had moved to a new town, and I was working an entry-level gig that was well below my skill level. In today's world, we often forget about the merits of toiling. For those struggling in their current form of employment, realize that many jobs are more about fortitude than skill. Lessons will be learned, and at some point, you will realize that if you want something, it falls on you to create it, not someone else. Hold that thought for a minute.
In my first few months of living in Nashville, without any connections or friends, I looked backward instead of forward. Another college friend was going through the same life experience; shipped off to Cincinnati to learn the insurance business as a "data entry specialist." Truth be told, we were less than true friends in school, but a four-hour drive to a new city to hang with an "old" friend felt much more hopeful than passing a weekend with strangers.
So it began, a back and forth of social weekends to explore two new towns. Having a vetted friend by my side forced me to explore a new town, as well as what my current city had to offer — and vice versa. After a few months of weekends here or there, we both realized the naiveté of our undertaking. It was time to break the crutch — college was a great time, but it shouldn't be the best time. It was our responsibility to grow up, meet new friends, and build our own lives in our current towns du jour.
But there is one thing I missed about my bi-weekly visits, perhaps even more than the friendship (sorry, Charlie). What I missed was not just Graeter's ice cream, but also more importantly, the quintessential dish of Cincinnati — the chili.
Hungover, and sans a shower, I first experienced said dish via a Skyline Chili parlor in the Walnut Hills neighborhood after a long night of revelry in Mt. Adams. When they brought me a three-way and a pair of coneys, I nearly spit out the watery, cinnamon-laden dish. Who in their right mind would call this chili?
Cincinnati chili is a misnomer that confuses a lot of folks, and chili just so happens to have nearly as many different meanings as does BBQ. For most of us, our reference point is chili con carne, a thick and meaty dish fragrant with cumin. You'd be well served to forget about such a dish when you try Cincinnati's interpretation. To be honest, and I mean this with plenty of heartfelt admiration, Cincinnati chili is best akin to a poor man's version of a Greek grandmother's pasta Bolognese.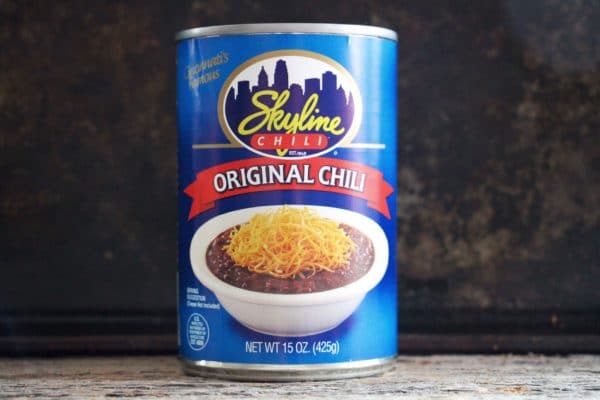 As history is written, it was in fact Greek and Macedonian immigrants who first brought this concoction to the Queen City, starting in the early 1920s. Chili parlors began to sprout up throughout the town, and with customer demand, the "chili" soon topped spaghetti noodles and coneys, along with an ungodly amount of finely shredded cheddar cheese. Greek immigrant Nicholas Lambrinides is arguably most responsible for turning the dish into a franchise operation, starting his chain of Skyline Chilis that now number into the hundreds. Of course, any local will likely tell you that the Gold Star Chili chain is a formidable competitor — but the allegiance of most locals lies with parlors in their respective neighborhoods. I prefer Zip's Café in Mt. Lookout.
As a dish, Cincinnati chili is certainly unique. I've spent years perfecting Bolognese sauce, which I truly believe is the base of this dish. But rather than cooking it in several time-consuming stages, per a true Bolognese, I found that I get the most consistent results by stirring and dumping everything into the pot and letting the ingredients, and time, do the work. Ain't that always the truth when it comes to comfort foods?
As mentioned several times, Cincinnati chili is often served atop spaghetti noodles (two-way) or coneys (hot dogs). Adding cheese turns it into a three-way, pile on onions and you reach the four-way, and with the addition of beans you'll cap out at a five-way. Oyster crackers and hot sauce should always accompany.
Many grocers will sell Skyline Chili in a can — or even as a frozen entrée — but I decided we could do better. After much trial and error, I've created my own version of the dish, authentic to its cheap eats roots, but also something I wouldn't shy away from serving guests at a dinner party.
The lesson is that you never know where life will take you. In times of uncertainty, relish in le milieu (the middle). And don't forget to stop and ask a local where to eat along the way.
How to Make Cincinnati-Style Chili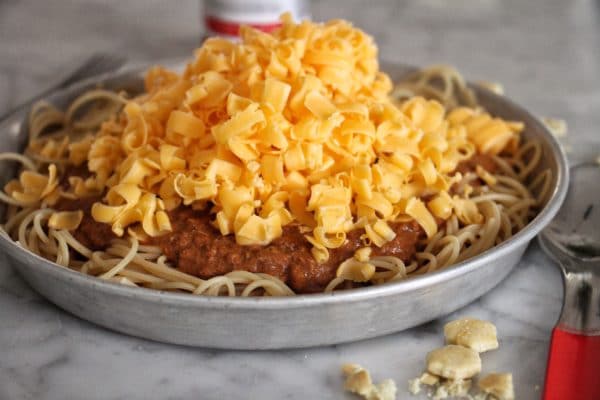 Set it and forget it — that's my mantra. Instead of browning the beef and other ingredients, I find that bringing everything together into a boil and simmer produces the most authentic result. The final meat mixture is not meant to be chunky, and this cooking method ensures an even distribution of ingredients. Serve either atop spaghetti with your desired toppings, or dress a cooked coney with the chili and plenty of cheese. This dish freezes extremely well, up to six months in an airtight container.
Prep: 25 mins
Cook: 3 hours
Serves: 6
Ingredients (Chili)
2 lbs. 80/20 ground beef, crumbled
1 onion, finely grated
2 cups beef stock
2 cups water
4 oz. tomato paste
1 8 oz. can tomato sauce
3 cloves garlic, finely minced
1 tsp. Worcestershire sauce
2 Tbsp. apple cider vinegar
2 Tbsp. chili powder
1 tsp. kosher salt
1 tsp. fresh-cracked pepper
1 tsp. crushed red pepper flakes
1 tsp. paprika
1 tsp. dried oregano
1 ½ tsp. ground cinnamon
½ tsp. allspice
¼ tsp. ground cloves
1 bay leaf
Ingredients (For Serving — Optional)
Cooked spaghetti noodles
Finely-grated sharp cheddar cheese
Finely diced onion
Kidney beans, warmed
Oyster crackers
Hot Sauce
Cooked hot dogs and steamed buns
Directions
Combine all chili ingredients into a large Dutch oven. Bring mixture to a boil over medium-high heat.
When mixture reaches a boil, cover, and reduce heat to low. Simmer for 2-3 hours.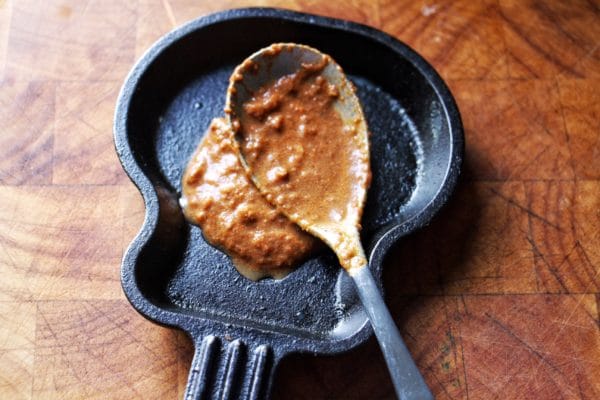 Remove cover, and continue to simmer until mixture reaches a soup like consistency, yet just thickened (see photo above).
Remove from heat, cool completely, and place into the refrigerator for 24 hours, or overnight.
Remove from refrigerator, skim the orange layer of fat and remove.
Reheat mixture over medium heat until warmed. Serve over spaghetti or coneys with desired toppings.
___________________________
Matt Moore is a regular contributor to the Art of Manliness and the author of A Southern Gentleman's Kitchen.