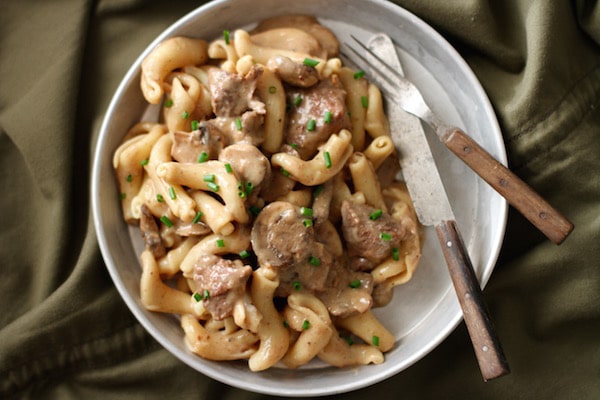 Back in the mid-eighties, my idea of the perfect evening would have been playing 1942 on my Nintendo until my thumbs were numb, capped off with a big ol' serving of Hamburger Helper Beef Stroganoff and a cold glass of milk. While I haven't played a video game in 20 years, and the milk is now usually subbed for ice-cold beer, I still crave that hearty comfort dish.
For me, beef stroganoff is one of those iconic meals of my childhood. And for many of us, the Hamburger Helper version of this sour cream-laden, noodle-based beef dish served as our first introduction to this classic.
But like many iconic dishes, its history goes much further back and is more complicated than the packaged version available on modern grocery shelves.
The most common story is that the dish was named after Count Pavel Stroganoff, a Russian noble of the 18th century. The myth goes that the Count lost all of his teeth in his old age, so his personal chef created this dish for easy consumption. In Russia, foods are commonly attached to the names of the household rather than the chef who created it, hence the name "stroganoff."
Another story claims that the Count invented the dish out of necessity when he was once stuck in Siberia and had to cut the meat into thin strips because it was completely frozen.
The first written record of the recipe appeared in the 1871 edition of a cookbook compiled and written by Russian Elena Ivanovna Molokhovets, and featured lightly floured, sautéed beef cubes, sauced with prepared mustard and bouillon, and finished with sour cream; common elements of modern stroganoffs, like onions and mushrooms, were omitted.
Despite this seemingly solid Russian pedigree, when Alton Brown, of Food Network fame, hired a food anthropologist to investigate the story, he came up with the theory that the dish actually had nothing to do with Russia — that it was simply a sales tactic to convince folks they were eating a piece of history.
Though the precise origins of the dish may have been lost in time, we do know it was during the second half of the 20th century that stroganoff first made its splash on the American scene. After the fall of the Russian Empire, the dish had spread to pre-Communist China, and it's believed that U.S. servicemen stationed there after WWII gained a fervent taste for it and brought it back home. During the actual war, beef stroganoff gained little steam in this country because of rationing and the high cost of red meat. But as the post-war economy boomed, food processing progressed, and canned soups and ground meat replaced traditional sauces and strips/cubes of beef for convenience, a quick and easy version of the original took off in the 1950s.
History aside, there's no doubt that today there are as many versions of beef stroganoff as there are chefs. Stateside, the dish is commonly served over buttered egg noodles, or sometimes, white rice. In Russia, the dish is found served atop matchstick fried potatoes. Some versions include onions, mushrooms, mustard, Worcestershire, and tomato sauce — though some traditionalists would say such inclusions are blasphemous.
Here's where I get to assert an opinion. If you've only had the boxed version of this dish . . . man, you're missing out. As you now know, beef stroganoff was once considered a luxury dish — a food befitting Russian nobility, as well as gourmands all over the world.
So I decided to come up with two of my own versions to satisfy my personal craving: one a weekend version that retains the dish's gourmet history and would befit a more formal feast, and the other a more casual weeknight version that blows away the boxed stuff any day.
Weekend Stroganoff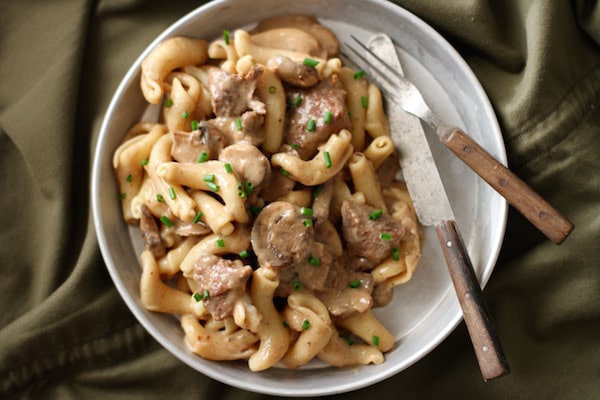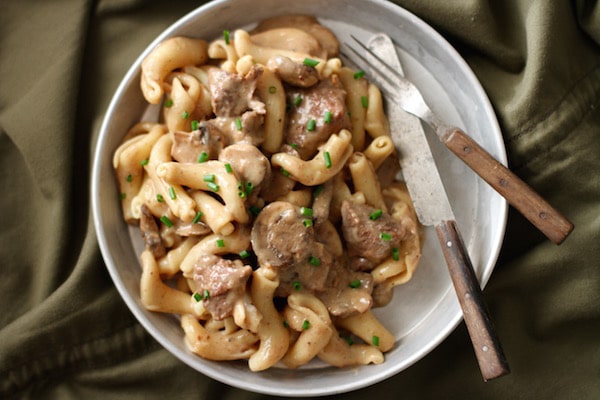 Prep: 20 mins
Cook: 3.5 hours
Total Time: ~4 hours
Serves: 4-6
One of my favorite dishes for entertaining guests during the fall and winter. I use beef stew meat, or chuck, and braise it in a liquid of red wine and stock until it is meltingly tender. Finished with tangy sour cream, this is one of those true crowd-pleasing dishes. When I have time, I'll make my own fresh pasta, or serve it with a noodle such as Cavatappi, to add a bit more flare. Serve with full-bodied red wines such as Malbec, Syrah, or Cabernet.
Ingredients
2 lbs. beef stew meat (chuck) cut into 1.5" x 1.5" pieces
Kosher salt, to taste
Fresh cracked pepper, to taste
1/2 cup flour
2 Tbsp. unsalted butter
1 sweet onion, diced
2 cloves garlic, minced
1 cup red wine
1 lb. sliced white mushrooms
1/2 tsp. crushed red pepper flakes
1 Tbsp. Dijon mustard
1 Tbsp. Worcestershire
4 cups beef stock
8 oz. sour cream
1 lb. Cavatappi noodles, cooked al dente and buttered
Fresh chopped chives, to garnish
Directions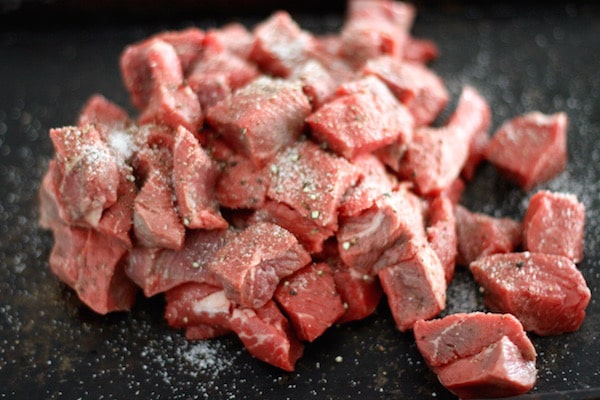 1. Liberally season meat with salt and pepper.
2. Toss meat with 1/4 cup flour, until evenly incorporated.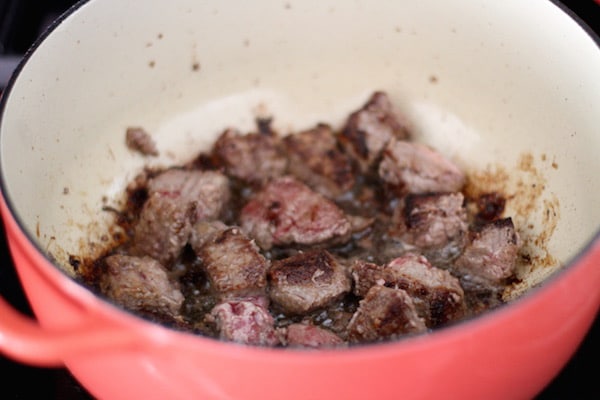 3. Melt butter in a Dutch oven over medium-high heat. Working in batches, add just enough meat to make contact with the pan, careful not to overcrowd (you want to get a nice sear on the meat). Sear meat on all sides, transferring to a plate, reserving juices, until completed.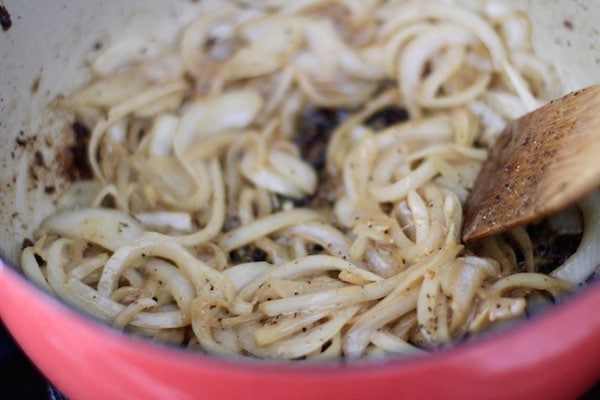 4. Add diced onion to the drippings, and sauté until tender, about 5 minutes. Add garlic, stir, and cook until fragrant, about one minute.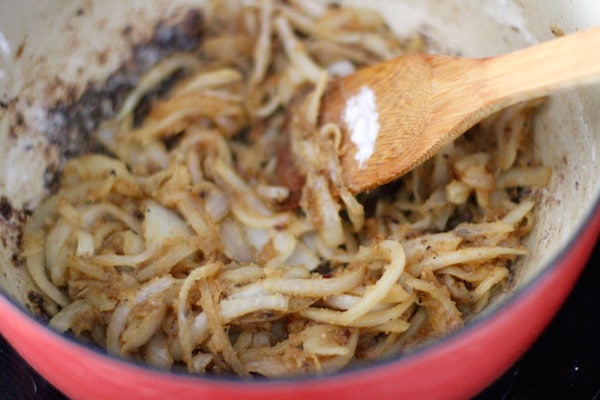 5. Add 1/4 cup flour, stir into onion/garlic mixture, and cook for two minutes.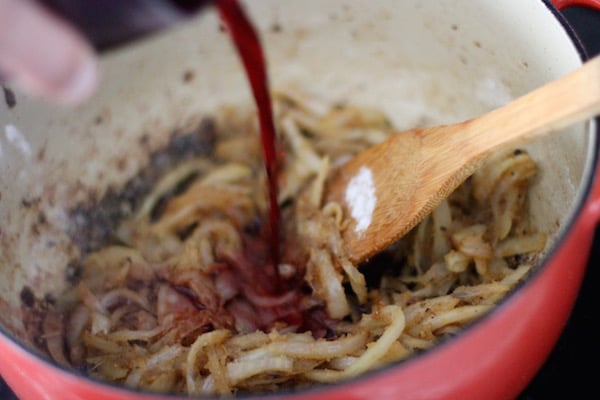 6. Next, add red wine, deglazing the bottom of the skillet and using a wooden spoon to scrape any browned bits from the bottom of the pan. Add the beef back into the pot, followed by the next 5 ingredients (mushrooms, red pepper flakes, mustard, Worcestershire, and beef stock), season to taste with salt and pepper. Cover pot, reduce heat to low, and simmer for 3 hours. The dish will be ready when the meat is meltingly tender.
7. Turn off the heat, and finish the dish by folding in sour cream until incorporated.
8. Serve over cooked pasta, rice, or potatoes; garnish with chives.
Weeknight Stroganoff
Prep: 10 mins
Cook: 30 mins
Total: 40 mins
Serves: 4-6
A "from scratch" version of the boxed classic that's still convenient and affordable. Like most pasta dishes, the second-day leftovers taste even better than the first go-around.
Ingredients
1 Tbsp. unsalted butter
1/2 lb button mushrooms, quartered
Kosher salt
Fresh cracked pepper
1.5 lbs lean ground beef
2 cloves garlic, minced
1/2 tsp. crushed red pepper flakes
2 heaping Tbsp. all-purpose flour
1 Tbsp. Dijon mustard
1 Tbsp. Worcestershire
1/2 cup red wine
2 cups beef stock
8 oz. sour cream
1 lb. egg noodles, cooked al dente and buttered
Fresh chopped parsley, as a garnish
Directions
1. Melt butter in a Dutch oven over medium-high heat. Add mushrooms, season to taste with salt and pepper, and sauté until tender, about 5 minutes. Transfer to a plate.
2. Return the pan to the heat, brown beef with garlic, crushed red pepper, and salt and pepper to taste. Drain excess fat. Add flour and stir to ensure the flour is incorporated into the beef mixture; cook for 2 minutes or so. Add mustard, Worcestershire, and deglaze with red wine, picking up any of the browned bits from the bottom of the pan using a wooden spoon.
3. Next, add beef stock and allow mixture to come to a simmer; reduce heat and cook for 4-6 minutes to thicken and reduce. Taste, adjust salt and pepper as necessary.
4. Remove mixture from heat, fold in the sour cream and mushrooms. Finish by adding the cooked egg noodles into the pasta, stirring to ensure an even distribution.
5. Serve, garnished with fresh chopped parsley.
_______________________________
Matt Moore is a regular contributor to the Art of Manliness and the author of A Southern Gentleman's Kitchen.