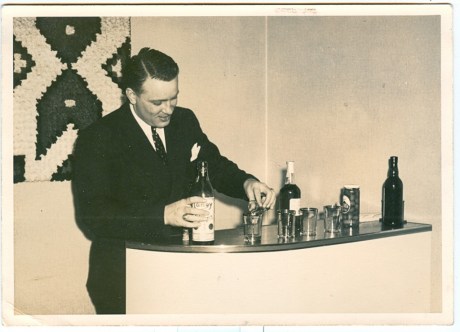 Editor's note: This is a guest post from AoM reader Jeff Trexler.
For the gentleman who enjoys entertaining, a properly stocked bar is a must. A well-mixed drink can help schmooze a boss, romance a date, and impress a friend. Mixing drinks at home for friends and family makes me feel like some swanky 1960s gentleman pouring drinks in his Space Age-inspired mid-century home. I love that feeling.
Starting a home bar can seem like a daunting task to any man, but it doesn't need to be so. Becoming a home mixologist should be fun! Today I hope to show you that stocking a home bar can be affordable and easy.
The Home Bar Rules
Home Bar Rule #1: Pick alcohol you actually enjoy imbibing. When I first started my own home bar, I only picked spirits that I thought would impress guests when I had them over. I ended up spending a fortune for alcohol that I hardly ever used. While you'll use your home bar for entertaining, don't forget that a home bar's main customer is you. When you mix yourself a cocktail to sip on the weekends while you sit on the patio with your dog, you want to enjoy it. The dog doesn't care what your favorite gin is. That is of course if this pooch isn't your dog. He's so smug.
Another reason I recommend picking spirits you enjoy is that the home bar is your chance to share your personal tastes with your friends and neighbors. I love seeing what other people enjoy drinking and the recipes they specialize in. What you stock in your bar and why you stock it makes for great conversational fodder.
Home Bar Rule #2: Start small. Repeat after me: Start small. Another mistake I made was trying to create a full working bar right out of the gate. Back when I bought my first house, I had a housewarming party. I just had bottles of vodka, gin, and scotch. I wanted to be a good host, so I dropped a boatload of money at my local liquor store. While I had a wide variety of liquors, because I had never used most of them extensively, I had trouble making the drinks people were requesting.
So my advice to the man just starting out: start small, grow gradually. Stocking a home bar is a marathon, not a sprint. I recommend beginning by getting the ingredients needed to make the cocktails you enjoy and know how to make well. Like Manhattans? Canadian whisky and vermouth. Martinis? Gin and vermouth.
As you get more comfortable mixing drinks, expand your menu to include other cocktails. When I entertain, I like to email people a week before the party to ask them their favorite cocktails. I'll get the needed ingredients and practice during the week. *hiccup*
What follows are my suggestions on what a properly stocked home bar should have. But remember, use your own personal taste and take into account your own needs when making your final decision.
Alcohol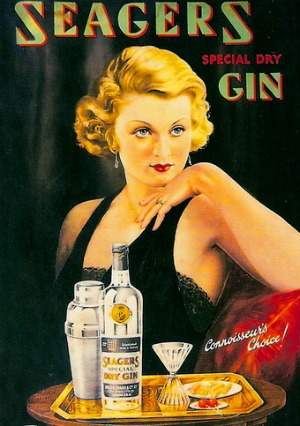 Gin. It's one of the base spirits for many popular cocktails, so definitely have plenty on hand. Gin comes in four varieties: London Dry, Plymouth, Old Tom, and Genever. I suggest starting off with a London Dry gin. Later on, add a Plymouth gin to the mix. Learn more about this spirit in AoM's primer on gin.
Vodka. An excellent liquor for doing shots with singing babushkas or for mixing into popular cocktails like Bloody Marys and Cosmopolitans. Vodka doesn't have a strong color, taste, or aroma, so it makes for a perfect mixing liquor. The differences between vodka brands comes down to what they're distilled from (potatoes, grains, sugar cane) and their texture in the mouth. Some (like Absolut) have an oily, silky texture while others (like Stolichnaya) have a watery, medicinal finish.
My go-to vodka is Grey Goose. Mixes nicely with just about anything.
You also have your pick between the different flavored and infused vodkas on the market. Personally, I stay away from flavored vodkas in my home bar. I can do my own infusing with garnishes, thank you very much.
Bourbon whiskey. An essential American whiskey for the southern gentleman. Great for sipping and classic cocktails like the Old Fashioned. Two bourbons that I recommend for the beginner mixologist are Jim Beam and Wild Turkey. Very affordable and they taste nice. At least, I think they taste nice. Also be sure to read up on how to taste whiskey.
Scotch whisky. Like Jack Donaghy, I too enjoy staring out a window, while holding a glass of scotch. It soothes the soul and assists in the thinking of deep, manly thoughts. My favorite Scotch-based cocktail is the classic Rob Roy. I suggest having a blended and single malt scotch in your home bar. Check out AoM's guide to Scotch.
Tequila. A must-have liquor for your trips to Margaritaville. What type of tequila you stock depends on what you plan on using it for. Gold tequila is usually the cheaper type of tequila and is a great pick if you plan on using your tequila for mixed drinks. If you'd like to take your tequila straight up, you'll want to go with this agave-based drink in its purest form — silver tequila. My favorite silver tequila is Patron.
Rum. This tasty liquor from the Caribbean is distilled from molasses. Dark rums are best for punches. Light rums are for mixing cocktails. I say start off with a light rum and add a dark rum when you have a big party where you'll be serving punch.
Other beverages to have on hand. Before I host a party, I'll add a bottle of wine and some craft beer to my selection. I'll also pick-up a pack of craft sodas for my guests who are on the wagon for whatever reason. A good host is thoughtful towards all his guests.
Mixers
Again, what mixers you decide to stock will depend on the cocktails you want to make. Here are the basics:
Club soda
Tonic water
Cola
Sprite or 7-up
Ginger ale
Orange juice
Cranberry juice
Tomato juice
Pineapple juice
Angostura bitters (technically you don't use bitters as a mixer — they're to be used in splashes to add a bit of flavor to your drinks)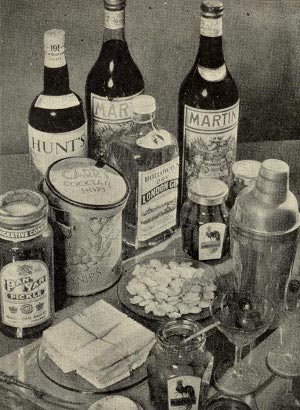 Garnishes
Garnishes add a bit of decorative panache to your drink. They also give you something to nibble on as you sip your drink. The type of garnish you add to a drink depends on the drink. Tequila-based cocktails often use citrus garnishes like a lime or lemon. Gin-based tonics use olives and onions. A man should never add garnishes to a Scotch. That's sacrilege.
If you don't have a designated bar area with a fridge, you can prepare your garnishes the day of your cocktail party.
Cocktail olives
Cocktail onions
Horseradish
Limes
Lemons
Tabasco sauce
Salt
Pepper
Sugar
Ice
Glassware and Other Assorted Accouterments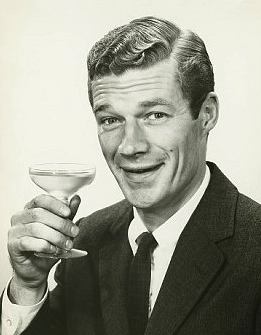 You'll need the proper tools for your apothecary of invigorating elixirs. You can get pretty specific with your glassware. There are tumblers made specifically for certain cocktails. If you drink those cocktails frequently, by all means get them. But you can get by just fine without them. Here are the basics:
Martini glasses
Rocks glasses
Red and white wine glasses
Highball glasses or tall glasses
Beer mugs and pint glasses
Martini shaker and strainer
Toothpicks for the olives and onions
Napkins
A good Mixologist recipe book. Personally, I enjoy collecting vintage cocktail recipe books. I love trying different classic cocktails, plus they look nice in my home bar. You can find reprints of many old and popular mixologist books on Amazon.com. The Professional Mixing Guide Cocktail Recipe Book from 1947 is a good one. A recipe book that I'm quite enjoying right now is Vintage Spirits and Forgotten Cocktails. Also check out theVintageDrink.com. The site was started recently by a redditor who found his grandfather's old bartender guide and posted all the recipes online. You can search by name or ingredient, so it's quite handy.
A collection of appropriate cocktail sipping music. You can't go wrong with Sinatra and the other crooners. I also like to have some lounge and exotica music in the mix. Ultra Lounge has great collections of swanky lounge music.
Home Bar Storage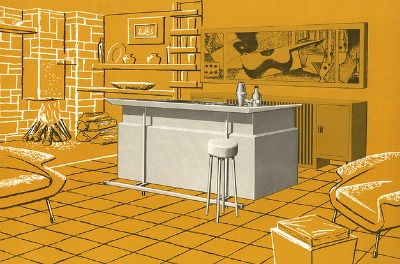 Some of you might be choking on your cocktail olive at the size of this list. You're probably thinking, "Sure, Jeff, this sounds all well and good, but where am I supposed to keep this in my tiny house/apartment/condo?"
A valid concern, for sure. I will attempt to resolve your doubt.
Remember Home Bar Rule #2: Start small. If you don't have room or any place to store your home bar, keep your home bar small. Pick two or three different liquors and stick with those. When I was in an apartment, I kept my small bar in a cabinet above the fridge, and I kept my mixers and garnishes in the fridge.
Also, you don't have to have your bar always stocked and prepared for a big party. When you host a party, stock up your bar to fill your needs. When you're not anticipating a party, there's no need to have gallons of tonic water or dozens of lime wedges on hand.
If you'd like something a bit more distinguished than your kitchen cabinet to serve as the home for your home bar, consider getting a cocktail cabinet or mini bar. They're small pieces of handsome furniture that you can usually put up against the wall. They're nice because they can serve as a gathering point without having a huge bar installed in your home. Cocktail cabinets take up very little space, but can hold quite a bit of alcohol and glassware. I have friend who picked up a vintage cocktail cabinet at the antique store. It was a bit rough, but with a bit of elbow grease he was able to spruce it up. Here's a nice example of a retro cocktail cabinet from the 50s: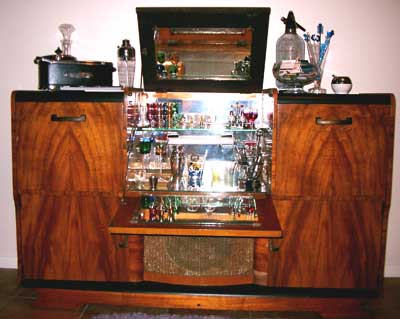 A man with enough initiative can probably make his own cocktail cabinet. Imagine the pride you'll feel when you can pat your mini bar, hand your friend a drink and say, "See this cabinet here, Jim? I made this little beauty."
If you do move into a bigger place and you've really enjoyed being a home mixologist, then I can't recommend installing a permanent home bar in your home enough. Many homes today come with wet bars and storage space for a home bar. If you don't have that, with a little initiative and sweat, you can install your own bar in an unused room in the house.
A home bar will become a gathering point in your home when you entertain. I love standing behind my bar surrounded by a group of laughing people enjoying themselves on drinks that I made.
Well, gents, that's all she wrote. I hope this little guide was informative and a bit entertaining. But more importantly, I hope it inspired you to get started with your home bar today. Don't wait!
Cheers!
Tags:
Vices