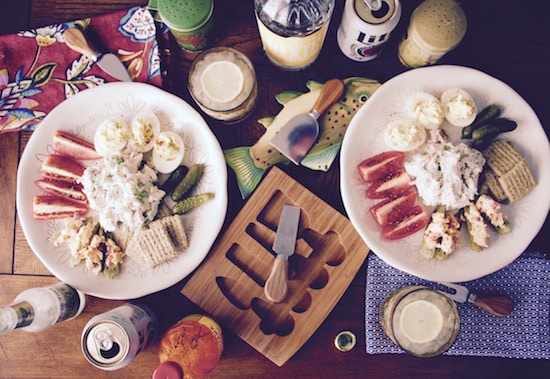 During my freshman year at the University of Georgia, I often took delight in the hot meals served 'round the clock at one of the many dining halls on campus. No more cold cereal for breakfast, or sandwiches and salads at lunch. Instead, I had my choice of crispy bacon, scrambled eggs, and grits for breakfast, and my favorite casserole of poppy seed chicken served over white rice for lunch.
It must have been good — as I stood on the scales after my freshman year, I had nearly doubled the freshman 15.
Though I took delight in enjoying a hot meal in place of a cold one, I must say that as I get older, things change — tastes, and fortunately after a lot of running, waistlines.
As we enter into the dog days of summer, the last thing I want is something heavy and hot. Especially down South, the humidity and heat literally sock you in the mouth any time you step outside.
So when it's time to wind down after a long day, I like to enjoy a reprieve by eating a "cold supper."
In the South, said cold suppers typically involve liberal translations of "salads" — potato salads, pasta salads, tuna salads, and chicken salads. Think less greens and more mayo (Duke's brand, of course). These days, I do find myself subbing, or at least going half and half, with plain Greek yogurt instead of full-on mayo. Your call, but said substitutions do make these "salads" a little bit healthier.
One of the many benefits to such a meal — say a big ole batch of chicken salad — is the fact that you can enjoy the fruits of your labor throughout the week, either as a plate lunch or sandwich, or simply a snack straight from the fridge. I like to round out the meal with some sliced vine ripe tomatoes, seasoned with salt and pepper, and whatever pickled items I can find in my fridge — their crunchy texture and spike of acidity help to contrast against the creaminess of everything else on the plate.
And of course, you don't have to put together a Southern-inspired cold supper. You could take a nod from Italy with an antipasto dish of sliced cheeses, cured meats, olives, and fresh bread. Or perhaps from the Northeast with cured salmon, cream cheese, sliced onion, capers, and rye bread. Or as a last resort, and my guilty pleasure, cold hot dogs with salt and vinegar potato chips.
Last but not least, a cold supper always pairs well with a cold cocktail. At the bottom, I've laid out my Southern summer drink of choice to help you indulge in my favorite part of this chilly meal.
Keep it classy, and keep it cold!
Quick Deviled Eggs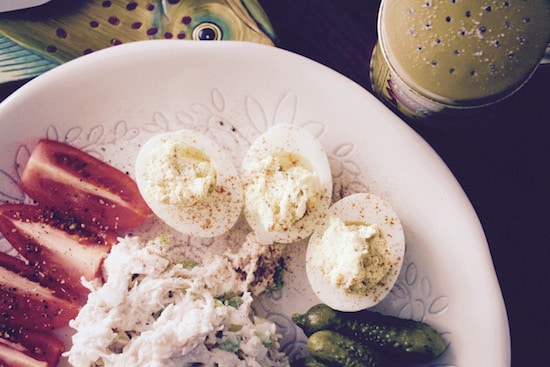 Prep/Cook Time: 20 mins
Serves: 4
To start, hard-boil your eggs. For a dozen eggs, place them in a single layer in a large saucepan, and add enough water to cover by 1 inch. Bring the water to a rolling boil; cover, remove from heat, and let stand 12 minutes. Then drain immediately, and return eggs to pan. Fill pan with cold water and ice. Cover the pan, and shake vigorously to crack eggs all over. Peel under cold running water. When you've done that, follow the recipe below to devil them.
Ingredients
6 large hard-boiled eggs, peeled
2 Tbsp. plus 1 1/2 tsp. mayonnaise
2 Tbsp. finely chopped dill pickle
1/2 tsp. cracked black pepper
1/2 tsp. kosher salt
Paprika, as garnish
Directions
Slice eggs in half lengthwise, and carefully remove yolks. Using a wire whisk or a fork, mash yolks with mayonnaise and next 3 ingredients in a small bowl until blended.
Place egg white halves on a serving platter, and spoon yolk mixture into egg white halves. Garnish with paprika, and serve immediately.
Pickled Okra + Spicy Pimiento Cheese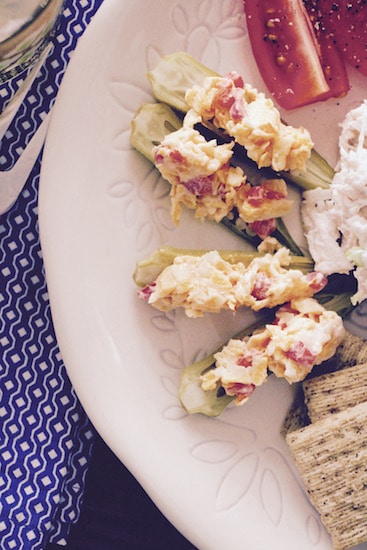 Prep: 15 mins
Serves: 4
I've combined two Southern classics into one harmonious bite. The creamy and spicy pimiento cheese is perfectly balanced by a crispy, tangy slice of pickled okra. This is a fun and easy appetizer that also looks impressive.
Ingredients
1 block (16 oz.) sharp cheddar cheese, at room temperature
1/4 Vidalia or sweet onion
1 can (4 oz.) diced pimiento, drained
1/2 cup mayonnaise
1/2 tsp. ground red pepper
1 jar pickled okra, sliced lengthwise with seeds scooped out
Directions
Shred cheese through large holes of a box grater.
Grate onion through small holes of grater to equal 1 tsp.; squeeze grated onion in a paper towel to remove excess moisture.
Combine cheese, onion, and next 3 ingredients in a large bowl. Using a fork, mash ingredients until cheese softens and mixture is thoroughly blended.
Spoon cheese mixture generously into the scooped out cavities of the okra slices, and serve immediately.
Chicken Salad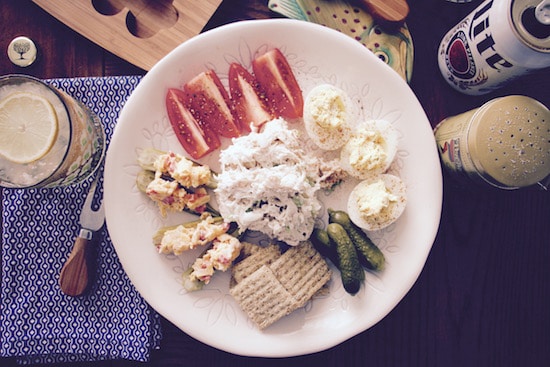 Prep: 10 mins, Cook: 20 mins
Serves: 8
Packed with plenty of protein, this is one of my favorite items on my cold supper plate. As mentioned, you can always sub some Greek yogurt for the mayo to help reduce calories as well as ramp up the protein. I like to make a big batch of chicken salad, as it keeps well for several days in the fridge for a quick snack or sandwich.
Ingredients
4 large skin-on, bone-in chicken breasts (about 5 lb.)
4 celery ribs, finely chopped
1 medium Vidalia or sweet onion, finely chopped
1 1/4 cups mayonnaise
1 Tbsp. kosher salt
1/2 Tbsp. freshly ground black pepper
Directions
Put chicken breasts in a Dutch oven or large pot and cover with water. Bring to a rolling boil over medium-high heat. Reduce heat to medium, and cook 20 minutes. Remove from heat, cover, and let stand 30 minutes.
Drain chicken, reserving broth for another use. Skin and bone chicken; cut chicken into bite-size pieces. Keep warm.
Combine celery and next 4 ingredients in a large bowl. Add chopped chicken, and lightly mash with back of a fork until blended, allowing some chunks to remain. Serve immediately, or refrigerate in an airtight container up to 5 days.
Dixie Vodka Citrus Cooler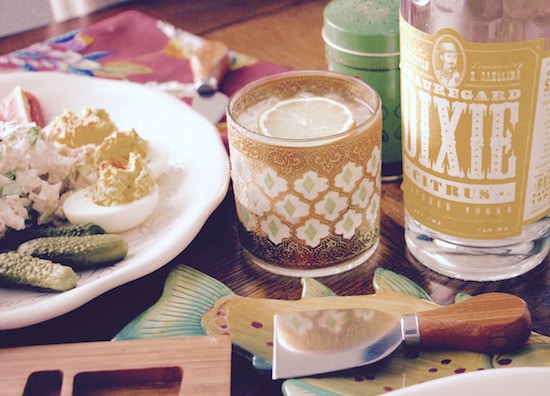 Though I do like my bourbon, I tend to also appreciate clear spirits during the heat of summer. I like the new citrus-flavored vodka from Charleston, South Carolina's Dixie Vodka — along with a spike of ginger beer and freshly-squeezed lime. Served with crushed ice, this is the perfect drink to gulp alongside your cold supper.
1 1/2 ounces Citrus Dixie Vodka
4 ounces ginger beer
Freshly squeezed juice from half a lemon
Lemon slice, for garnish
Combine ingredients into a tall glass with crushed ice; garnish with sliced lemon.