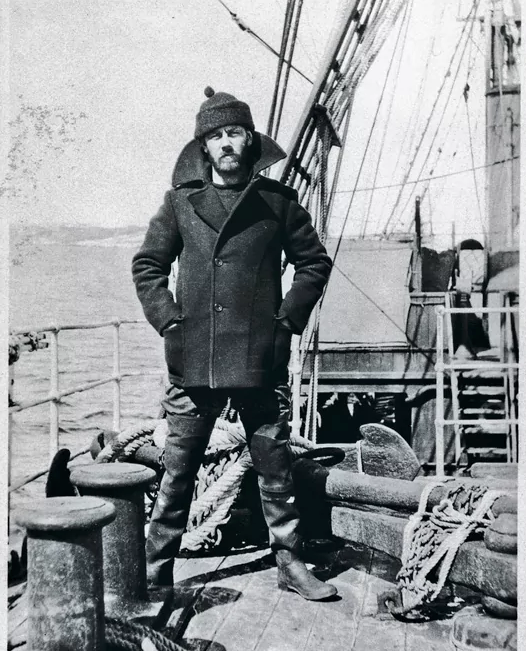 In 2016, the United States Navy announced that its blue wool pea coats — which had been in use for well over a century — would cease being standard-issue for Sailors. In 2018, a black synthetic parka would be phased in, and by 2020, while Sailors could continue to wear the pea coat as part of their uniform, they'd have to purchase it with their own money.
This news was met with disconcertion from several quarters. As the new synthetic parkas are slated to be made in Puerto Rico, congressmen disparaged the decision as ruinous for the woolen manufacturing industry in New England, where both the fabric and the coats themselves have been made for decades. At the same time, current and former Sailors defended not only the functionality of the pea coat, but its aesthetics as well, arguing that this classic, storied piece of outerwear was an irreplaceable symbol of nautical history and identity, as well as an incomparably handsome garment.
Regardless of whether the Navy ultimately follows through with its decision, the pea coat's popularity as a civilian style staple will likely continue undiminished. Its combination of good looks and sturdy functionality has solidified its enduring, iconic place in the male wardrobe.
If you've thought about adding a pea coat to your closet this winter, today we'll discuss where this cold-weather garment came from, how to choose one, and how to wear it well.
The Origins of the Pea Coat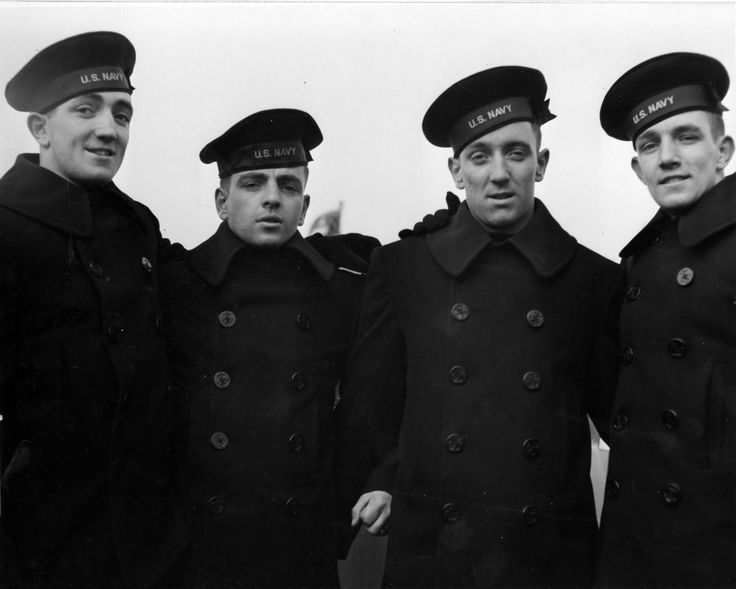 The pea coat's distinctive features — wool fabric, short length, slash pockets, double-breasted cut, big round buttons, tall collar, and large lapels — developed to meet the needs of sea-faring mariners. The indigo color of the coat hid grime and resisted fading, while the thick wool fabric proved durable to water, wind, and salt, stayed warm even when wet, and was naturally flame-retardant. Its high collar, along with broad lapels that could be flipped up and buttoned across the throat, added further warmth. The double-breasted design not only helped keep out the chill, but also came in handy as sailors shimmied up the ship's rigging; the extra fabric cushioned the skin against chafing, while the double rows of buttons, displaced to each side of the coat, allowed a rope to slide up the center of the torso without being snagged. Cold hands could quickly be stuck in the slit pockets situated at the center of the coat. And its hip-length cut allowed sailors' ample mobility for maneuvering around the deck and performing nautical tasks.
While the original functions of the pea coat's features are easy to surmise, exactly when and where they were put together into something resembling the garment we know today is less clear. There are many origin stories surrounding the pea coat, the most common being that an early version of the coat can be traced back to 16th century sailors hailing from the Netherlands; it's thought that its name derives from the Dutch word pijjekker or pijjakker — which referred to a jacket made from a heavy blue twill fabric.
The pea coat was introduced as military wear by the British Royal Navy in the 18th century, and was first mentioned in a uniform manual in 1731. The U.S. made it part of its navy's uniform in the late 19th century. The coat carried both naval forces through two world wars, and as with many garments that began their lives as part of military uniforms, became readily adopted in civilian life as well.
Why Wear a Pea Coat?
Pea coats today retain all the functionality that made them so prized by sailors of old. The shorter cut allows for ease of movement. The double-breasted front really wraps you up in warmth, while the wide lapels and high collar help keep out the frigid winter air. Plus, it's handy to be able to flip up the collar and lapels, and button them around your neck for even more cold-weather protection. The thick wool of a quality pea coat allows it to last for decades, and the fabric remains clutch in emergencies: wool has a higher ignition/combustion point compared to many other fibers, is flame retardant up to 1,000 degrees, is self-extinguishing when removed from a flame, and won't melt on your skin like synthetic fabrics. So, the coat's got your back if you have to run through fire (shipboard or on land) while wearing it, or if you need to take it off to smother some flames.
At the same time, the pea coat embodies classic, handsome style. While it's a more casual coat, its tailored silhouette still evinces a little formality. Donning it makes any casual get-up you're wearing look more pulled together, and it can also be dressed up a bit, so that it easily transitions from work to weekend wear. As such, the pea coat makes for a wonderful, versatile alternative to the ubiquitous puffy ski coat.
Who Should Wear a Pea Coat?
The pea coat is not quite as versatile as some styles of longer overcoat; its shorter length (you want your outerwear to extend past whatever you're wearing underneath) and more casual look make it less fitting for wearing over suits and blazers. So if you're going for a very minimal wardrobe, and think you only want to own a single overcoat, get a "Swiss Army" one as described here.
But it's certainly nice to have more than one winter coat in your closet, so that you can pick the one that's most fitting for the outfit/occasion; and if you already have a longer, more formal overcoat in your closet, the pea coat makes for a good second option to accompany your casual wear.
While the right style and fit of pea coat can theoretically work for any man, there are two groups for whom it is particularly well suited:
Younger men. While the pea coat can work in one's 30s and beyond, it reads as a somewhat younger man's look, and it's a great pick for the 20-something's wardrobe. It can be worn on campus to class, to the bar, and out on a date. As young men don't tend to dress up too often, this demographic could in fact get away with making the pea coat their one and only winter jacket.
Men with average to slender physiques. Double-breasted garments are not well-suited to overweight men, as the extra, overlapped fabric adds bulk to an already ample midsection; this is true of suit jackets, and especially true of overcoats because of their thick fabric. The way the pea coat is cut — wide at the shoulders, coming in tighter at the ribs, and then flaring out beneath them — isn't flattering for the overweight man either, and will make him look even rounder than he already is. Because pea coats are cut a little closer to the body as well, they can be too constricting for men who are bigger in size not because they're fat, but because they're well-muscled. For larger men of either type, a longer coat will balance their upper halves, camouflage girth (in the case of the overweight), give the appearance of length and leanness, and generally look more proportional and aesthetically pleasing.
For men of average to slender build, however, the pea coat fills out their body nicely and adds an attractive weight to their frame.
How to Choose a Pea Coat
A quality pea coat can last for a long time, so consider investing in one that looks as good as it's made:
Choose 100% wool — or up to a 20% synthetic/wool blend. Traditionally pea coats were made with 100% wool — a fabric with many naturally amazing properties: durability, warmth, flame/water/stain/odor resistance, breathability, and an insulating ability that keeps working even when damp. These days, new 100% wool pea coats are hard to find. But that's not necessarily a big loss. While it's often assumed that adding a synthetic fiber to wool creates an inferior fabric, fibers like nylon can enhance a coat's strength and durability, without significantly compromising wool's special qualities; a 100% wool coat and one with an 80% wool/20% nylon blend are pretty comparable, and the latter will be cheaper. Once the fabric is more than about 20% synthetic fiber, however, the distinctive properties and feel of the wool will be diminished.
So get a 100% wool pea coat if you can, but don't exclusively concentrate on the purity of the fabric; its details and construction can matter as much as the breakdown of the fiber blend. Look for the wool that is used to be Melton wool (a thick, dense, felt-like fabric that is hard wearing and wind and weather resistant), the weight of the wool to be 24-32+ ounces (the heavier the weight, the warmer it will be), the entire coat to be lined, and the seams to be reinforced.
Nail the fit. When you try on a pea coat, make sure you're trying it on over the kinds of garments you'll typically be wearing it with during the colder season; that is, if you'll be wearing the coat over thick sweaters, then try it on over a thick sweater rather than a t-shirt to ensure it will fit properly.
Here are some things to look for regarding how the coat should fit; keep in mind that if it fits better in some areas than others, you can often have a tailor make adjustments:
With your arms hanging down straight, and your wrists bent with your palms facing the floor, the sleeves of the coat should graze the tops of your hands; you don't want them to extend farther and swallow your hands, nor be too short, as you always want your outermost-facing garment to cover everything you're wearing underneath it (i.e., you don't want the sleeves of your sweater poking out past the sleeve of your coat).
The coat should lie close to the body but not be too tight in your chest and midsection; you should be able to move your arms without feeling overly constricted.
The shoulder seams should align with the end of your shoulders, with the fabric on the shoulder lying flat without wrinkles, divots, or pulling. The shoulder really needs to fit right off the rack, as this is an adjustment that will be difficult to impossible for a tailor to make.
The bottom of the coat should hit just below the hips. It should ideally not entirely cover your butt or extend past your front fly; any longer in length and it begins to lose its distinctive pea coat style and look more like a generic overcoat.
Buttoning the coat should not create pulling or creasing.
The coat should naturally taper to your waist before flaring out a bit at the hips.
The buttons should make two nice, fairly straight rows down your torso.
The collar should sit close to the neck or else it will act as a funnel for the cold wind; if the rest of the coat fits well, but a gap exists there, it can be filled in by wearing a scarf.
Pick a versatile, traditional color. Navy is of course the most classic, but black and gray are also standard colors for a pea coat. Black can be a bit stark though, so a dark charcoal gray is arguably the better option if you want something other than blue.
Look on ebay and in consignment and military surplus stores. Wool coats can last a long time, so the pea coat is a garment you may be able to snag vintage (this is an especially helpful route if you're looking for one in 100% wool). Browse ebay and thrift stores to snag a high-quality garment for less. For a new pea coat at a possibly discounted price, check out both online and military surplus stores as well.
How to Wear a Pea Coat Well
Button up. Early military pea coats had 8-10 buttons, but today's Navy-issued coat has 6 (plus a button hidden under the lapels), and that's how many buttons you'll often find on civilian pea coats as well. Whatever number your coat has, they're designed to be buttoned up; the pea coat looks best worn closed rather than open. The exception is the bottom button, which should, just like on a suit jacket, be left unbuttoned so that the coat can hang properly.
It's okay to pop the collar, sometimes. The pea coat is one of only perhaps two garments (the other being the trench coat) where popping the collar is an acceptable option. If you also fasten the "throat-latch" both the back and front of your neck will be ensconced in fabric and protected from the elements. On a less frigid day, flipping the collar alone can suffice. And sometimes look pretty cool.
Just do it when it makes sense — on a cold, blustery day when you need added protection and warmth – so it doesn't come off as an out-of-place affectation.
It doesn't look best with suits/blazers, but it can be done. As mentioned above, the short cut and more casual look of the pea coat doesn't lend itself well to accompanying dressier clothes like a suit. And its tighter fit can simply make the pea coat impractical to wear over thick, multiple layers, like a sweater+blazer. When you're dressing up, you're better off going with the polish and give of a longer, roomier, more formal overcoat.
But donning a pea coat with a suit isn't wholly unacceptable if that's what you got to work with. Just make sure that the coat covers the bottom of the suit jacket or blazer, as again, your outermost layer should be the longest thing you're wearing.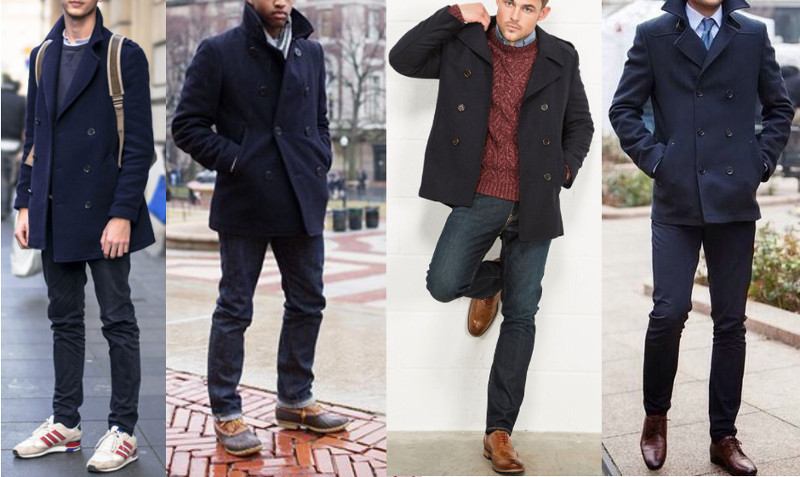 Don't overthink what to wear it with — it goes with most everything. The versatile pea coat works with casual get-ups to slightly dressier attire. It looks good over jeans, khakis, and wool trousers; sweaters, turtlenecks, and dress shirts; and leather boots, brogues, and canvas sneakers. Classic, rugged, and sharp, it's hard to go wrong with throwing a pea coat over most everything.