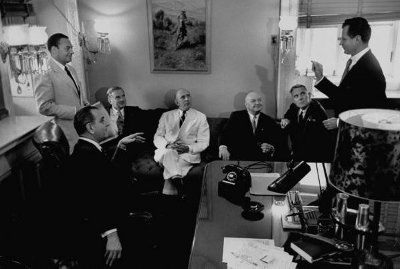 We meet with a wide range of people every single day.
From our loved ones to our friends to our co-workers–our lives are a series of complex interactions and "meetings."
In this article I address the question, "Can the way we dress for these interactions, these "meetings" positively affect their outcome?"
I argue yes, it can. In my experience, understanding the type of meetings you are headed into and having the forethought to dress in a manner that plays to your advantage is just plain smart.
In this article I break up meetings into 5 types, each defined by the feeling we seek to convey and the end goal. I also provide an example of these meeting types and how to dress for them. The goal is to give you a framework to dress appropriately for any meeting anywhere.
1. The "Sales Type" Meeting
Feeling we seek to convey:
Trust, health, and competence.
Examples of Sales Type Meetings:
An entrepreneur pitching his idea to an investor, a pastor speaking with a young family about his church, a business school interview, a man on a date with a woman he has chased for 3 months.
Goal:
You are seeking to persuade others.
How to dress when you are selling:
Simply put, when you're selling something you should dress as sharp as the situation allows. It doesn't matter if you're selling a product, your business idea, or your services–you want to put your best foot forward and give yourself every possible advantage.
If you're selling a trucking company's transportation services in Eastern Iowa, dark colored Dockers and your company's polo shirt is practical and appropriate for the job. Selling life insurance just across the river in Moline, however, calls for dress slacks and a sport jacket. A department store manager, north in Chicago, wears suits five days a week. Every one of his suits is purchased from his store, tailored to fit him by his store's tailor. His neckties are matched perfectly with his dress shirt–again everything selected from the business under his care.
Each one of these men dresses to the best of his ability in the context of his unique career situation and environment. A suit in the trucking industry makes little sense and would draw suspicion, while dressing in a polo shirt undermines a high-end store manager's apparent belief in his own clothing when his business sells two thousand dollar suits.
Pay close attention to regional differences; if you're on a sales call in Texarkana, Western boots are acceptable footwear. That same sales visit in New Jersey should be attended with classic style dress shoes that do not stereotype you.
In addition, be careful of style accents that contradict societal norms. You may have been rocking a paisley puffed pocket square for years, but that conservative hiring manager at IBM may feel it's a bit much for a entry level position in San Antonio. Not that I advocate stripping out all aspects of individualism–just be aware that in a meeting where you are selling your services, the little things matter.
For more information on dressing your best, explore these classic AOM articles:
Three Steps to Building Your Individual Style
Your Personal Appearance – The Importance of Being a Sharp Dressed Man
2. The "Buy Type" Meeting
Feeling we seek to convey:
It depends on your goal, but it can be that of solidarity, weakness (despite being strong), or strength to attract seller attention.
Oftentimes we seek to employ subterfuge in order to manipulate the outcome of a meeting to our benefit or to avoid being taken advantage of. If this is the case, you want to convey enough trust that you can open a line of communication while avoiding revealing too much about your time or resources.
There is an episode of "The Cosby Show" where Bill is dressed very casually–to the degree he almost looks homeless–as he negotiates the purchase of a car. As he closes in on a low price, after hours of haggling, one of his daughters blows his cover when she reveals that Daddy is a doctor. The salesman smiles, as he has caught onto Cosby's act, and he immediately restarts the negotiation in his favor.
Other times you may want to clearly indicate you are ready to buy; the goal here is to attract as many sellers as possible in order to drive down the price and observe the available options.
Finally, there are cases when you should look to dress in a similar manner to the seller to create a sense of common ground. This can work to your favor when there are many buyers and price no longer becomes an issue. If you're outside Kyle Field and looking to pick up a few tickets to the Texas/Texas A&M game, who do you think the A&M student is going to sell to– a fellow Aggie decked out in their gear or a Longhorn (assuming the price offered is similar)?
Examples of Buy Meetings:
The purchasing of a used car, negotiating with a contractor on the cost to remodel your kitchen, asking for a discount on your business' advertising rates.
Goal:
You are seeking to acquire something from another through non-forceful means.
How to dress when you are in a buy type meeting:
As indicated above, it depends on whether you want to appear weaker than you truly are, display your strengths, or create a sense of solidarity.
Trying to appear weak in terms of clothing actually has less influence in the US than other parts of the world because of our casual dress standards. However, if this is your tactic, avoid wearing expensive suits, branded clothing, or an expensive quality watch to a negotiation. Keep it simple and clean.
To create an image of strength, dress in clothing that befits your environment and complements your body type. This is very similar to the sales meeting type as described above, although you do have more freedom in terms of individual style touches such as accessories. Typically buyers have more power as they have multiple offers being made to them and can walk away with plenty of options at their disposal.
To create a sense of common ground, you'll need to understand who you're buying from and perhaps even have some insider info on them. It can work well with the weakness or strength image you're creating above, examples being a class ring or team jersey.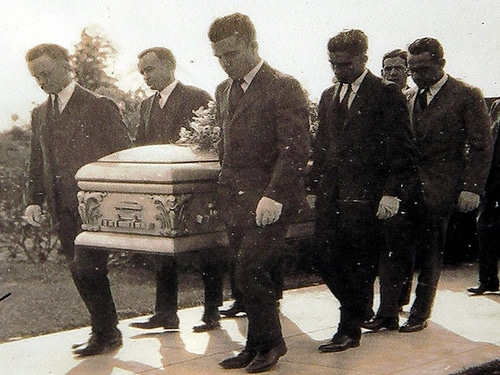 3. The "Support Type" Meeting
Feeling you seek to convey:
A sense of support and respect. To draw attention to yourself in these situations is bad form. Of all meeting types this is the least likely to turn into a sales or buy meeting due to the nature of the somber occasion.
Examples of Support Meetings:
Religious Services, Funerals.
Goal:
To provide comfort, support, and strength to others.
How to dress when you are there to support:
Simple and conservative. Look to fit in with the crowd and remember that a support type meeting is about you being there for your friends in need. It's hard to overdress for these occasions; formal (not flashy) clothes simply signal the earnestness of your support. On the other hand, if you dress too casually, you run the risk of drawing attention away from your friend and to yourself–a real sign of disrespect.
Avoid bold colors if attending a funeral in the United States; a dark colored suit is customary, although any dark colored and respectably put together ensemble will suffice if you're without a suit.
When it comes to normal religious services, ask a member of the congregation about the standard way to dress for their meetings. You'll want to fit in with the regular parishioners, and churches can run the gamut from very formal to very casual. Although again, when in doubt, it's better to be overdressed for a religious service than underdressed. Normal religious services obviously invite more color than funerals, although I prefer a classic conservative approach when doing so. Easter Sunday calls for the pastel colors of spring, and a summer service in Georgia makes linen shirts, jackets, and trousers a valuable asset.
For more info on dressing to support, explore this classic AOM article:
Dressing for the Occasion (Funeral – Religious Ceremony)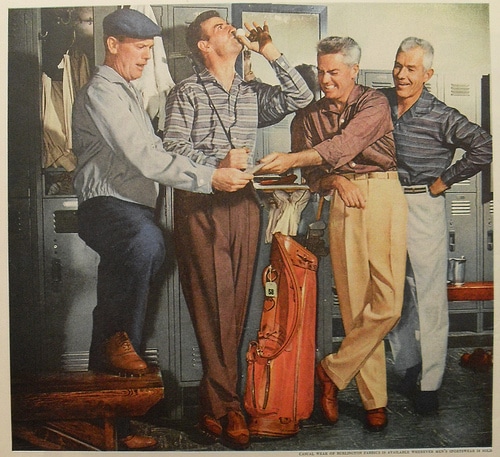 4. The "Casual Type" Meeting
Feeling we seek to convey:
Approachability, openness, and a sense of relaxation. Of all the meeting types this is the most likely to turn into a sales or buy meeting.
Examples of casual meetings:
Drinks with co-workers and clients after work, company pool party or picnic, golfing with the boss, weekend birthday parties for the kids.
Goal:
Build relationships and bonds through shared experience.
How to dress for casual type meetings:
Casual business meetings are the most dangerous and difficult to prepare for as we want to relax. To confuse matters further, we're even told we can relax. But a casual type business meeting is still a business meeting. Make no mistake about it–negotiations are in progress and deals are being struck around the swimming pool. Your boss is still your boss.
I recommend a man tread carefully in these situations and dress in a relaxed manner while maintaining a level of professionalism. In hot weather, think clean shorts a couple inches above the knee, sandals, and a collared lightweight cotton shirt. In winter, a sweater or tweed sport jacket with grey flannel trousers works well.
Many promising careers have been cut short because a man failed to understand the company party is not the place to drink himself into oblivion and display a graphic tee that brags about his sexual prowess.
Only when you're in the company of good friends are casual type meetings truly casual. Now go ahead and have a few beverages of your choice, strip down to those swim trunks you've had since college, and cannonball into the lake from your pontoon boat.
For more info on dressing casually, explore these classic AOM articles:
5. The "Formal Type" Meeting
Feeling we seek to convey:
Civility, a respect for tradition, an ability to abide by rules.
Examples of Formal Meetings:
High School Prom, Quinceanera, Order of the Arrow Initiation, Weddings, Marine Corps Birthday Balls, Bar Mitzvah.
Goal:
Build relationships and bonds through a structured interaction that has proven itself via the test of time.
How to dress when you seek to show a respect for tradition:
Formal type meetings are not limited to dressing in fancy black tie attire. Rather they are time-tested, highly structured ceremonies that instill a respect for the past while looking to the future. Dressing in the manner dictated by the tradition shows your respect for the tradition itself and/or your respect for those for whom the tradition holds great importance. Each person plays a part in creating the atmosphere that creates the experience for all the participants. The way you dress can add to, or detract from, this atmosphere and everyone's experience.
Formal type meetings are the easiest of all meeting types to dress for as the prescribed outfit is often a "uniform" of some sort. It may have a few options, such as the black tie option of either cummerbund or waistcoat, but more than any other outfit, the rules as to how to wear it are clearly established. Most militaries have their regulations so specific that the distance between medals and where they can be worn is clearly spelled out.
For more info on formal type dressing, explore these articles:
Men's Black Tie Basic Overview
Black Tie Military Uniform Regs
Thoughts? Comments? Let me hear it in the comments.