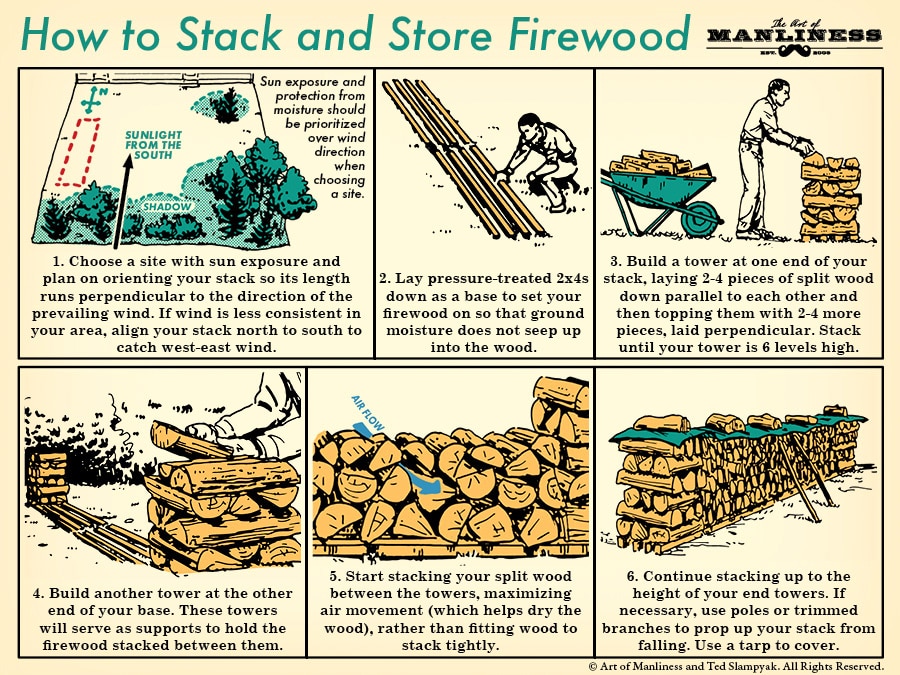 After you split firewood, you want to stack it up and store it to begin the seasoning process and prepare it for burning. Firewood should be stored for a minimum of 6 months, and during that time you want to ensure it loses as much moisture as possible by exposing it to ample sunlight and air circulation. As noted above, while both elements are important, sun exposure should be prioritized over wind direction. If your backyard or property has inconsistent wind patterns, the stack should be aligned so that it catches the west-to-east winds which are common in North America.
You'll know when your wood is ready for stove or fireplace by sight and sound: Check the ends of your firewood for hairline cracks that spiderweb across the grain, and bang the wood together; a low thud sound means you're good to go, but a sharp clap means it still needs time.
If you've waited six months and your wood still doesn't seem ready, your stack may be out of whack; check the guidelines above for tips on how it might be improved.
Like this illustrated guide? Then you're going to love our book The Illustrated Art of Manliness! Pick up a copy on Amazon.