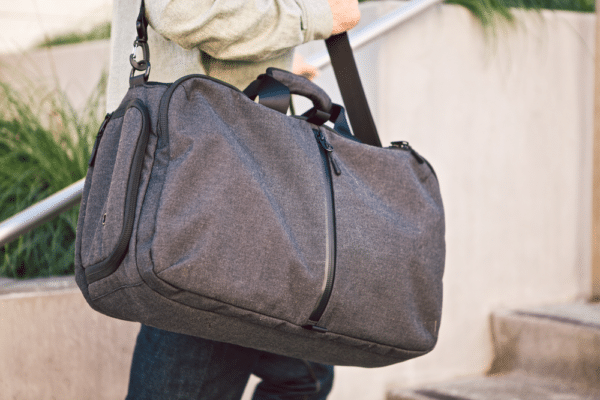 Editor's note: This promotional post was written by the gents at Huckberry.
Summer may be winding down but there's still time to get in a last weekend getaway or road trip before the cool air starts sweeping in, and you find yourself settled into a steadier and less footloose routine.
There's no better way to sour your end-of-season R&R tour, though, than starting it off with a stressful travel experience. Traffic jams and TSA checkpoints aside, there's plenty we can do to ensure things go as smoothly as possible, such as optimizing our travel bag or luggage. These past few seasons, we've been blown away by the lighter, smarter — and just plain badass — carry options out there. Travel bags and luggage are experiencing a renaissance of sorts. So, to help ease you onward to your final destination, here's our quick, 3-step cheat sheet to choosing the perfect travel bag.
1. Know the bag type and size that your stuff needs.
No two-week vacation or weekend getaway share the same itinerary, so we'd first recommend getting your bearings on what you're bringing there and back. Transporting some authentic pisco sour from Patagonia? Then you'll definitely want to go with hard-case luggage that can handle the rough-and-tumble of any checked-bag system. Raden's luggage would be our recommendation, whose carry-on model* and larger sizes feature a ridiculously lightweight polycarbonate shell, water-sealed zippers, a battery for your phone and laptop, plus GPS tracking.
If you're not packing food, drinks or fragile gifts, then a soft shell bag can pack down more easily in overhead compartments and car trunks — or expand to fit your gifts on the return trip. Duffels and packs made from ripstop fibers and reinforced 900D polyester are at the top of our list, especially Aer's duffel-backpack hybrid. Small enough to carry on, while holding everything you need for a weekend away.**
If you'd like your carry-on to be able to go from the overhead compartment right into a day hike or urban exploration, then pick a backpack for your travels. Mystery Ranch's unique Tri-Zip Urban Assault packs regularly outfit and equip Navy SEALs and US Forest Service Hotshots, but are equally handy for everyday adventurers who want to be able to easily access their gear.
If you know the needs of your trip will vary and you'd like something that can take you across the world, and then on day trips once you get there, consider choosing a versatile option, like Piorama's Adjustable Bag. It's innovative cinch system allows this bag to expand from a handy 31L to a weekend-ready 45.5L to a globetrotting 62L volume in seconds.
*Airlines vary in bag size and weight restrictions, but a good rule of thumb is keeping it under 62 linear inches (the sum of the bag's length, width, and height). No heavier than 50 lbs.
**Learn to Skivvy Roll your clothes to save tons of space in your bag. This is a game-changer we learned from US Marines.
2. Choose the travel bag with the right tech specs for you.
Water-resistant coatings, ripstop fabrics, duffel-backpack adjustability, phone and laptop chargers, GPS app-tracking — don't feel like you need it all. Every traveler's journey is different. Beach bound? Then look for water-sealed linings and YKK zippers that can handle sand and salt water season after season. Traveling overseas to a distant land? Then double-down of TSA-approved combo locks, unique colors and styles that stand out on a crowded conveyor belt*, and a GPS tracker chip from Tile Mate.
*Do your fellow travelers a solid and stand five feet away from the baggage claim carousels to not impede fellow travelers from sighting and grabbing their stuff.
3. Invest in heritage brands or ones with strong warranties.
Looking to the shoulders and attics of our parents and grandparents can offer great leads to finding heirloom-quality luggage and bags. Filson's been outfitting American pioneers and coast-to-coast travelers for 100+ years with their classic briefcases that age as handsomely as your favorite pair of leather boots.
But there are also many newer bags on the block who're outfitting our generation with high quality materials and bulletproof warranties. The Mystery Ranch packs mentioned above, for example, come with a lifetime warranty against any defects in the manufacturing. That's a bag that will keep on trucking through many a mission — even if that mission is simply to leave behind the office every chance you get.
Join Huckberry's 1 million+ adventure community. We deliver the coolest gear at the best prices, inspirational stories, and a hell of a lot more to your inbox every week. Membership is free and takes seconds.