Dressing for work used to be simple. Men typically donned a full suit and there were rules to dressing that were passed on from father to son. These dressing guidelines were reinforced by society and informative publications that educated men on dressing well.
Then things began to change–hats disappeared, jackets were left at home, and men's magazines started focusing on fleeting fashion and designer clothing. Casual Fridays turned into casual weeks and somewhere along the way men forgot how to dress properly.
Let me be clear: You do not have to wear a three-piece suit to look great and conduct business; in fact, if you worked at a company like Patagonia or Google, this type of clothing could work against you. And really no particular set of clothing does justice to what it truly means to dress sharp. Dressing sharp goes beyond any article of clothing. Dressing sharp is about taking pride in what you wear and controlling what your image says to those with whom you've never spoken.
Light, pleated khakis a size too big paired with a baggy dress or polo shirt…walk into any office today and you'll see men dressed in this new uniform of business casual. But what you wear to the office doesn't have to be boring, frumpy, and Dilbert-esque.
This article outlines five guidelines that can take your business casual look from bland and unimaginative corporate-drone to smart and sharp go-getter. Whether you are managing a diner or selling commercial space in a retail center–you want others to view you as competent and trustworthy. And although the right clothing doesn't guarantee you or your potential clients anything–it does set a good tone that you can build off of.
Step 1: Get the Right Fit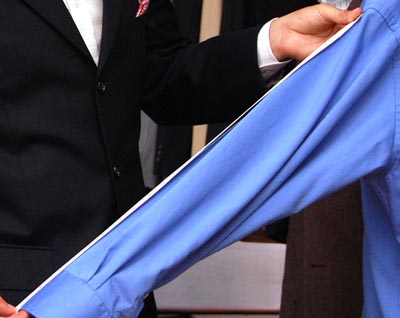 Many outfits that do not look "sharp" are actually fine in terms of color and style. The problem is often fit. It's the most overlooked way to improve a man's wardrobe–and often the cheapest.
The point to understand about proper clothing fit is that your clothing should have a defined shape as it drapes over your body. Even if you're a bigger guy, you want clothes that don't billow and sag. It is a common misconception that loose clothing makes a large man look better or provides a higher degree of comfort. In fact, the opposite is true. Clothing that is too loose is made to fit a different body type and will restrict movement.
Clothing Length
Proper clothing length is the starting point of a good fit. Trousers should fall just far enough to "break" on your shoes: the cuff should rest slightly on the top of the shoe but not bundle up with excess cloth there. Jeans can be worn slightly longer as the bunching on a narrower cut spreads out better over the leg–but don't be afraid to have them shortened and ask before purchasing if this is a service the store provides for free.
The waistband should rest comfortably right above your hips, around the natural waist (the narrowest point on your torso, usually). Jeans will fit lower at the trouser waist, as will many modern cut chinos and dress slacks. The lower cut is easy to pull off when your waist is smaller than your chest–once the reverse is true you need to seriously consider moving away from low-cut trousers as they will never stay up properly. Start thinking suspenders–they are a lot more practical and stylish than pulling up your pants every few minutes.
Shirt sleeves should extend far enough to cover your wrist bone when standing with your arms hanging down. Take a look at where the sleeve joins the shoulder too–that seam should fall neatly on the end of your body's shoulder, not hanging down on your bicep. Jacket sleeves, if you wear one, should start in the same place and be just a touch shorter, so that a half-inch or so of shirt sleeve is visible beyond the cuff. Shirt length should be enough that you can tuck at least 2 inches in all around–less than that and your shirt will come un-tucked every time you stretch to grab something.
Clothing Tightness
If the length of your clothing is sufficient, the next step is to ensure the clothing fits well circumference-wise or at least close enough so that a tailor can adjust it. A man's clothing should fit close to the body with just enough slack to let you move comfortably.
Understand that the vast majority of men in the United States are accustomed to wearing their clothing too large, so when they wear clothing that actually fits, it may initially feel restrictive. Proceed towards closer fitting clothing with caution and ask a trusted friend to give you straight advice and feedback. You'll find that you can adjust to the new fit and improved appearance quickly.
Pay special attention to the "rise" in the trousers–the distance between the waistband and the crotch seam. If the seam that joins the legs is hanging a few inches below your actual crotch, you're going to get a saggy look that translates straight to your thighs and your bottom.
When buying a shirt, make sure it fits you in the shoulders–this isn't something you want to adjust, as the needed tailoring will often cost more than the shirt itself. Next look at the fabric in the torso–most of us will find that if the neck and sleeve length are right, the torso looks like a balloon. The easiest way to avoid swimming in fabric is to buy either a slim cut dress shirt or go custom. Another option, if the problem isn't too bad (3 inches or less) is to have a seamstress dart the dress shirt–basically tucking in the fabric semi-permanently with stitching.https://www.artofmanliness.com/wp-admin/post.php?post=17911&action=edit
Adjusting Your Clothing
It's nearly impossible to find off-the-rack menswear that fits perfectly. Take the time to find a tailor that you like and get to know him or her. Small adjustments to clothing (shortening sleeves, taking the waist of a shirt in some, etc.) are fairly inexpensive and will make all the difference in how you look. Getting rid of eye-grabbing extra fabric and saggy clothing is absolutely the best way a man can update his business casual style.
Step 2: Improve Your Color Scheme
The "corporate drone" look is easy to spot: khaki trousers and a white or blue dress shirt. This combination is safe because it's so common. However if you're reading this, you're likely not interested in looking like everyone else. So let's discuss how small changes in color and pattern can separate you from the "Dilberts" at your office.
Shirt Colors
Start with the dress shirts. White and various shades of blue are the safe standbys we see 95% of men wear. Instead of these, try pastel colors in lavender, yellow, ecru, tan, or pink. These light canvases are easy to match with a wide variety of trousers, ties, and jackets and instantly set you apart in a crowd. But why stop there? Change the solid single-color look for a patterned shirt–stripes are fine for any business casual environment and checks are acceptable in many situations outside of conservative corporations, finance, and the legal profession.
Trouser Color
Only light khakis in your wardrobe? Try a deeper brown, olive, or even summer white cotton. Or switch it up with a charcoal gray wool for a dressier look–lightweight wool for the warmer months and flannel in the fall and winter. For the more adventurous man, patterned trousers in a check or small pattern will add a punch of interest to a solid white or blue shirt.
Dark jeans–in a deep, un-faded indigo–may be acceptable in some workplaces, and if they are, they're a great addition to your wardrobe as they match almost anything. Keep your denim dark, free of distress, and well-fitted.
Leather Accents
Your day-to-day office wear shouldn't be restricted to plain black dress shoes and a black belt. Consider a light, buttery brown pair of slip-ons to wear with lighter trousers, and reddish oxblood leather bluchers to wear with your charcoal grey flannel trousers.
Step 3: Avoid Cheap Looking Clothing
Notice I'm not saying to avoid inexpensive clothing–there are many bargains to be had out there. But you want to avoid cheap clothing–clothing that contains poor quality fabrics that are uncomfortable, function badly, and make you look like a time traveler from 1973.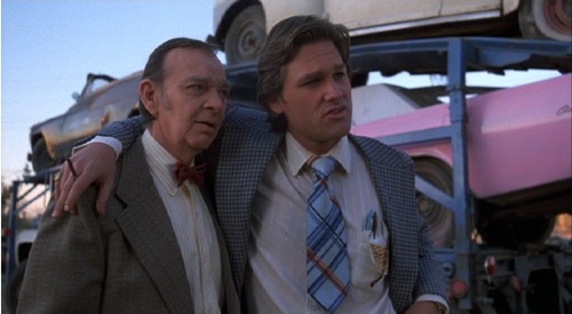 Fabric and Texture
A glance at the composition of the clothing is a good starting point. Anything that has a substantial amount of artificial fibers like polyester or rayon–more than 15% or so–is going to develop a slick, plastic-looking sheen over time. It's also a good sign that the manufacturer was cutting corners. A bit of man-made fiber in the blend, done properly, can strengthen a garment and help with wrinkle and stain-resistance. Large percentages–over 40%–point toward cost-saving measures.
Know the basic "feel" of the fabric that you're looking for. Wool garments can range from the coarse, hairy texture of rough tweed to a very smooth worsted finish or a soft, fluffy flannel. Cotton varies depending on thickness and the cotton used–it can be very thin and flimsy-feeling or quite heavy. Varying the textures of your fabrics can help keep your outfits unique from day to day. And, of course, you'll want thicker, coarser clothing for winter and very light, smooth fabric for summer clothes.
If you can, try the clothing on and see how it "drapes"–how the fabric hangs and moves where it isn't fitted around your body. Walk back and forth in front of a mirror and watch the trouser cuffs, or swing your arms around some to see how the shirt sleeves move. A very billowy, blousy fabric that shifts around at every movement is the sign of a thin, cheaply-made cloth. These tear easily, look saggy, and can even be so see-through that your undershirt will be visible in the right lighting.
Manufacturing Details
Buttons and other fasteners are worth a quick look as well. If the button is plastic, and stitched on so loosely you can wiggle it up and down in the store, you're not buying a very good piece of clothing. Look at the stitching–is it a single line with 12+ stitches per inch or is it double stitched loosely at 8? Worse is a single loose stitch in areas that will be put under stress–expect these garments to maybe make it through one washing. You want business casual clothing that looks better 6 months after you've bought it–this gives you time to really become comfortable and confident in it.
It's worth taking this opportunity to draw your attention to shirt collars. The button-down collar is a solid, no-hassle choice, although a more sophisticated choice is the hidden button down collar or medium spread with removable collar stays. Both of these provide a more crisply-defined shape and look great without a necktie.
French cuffs are normally reserved for more formal occasions–I do have a friend though who uses them on all his shirts–without a tie–as his signature style. They show an attention to quality as the double cuff requires more fabric and is a feature not generally found on cheap shirts.
Step 4: Learn to Layer Your Clothing
Layering your clothing is a learned skill. It requires an ability to combine colors, patterns, and fabric textures. The key to doing this right is to build an interchangeable men's wardrobe–you want to select core clothing pieces that work with each other in various combinations.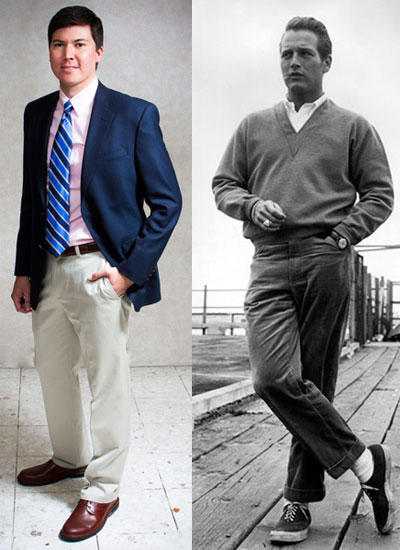 Jackets
A jacket is the ultimate flexible outer layer as it can be dressy or casual, and even occasionally rumpled depending on the fabric and build. The classic men's sport coat gives you the flattering shape of a suit (tucked at the waist, broad at the shoulders) without the formality. Unstructured and unlined jackets give you a more refined look without trapping in the heat.
The key to a good jacket is proper fit and timeless style. Avoid anything with a very specialized design or that is too fashion forward–a brightly-colored blazer in your alma mater's colors is great at alumni events, but it's going to stand out too much at work. Stick to earth tones or dark colors for business casual jackets.
Having a jacket lets you dress up or down very quickly when needed. You can add a tie and give your shoes a quick rub with your handkerchief to be ready for an important meeting on short notice, or you can leave the jacket on a chair and roll your sleeves up for an informal look. It's not a bad idea to have a neat, conservatively-styled jacket hanging in a closet at work. Finally, remember that a jacket does not always require a collared dress shirt. You can wear the same jacket over a sweater or even a dark-colored T-shirt.
Sweaters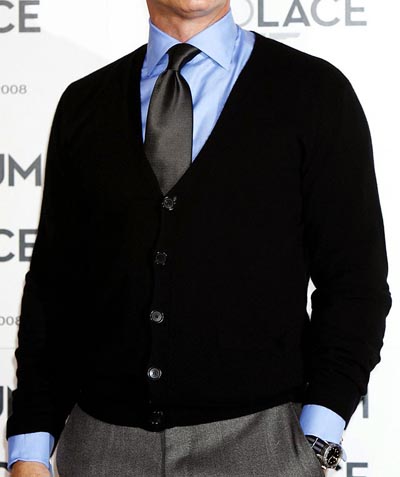 Properly selected sweaters will make the cold infinitely easier to dress for and are one of the most versatile layering assets in a business casual wardrobe. A man should seek out a mix of materials, thicknesses, and styles to make his sweater collection versatile. A thin cashmere crew-neck in a plain dark color is a reliable staple that works on its own or under jackets. Something thicker with a corded pattern makes for a comfortable layer of warmth in the coldest weather, and a V-neck in thin wool can be worn in both the spring and fall.
Sweaters can be worn over dress shirts (with or without a tie), over sport shirts and polos, under jackets, or on top of a comfortable long-sleeved T-shirt. If you're wearing the sweater with a collared shirt, you'll need a V-neck cut to keep from forcing the collar beneath your chin unnaturally.
Vests
When it's too hot to wear a jacket, but you want to be a bit more dressed up than just a dress shirt and trousers, wearing a lightweight men's vest is a perfect compromise. The advantage of a vest is that it that it helps create a more streamlined look from a man's shoes to his head by eliminating the contrast point at the buckle (usually between a light shirt and dark trouser). Vests also allow extreme freedom of movement, and are a favorite of men who need to dress sharp while working at a quick pace.
Step 5: Pay Attention to the Details
An otherwise perfect business casual outfit can be ruined by being careless when it comes to the details. Keep your accessories simple and clean, and never underestimate the effect–both positive and negative–the small details can have on an otherwise strong personal presentation.
Shoes
The right shoe for the right outfit is key. A pair of balmoral oxfords are great for formal occasions, but look to bluchers, slip-ons, and boots for a business casual wardrobe.
Know your men's footwear options–lace-ups are only one option, as depending on your situation you may find tassel loafers or Italian moccasins are an easy way to change the look of the same old dress shirt and pants. Leather slip-on double monkstraps are not only comfortable but dressy enough to wear with a light colored suit–they are a European classic few men ever discover.
Black and dark brown are your classic shoe colors–they are flexible and relatively easy to match. If you're dressing up your day-to-day business casual look, however, look to add lighter browns, reddish oxbloods, and suede/white bucks/two-tone shoes. Leather tooling or "broguing" is perfect for business casual footwear.
Have enough pairs of shoes that you can let each one rest a few days between wears. This keeps the leather strong and supple by giving it time to expel excess moisture.
Dust your shoes off when you remove them for the day. Smooth leather will need reasonably regular polishing, and an occasional conditioning with leather creams or oils is good for any leather product. Make sure you use a cream appropriate to the specific type of leather, however, and test it discreetly on the underside of the tongue or uppers to make sure it won't alter the coloring!
Neckties and Pocket Squares
In a business casual environment, neckties and pocket squares should be used to add variety, not uniformity, to your look.
Consider tie materials beyond silk; woven ties and knit wools have a heavier presence and send a more relaxed signal. Always avoid neckties made from synthetic materials. They tend to look artificially slick and shiny and don't age well.
Wear a knot style that works with your collar. Wider collar spreads will need a thicker knot (the Windsor adds a good bit of bulk) while narrower collars do best with a smaller knot like the four-in-hand. Ensure you create a "dimple" just below the knot.
Consider a bow-tie if you're confident; they more often than not draw smiles and positive feelings from people.
Learn to properly match your tie with your dress shirt–this alone will prevent you from being the subject of more than a few office jokes.
Pocket squares can be worn anytime you wear a jacket with a breast pocket–I love to wear them when I am not wearing a necktie as it adds a splash of color and signals that I have the confidence to dress as I please.
Clothing Maintenance
Dirty, wrinkled, or stained clothing should never be worn in a business casual environment. Period. Dress shirts, suits, jackets and trousers should all be hung up and make sure wool jackets hang on wide suit hangers, not on thin wire ones.
Iron out the wrinkles in cotton; steam out bad wrinkling in wool. And only iron clean clothing–hot irons can press dirt into place permanently.
Finally, wool suits and sweaters do not need to be dry cleaned after casual wear. Brush your wool clothing after every wear and hang it neatly in an area where it can breathe for 24 hours.
Personal Grooming
Keep yourself as clean as your clothes. A good haircut, use of the proper hair product, and a clean shave makes a world of difference. Trim your nails and excess body hair if it extends beyond your nostrils or undershirt.
Video Summary of Post
I know there is a lot more we could have covered – so let me hear it. What else can a man do to step up his business casual look?