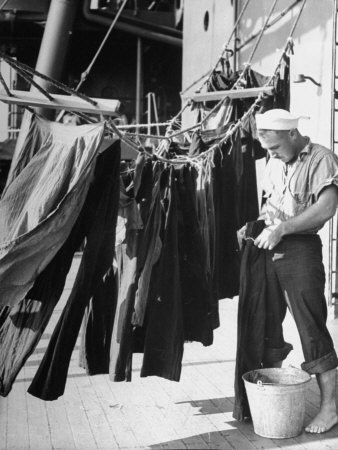 Is there anything more American than blue jeans?
Over the last 160 years blue jeans have woven their way into American and even world culture. Classless, utilitarian, and yet classically stylish, jeans have been worn by prisoners, plumbers, and presidents alike.
Iconic American Figures Associated with Blue Jeans
The Cowboy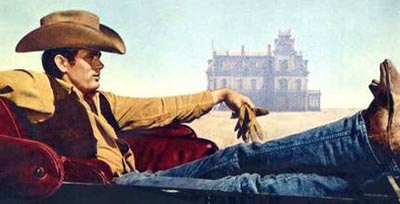 Although many frontiersmen never wore a pair of jeans and instead opted for buckskins, in the last century denim has become the trouser of choice for the American West's most visible ambassadors. Both Will Rogers and John Wayne wore them and countless rodeo legends as well. Today if you make your way to a rodeo in Pecos or Cheyenne, you'll probably see dudes sporting a pair of Wrangler blue jeans.
The Biker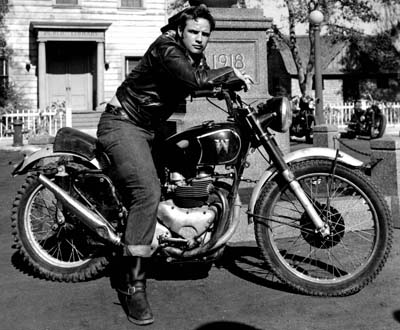 I'm not talking about the Harley Davidson clad bunch we see nowadays; I'm referring to the 1950s vets who returned from WWII and hit the road on bikes because they needed excitement and freedom in their lives. Think Marlon Brando in The Wild One with his leather jacket and rolled cuff blue jeans.
The Young Rebel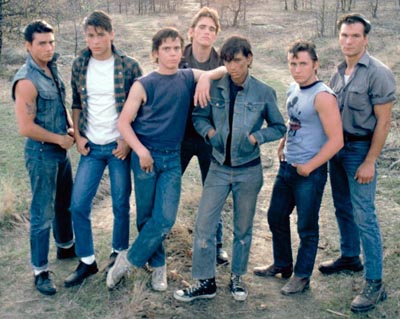 Today, nothing could be more mainstream than denim, but jeans used to be the badge of the rebel, the man who broke from the traditional dress of society and rejected the old way of doing things. Rebels of all types have flocked to denim, starting in the 1940s with rule-breaking college youth who wore them against the wishes of their parents to James Dean in the classic film Rebel Without a Cause to the Greasers in S.E. Hinton's The Outsiders. Rebellious youth have for the last 60 years found a kindred spirit in denim, and will for at least another 60.
The Blue Collar Worker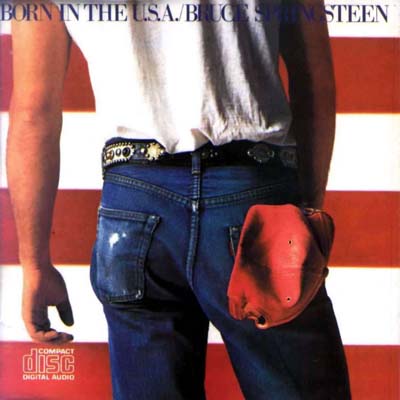 Blue is the color of the working class because it takes to staining and cleaning better than white; the classless blue jean, prized for its inexpensive durability and ability to suck up grease, was and is the pants of the working man. Personified in the 1980s by Bruce Springsteen, the blue collar worker loves his blue jeans because they, like him, are made to be worn but never beaten.
An Overview of the Major Jean Brands
Levi Strauss and Co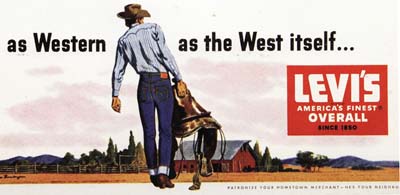 Founded in 1853 by Levi Strauss in San Francisco, the company started as a dry goods wholesaler but quickly found its place in history when a tailor named Jacob Davis partnered with the company to create a superior pair of pants that utilized copper rivets to reinforce areas of the jeans that commonly tore under heavy stress. Patent number 139,121 was awarded in 1873 and the rest is history. Utilizing the best denim in the world at the time, Levi Strauss and Co established itself as a beacon of quality for next 150+ years.
In 1890, lot number 501 was assigned to the waist overalls with the copper rivets and button fly. Today you can buy the same jeans, minus a few details introduced over the years because of changes in menswear style (suspender buttons are gone) and the requirements of wartime rationing boards (the back buckleback).
Lee Company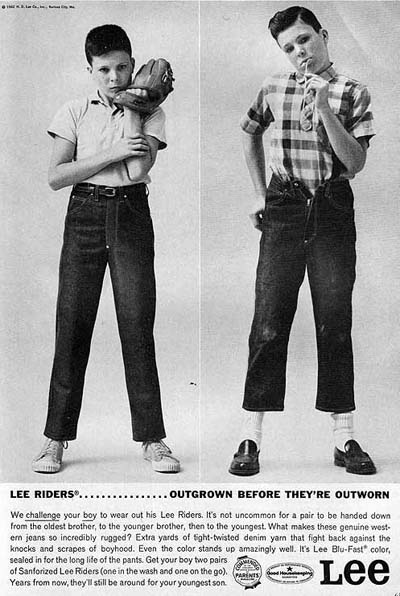 H.D. Lee was a man who headed west after starting a bright business career on the East Coast only to have it derailed by bad health. Against the advice of his doctor, Lee headed to the opportunity he saw in Kansas, where he founded Lee Mercantile in 1890. Seizing on the lack of local quality goods and the natural central location of Salina, KS, Lee pushed his work wear division and the Union-All jumpsuit became his flag product. It sold like hotcakes, in part because the designers catered to the men wearing them and made them easy to slip on and off and innovated with the now classic zipper.
Lee has continued to grow over the last century, in large part to smart marketing and sponsorships including the founding of the National Cowboy and Western Heritage Museum. By closely associating itself with the American Southwest, the jeans built a strong and loyal base among the western crowd.
Finally, I need to mention Buddy Lee. First making waves in a Minnesota shop store window back in 1920, Buddy has since been spotted promoting Lee Dungarees in a variety of strangely funny commercials. Over 90 years old, Buddy Lee is a legend; don't let his 14 inch height fool you.
Wrangler
Founded in 1904 as the Hudson Overall Company, the company changed its name to Blue Bell 15 years later and remained primarily regional to North Carolina with its core product being overalls. After WWII, Blue Bell bought a work wear company and revived Wrangler with the specific target customer being the Western crowd. With an innovative cut utilizing higher pockets and wider belt loops, and the sponsorship of rodeo legend Jim Shoulders, Wrangler was able to wrangle itself to the top of the Western market within two decades.

Lee Cooper
Lee Cooper Jeans are less well known in the USA but have a loyal following in England and Europe, and for good reason. The brand made a name for itself during WWII when rationing made anything but denim a luxury. With only 30 ration coupons for clothing, working men had the option of a business suit for 26 coupons or a pair of Lee Cooper overalls for 2 (or better yet – jeans for 1). The Lee Cooper Brand grew quickly in the 50s and 60s under Harold Cooper, and now sells clothing in over 70 markets around the world.
Other Options outside the Big 4 brands:
Designer Jeans
High fashion brands began to push out jean lines in the 1970s, but saw the market fade within a decade. The most recent surge began again in the early 1990s and continues today; brands such as Lucky were the first to start charging $100 for jeans that were built on nothing more than slick marketing (my old college roommate would disagree–he felt the unique inner lining and fit was worth the price he paid). In the last 20 years, designer jeans have leveraged celebrity endorsements and notoriety to sell jeans at prices that can now soar into the $500 range.
If you can't tell, I am not a fan of designer jeans. Instead, if you're looking for something beyond the ordinary you should consider….
Raw Denim Jeans
Raw denim is unwashed denim fabric that has not been shrunk or exposed to water after the dying process. It is typically very dark, and made on old style shuttle looms. Selvedge denim, as it is also called, is priced at a premium because of low production runs, the need to use older equipment and more fabric per pair, and the fact that it's made in high labor cost countries. However, raw denim is more durable, and many raw denim advocates claim to wear their jeans thousands of times before they wear out, thus making them a strong value when you look at the number of wears vs. the amount paid.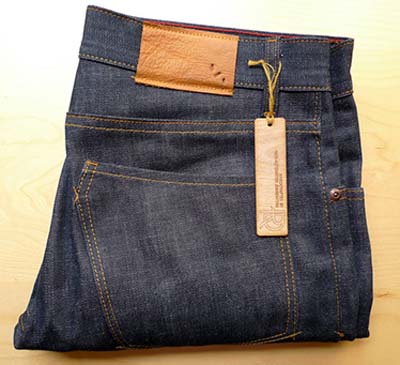 Blue Jeans and Pricing
A gentleman walks into a store and finds a terrific pair of jeans that are the right size and made well. He then looks at the price tag and is shocked; the jeans are almost ten times more expensive than the pair he has on. After checking with the clerk, he leaves the shop in disgust wondering who would ever buy such expensive clothing. The year is 1870, and those overpriced jeans are selling for $5…10 times the cost of the more popular brand our price conscious shopper was used to buying.
The scenario I just described could have easily taken place today. With jean pricing ranging as wide now as it did then, there is still much confusion as to why. Below are 6 reasons why jeans vary in price:
Market Positioning – Price positioning based on smart (or not so smart) marketing is the most important factor in determining price. Raw denim made in the US has to be priced high because of the quality of material and construction. But designer jeans, which can cost ¼ as much to make can sell for the same amount if not more, simply because they are worn by the right celebrity or a marketing ploy creates a feel of exclusivity or scarcity.
Clothing Pattern – Some jeans are made to fit a particular demographic. Levi's, the brand most of us associate value and Western heritage with, makes a pair of raw denim jeans called "matchstick." As the name implies, they are made for skinny young men. Any man carrying more than a few extra pounds around the waist or older than 30 should approach the jeans with extreme caution.
Factory Run Size and Material Cost – Mass produced jeans, built on modern machines prized for their speed and acceptable error rates are generally going to cost less than jeans built on older equipment. Who's using older machinery? Believe it or not, most of the older machines were bought and shipped to Japan (they love their denim) or have been painstakingly restored by the craftsmen behind the small vintage lines here in the US. The older equipment may not be as fast, but for the denim artisan, this hardly matters.
The Jean Manufacturer's Bargaining Power – When Levi Strauss talks pricing with JC Penney, there is a negotiation. When a small start-up line tries to talk pricing, there is a take it or leave it offer put on the table–if they make it that far. Often the only route for the small guys are small distributors, who shoulder higher per foot costs than the big guys and have to charge more to stay in business.
Labor Cost – Denim made in Japan or the USA is going to cost more than high volume fabric coming out of China. Simple economics associated with price of labor and as mentioned above, much of the Chinese machinery is more efficient.
Durability and Specialty Design – Although rare, there are jeans out there that are developed to serve a special purpose besides covering a man's lower extremities. Draggin jeans have Kevlar sewn in and are designed to protect a motorcyclist from road rash.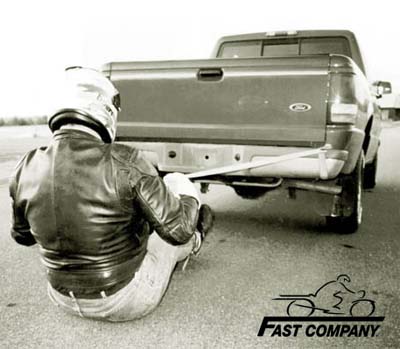 What to Look for When Purchasing a Pair of Jeans
Focus on Fit – Fit is the most important thing to look for in a pair of jeans–you may have to try on 5 to 10 different brands and types–but it's worth it when you find that one style that fits you just right. During regular wear the fit will become more relaxed as the cotton stretches; however, once you wash them and expose the cotton to any type of heat, you'll shrink them back to their original size and in some cases even a bit smaller. The best thing to do then is to put them on and stretch them out with extensive body movement.
Fabric Weight – Denim will vary in weight from 7 to 18 ounces, with most men wanting a jean that strikes a balance. Too lightweight and the fabric will tear too easily–too heavy, and the fabric will be as stiff as a board. The latter is rarely an issue; rather, you need to be careful of brands that try to save money by going with lighter weight fabrics. The difference is subtle, but you'll know you've been had when the jeans begin to tear at high stress and friction areas after only 6 to 9 months of wear.
Select the Right Color – Denim comes in a wide variety of colors and shades. Also, the way the denim has been washed and treated will determine its suitability. I recommend men first look at darker colored jeans with minimal distressing– jeans like this can be worn with a sport jacket. Jeans with lighter colors/heavy washing /distressed fabrics are only for casual wear.
Be Careful of Knockoffs – Rarely a problem in large chain stores, this has become a bigger issue since more and more men shop on sites like eBay where the burden of understanding the merchandise falls on the buyer. If the price looks too good to be true, it probably is.
Brand Construction Consistency – A perfect fit can seal a relationship with a jean manufacturer for decades. I've heard of cases where news of an impending bankruptcy in a clothing company has led to shortages in supply because diehard fans immediately go out and buy a lifetime supply. It sounds funny, but how many of you have that trusty pair of jeans you reach for when you need something that works with everything from Birkenstocks to a blazer?
There is much more we could talk about when it comes to jeans. So let me ask – what would you like to see us cover next concerning denim?