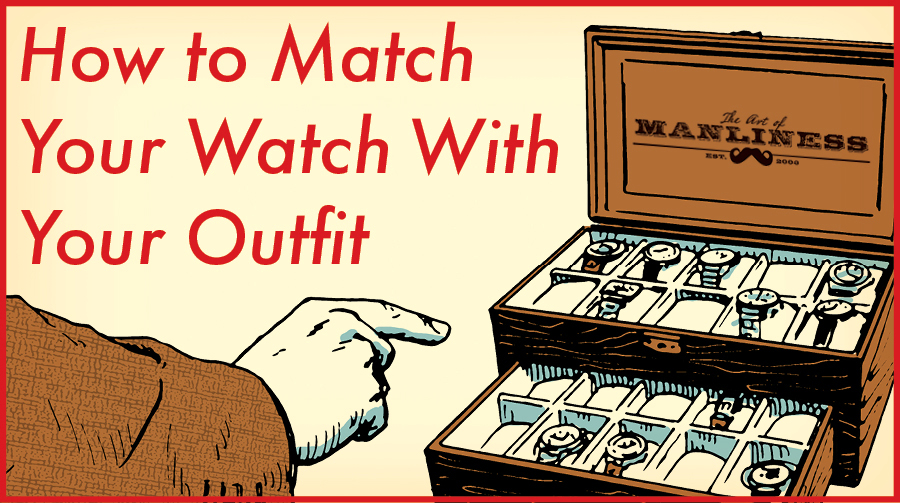 Imagine a man in a tuxedo at a black tie event.
He has poise, style, and a posture that grabs everyone's attention.
He casually lifts his hand to check the time . . . on a Casio calculator wristwatch with a rubber strap.
Cue the record scratch.
This is the power of a wristwatch, gentlemen. Like your belt, it's a small accessory that can either break or build your get-up.
Since men wear limited jewelry, a watch is a singular expression of their personality. Most men prefer to own more than one so they can wear the appropriate timepiece to complement their outfit and the formality of a particular occasion.
How do you best make this pairing between your watches and your clothes?
Below you'll find 6 guidelines for making your watch an elevating, complementary addition to your wardrobe rather than an off-note distraction.
#1. Match the Formality of Your Watch With the Formality of Your Outfit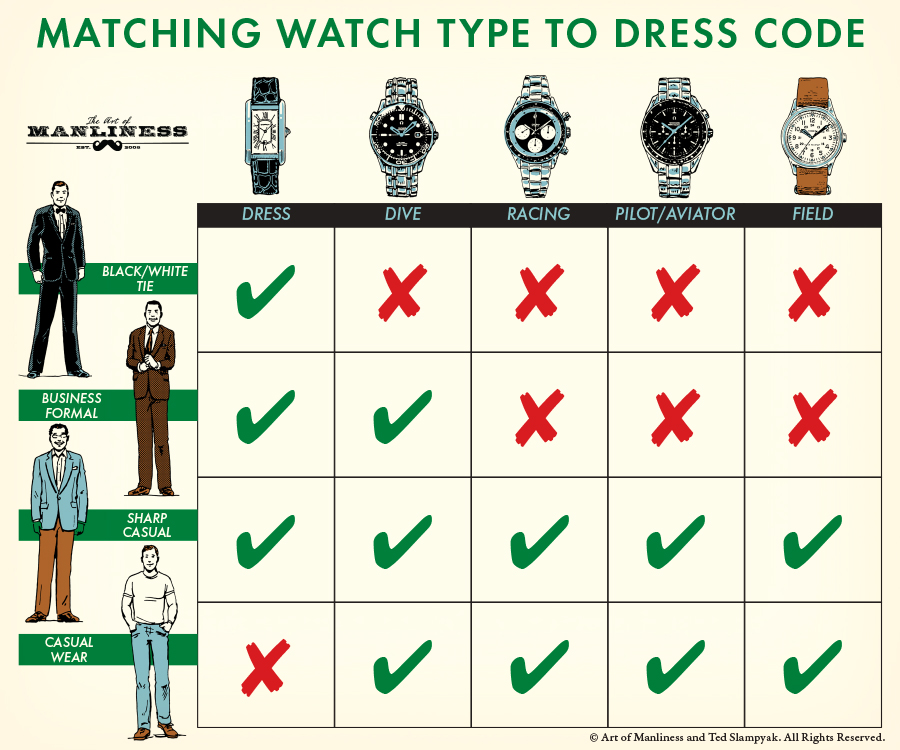 The overarching principle for pairing your watch with your clothes is to have the formality of the former match the formality of the latter.
To understand how to do this, you first need to understand the different types of watches that exist.
Watch Types
The two broadest categories of watches are analog watches and digital watches.
Digital watches have a LCD display or LED face that shows time in numeric form. The straps are typically rubber/plastic. This is your sport/fitness tracker type of watch which pairs with athletic wear. You don't really need to worry about matching this kind of watch with your clothes, beyond never wearing them with anything dressier than your most causal duds!
Instead, we'll be concentrating here on analog watches. These have a face with hour and minute hands and either markers or numbers that display a 12-hour cycle. These watches are considered more classic and formal, making them suitable for business and formal events, as well as casual everyday wear.
Within the analog category, there are 5 main types of men's watches:
Dress – Sleek, simple, and sophisticated, the dress watch with a plain white face, no complications (the features/extra functions on a watch), and a thin black leather strap is as formal as it gets. A face with hash marks, Roman numerals, or no numerals at all adds another touch of elegance.
Dive – Originally designed for underwater diving, these watches feature deep water resistance, metal bands, and a medium-sized face with bold, easy-to-read Arabic numerals or hash marks. Typically includes a date-only complication or none at all.
Racing/Driving – Medium to large in size, with a large dial sporting clear Arabic numerals, and often bright, contrasting colors. Always includes a chronograph, and sometimes a date complication as well. The case is stainless steel; the strap is metal or leather.
Pilot – Made for the cockpit, the pilot watch is medium to large in size, with an oversized dial, clean, legible numbers, luminous hands, and a date and sometimes a chronograph for the complications. The strap is typically leather.
Field – Born from the trenches of WWI, field watches are rugged, functional, versatile timepieces that are tough enough for active duty. Small to medium in size, with a leather or canvas strap, and a face with easy-to-read Arabic numbers. Includes a date-only complication or none at all.
For more detail on the different types of men's watches and how to choose between them, click here.
Matching a Watch Type to a Level of Dress Code Formality
Once you know what the different watch types are, you can learn which goes with which kinds of dress codes, and their corresponding outfits:
Black Tie/White Tie – Traditionally, you weren't supposed to wear a watch to a black tie affair at all, and if you did wear a watch, you weren't supposed to publicly check it. A formal event is a time out of time, and you should lose yourself in the occasion. That said, a simple, classic dress watch with a small, minimally embellished face and black leather band will be considered appropriate by most everyone these days.
Business Dress – For business wear, go with a simple, classic style gold or silver watch with a thin dial and limited or no complications. A dark conservative suit is best paired with a classic dress watch. Some feel a suit should never be paired with a dive watch, but a less formal/conservative suit certainly can be, if you make it one with a leather strap.
Sharp Casual – Here we're talking button-down shirts, khakis, dark denim, sport coats (no tie), leather shoes, etc. The kind of things you'd wear to a more (but not totally) casual workplace or on a date. Once you're in this territory, large watch faces and watches with more complications become appropriate, and while these kinds of duds can be paired with every kind of watch mentioned, they're best complimented by the more casual pilot, racing, or field watch.
Casual – With your most casual clothes — polo shirts, chambray button-downs, jeans, tees — all the watch types except the dress watch will work. If you're going to be engaging in physical activity, you'll want something that can take a beating, like the field watch.
A note on smartwatches: I'm not a fan. Wearing a smartwatch is essentially like wearing a phone on your wrist, and isn't more distraction, so close at hand (literally right above one's hand), the very last thing any of us need? Nobody needs to be that connected. Studies say that even the presence of a smartphone on a table inhibits conversation because people don't want to go very deep if they may be interrupted; one would think a smartwatch would have even more of this stultifying effect. Add to this the fact that smartwatches, even when made in a classy, dress-watch-esque style, never look quite as elegant as the real thing. I would thus suggest never wearing one for social occasions, and if you feel you must wear one for business, keep it to situations in which a sharp casual or lower dress code prevails, and never check it while talking to another human being. For more formal business dress, a more formal watch will look better (and keep you focused).
#2. Match the Formality of the Watch Strap to the Formality of Your Outfit
Once you know the general type of watch that will pair best with the formality of your clothes, you can narrow down things further in terms of the material of the watch strap.
There are two guidelines here:
Leather watch bands (at least ones that are sleek) are considered more formal than metal bands
Black leather is more formal than brown leather
While gold or silver metal bands aren't appropriate for the most formal of events, they can be appropriate for dressy occasions when they complement the rest of your outfit.
Rough, rugged, worn-in leather straps (such as what you'd see on a field watch) are an exception to the leather-is-formal rule, and should be paired with casualwear, like jeans, rather than a suit.
#3. Leather Complements Leather
When wearing a watch with a leather strap, the material and color of your shoes is a suitable reference for the choice of watchband.
You should start by matching your belt with your shoes. Then match your watch with both.
A black watchband should be worn with black shoes and belt; a brown band with brown belt and shoes. The watchband doesn't have to be the exact same color as these accessories, but should be a similar tone (light vs medium vs dark).
#4. Metal Complements Metal (And Your Clothes/Shoes)
The metals used to make the watch's case (the frame around the face) and/or its band include steel, gold, silver, platinum, and titanium. The color of the watch's metal should complement the metal accents of your other accessories — rings (wedding ring excepted), cuff links, shoe buckle, belt buckle, etc. — so that all your accessories are either gold or silver.
The colors don't have to match exactly. For example, a rose gold watch can be worn with a yellow gold belt buckle — it's close enough.
#5. Metal Bands Look Better With Certain Colors of Shoes/Clothes
When a watch has a metal strap, it can go fine with either brown or black shoes. But certain colors of metal do go better with certain colors of clothes/shoes.
Silver watches match best with clothes and shoes in black, gray, and blue shades.
Gold watches go best with browns, beiges, tans, and other earth tones.
#6. Heirloom Watches Bend the Rules
Heirloom pieces represent a legacy. They are usually worn as a good luck charm or as a memory of the original owner. An heirloom watch is not worn based on the latest trends or fashions; it is a reminder of family history and culture. Heirlooms therefore allow you to bend and even violate the rules mentioned here. They serve as great conversation pieces and make you memorable.
_______________________________________
Written By Antonio Centeno
Founder, Real Men Real Style
Click here to grab my free ebooks on men's style
Tags:
Watches